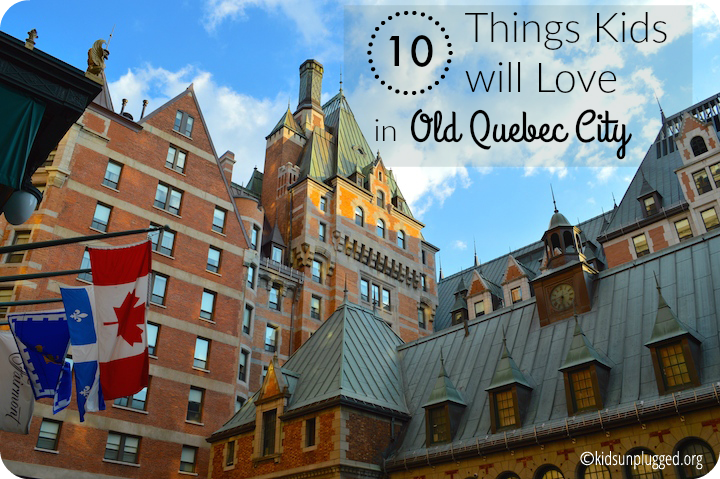 It's pretty cool when you can hop in your car and drive to another country—especially one that makes you feel as though you've been transported someplace vastly different from home. I'd long heard about the European vibe of Old Québec, with its alluring labyrinth of cobblestone streets and classic French flair, yet despite the easy access from our home in New York, we had never visited. Though it had long been in my mind to head north to Québec during the wonderland of its famed winter carnival, a summer bike trip along Le P'tit Train du Nord in the province's Laurentian region left us a few days to explore Canada's oldest city.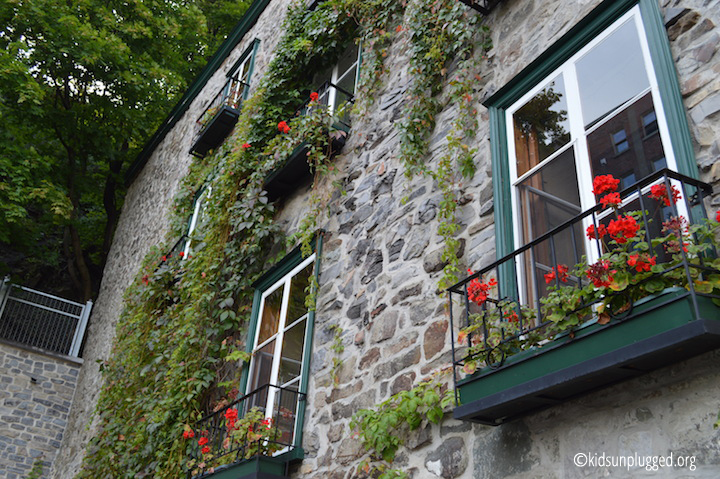 Québec's history is a fascinating one, rooted in a combination of Amerindian origins, French colonialism, and British influence. One of the best present-day examples of a fortified colonial city, Québec was established as a UNESCO world heritage site in 1985 in an effort to preserve its cultural legacy. The city is one of Canada's loveliest, and its location high above the St. Lawrence River on Bluff Cap Diamant affords visitors some memorable views. Looking up at the famed Chateau Frontenac aglow in the afternoon sunlight, a fountain flowing in the foreground, is just one of the many sights to behold.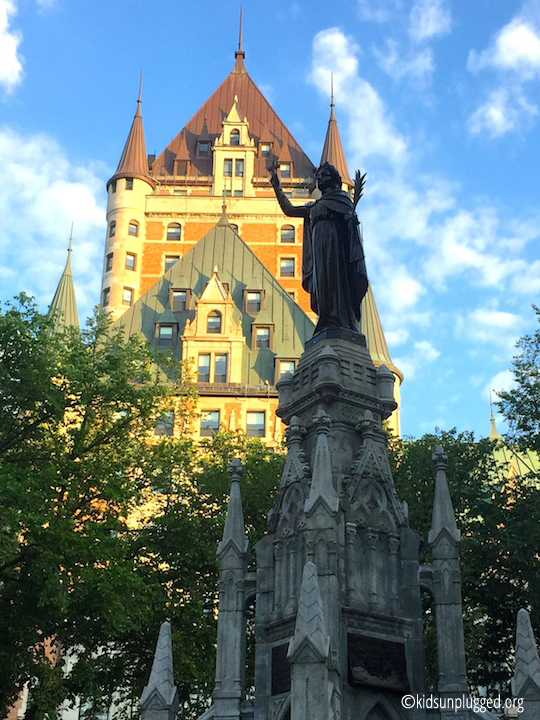 Getting Your Bearings – Haute Ville-and Basse-Ville
Stepping through one of the gates in the massive stone walls surrounding the old city delivers you from the cosmopolitan modernity of present day Québec into the charm of the Haute-Ville–Old Québec's Upper Town–and the city's historic district.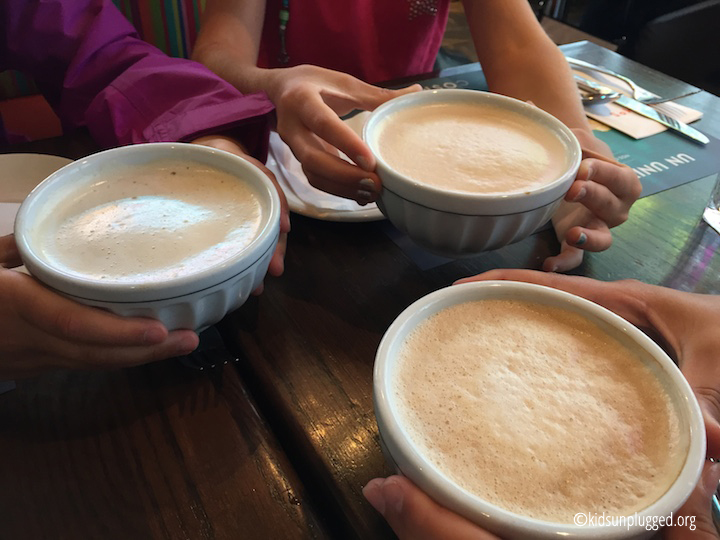 Rue St. Louis is one of the Upper Town's main boulevards and is lined with shops and cafés sporting brightly painted facades that shine each evening in the warmth cast by gas lamps. Along bustling Rue St. Jean, stop for a café au lait or a gelato, browse through funky stores, or settle in for lunch at the pub on the corner.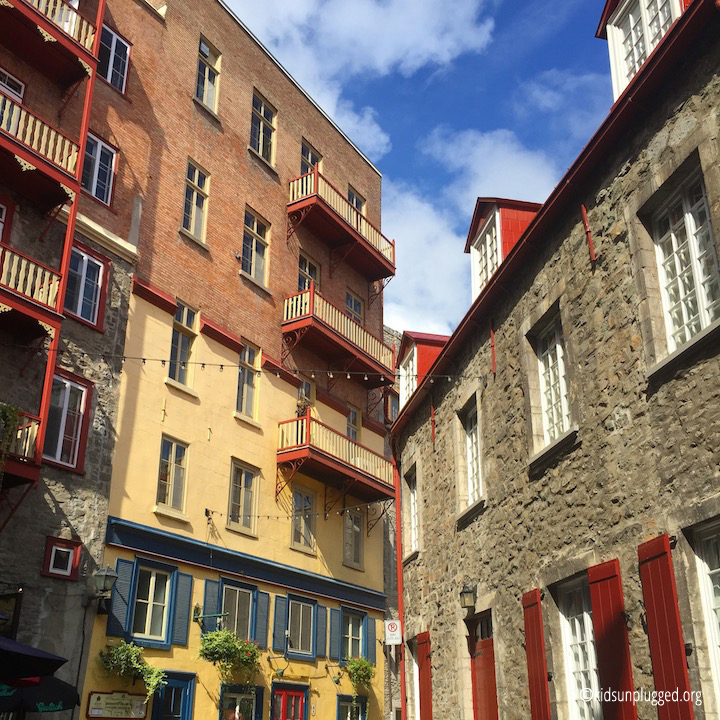 Québec's Lower Town, or Basse-Ville, is a maze of winding cobblestone streets, quaint shops, and ivy covered, stone buildings bedecked by wooden flower boxes spilling with blooms. Walking down a series of staircases near Terrasse Dufferin by Chateau Frontenac will take you to the Petit-Champlain district where you'll discover Place Royale, a beautiful square that feels like it hasn't changed much since Samuel de Champain established his home there in 1608.
The focal point of the Place is Notre-Dame-des-Victoires, the oldest church in North America. From this area it's an easy stroll to Rue Dalhousie, which runs beside the St. Lawrence River, and the Old Port neighborhood and marketplace.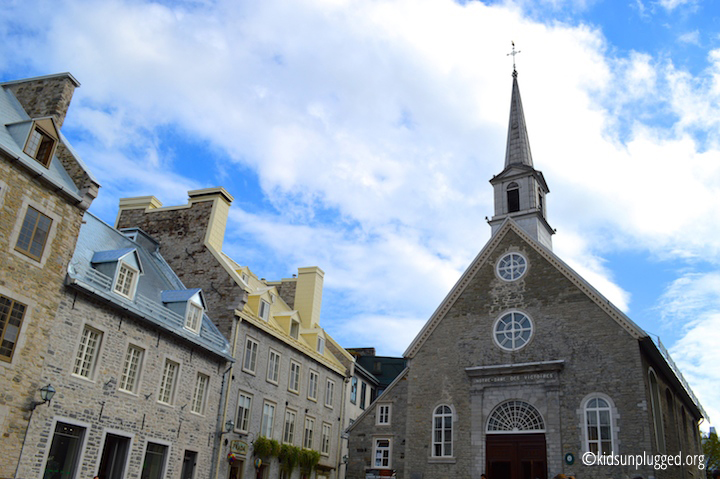 Summertime in and around Québec City offers the chance to delve into history, culture, and outdoor adventure all in one. Here are ten great family activities for your next trip to Le Vieux Québec.
The Fortifications of Québec
Québec is the only remaining walled city north of Mexico and its fortifications, the walls surrounding Old Québec, are now a national historic park. A wide path on top of the walls leads for about 3 miles around the Old Québec's Upper Town. A stroll offers a glimpse of the ways the city defended itself in the colonial era. The walls can be accessed from several places—staircases at both Port St. Louis and Port St. Jean, two gates leading into the Old City, have stairs up to the path. Guided tours of the walls are offered by Parcs Canada and leave from kiosks by Chateau Frontenac at Terrasse Dufferin and Port St. Jean.
Street Art & Performers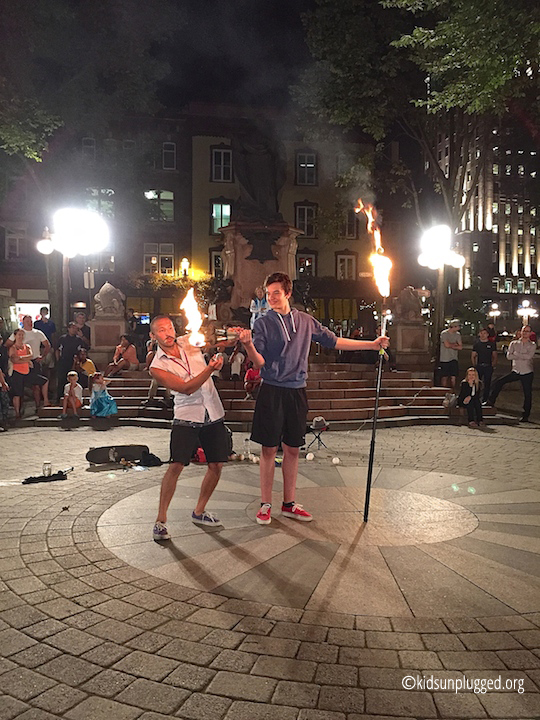 During our August visit, Québec City's streets and squares were full of artists and performers of every variety—from musicians to jugglers to painters. My girls and I enjoyed an acrobatic spectacle on Terrasse Dufferin one afternoon, while evening found us seated on makeshift bleachers in a small square watching an enthusiastic display of pyrotechnics.
On another morning we happened upon Rue de Trésor, a quaint, narrow alley lined with traditional copper prints, photographs, and watercolors, many of which were hawked by the artists themselves.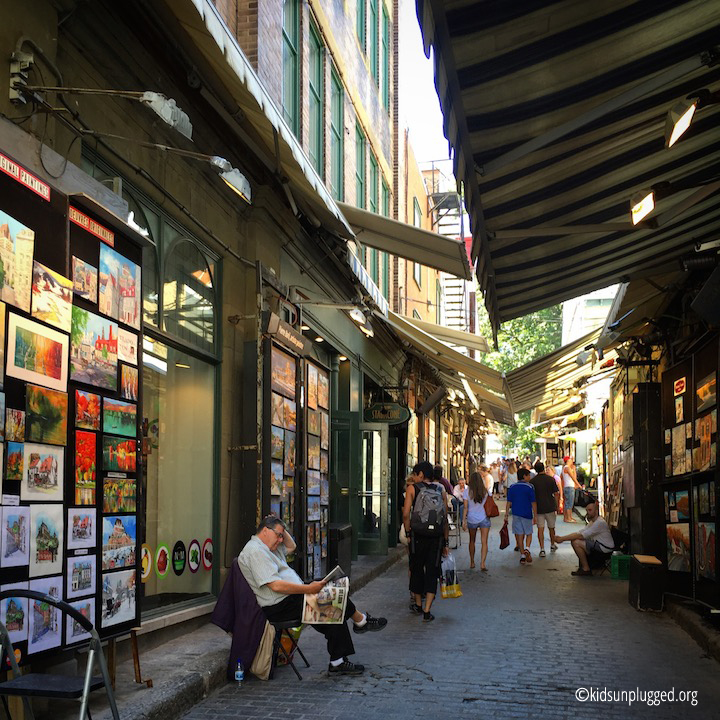 The street used to access Québec's treasury, hence its name, and the first artist hung his wares in 1960. By the early eighties, the Association des Artistes de la Rue du Trésor (AART) was formed. We found that an outdoor table at a café called Le Nouvelle France was a perfect place to sit among the artists, have dinner, and people watch.
Funiculaire du Vieux-Québec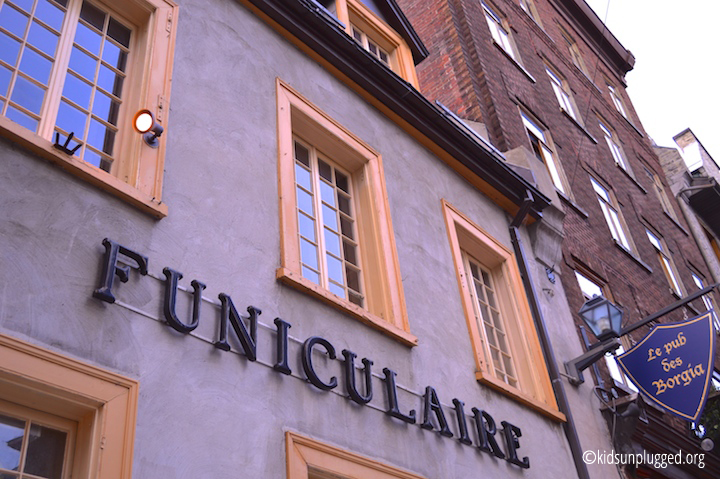 Linking the Lower Town with Dufferin Terrace and Chateau Frontenac, the Funiculaire du Vieux-Québec has been a mode of transportation for the Quebecois since 1879. My girls and I opted for a trip down to the Basse-Ville on a morning with a dazzling blue sky and were treated to a great view of the vibrant rooftops of Petit-Champlain and the St. Lawrence sparkling in the distance.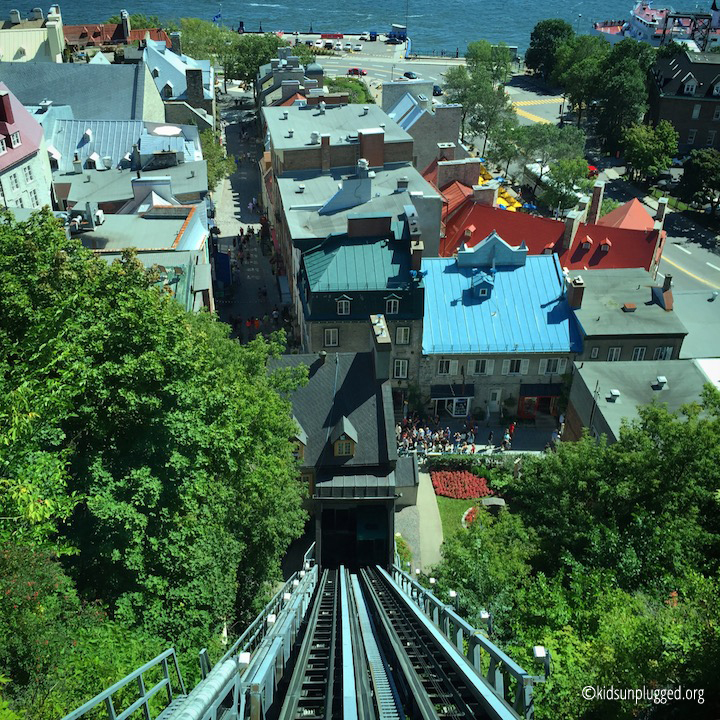 My oldest daughter, who isn't fond of heights or tight spaces, made me promise that we'd ride only once, so we made several trips between Upper and Lower Town by foot—which proved to be an excellent way to walk off the poutine!
Musée de la Place Royale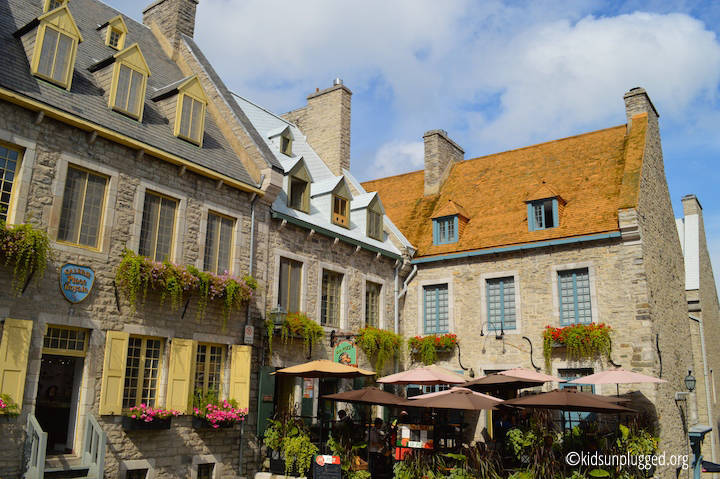 A history museum at heart, Musée de la Place Royale tells the narrative of New France, from is earliest colonial days through the present. Artifacts belonging to Amerindians, French colonists, and British immigrants are on display helping to lead visitors through the past 300-years in Québec City.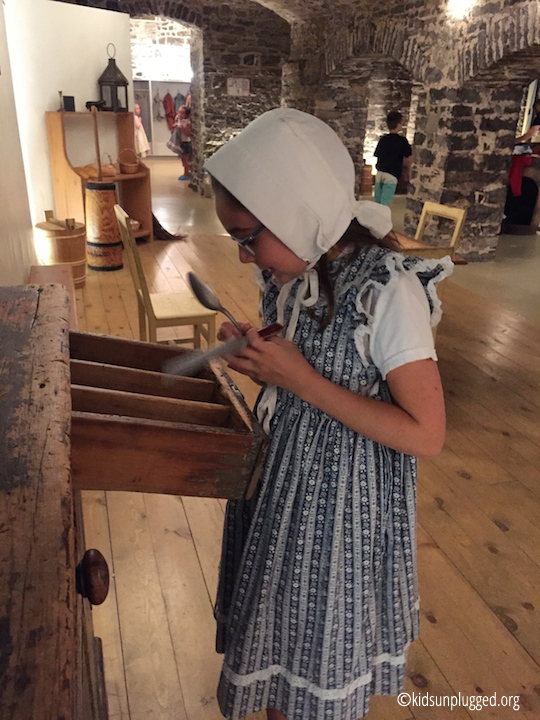 Downstairs, my girls immersed themselves in Place Royale daily life, donning period garb and play-acting in the imagined home of a 19th century master cooper. Guided tours of the Place are offered daily by costumed interpreters as well.
Musée de la Civilisation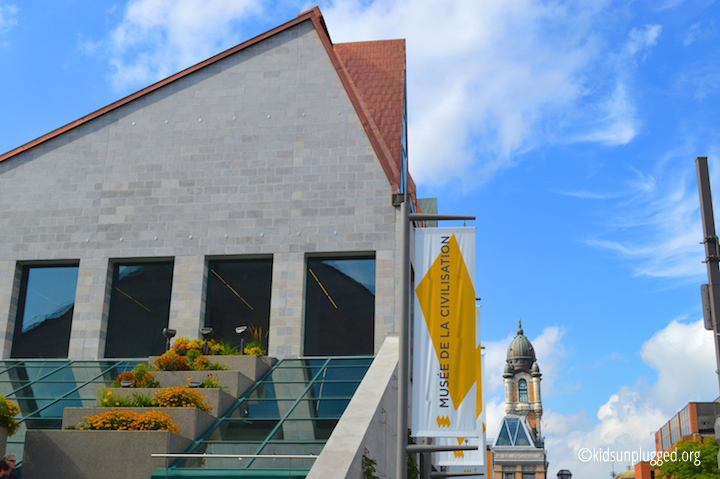 Located on Rue Dalhousie near the harbor, Québec's Musée de Civilisation explores world culture through a contemporary lens. The museum houses a mix of permanent and rotating exhibits, most of which offer visitors a rich, interactive component.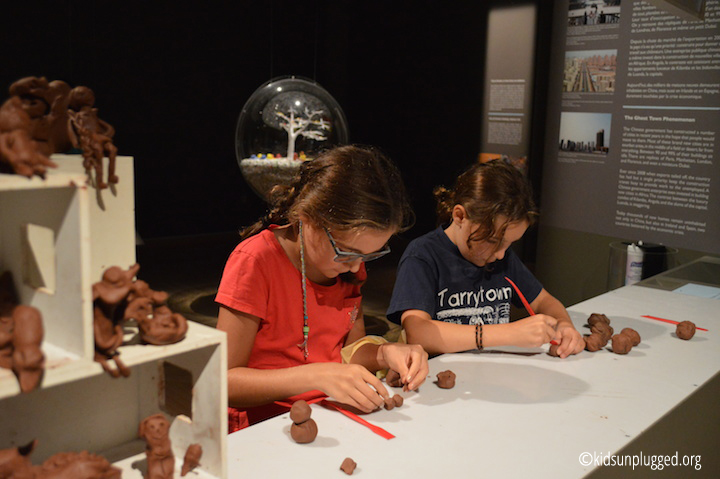 Our self-guided tour included an examination of the day-to-day lives of residents of a Port-au-Prince slum in Shantytown Cities, a captivating look at the art of animation in Frame x Frame, an immersive experience in contemporary dance in Rebel Bodies, and a transporting journey back in time in Egypt's Magic, including an incredible display featuring a real mummy. We arrived at the museum late in the day—with only two-hours to go until closing time—and certainly could have stayed longer.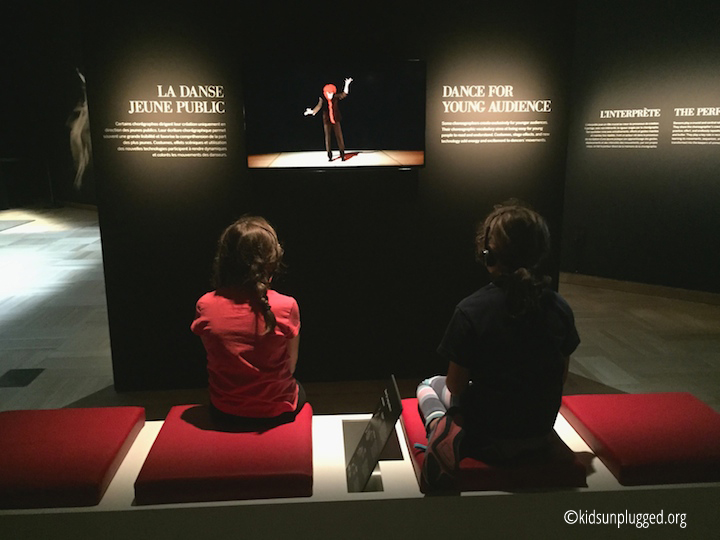 Québec-Lévis Ferry
Taking to the waters of the St. Lawrence offers a unique vantage point of the city from below. For a quick trip back and fourth across the river, ferries run between Québec City and Lévis, a town on the south shore of the St. Lawrence, every 20-30 minutes throughout the day. For a real adventure, rent bikes before boarding the ferry and spend some time riding along the Parcour des Anses, a paved linear park in Lévis that runs for 15km along the St. Lawrence. Before heading back to the city, make a stop for ice cream at Glacerie a L'Europeenne up the hill in Vieux Lévis.
Outside Québec City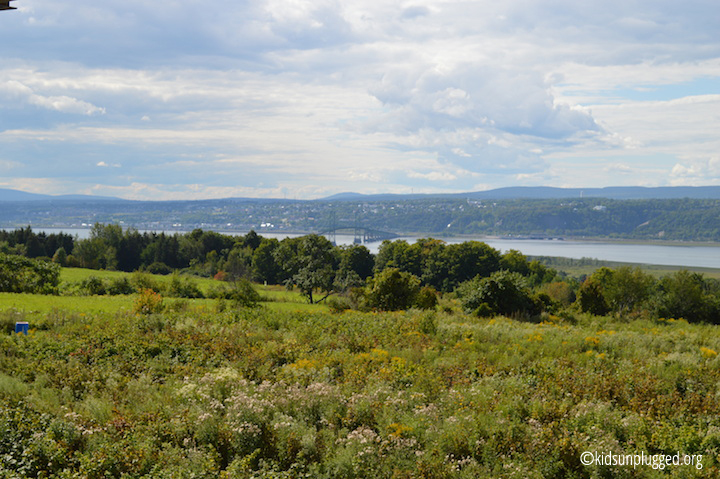 Île d'Orléans
Surrounded by the waters of the St. Lawrence River just a 15-minute drive north of the city sits the Isle of Orléans, an island of six parishes set in the midst of scenic countryside. Île d'Orléans is a designated historical district and has a proud heritage as the agricultural epicenter of Québec City.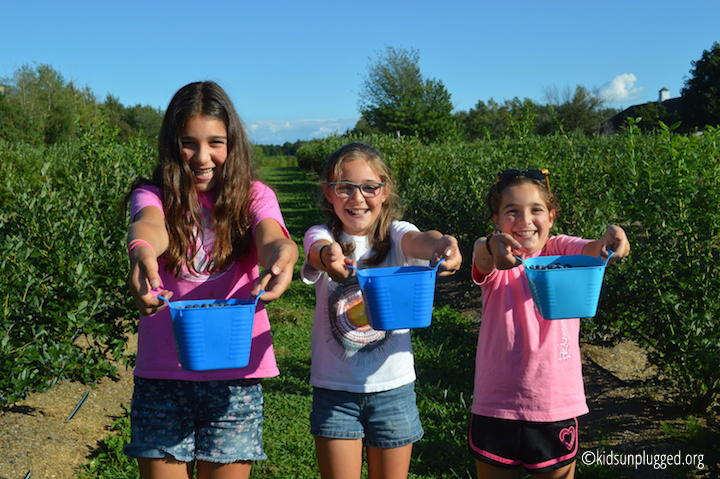 On the other side of the Pont d'Île, Chemin Royal travels for 42-miles around the island's perimeter, passing roadside stands bursting with fresh produce and regional specialties, verdant pick-your-own farms, lush vineyards, and orchards, and galleries displaying the handiwork of local artisans.
Three roads bisect the island along the way, so you can shorten your driving tour at various points if you'd like. A stop at Aux Trois Baies to pick blueberries after having lunch on the outdoor terrace at Cassis Monna e Filles was one of the highlights of our time in Québec.
Montmorency Falls
Another excellent outing right outside the city is Parc de la Chute-Montmorency. With hiking trails, a gondola ride to the top of the falls, and an interpretation center where visitors can learn the history of the site, you'll want to give yourselves a couple of hours here.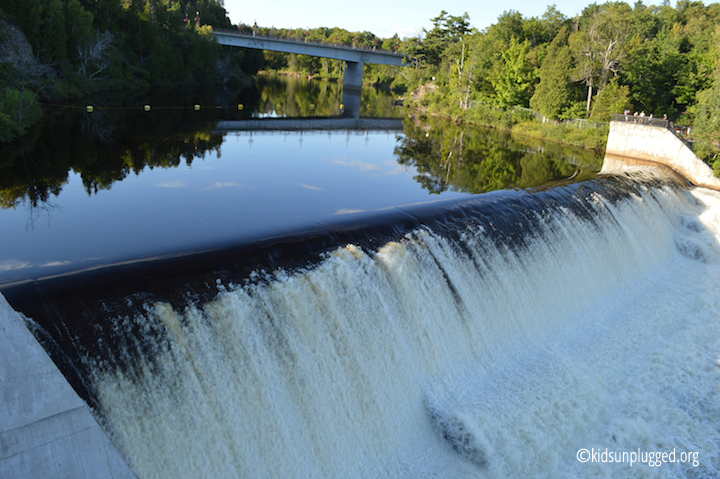 The falls themselves, cascading from a height that is 98-feet higher than Niagara Falls, are the obvious highlight and are pretty spectacular—especially when viewed from the pedestrian bridge suspended over the river. In the interest of time, we took the gondola to the top and back, but a more adventurous route would have been to walk the 487 stairs that hug the side of the gorge.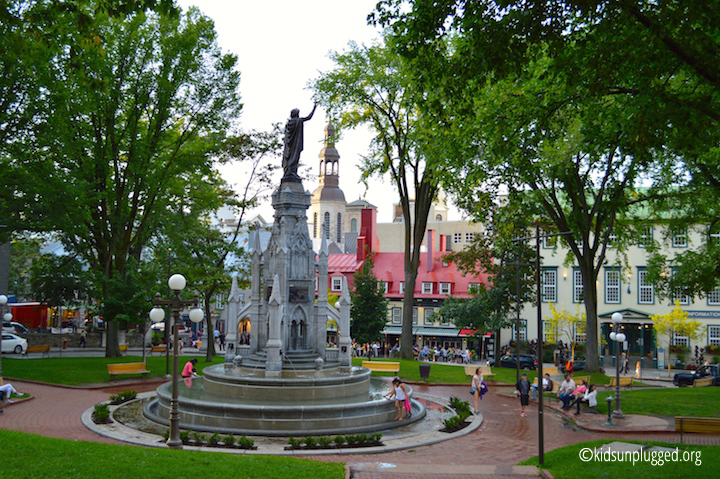 If You Go
We had three nights and two days in Québec City and could certainly have stayed longer as there is still a great deal more to see and do. We spent the majority of our time in Old Québec, but there are other neighborhoods that are well-worth exploring. We also would have loved to take the train north to the Charlevoix region, which is famous for being an excellent agritourism destination.
Old Québec City is very walkable and it's a good idea to make a stop in the main office of tourism early in your visit–it's the cream colored building with blue trim you see in the photo above–right across from the Chateau Frontenac. They are a wealth of information.
As a New Yorker, parking is always at the forefront of my mind anytime I travel to a city. On our first evening we found metered street parking across from the Parliament building along Rue d'Auteuil near Port St. Louis. The rest of the time we parked in one of the many garages scattered around town. Signs throughout the city point you in the direction of the nearest ones. There are also electronic signs that indicate how many spots are available in different lots. Parking was about $18 for a full day, which I though was a bargain coming from New York City.