I cannot imagine what my life as a child would have been like without the magic of books. From the time I learned to read, I spent countless hours with my nose buried in the pages of my favorites–the Anastasia series by Lois Lowry, All of a Kind Family, Where the Red Fern Grows, and anything at all by Judy Blume are the ones that come to mind first. My daughters are the same, especially the oldest, and as a family we struggle to find a place on the coffee table to put a cup of tea in between the piles of books. The Secret Garden, the Lightening Theif, Ramona the Pest, and the sixth Harry Potter are there right now, along with a smattering of picture books, Jon Krakauer's Into Thin Air, and National Geographic's new compilation of Nature Poetry.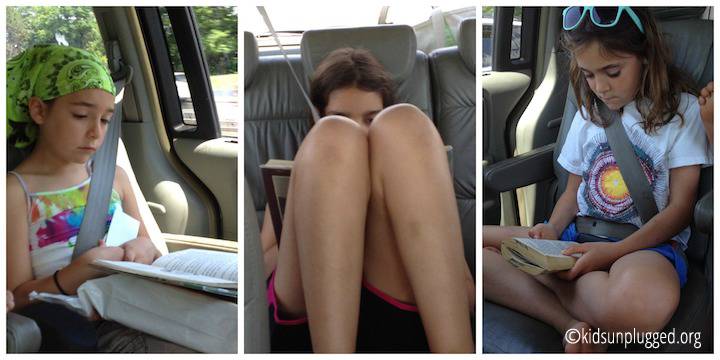 As Thanksgiving nears, I'm reminded to consider all for which I have to be thankful. And though gratitude is a daily presence in both my mind and our home, being grateful for something as seemingly simple as books–and our easy access to books–is not at the forefront of my thoughts. That changed when I learned about this year's Passports with Purpose beneficiary. Worldreader is a global non-profit headquartered in San Francisco with a passion for books, technology, reading, and literacy. For the folks at Worldreader, and the thousands who reap the benefits of their work, books aren't ever taken for granted.
What is Passports with Purpose

In 2008, travel writers Debbie Dubrow, Pam Mandel, Beth Whitman and Michelle Duffy were looking for a way to create community among travel bloggers and give back to the places we visit and Passports with Purpose was born. Since then, PwP has raised hundreds of thousands of dollars in collaboration with myriad volunteer travel writers, supporting the work of organizations that include Heifer International, Water dot org, buildOn, Room to Read, American Assistance for Cambodia, and Sustainable Harvest International. Funds have gone toward everything from providing clean, safe water, to creating literacy programs, constructing chools and libraries and even building entire village in India.
The 2015 Beneficiary – World Reader
According to the United Nations, there are 740 million illiterate people in this world and 250 million children of primary school age who lack basic reading and writing skills. Worldreader's mission is to unlock the potential of millions of people through the use of digital books in places where access to reading materials is very limited.
781 million adults and 126 million youths – 3 out of 5 of them girls – can neither read nor write. Literacy is critical to breaking the cycle of poverty and books are critical to improving literacy. But in Africa as many as 50 percent of all schools have few or no books.  ~UNESCO
Through the 2015 Passports with Purpose fundraiser, Worldreader plans to furnish five libraries in western Kenya with 50 e-readers each, providing an estimated 6,250 children, teachers and parents with access to more than 50,000 books. According to Worldreader's research, "The presence of e-readers [in Kenyan libraries] led to an average increase of 178% in monthly library visits and 84% of patrons reported reading more with the devices. What's more is the reading isn't confined to the walls of the libraries: during the study there were 254 library-initiated community events held to encourage reading in a much bigger way."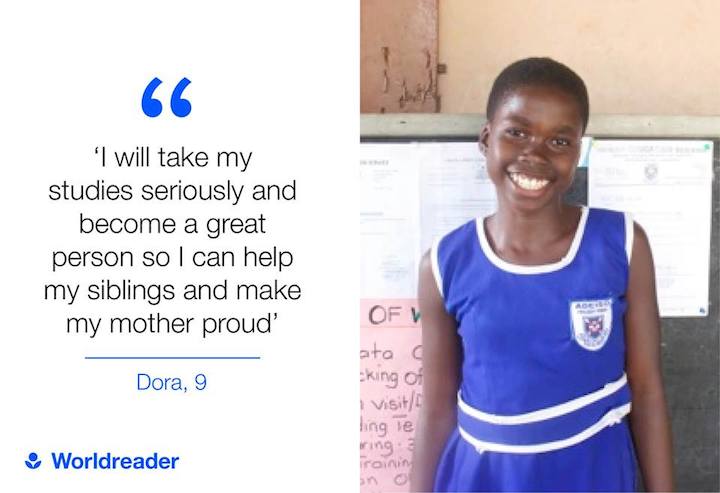 Our 2015 Passports with Purpose Prize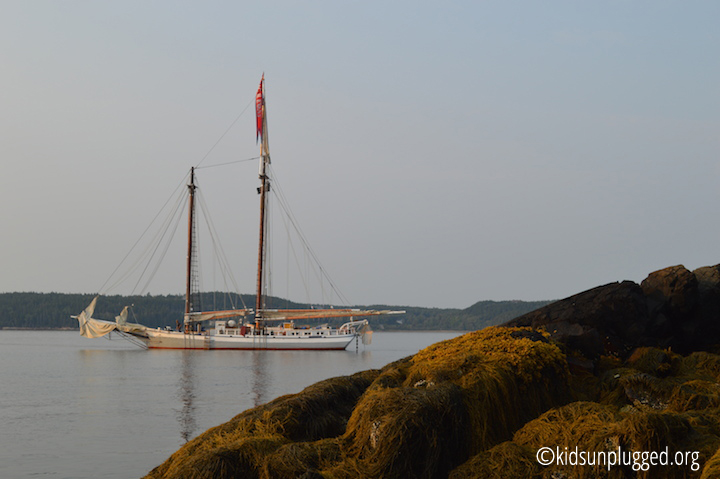 Kids Unplugged is honored to be partnering with the Maine Windjammer Association and Captain Brenda Thomas of the historic schooner Isaac H. Evans for the 2015 Passports with Purpose fundraiser. Captain Brenda has generously donated a four-night cruise throughout Maine's stunning Penobscot Bay for two people aboard the Evans during her 2016 sailing season.
My two younger daughters and I had the great pleasure of sailing with Captain Brenda on the Evans this past September. If you've never cruised aboard a windjammer, you're in for a truly memorable experience.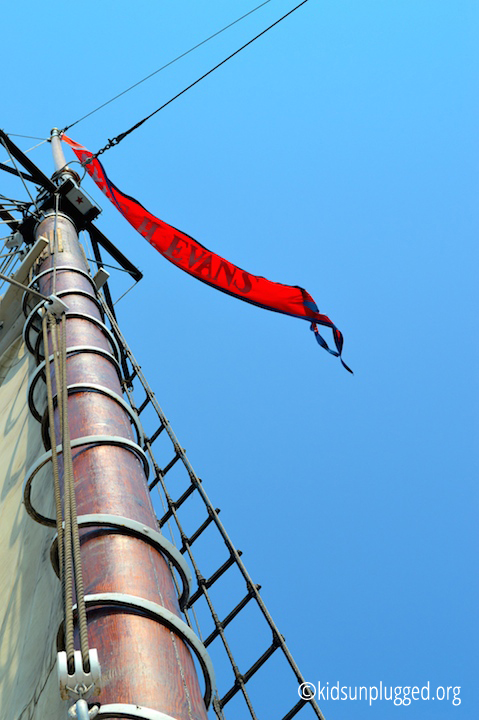 Some have said it's like sailing into a postcard. Climb aboard the Schooner Isaac H. Evans for a four-night cruise around Maine's idyllic Penobscot Bay where you'll island hop through an area that has been called the best and most beautiful cruising grounds in the world. Captained by the wonderful Brenda Thomas, the Schooner Evans has been designated as a national historic landmark and welcomes up to 22 guests each sailing. With no set itinerary, every sailing trip is a new adventure.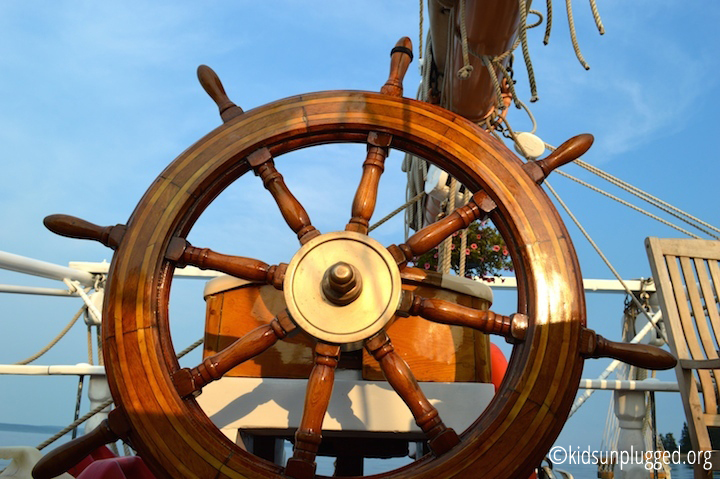 Enjoy cozy berths, delicious meals – including the Evans' renowned lobster bake on the beach – and unparalleled scenery. You'll spot dolphins, eagles, osprey, seals, and even the occasional whale as you cruise past historic lighthouses and uninhabited islands along Maine's unspoiled coastline. Jump in for a swim, bask on deck in the sun, help hoist the sails, or just while away the hours with a good book–this is relaxation at its best.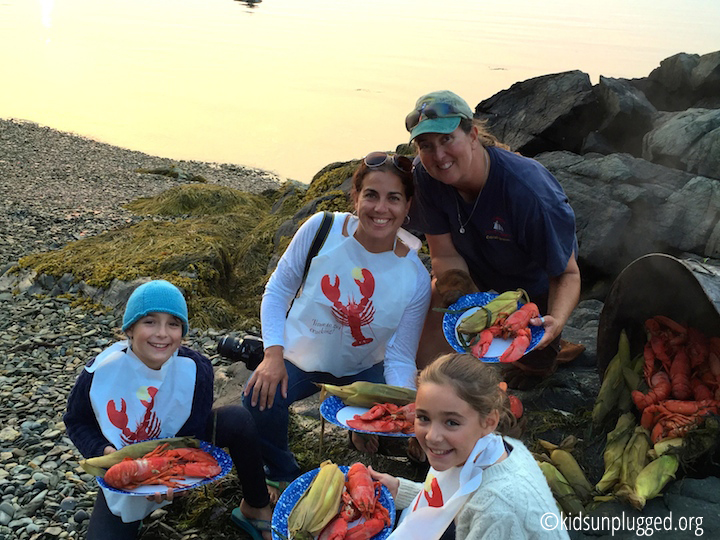 This prize is for a cruise for two for up to four nights (excludes six-night trips). Blackout dates include the Great Schooner Race, Perseid Meteor Shower and Camden Windjammer Festival. Space available, 2016 season only.
Here's the 411 on the auction. Each $10 donation that you make entitles you one chance to win the prize of your choice.  So if there's a prize that strikes your fancy (a sail around beautiful Penobscot Bay aboard an historic schooner, perhaps) just make a $10 donation and you will have made a bid.  But there's no need to stop there–feel free to donate $100 for 10 chances to win that coveted prize.
Or, because our dynamo travel blogging community has amassed such an amazing catalog of goodies for this year's auction, choose several prizes on which place your bids. There's no end to the number of bids you can amass–and the added benefit of donating to a Passports with Purpose fundraiser is that your bids are going toward making a profound impact on the lives of many for years to come.
Click HERE to Donate NOW!
This year's auction kicks off tonight, November 8th, and will run for two weeks from until 11:59 p.m. on November 18th.  Remember, the cruise aboard the Isaac H. Evans, while certainly fabulous, is only one of a LONG list of fantastic travel prizes on the 2014 Passports with Purpose auction block. So go ahead–open up this year's prize catalog and peruse all of the donations procured by the super travel bloggers participating in the 2015 campaign. Then all that's left to do is start bidding!
What are you waiting for?
Here's to being grateful–and to giving back.