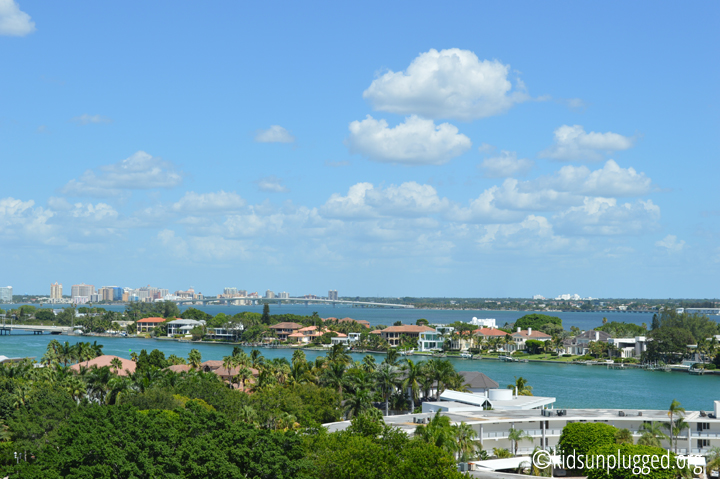 Our family, especially my dad, has always loved Sarasota, Florida.  In 1973, long before St. Armand's key became a hub of sophistication and the county became the mecca of art and culture it is today, my Great Aunt Ann and Uncle Eddie relocated there from Connecticut with their four sons.  Their move gave the lot of us a built-in vacation destination and their home, just a short walk from the now-chic St. Armand's Circle and beautiful Lido Beach, serves as the home-base for visiting aunts and uncles and cousins to this day.  For this reason, we've never stayed in a hotel when in the area, being treated instead to Auntie Ann's exuberantly warm hospitality and incredibly delicious Italian cooking.
These days, descending upon Aunt Ann and Uncle Ed's two-bedroom condo with my three girls in tow isn't practical.  I don't want Aunt Ann doing all the work that would be involved in having us stay with her and we're simply just too many people to accommodate.  So this summer when my dad and I hit the road from New York to Florida with the girls, we instead had the blissful experience of staying nearby at the Resort at Longboat Key Club.
The Resort at Longboat Key Club is located, you guessed it, on Longboat Key–a barrier island on the Gulf of Mexico that is just a few minutes drive from St. Armand's Circle.  Home to a wide range of accommodations (including some really fabulous suites which I'll tell you about in a second), a cornucopia of activities and amenities from golf and tennis to beach walks and spa treatments, and a plethora of dining options, the Resort at Longboat Key Club is an ideal spot for a very fun and totally restful family vacation. Without further ado, here are five things that families are sure to love:
1. Incredible Family Suites
We like to make ourselves at home when we travel.  As a family of five, we're always looking for a bit of space to spread out and we like to cook and eat in rather going out to restaurants for every meal.  For these reasons, we love renting a house or cabin or condo on vacation rather than traditional hotel rooms.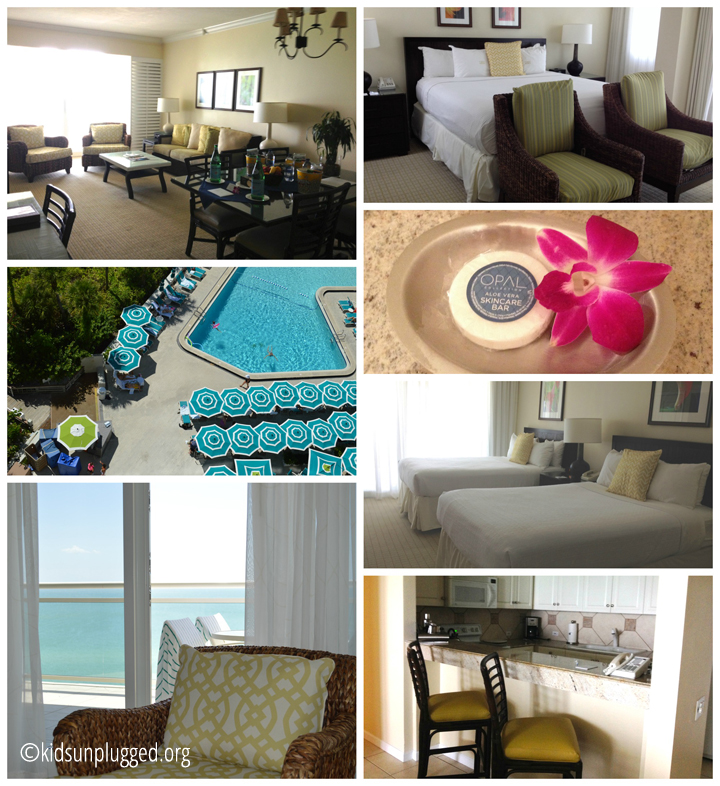 The family suites at Longboat Key Club are like having your own mini-beach house, complete with a bright, comfortable living room with dining area, large, fully equipped kitchen (there was even a blender!) and gorgeous views of the beach from the wide, private balconies furnished with lounge chairs and dining table.  With sparkling clean Publix supermarket a 5-minute drive from the Resort you could easily stock up on whatever groceries you might need.  At the same time, unlike a self-catered beach house, the Resort at Longboat Key Club treats you to amenities like daily housekeeping, turn down service, and in-room dining.
We were in heaven in our two-bedroom suite where my dad took the room with the king bed (the girls duked it out each night for the chance to bunk in with him) while I took the second bedroom with the two queens with the other two.  As I was traveling with my dad, having the added space and privacy of two bedrooms was nice.  Had my husband been along instead, our family would have done fine in a one-bedroom suite with the pull-out queen sleeper sofa and a rollaway bed for the kids.
2. Fantastic Beach & Pool
One of the first things you notice upon entering your room, after being delighted by how pretty and spacious it is, is the spectacular view of the resort's pristine and private white sandy beach and the adjacent sparkling, salt water pool.  I definitely did not spend enough time lounging on that balcony drinking in the view, but I enjoyed it every second I could.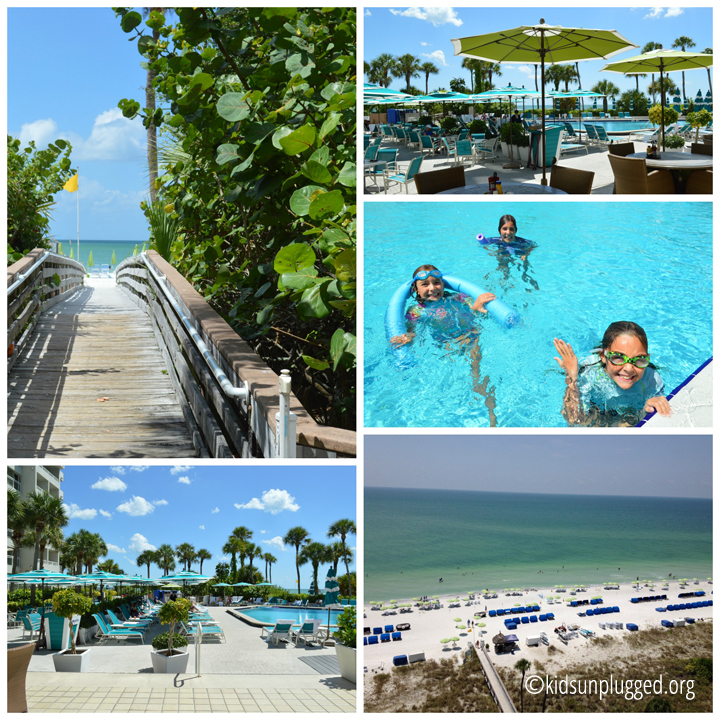 Similar to the Kiawah Island Resort where we'd been the day before, the close proximity of the ocean to the pool along a short boardwalk path made it super easy to go between the two. The girls did this several times, digging in the sand while I relaxed on a shady cabana-style lounge and then running back to jump into the pool while my dad read his book under a bright, blue umbrella.
If the mood strikes, kayaks and paddle boards are available to rent and we did try our luck paddle boarding one afternoon for a little while.  My daughter had gone with her cousins during our annual week Stone Harbor, New Jersey and enjoyed it but the breeze that day made for slightly rough conditions so we didn't last too long.  We eventually made our way to the pool where we swam, read and enjoyed a poolside lunch from Barefoot's Bar & Grill that was delivered right to our chairs.  On that note, the cubano sandwich and the lobster roll are both fantastic!
3. Lots of Fun for Everyone
The amenities at Long Boat Key Club are plentiful and varied and there are plenty of things to do for everyone in the family.  In addition to the  lovely, stretch of white sandy beach and oceanside pool I just told you about, the Resort boasts tennis courts, two golf courses, tennis and golf instruction, kids' club and activities, water sports, fitness center, group exercise classes, a luxurious spa and a plethora of dining options.  I kept thinking what a perfect destination the Resort is for a multi-generational trip given all of the options for fun and relaxation that are available.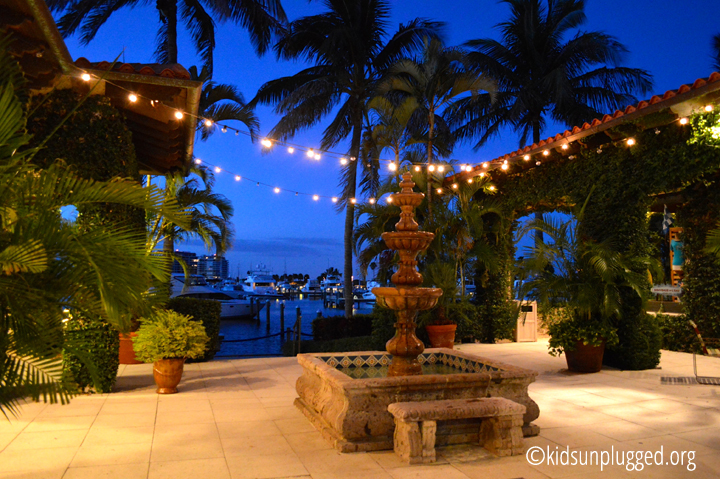 We had some great meals during our stay including delicious and healthy breakfasts every morning at both Sands Pointe and a relaxing dinner on the terrace of Portofino, overlooking the marina at Longboat Key Club Moorings a short 10-minute drive from the Resort.  Additionally, the Resort offers a shuttle service to any Club areas guests wish to go as well as to other local destinations like St. Armand's Circle.
4. Plenty of Nearby Unplugged Adventures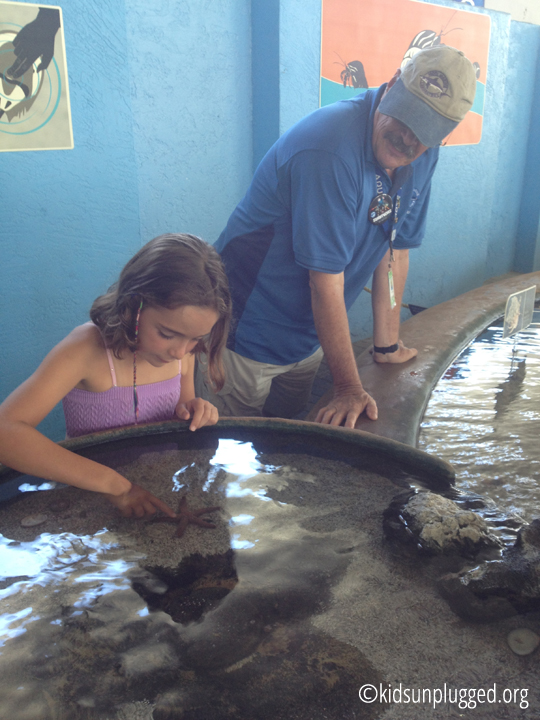 The Sarasota County area is a treasure trove of opportunities for exploring nature and the outdoors.  While the area's spectacular beaches are obviously a big draw for families, a visit to the nearby Mote Marine Lab, Crowley Natural and Cultural History Center, or the The Marie Selby Botanical Gardens would be a great way to spend a morning or an afternoon.  There are also several outfits that offer guided tours both on land and on the water be it nature hikes, sailing excursions or kayaking trips.  The Ted Sperling Nature Park on the south end of Lido Beach offers self-guided kayaking and boardwalk strolls.  Another fun spot is the South Florida Museum in nearby Bradenton which is home to a natural history galleries, an aquarium and a planetarium. Finally, beyond the outdoors Sarasota is home to numerous opportunities to explore the arts.  One favorite is the Circus Museum at the Ringling where families can lose themselves in the history and magic of the Greatest Show on Earth.  A great resource for all that Sarasota has to offer is the
5.  Preferred Family Stamp of Approval
The Resort at Longboat Key Club is one of the Preferred Hotel Group's Preferred Family hotels.  To receive this certification, a resort must prove that it goes beyond the conventional classification of "family friendly" by providing services to truly streamline a family vacation.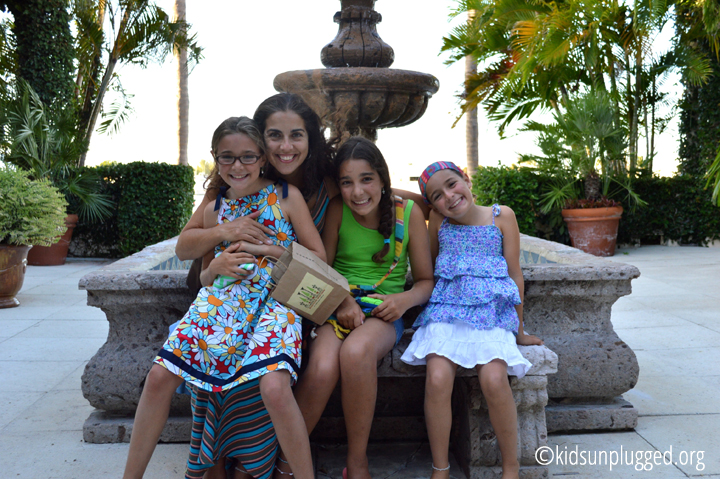 I saw evidence of these services throughout our stay during which Resort staff went above and beyond to ensure that our stay was comfortable, enjoyable and relaxing.  From making suggestions about where we might want to take the girls to arranging dining and shuttling me to an appointment at the Spa, all of our needs were anticipated without our having to ask.  As a busy mom, I am constantly juggling groceries and meals, carpools and laundry in addition to my own work life.  I can assure you that to be taken care of in this way was an absolute delight!
We loved our stay at the Resort at Longboat Key Club and look forward to the next one.  I'm so glad to have a new home away from home in Sarasota!