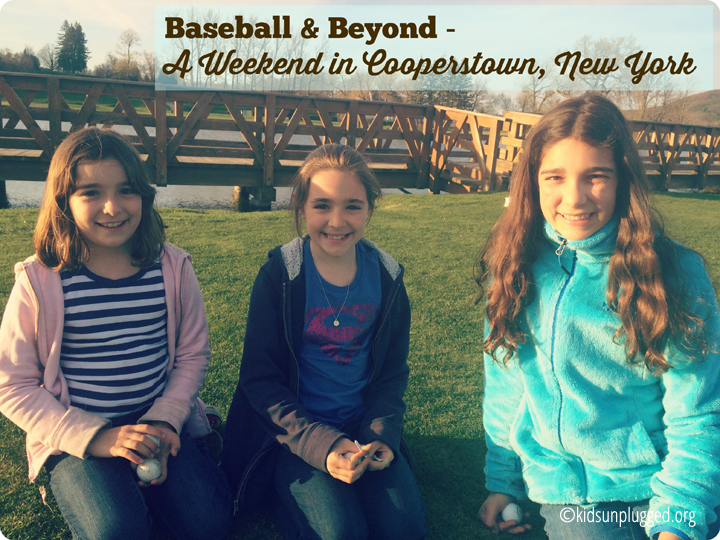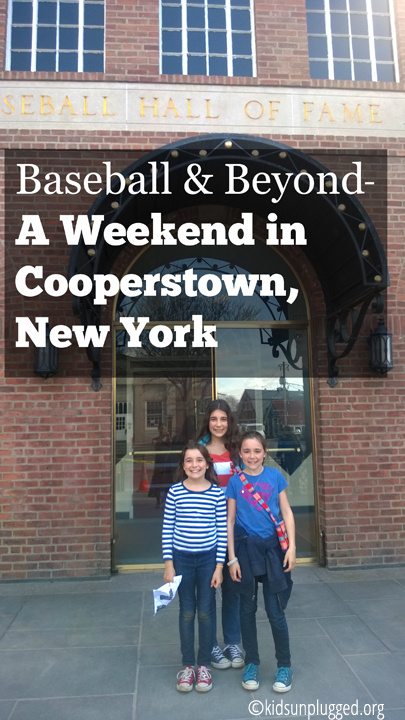 Along many miles of two-lane roads through north-central New York, abandoned farmhouses languish with broken windows and sagging clapboard siding that has weathered to a deep gray.  Each one is its own version of Dorothy Gale's house after the twister dropped it down on Munchkinland, yet the surrounding rural upstate-New York area has none of Oz's Technicolor glitz. My girls and I were headed north for a weekend in Cooperstown, and as we traveled through the country beneath an overcast sky they began to question the soundness of our destination.
The first and only time I had been to Cooperstown was almost 30-years ago, on a day trip with my family from my uncle's house near Albany.  I was 12 at the time and the only recollection I have from that day was the tedious ride to the Baseball Hall of Fame through what seemed to me like no-man's land—I didn't have much memory of the town itself. Still, I assured my doubting girls that we were in for a treat as everything I'd read leading up to the weekend described Cooperstown as a picture-perfect icon of old-fashioned Americana.
The Otesaga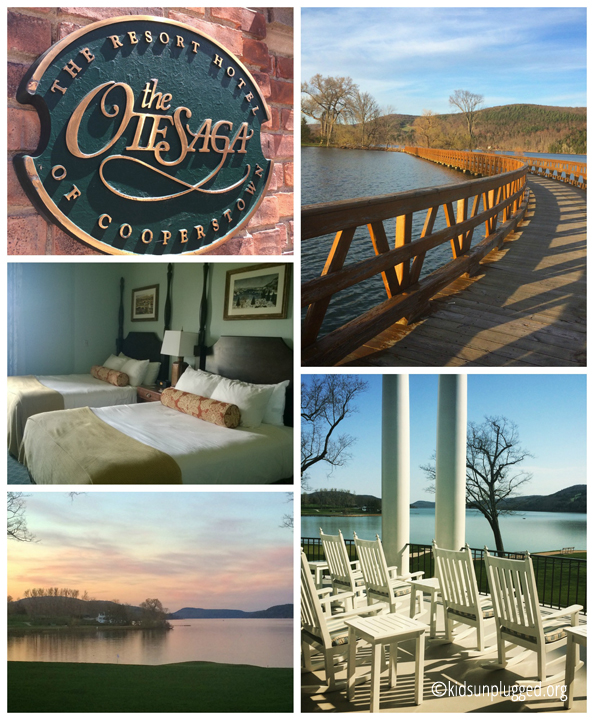 After another hour or so along various numbered country highways, we pulled into town. The girls' concerns disappeared completely as we drove down charming Main Street, passed the village's single traffic light, and pulled up in front of the stately Otesaga Hotel, which would be our home for the next couple of days.
Built in 1909 the Otesaga Resort Hotel is a member of the Historic Hotels of America and was once the stomping grounds of wealthy New York families looking to summer in the country. Open seasonally from April through November, the resort is one of the country's grand lakeside hotels, situated directly on the banks of Lake Otesago. We quickly settled into our room and had dinner in the hotel's Hawkeye Grill before heading off to bed with the plan of getting an early start the next morning. We had a packed two-day itinerary ahead of us and having done quite a bit of research, I couldn't believe how much I'd discovered to see and do.
Cooperstown 101
Despite being known as the fabled birthplace of our national past time, the central New York village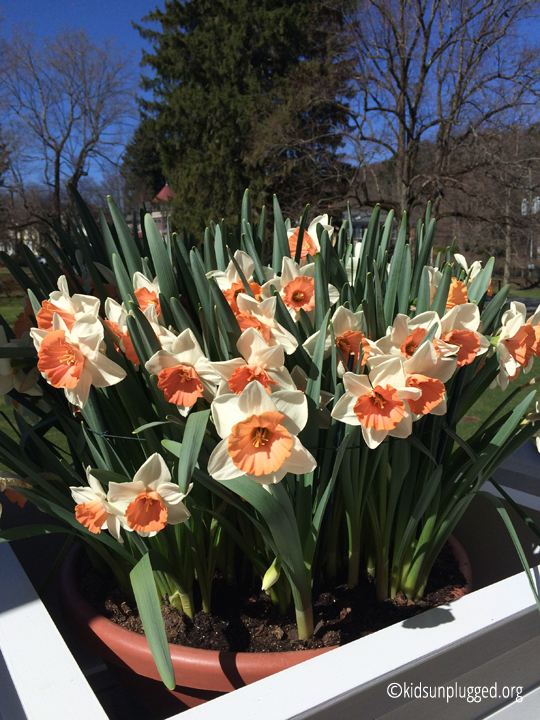 of Cooperstown and surrounding Otesago County are home to a lot more than peanuts and crackerjack. Nestled on the southern shores of Lake Otesago, Cooperstown boasts abundant natural beauty, a lively cultural scene and a rich agricultural heritage all of which provide families ample opportunities to fill a few days with unique diversions and outdoor adventures.
Saturday dawned warm and sunny—welcome weather after what was a truly dreadful east coast winter—and everywhere we turned we saw scads of golden yellow daffodils. The view from the resort was pure magic and I longed to while away an hour or so in one of the rocking chairs that graced the elegant back porch, but a bountiful breakfast buffet in the resort's Glimmerglass Restaurant was calling our names. Happily we were treated to a similar view during breakfast through huge, floor to ceiling windows that overlooked the lake.
A Stroll Down Main Street
Just a short walk from the hotel is Main Street and we decided to start our day with a quick visit to the Farmer's Market. More swaths of daffodils planted in barrels decorated the sidewalk at regular intervals and the town was a hive of activity. At the market we picked up a jar of sumptiuous lavender beeswax hand salve from the Painter's Farm while live jazz and a warm community vibe served as the backdrop for tables heaped with local greens and other seasonal produce, fresh goat cheese, baked goods, and hand spun and dyed yarns.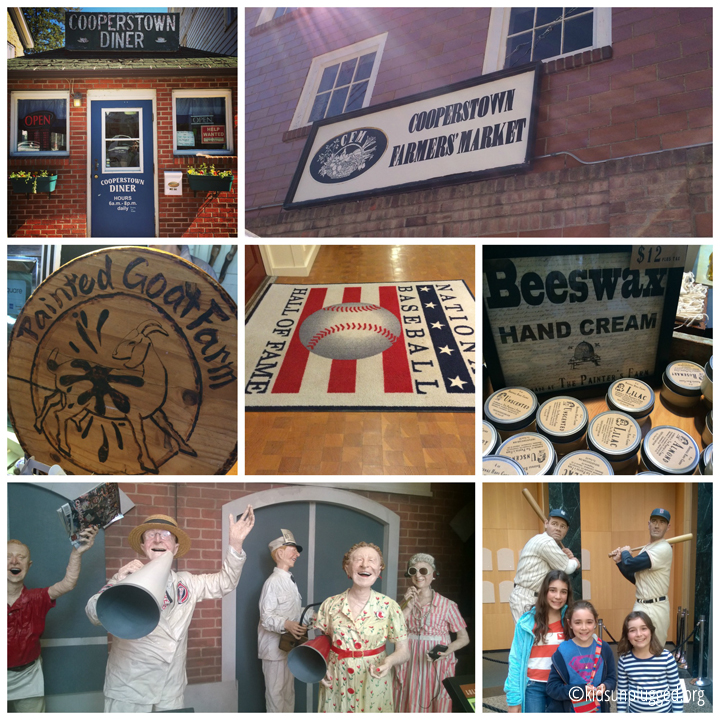 Although historians have long debunked the myth that Abner Doubleday invented the game of baseball in Cooperstown in 1839, the town welcomes thousands of visitors each year, most of whom head straight to The National Baseball Hall of Fame and that was our next stop.
Plan to spend at least 3-4 hours touring the museum—it's absolutely fantastic and is packed with incredible memorabilia that will thrill die-hard fans and ballgame novices alike. The girls and I loved following along on the path to Hank Aaron's record-breaking 715th homerun in Hank Aaron: Chasing the Dream and listening to the Great Bambino's crackling voice on a recording playing in Babe Ruth: His Life and Legend. In Diamond Dreams: Women in Baseball I was reminded of the great Penny Marshall film, A League of Their Own and mentally put it on our family movie night list. You can get a hand stamp that allows you to reenter any time you wish throughout the course of the day, so feel free to take a break for lunch or pop over to Doubleday Field for a few innings before heading back to finish your tour.
Hops and History
Our next stop was a tour, a beer tasting for me, and lunch for everyone at Brewery Ommegang about 5-miles outside of town. Prior to our Cooperstown weekend I had no idea that the town's hops were once considered the best in North America. Back in the late 1800s, 90-percent of the country's hops were grown in New York, a third of them right in Otesago County. Brewery Ommegang celebrates this tradition and though the girls were a bit bored, opting to lie in the grass on the lawn outside of the tasting room, I loved trying an assortment of Ommegang's delicious Belgian style ales.
Continuing with a focus on the county's agricultural roots, we headed out to the nearby hamlet of Fly Creek for a visit to the historic Fly Creek Cider Mill. Owned and operated by the Michaels family since 1962, Fly Creek produces its cider using the mill's original press that is powered by water from the creek. This was my 9-year old's favorite stop and she loved feeding the gaggle of geese, chickens and ducks running around the mill yard, sampling homemade fudge and enjoying a bottle of fresh, cold apple cider.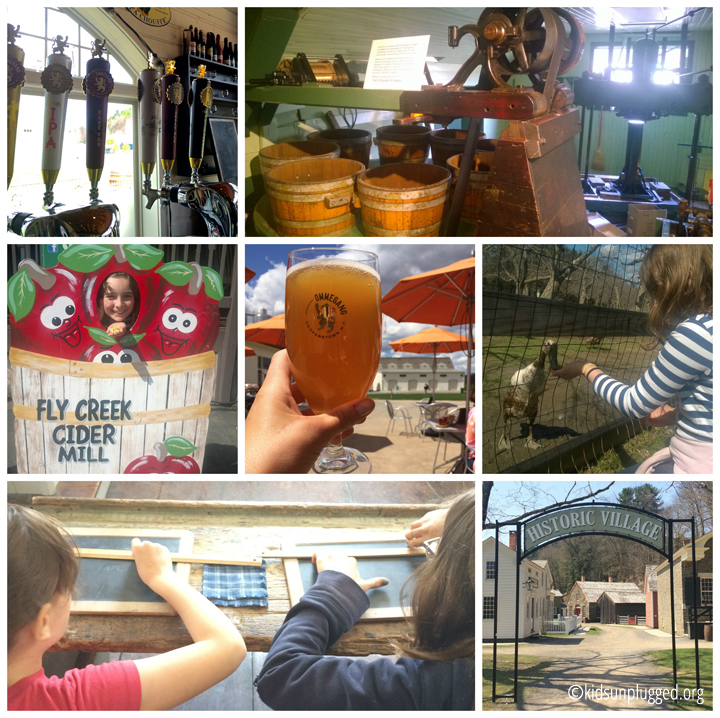 But the centerpiece of Cooperstown farming history is the Farmers' Museum, where we found ourselves on Sunday morning. About a mile past the Otesaga on the grounds of what was James Fenimore Cooper's 1813 farm, the Farmers' Museum is a true living history center. A recreated village comprised of several authentic structures sets the stage for visitors to learn about 19th century farming, homesteading, and education.  Costumed docents are stationed around the village and teach local trades like printing, weaving, and blacksmithing. My girls loved playing 9-pin and practicing lines with the schoolteacher and were somewhat disgusted to hear a lesson on the medicinal uses of leeches at the apothecary. We purchased a few packets of heritage seeds for our own backyard garden at the museum store and a ride on the hand-carved wooden animals aboard the beautiful Empire State Carousel was the perfect way to end our visit.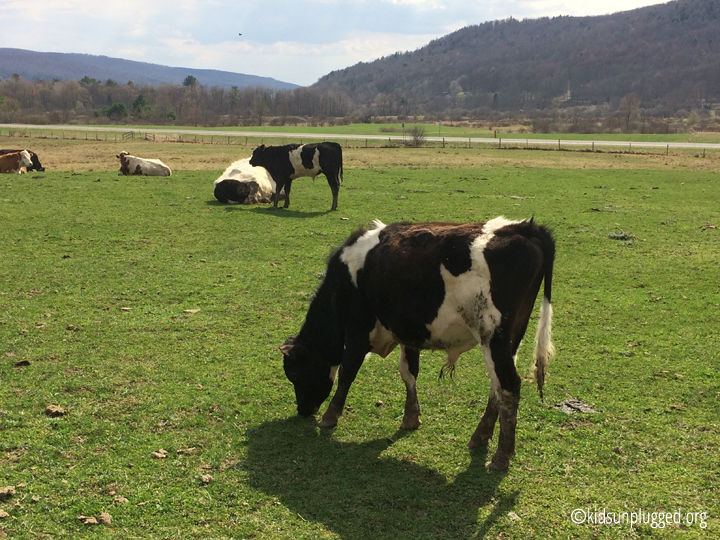 We drove out of town Sunday afternoon after a late brunch at the whimsical farm-to-fork restaurant called Origins Café, and found ourselves reluctant to leave. As we traveled back toward the interstate along those same, seemingly desolate county highways we'd arrived by, the sun was shining and the fields, grazing cows and old farmhouses were aglow with light. We were taking with us newfound knowledge of a county with deep roots and a loyal community and we looked forward to returning soon.
Disclosure: We were guests of the Otesaga Hotel for the weekend and received complimentary admission to the Baseball Hall of Fame and The Farmers' Museum courtesy of Cooperstown/Otesaga County Tourism.  I also received a complimentary tasting at Brewery Ommegang.  As always, all opinions are entirely my own.