Everyone who knows me knows that I consider myself a foodie.  Growing up, food–growing it, shopping for it, preparing it, enjoying it–was the highlight of all our big, fat Italian family gatherings.  It didn't matter if it was a holiday event or a Sunday lunch, we ate and we ate well.
As a child I was always the last one at my grandparents' table.  That was partly because I was, as my grandmother used to say, a chiacchiarone (chatterbox) but also because I was known to pile second and third slices of garlicky porchetta onto my plate with heaping sides of broccoli rabe or escarole with black olives and pignoli.
As a parent, one who loves to cook, especially with the freshest farmer's market goodies I can find, our girls have grown up enjoying crunchy roasted kale, crisp, lemony asparagus and savory sautéed swiss chard.  And as much as they love many traditional kid-favorites, they prefer the breaded chicken cutlets I make and fry in olive oil and my creamy, homemade macaroni and cheese recipe to the prepared versions available at restaurants and grocery stores.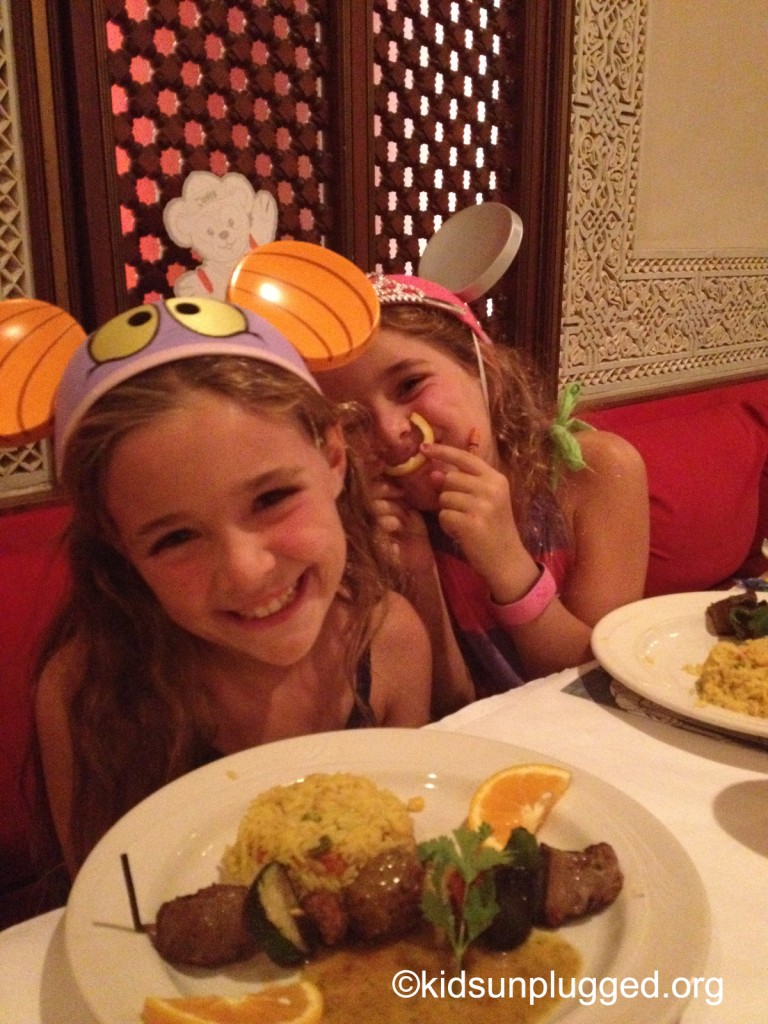 So when we took our first family trip to the Walt Disney World Resort in Florida, I was very excited to see so many unique items listed in addition to the old standbys on the kids' menus.   Since 2010, the year Disney launched its Magic of Healthy Living Campaign, the company has done quite a bit to incorporate healthy options into their theme park and resort restaurant menus.  First off, fruit has replaced the standard side of fries while milk or 100% apple juice takes the place of sugary sodas.  Additionally, many Disney restaurants have introduced fresher, healthier ingredients to meals guests find in both table service and quick service dining establishments.  In that vein, I'd like to share some ways to make healthy eating choices during your next vacation to the House of Mouse!
Try Something New
Part of Disney Citizenship's Magic of Healthy Living initiative is the Try It! campaign, the mission of which is to encourage kids and their families to push beyond their normal routines and try new foods and activities.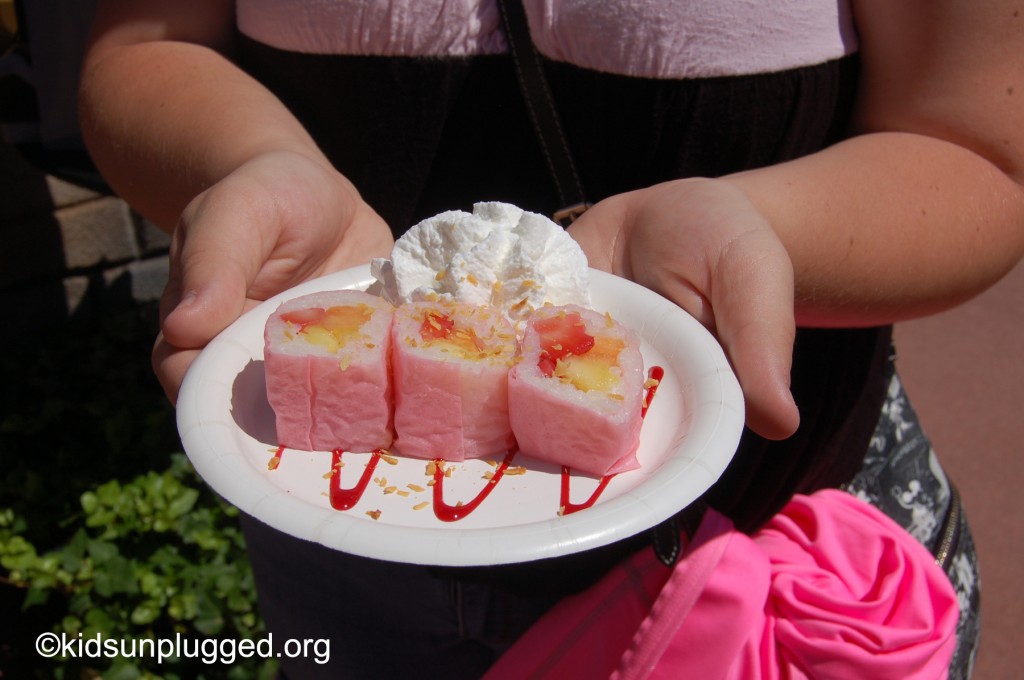 One place where I saw this happening in full force was at Epcot's International Flower and Garden Festival this spring.  During the festival, several outdoor kitchens are set up throughout the World Showcase pavilions, each one featuring small plate samplings of cuisine from that particular nation.  I saw parents and children alike snacking happily on Harissa chicken kebab with couscous salad, Beijing-style candied strawberries, fresh fruit sushi or "Frushi," and Quesadilla de hongos con queso – a flour tortilla filled with mushrooms and cheese.  Some of these flavors might be intimidating to a less-adventurous palate, but the smaller servings are just the right size for a taste of something new!
Choose the Mickey Check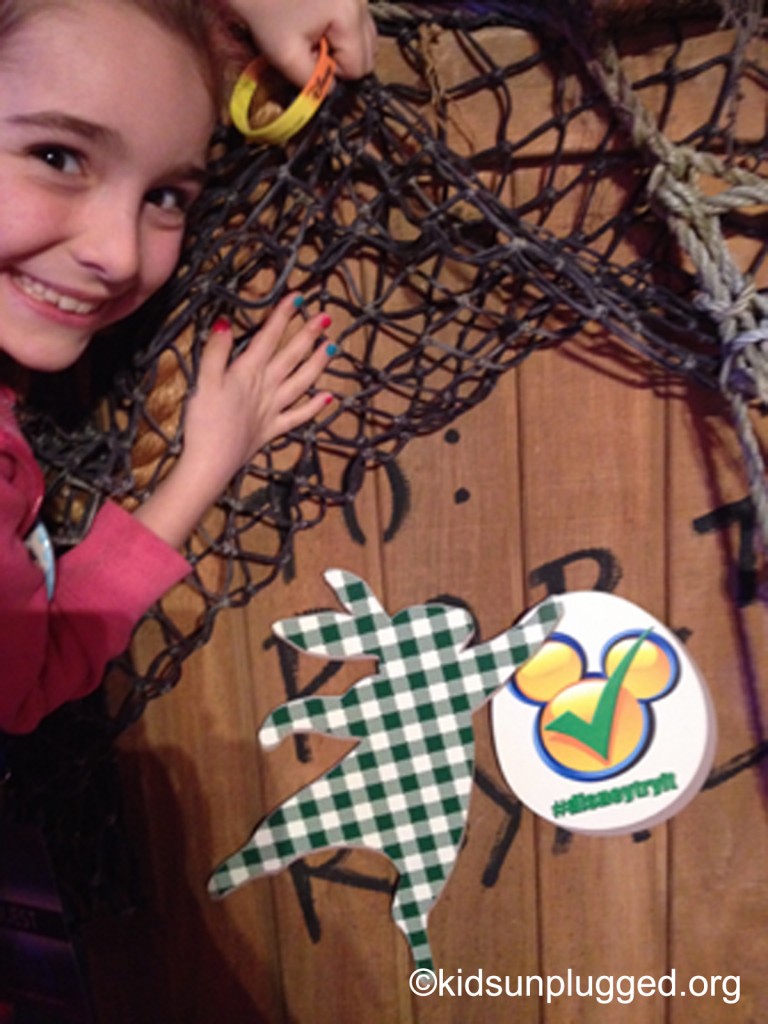 Throughout the Walt Disney World and Disneyland Resorts, parents can keep an eye out for the Mickey Check symbol on restaurant menus and at snack kiosks in the parks and resorts.  Menu items that qualify for the Mickey Check are those that are minimally processed, are low in fat, sodium and sugar, and contain whole grains, fruits, vegetables and lean protein.  Options on kids' menus include items such as grilled chicken, seared salmon, grilled tilapia, whole grain pastas, turkey meatloaf and loads of veggies.  Eating on vacation tends to consist of lots of burgers and fried foods and far too few leafy greens.  I love that my girls can choose a meal that is more like what I cook at home each night during our Disney trips!
Sides and Desserts
All of the quick service meals in the Disney parks include side dishes and desserts.  This is a great place to make some healthy eating picks.  Kids can choose grapes, apples, carrots, yogurt, or applesauce to go along with their meals.  Additionally, what many people don't realize is that any item on a Disney menu that counts as a snack item on the Disney Dining Plan can be chosen as a dessert.  That means that in lieu of ice cream or pie, you may opt for a container of hummus and vegetables, two hard-boiled eggs, Greek yogurt, or a whole-grain bagel with cream cheese for your dessert.  These items can be popped into your resort room fridge for a healthy snack or breakfast the next day.  Also, if you participate in the dining plan during your stay at Disney World you receive a refillable resort drinking mug.  As all quick service meals come with a beverage, if you are dining in your hotel's quick service restaurant, you may use your mug for iced tea, seltzer or the like and choose orange juice or low-fat milk from the refrigerator area to have for breakfast in the morning.  This is a great way to maximize your Disney dining credits in a healthful way.
Don't Forget the Treats!
With all of these fantastic and nutritious eating options, it is important to remember to include some treats–after all, you're on a Disney vacation! Be sure to grab a Mickey Bar by your resort's pool, a Kaki Gori snow cone in Epcot's Japan Pavilion or the traditional favorite, a Pineapple Dole Whip at Aloha Island in the Magic Kingdom.  With all of this healthy eating, you and your kids deserve an extra-yummy treat!
You can visit Disney Citizenship to learn more about the Magic of Healthy Living campaign including Disney Try It! and the Mickey Check program.
Disclosure: My girls and I were invited guests at the Disney Social Media Moms Celebration where we learned about Disney's Magic of Healthy Living and enjoyed some yummy meals.   I paid my own conference fees to attend which included a discounted hotel and theme park ticket rates.  All opinions and thoughts are, as always, my very own.