You've made it to this post so I guess you're seriously considering doing this drive.  Good for you!  To help you on your way, I've created a step-by-step itinerary for driving the 16+ hours from the New York metro area to the Sunshine State.  With stops you are looking at close to 20-hours door-to-door, depending on your final destination in Florida.  Total distance from New York to Jacksonville is about 940 miles.
I've broken the itinerary down into two days of driving with one overnight stay in between.  Day one takes you along the most congested part of Interstate 95 from New York south through Washington, D.C. and northern Virginia ending your drive in Fayetteville, North Carolina.  Day two takes you on a long, flat drive through North Carolina, South Carolina and Georgia and finally into Florida.  You can comfortably reach northern and central Florida in the evening of this second day.  For the purposes of this itinerary, all mileages are based on the drive from the New York metro area to Jacksonville, Florida.  For destinations further south, mileage estimates are noted below.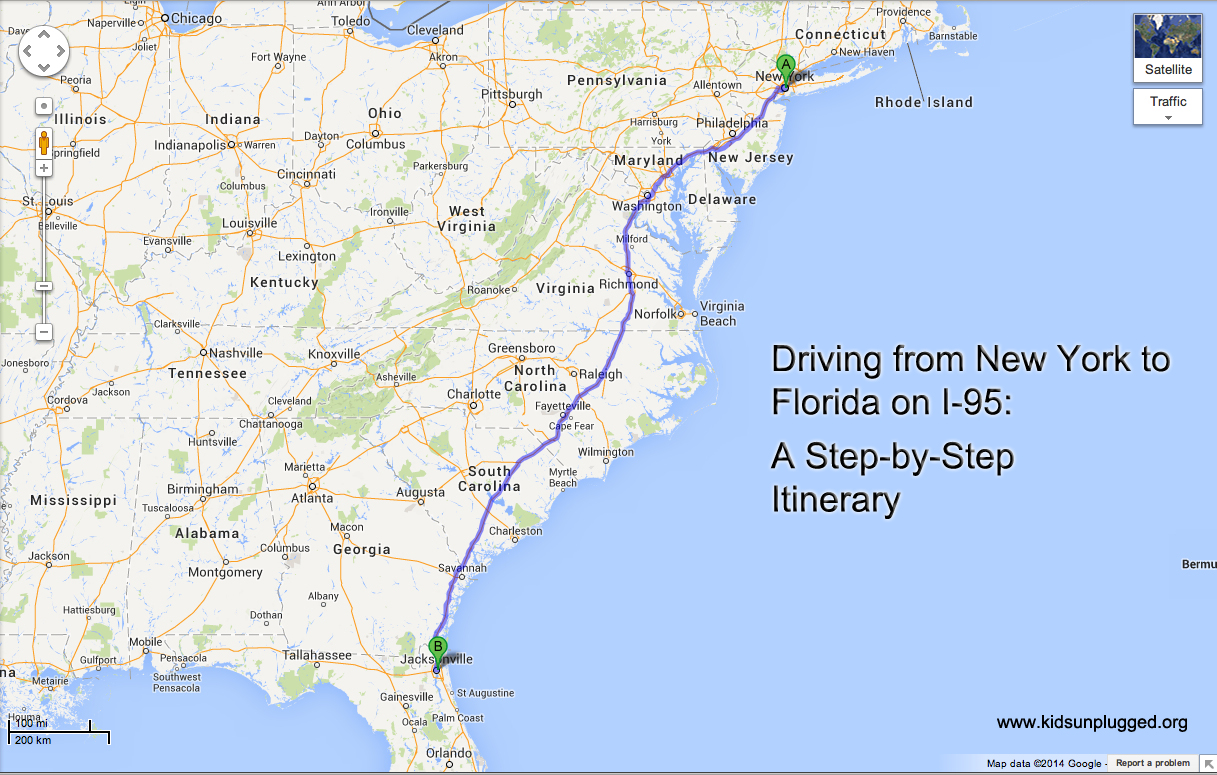 Day 1 – New York to Fayetteville, North Carolina with scheduled stops for lunch & dinner.  Assume a few additional stops for bathroom breaks.
Total mileage – approximately 544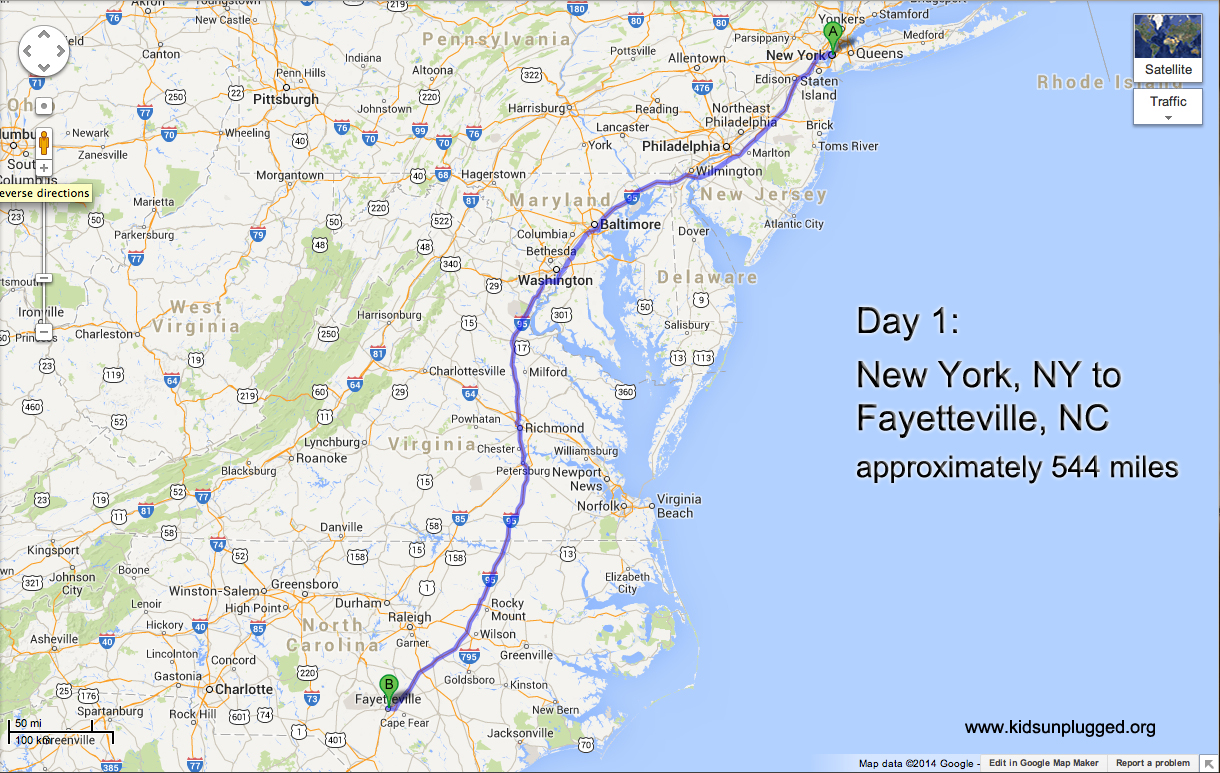 1. Get on the road by around 10 a.m.  This will allow you to get through the Washington, D.C. area ahead of the afternoon rush.
2. If you're ready for a pit stop, the Delaware Welcome Center is located between miles 3 and 1, about 130-miles into the trip.
3. Get some lunch.  I suggest doing something quick as you'll stop for a bit longer at dinnertime.  Exits 77 -67 in Maryland have lots of options.
4. Upon entering Maryland, follow signs for 895-South and the Baltimore Harbor Tunnel.
Interesting Fact:  If you start singing the Star Spangled Banner when you enter the tunnel, you will be singing, "And the home…of the…brave!" just as you exit (so long as there's no traffic).  Works every time!
5. After getting through D.C. stop for some dinner.  Buzz and Ned's BBQ and Kitchen 64 are both off exit 78 in Richmond.  If you don't feel like a longer stop, there are all sorts of fast food joints off all of the nearby exits.  Richmond is about 336-miles into the trip.  It's another 210 miles to Fayetteville, NC from here which is where you'll stop for the night.
6. Get back on the road.  After about an hour, pop a movie in for the kiddos.  They'll be finishing up the movie just about the time you're arriving in Fayetteville.  Exit 49 is where you'll find several major hotels.  I like the DoubleTree.
Travel Tip – There is absolutely no need to bring all of your vacation luggage into the hotel for the night.  Pack a small overnight bag or two for your family and leave it in an easily accessible place in the trunk.  Pack pajamas, fresh clothes and any toiletries you might need for an overnight stay in a hotel.  Plan on having a separate bag into which you can pack up all of your electronics and any other valuables and bring that into the hotel for the night as well, just to be on the safe side.
Day 2 – Fayetteville, North Carolina to Jacksonville, Florida (and beyond!)
Total Mileage – about 396
1. Eat breakfast.  The larger hotel chains often offer some kind of breakfast buffet–always see if you can get that included in the price of your room.  If there's an upcharge for breakfast, do the math.  My kids aren't big breakfast eaters so spending $8.99 for each of them to have half a bagel just isn't cost effective.  There is a Waffle House and a Cracker Barrel at exit 49 and either of those will get you a decent breakfast at a good price fairly quickly.
2. Hit the road!  Calling Jacksonville your destination means you don't have as far to go today, but if you're headed to Orlando or points south, you'll want to tack on another 150+ miles–Florida is a LONG state.  The last time we did this drive I hit Jacksonville right at rush hour on a Friday afternoon and 95-south was a parking lot for a good 15-20 miles.  Plan accordingly and don't delay getting started in the morning.
Travel Tip: This morning driving stretch is a good time for some car games.  Everyone is relatively chipper from a good night's sleep (hopefully) and not yet sick of being in the car.  This is also the stretch of road where it will soon be time to count the Pedro signs (there are reportedly 175 of them).  But don't get sucked in!  South of the Border is pretty tacky and quite frankly it creeps me out.  I wouldn't waste time stopping there.  The kids will be sure to ask if you can, though!
3. Good places to pit stop during the first part of the drive today are Florence, South Carolina (exits 164 & 160 – approximately 90 miles south of Fayetteville), Santee, South Carolina (exit 98 – approximately 150 miles south of Fayetteville), and Walterboro, South Carolina (exit 57 – approximately 195 miles south of Fayetteville). All three of these have their fair share of fast food places and gas stations, each one has a Cracker Barrel and all have a few non-chain spots for lunch.  Lunch spots and places of interest include:
4. Once you make it past Walterboro you're about 200-miles north of Jacksonville.  Along the way in Georgia, Pooler (just north of Savannah at exit 102), Richmond Hill (exit 87), Brunswick (exit 36), and Kingsland (exit 3) are all well-stocked with services.  Just south of Kingsland you'll cross the Florida State Line.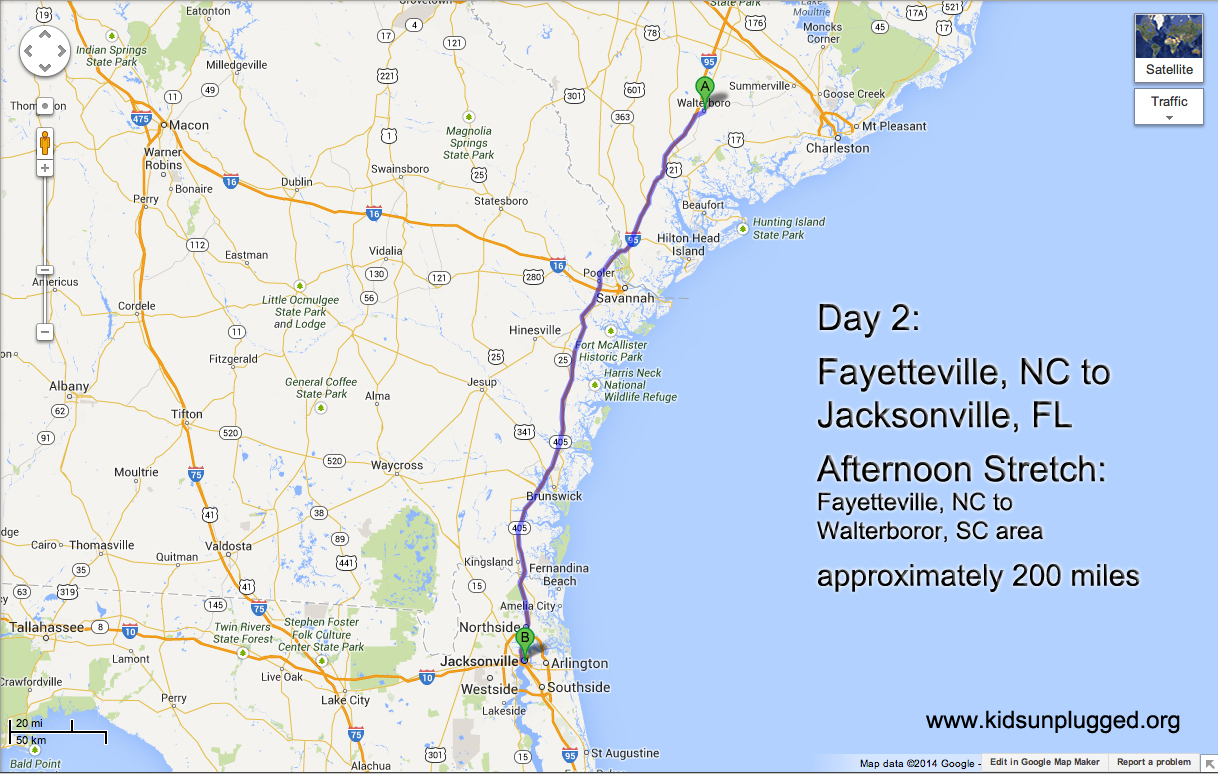 Travel Tip: This stretch of afternoon driving, especially after lunch when everyone is ready to JUST GET THERE ALREADY, is a good time for a captivating audio-book, a dvd, and a nap.
5.  The Florida State Line – About 2 miles past the state line into Florida is the Florida Welcome Center.  Located right on 95, it is just south of exit 380.  Swing in here for a few minutes use the restrooms and celebrate your accomplishment with some free orange juice.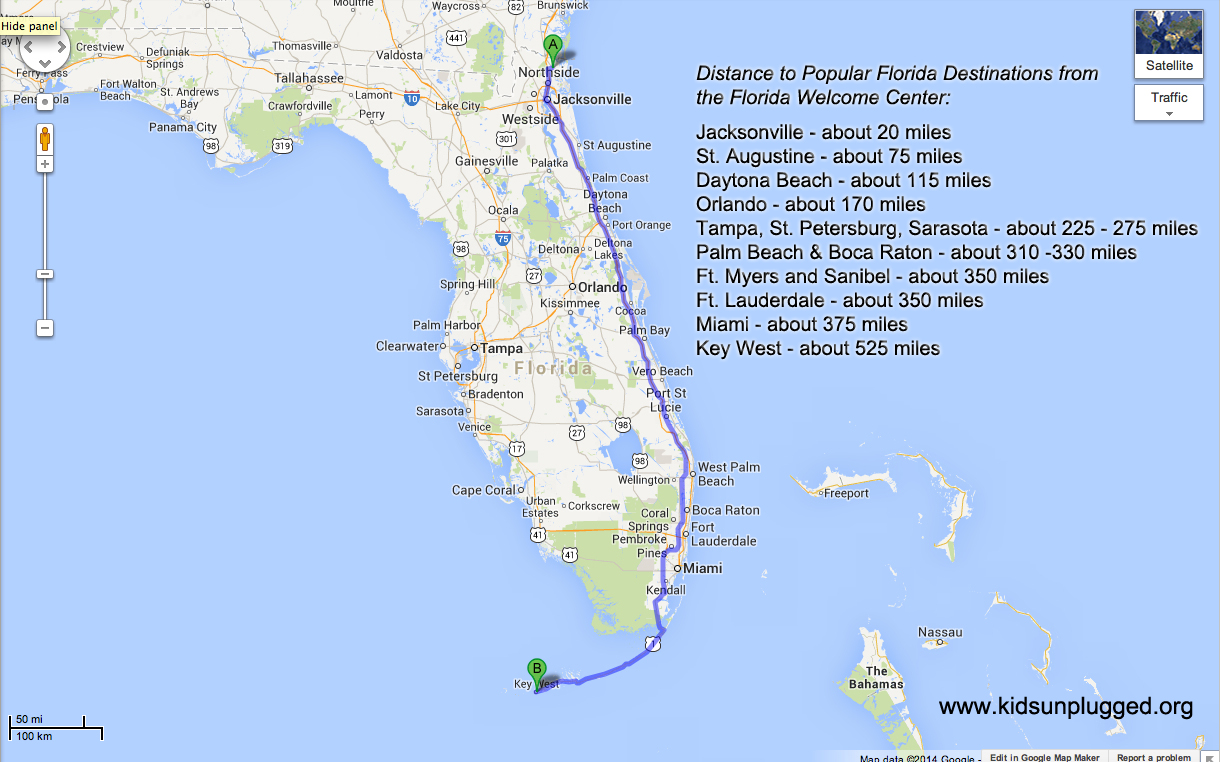 6.  From the Welcome Center, you are this many miles from the following destinations:
Jacksonville – about 20
St. Augustine – about 75
Daytona Beach – about 115
Orlando – about 170
Tampa, St. Petersburg, Sarasota and points west – about 225 – 275
Palm Beach & Boca Raton – about 310 -330
Ft. Myers and Sanibel – about 350
Ft. Lauderdale – about 350
Miami – about 375
Key West – about 525
Now the only thing to do is relax, enjoy your vacation…and try not to think about the drive home!
Click here to visit Part 1 of this post – How to Drive from New York to Florida with Kids – and Have Fun Doing It!