One of the greatest challenges families face while traveling is maintaining healthy eating habits while on the road. Fast food establishments tend to dominate the market and though several of these have begun to move toward healthier offerings, menus still primarily feature too-large portions of greasy, salt and sugar-laden choices. Many major hotel chains are home to restaurant franchises whose menus are just a step above those of big, fast food chains with lots of breaded, fried, and heavily sauced and dressed options. Finding fresh, whole foods–fruits, vegetables, leafy greens, lean meats and good grains is tough to do and most parents end up relying on the old kids' menu standbys like chicken fingers, macaroni and cheese and french fries during family vacations. But there are alternatives.
Eat Well with Westin Hotels & Resorts and SuperChefs
The Westin Hotels have always prided themselves on their status as leaders in wellness and hospitality and the brand is fully invested in creating initiatives that are in line with their six pillars of well-being—Feel Well, Work Well, Move Well, Eat Well, Sleep Well and Play Well. As part of their year-long Well-Being Movement, Westin has just launched it's Eat Well Menu for Kids in partnership with SuperChefs, a team of doctors, dentists, dieticians, chefs and other experts committed to educating kids about the value (and fun!) of eating smart. With eight signature dishes created by kids in conjunction with the SuperChefs Cookery for Kids Society, the Westin has introduced a menu that appeals to parents—and kids—alike. Smash-your-own potatoes replace fries and encourages kids to "play with their food" while grilled turkey sliders stand in for greasy hamburgers. Absent from the menu are the fried, cheesy, sodium-heavy options we are inundated by elsewhere.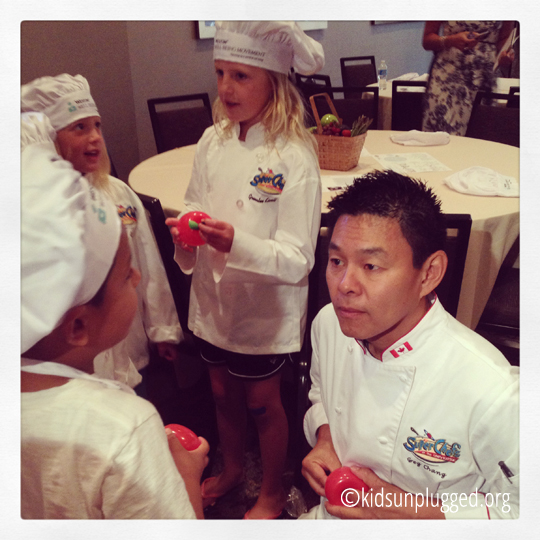 My oldest daughter and I recently had the opportunity to join SuperChefs creator and founder, Doctor Greg Chang and his fantastic team at the Westin Grand Central in New York City for a morning of cooking and eating. We love to prepare and share meals together in our family. We belong to a weekly CSA (Community Supported Agriculture) program that allows us to pick up a box of farm fresh fruits and veggies each Sunday morning. Anything we need to supplement the farm share is purchased at our local farmers' markets or harvested from our own backyard garden. Eating healthfully is simply what we do and I was delighted to experience first hand how the SuperChefs partnership with the Westin would be put into practice.
Cookery Classes Empower Kids
Another aspect of the partnership is the introduction of kids' cookery classes in select Westin Hotels and Resorts. In these classes, which will be offered several times daily and geared toward kids ages 8-12, participants will learn about the health benefits of different ingredients and cook a variety of foods beginning with simple dishes and moving to more elaborate preparations, starting in an apron and eventually graduating to a chef's jacket.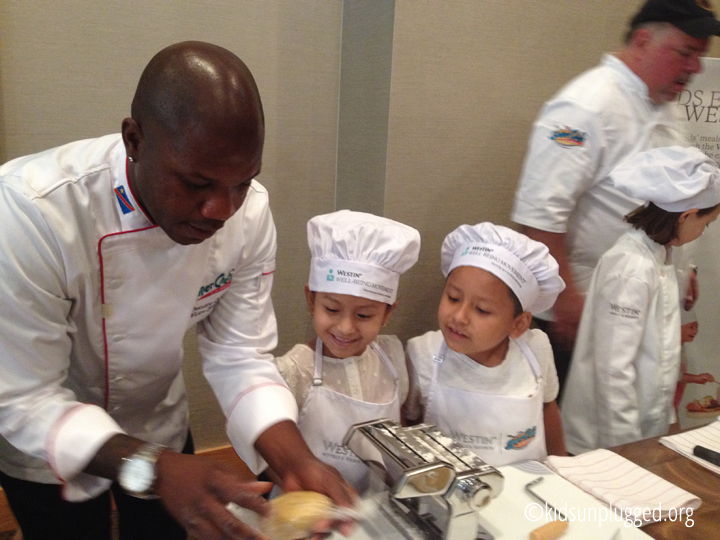 During our morning with SuperChefs, my daughter and I were able to participate in one of these classes. During a brief introduction by Dr. Greg for the adults, the kids headed next door for a demonstration by Chef Bongo and his colleagues in which fresh pasta dough and crepe batter were prepared. Soon, the young chefs, each in their own SuperChefs jacket with their name embroidered on the lapel, teamed up with the chefs and their parents to make their own crepes and roll out the fresh pasta dough and cut it into fettuccine.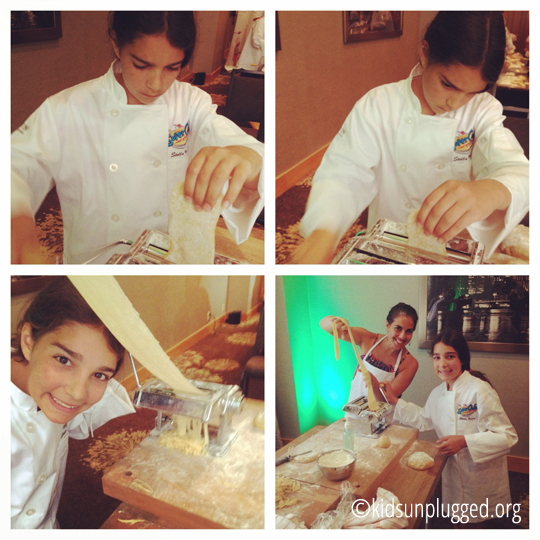 I personally loved the pasta making as I've had a pasta maker in my pantry for years and have never used it. Despite being a fairly prolific cook, there was something about assembling the thing that I found daunting. Chef Bongo walked me through the extremely easy steps of putting it together and my daughter and I are now completely motivated to try our hand at making our own at home very soon! We left the class with a large ziplock bag full of our handmade fettuccine that we doused with flour to keep it from gluing into a sticky mass on the train ride home.
We were able to successfully transport the pasta and boiled the fettuccine the next night. We made a big batch of pesto from the basil in our garden—the perfect accouterment for the fettuccine, which cooked up perfectly al dente and, to our delight, did not stick together into a gluey clump! My daughter's face lit up while she watched her dad, her sisters, and her visiting cousin devour the delicious pasta. I'd say the Westin is on to something here, wouldn't you?
Disclosure: My daughter and I were invited by Westin to take part in their unveiling of this newest aspect of their Well-Being Movement. As always, all opinions are my own.