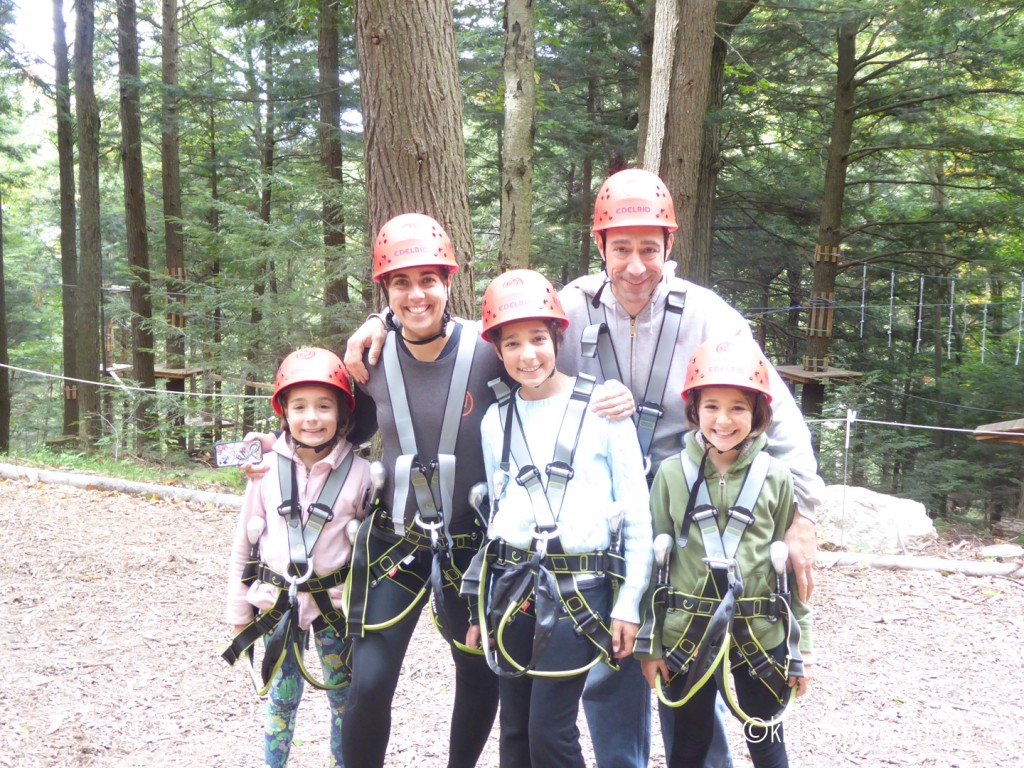 "Dude! You just crushed that one!"
"Whoa! That was awesome, Buddy!"
"You totally killed it! You definitely need to get a job here when you get bigger!"
These were just a few of the exclamations that echoed through the forest yesterday during our visit to Ramblewild, an incredible tree-to-tree adventure park located at the base of Brodie Mountain in the Berkshires.
This was my second visit to Ramblewild in as many months, the first time being a field trip my oldest daughter and I took to the park during our week at Mount Snow's Family Camp in July. She loved it so much that she'd been asking almost daily when we might be able to return. We both knew how much her dad and sisters would enjoy the park and we were excited to share the experience with them. A midweek holiday and subsequent day off from school presented a perfect opportunity for a fall family outing and Ramblewild was the obvious destination.
Nestled Among the Trees
There are myriad high adventure parks around the country but Ramblewild stands out among the masses for several reasons, not the least of which is its commitment to environmental sustainability. The park is owned by the Feronia Forest Corporation whose mission it is to practice "sustainable full forestry." Part of that mission calls for cultivating healthy forests, using locally sourced materials and labor to create revenue from ecologically friendly products and outdoor recreation opportunities.  Ramblewild fits the bill for this mission perfectly.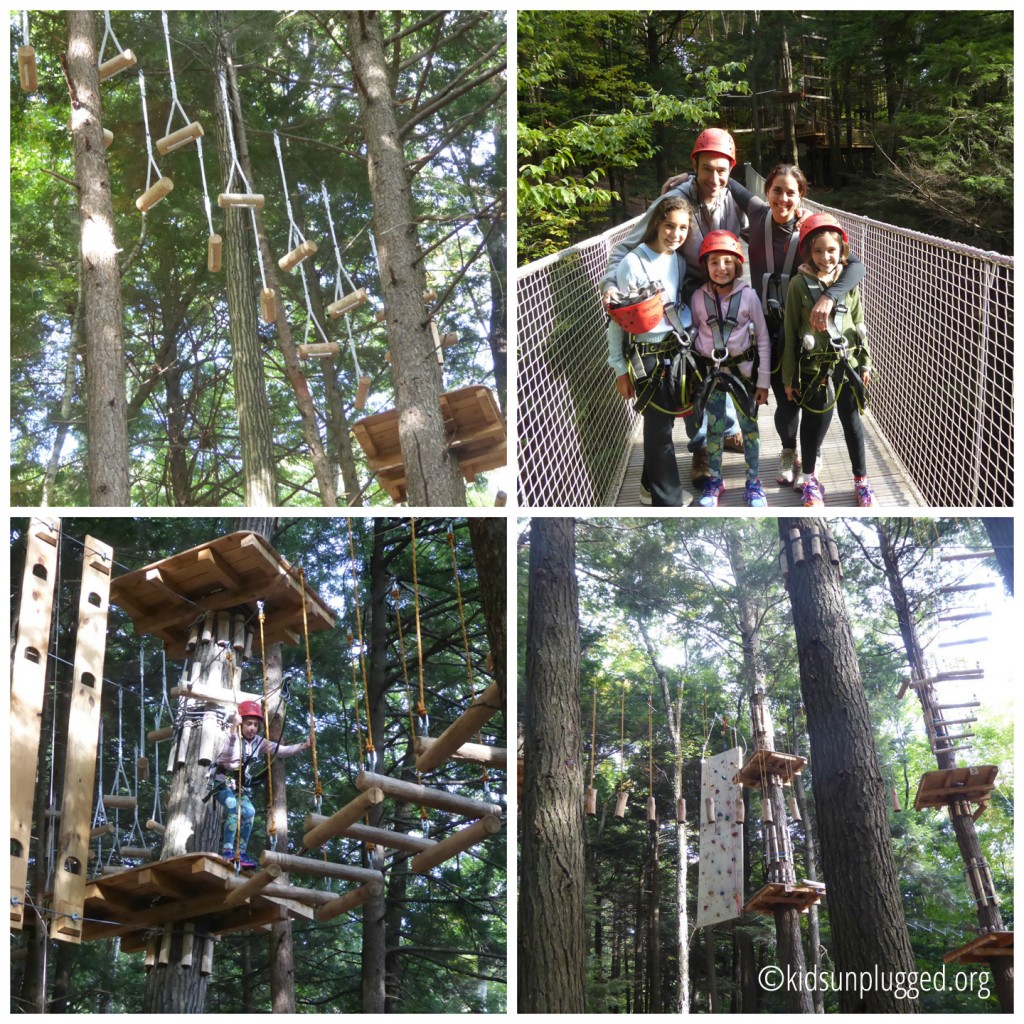 Ramblewild's aerial course is built as a canopy network, giving visitors a truly immersive experience among the trees. Walking down the path that leads into the park, guests are transported to a magical, woodland world that is a sort of hybridization of an Ewok Village, Bridge to Terabithia and the Swiss Family Robinson treehouse. Platforms hover high overhead and suspended logs sway in the breeze while folks tethered to cables glide by on ziplines or balance precariously on dangling wooden elements.
Safety First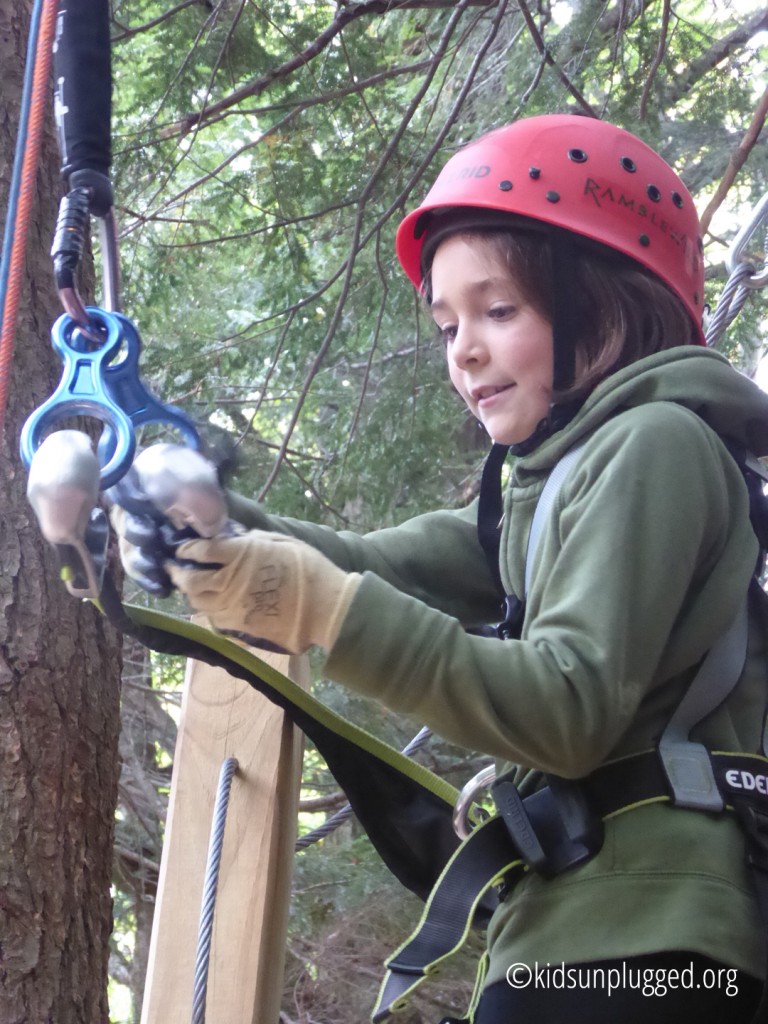 Our visit started with a warm greeting by two of the park's fabulous staff Luke and Matt, also known as Ramblehands, both of whom we remembered from our first visit. They helped get us strapped into our full-body harnesses and helmets, checking and double-checking that everything was safe and snug.
Satisfied that we were properly outfitted, Matt took us over to one of the park's two "ground school" areas where he demonstrated the double-click system we would be using on the trails. Two clips are attached to each harness and are stowed in holster-like pockets when not in use. What's great about the system is that only one of the clips can be opened at a time thus requiring you to be clipped onto a safety cable at all times while on the trail.
At ground school, visitors practice moving through the basic components of the trails, trying their luck on a simple balancing element and a zipline. Our girls got the hang of the system very quickly and were raring to hit the trails.
Trails to Challenge All Levels
The first place you encounter after ground school is The Hub, a treehouse-like central wooden platform where all of the park's 8 trails originate. Similar to a ski slope, Ramblewild's trails are rated according to difficulty from the least-challenging yellows all the way up to the black and double-black diamond trails.  These trails are designed to be so difficult that barely ten percent of visitors actually complete them.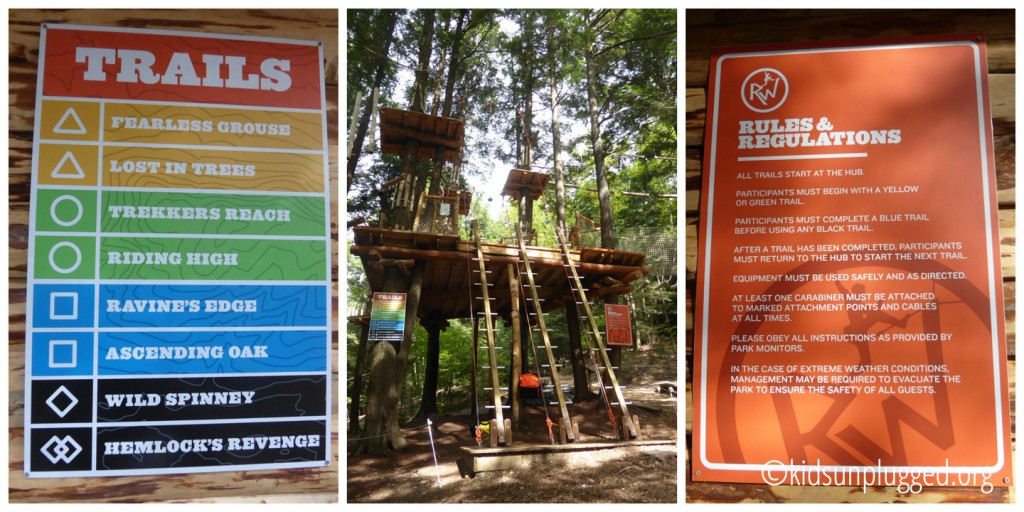 We started with the two yellow trails, Lost in Trees and Fearless Grouse and I promptly missed the landing at the end of the first zipline, requiring a Ramblehand on the forest floor below to toss me a rope and tow me to the platform. My girls loved that. They also loved wobbling their way along the dozen or so course elements on each of the trails, negotiating their steps, taking little risks, zipping through the trees. Pretty soon they ready to graduate to the green.
Rock Star Staff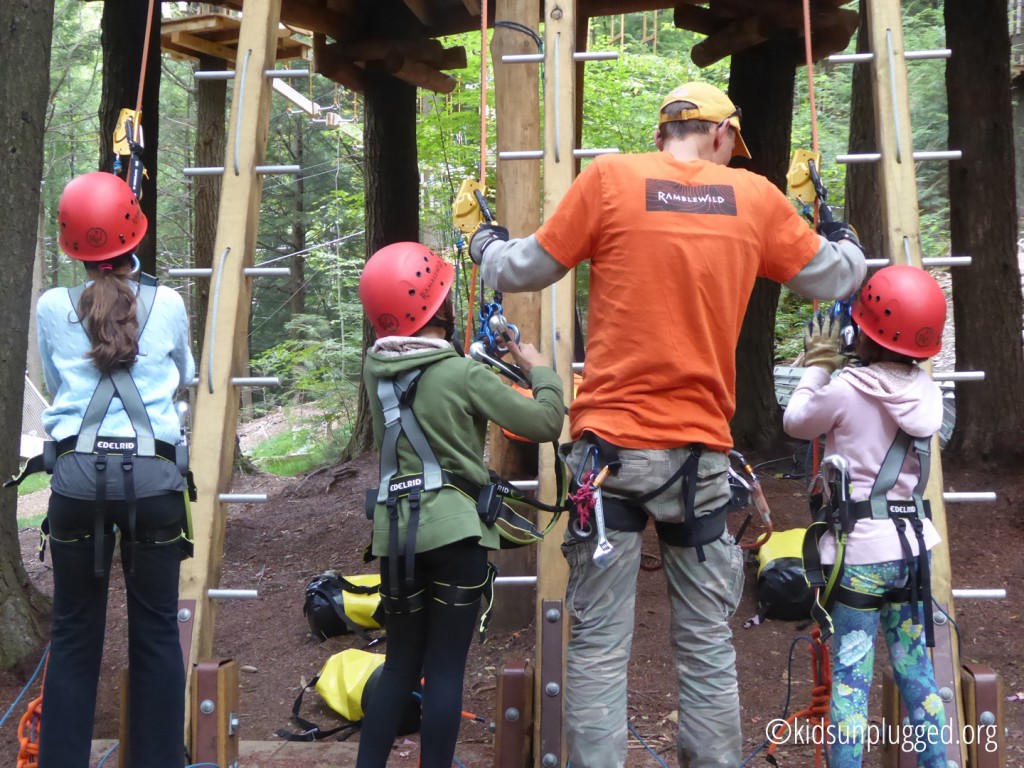 We opted to try Trekkers Reach, as that was the trail that my daughter and I had missed during our previous visit. Matt, who had helped us through some harrowing moments back in July, accompanied us. It was on the third element when one of our daughters lost her cool, deciding that the climbing wall just ahead was not going to be in her future.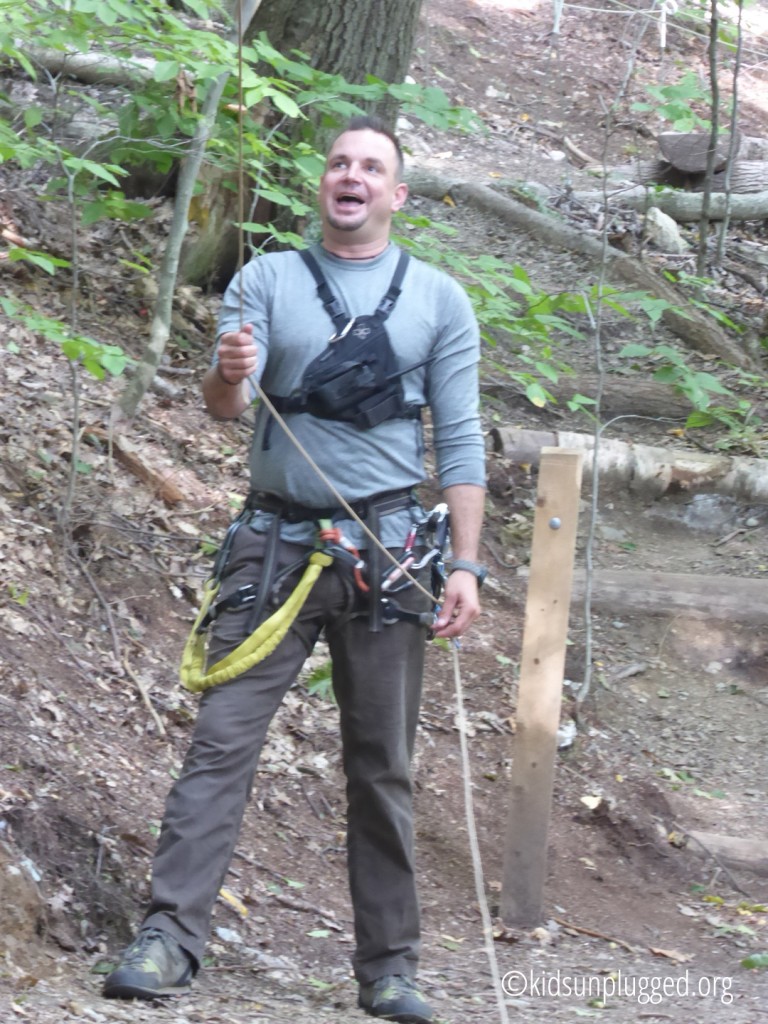 This is where the awesomeness of the Ramblewild staff shines the brightest. Matt was encouraging, kind, and reassuring, calmly guiding her as she completed the element.  After that, he explained exactly how he was going to help her climb safely down to the ground on the ladder brought by another Ramblehand. He then proceeded to coach my husband, our other two girls, and my semi-freaked out self, up the climbing wall, which was pretty darned high, cheering loudly for each of us as we reached the top.
You need never worry about your safety in this park. If you have to bail at some point along a trail, the Ramblehands bring you a ladder and get you down. They encourage you to push beyond your comfort level but don't make you feel like a dork if you decide you're done. "You pushed yourself to YOUR limit and that's AWESOME!" is what Matt told our daughter when she opted out of the climbing wall. With so much pressure on kids every day, what a pleasure it was to see adults helping kids to feel good about themselves no matter what.
A Perfect Unplugged Family Day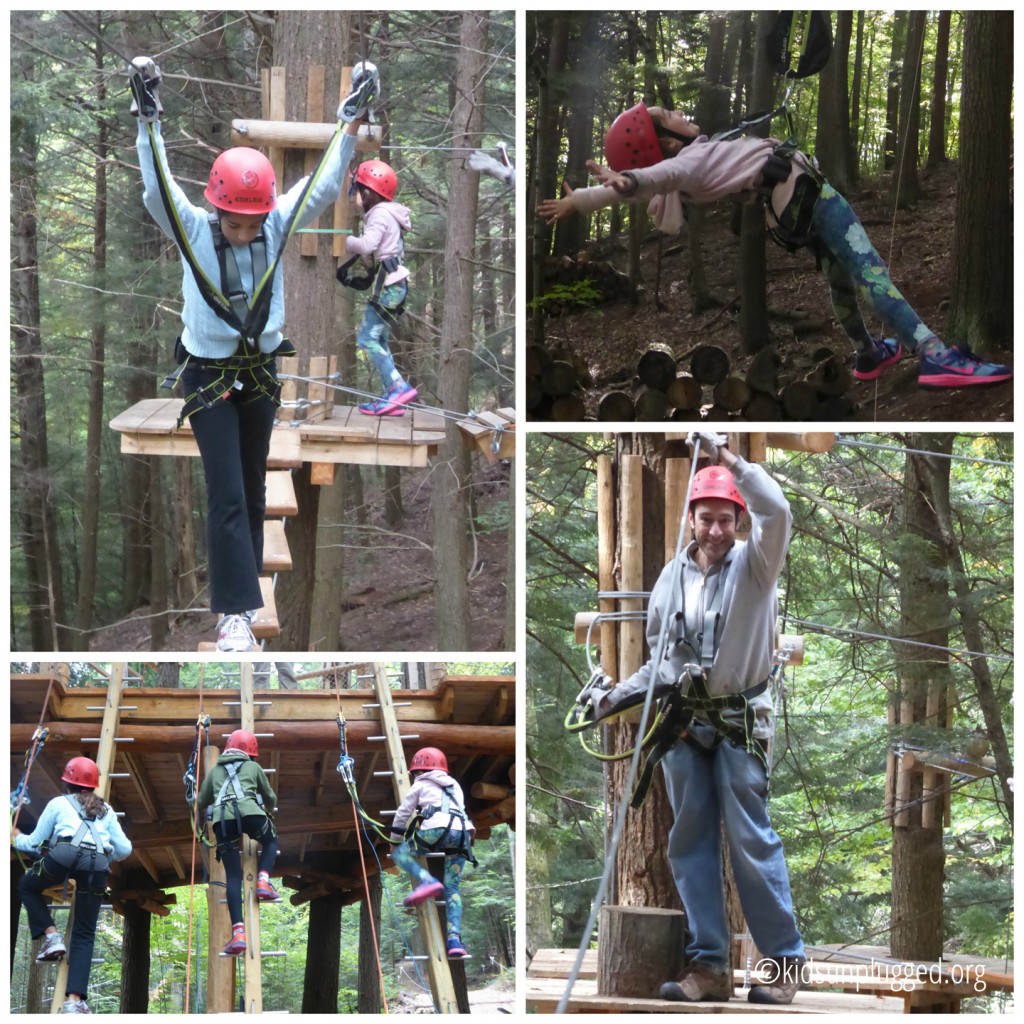 We had such a great time during our day adventuring at Ramblewild. The cool breeze was fresh and smelled like fall and the changing leaves were beginning to show hints of orange and yellow against the bright, blue sky. It was fabulous watching our girls supporting one another, putting aside their frequent sibling bickering in favor of helping each other arrive safely and click in at each platform. We laughed and joked, clapped and hollered—fully connected with one another while totally immersed in the forest through the trees.
Know Before You Go
Ready to spend a day flying through the trees at Ramblewild? Here are a few tips to make your day extra great!
Check the Hours – Visit Ramblewild's website for current hours of operation.  As of right now, Ramblewild is planning to be open throughout the fall and winter 7-days a week.  The trails close at dusk and the park will obviously remain open later in the summer months.
Wear Comfortable Clothes – Long shorts, sweats or leggings that are stretchy and soft are going to be your best bet for your day on the trails. My husband said he was totally comfortable in jeans, but I was much happier in my running tights.  Ramblewild provides gloves if you want them which I liked having though my two younger girls felt it was easier without them.  If you think you're going to try the black diamond courses, long sleeves will protect your upper arms from chafing.  And closed-toed shoes are a must.
Pack a Picnic – Swinging through the trees is hard work and there isn't food available for purchase at the course.  Plan to pack a lunch or, at the very least, some substantial snacks. There's plenty of water throughout the park.  You can purchase some snacks and Feronia Forest's maple-based Vertical Water at the main lodge.  Additionally, there are plans in the works to build cubbies on the back of the equipment shed where visitors can store their stuff while playing in the park.
Take a Hike – If high ropes aren't your thing you can still enjoy Ramblewild's gorgeous forested trails.  Visitors who don't want to participate can meander throughout the park free of charge while friends and family are on the ropes course, watching the action from below and enjoying the park's beautiful wooded setting.
Know Where to Go – Ramblewild is located at 110 Brodie Mountain Road, in Lanesborough, Mass about 3 hours from New York City, 2 1/2 hours from Boston and about an hour from Springfield, MA.  The park is just a short drive from the quaint Berkshire towns of Pittsfield, Stockbridge, and Lenox among others. There is plenty for visitors to do in the surrounding Berkshire Mountain region and families could easily spend a weekend exploring the area.