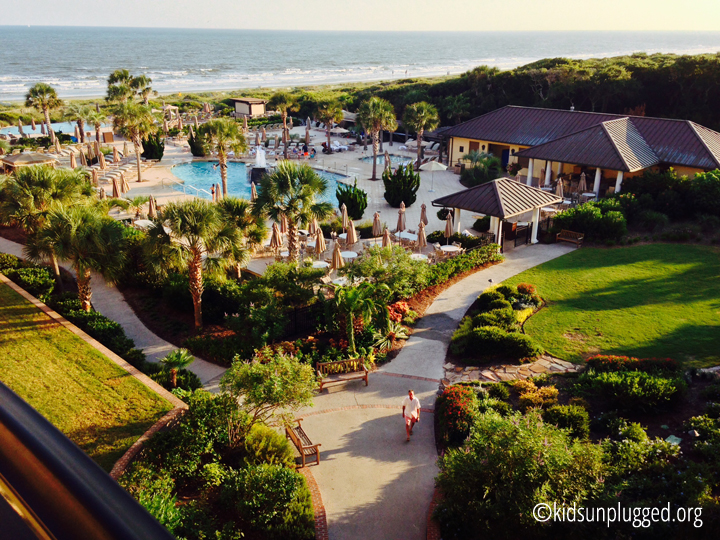 The goal of Kids Unplugged is to feature the best in off-the-grid family destinations–destinations that entice us to abandon our electronic devices, keep our heads up, and truly connect with one another and the world around us.  I recently visited a spot that fits that description perfectly–and luxuriously.  The Kiawah Island Golf Resort near Charleston, South Carolina.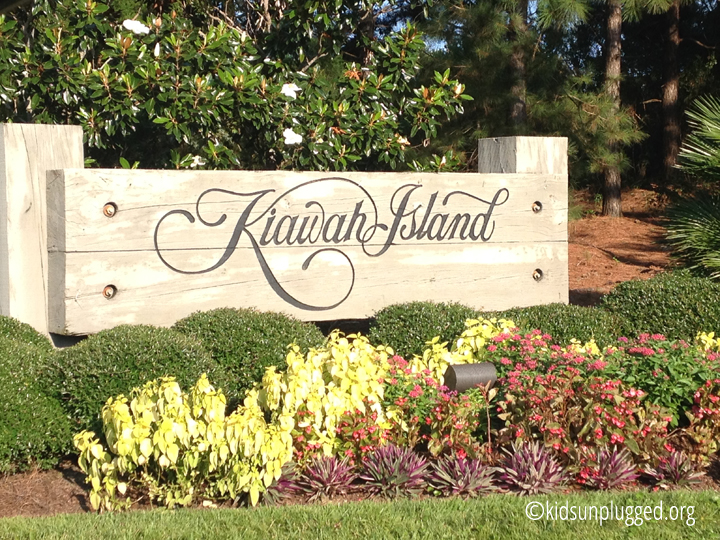 Families for whom golf is not a defining, or even a partial factor in deciding upon a vacation spot, are probably unfamiliar with Kiawah.  Kiawah Island, like nearby Hilton Head, is a barrier island.  It is about a 45-minute drive from Charleston and is home to an exclusive resort community as well as a handful of year-round residents.  Guests of the Kiawah Island Golf Resort have the choice of a wide range of accommodations, from a room at the spectacular Sanctuary Hotel to resort villas, condos, or private homes with as many as 8 bedrooms.
On a road trip the girls and I took with my dad this summer we stopped to visit Kiawah, where had the delightful opportunity to rest our heads at the Sanctuary in two connecting ocean-view rooms during our time on the island.  The Sanctuary is a member of the Preferred Hotel Group's Preferred Family resorts.  In order to qualify as such, a hotel must meet a high standard of services–a high standard which subsequently sets it apart from other hotels and resorts that cater to families.  Kiawah's staff proved time and time again during our visit that they know exactly how to create a truly wonderful vacation experience for every member of the family.
Luxury in Abundance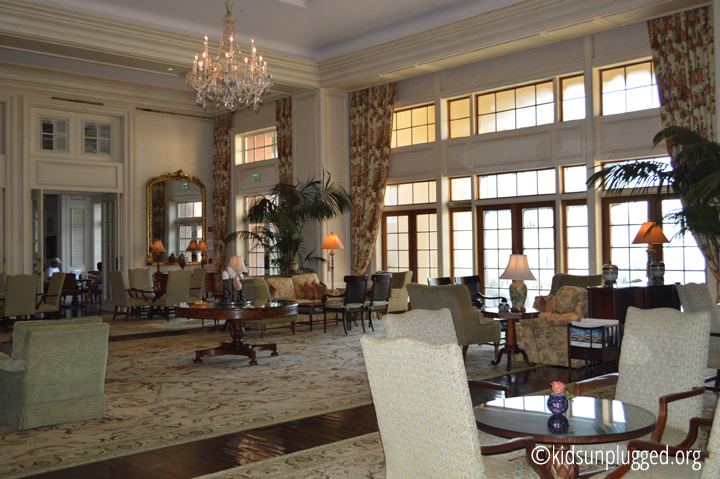 Arriving at the Sanctuary Hotel we were immediately transported back in time.  After short drive down a wide, shady avenue lined on either side with towering oak trees we found ourselves at the entrance of the hotel, with its circular drive and stately columns.  Our immersion into the world of southern hospitality began immediately as we were greeted with a warm smile and icy cold bottles of water by one of the resort's charming valets  It was 98-degrees and the coming days were forecast to be the same but the resort's pool and a tall glass of sweet tea was beckoning.
The hotel's lobby is a grand space that exudes a comfortable vibe of casual elegance.  Large sitting rooms, an exceedingly accommodating staff and sweeping ocean views complete the vision of relaxation that abounds at the Sanctuary.  Guest rooms are among the most beautiful I have seen–spacious, inviting, and beautifully appointed with luxurious linens and a bathroom that I could simply live in forever.  The view from our balcony of the resort grounds below and the ocean beyond (which is the image at the top of this post) was absolutely breathtaking and rounded out the feeling of complete refuge from daily life.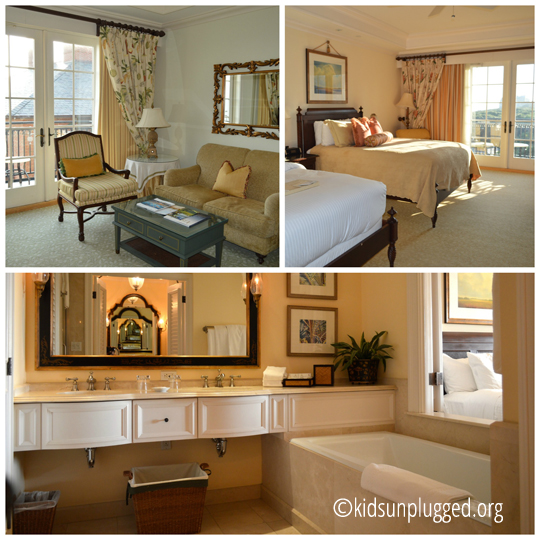 Truly Divine Dining
There are a plethora of dining options available on Kiawah–at the Sanctuary, at the resort's various golf course clubhouses and at other locations around the island–ranging from laid back to ultra-elegant.  We like to cook and eat in our family and rarely enjoy eating out as much as we do eating at home.  That said, my father and I as well as my girls (who are budding foodies themselves) were thoroughly delighted by the culinary experiences we had at Kiawah.
Our first evening was spent at the Sanctuary's low-country favorite, Jasmine Porch, where we sampled fried green tomatoes, roasted sea bass and the restaurant's specialty, shrimp and grits served with a ridiculously delicious sausage gravy.  The girls had pasta, grilled chicken and a kids' filet mignon with roasted vegetables.  Pecan pie and brown sugar ice cream finished the meal and we left in a euphoric, epicurean stupor.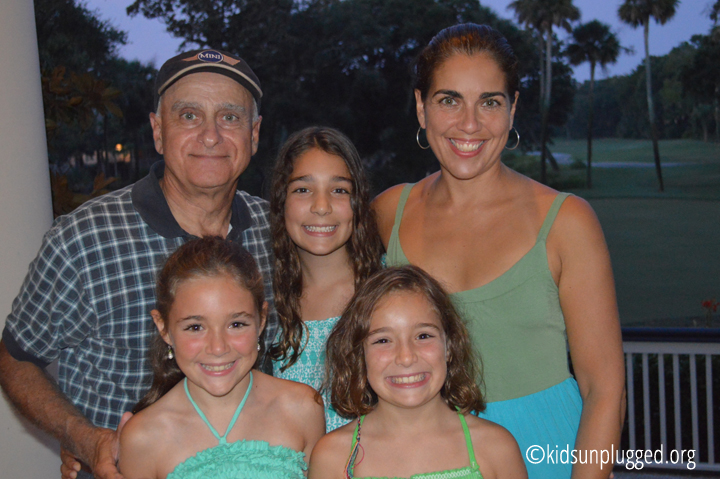 Our second evening we headed over to  Tomasso, the resort's Italian restaurant which overlooks the 18th green of the Turtle Point golf course from the clubhouse.  As much as we loved our meal at Jasmine Porch the previous night, we were just in heaven at Tomasso.  We began our meal with seasonal bruschetta, stuffed portobello mushrooms and fried calamari for the girls.  The chef was very accommodating and replaced the pepperoncini with additional calamari at the girls' request.  After that it was a seafood risotto special for me, braised short ribs for my father, and summer ravioli and lasagna for the girls.  Everything was outstanding.  We ended with gelato, sorbet, a sublime panna cotta, and perfectly prepared espresso. The service was impeccable both evenings and we did not stop talking about our meals for the remainder of our trip.
Outdoor Lovers Rejoice!
I was very impressed by Kiawah's commitment to environmental stewardship and sustainability. Water conservation, sustainable seafood initiatives, a focus on locally sourced, farm-to-table produce and products, extensive recycling efforts and participation in programs such as Bikes of the World and the Global Soap Project are just some of the ways the Kiawah Island Resort is working to reduce its impact on the natural world and support the local and global community.  Kiawah's work in this area is an excellent model for the hospitality industry and I'd love to see more of this in the in the future.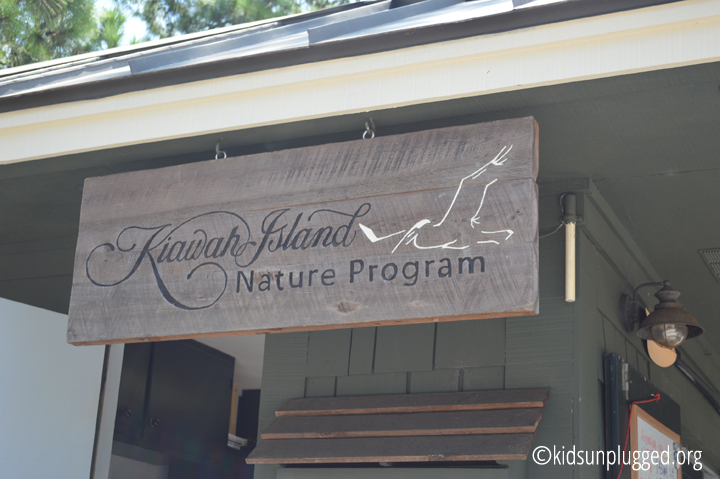 While the resort is known far and wide for it's five championship golf courses, our visit was focused primarily on Kiawah's extensive nature programs and outdoor activities.  Guests at the resort can truly lose themselves in the the myriad offerings from kayaking tours to boating, shelling and fishing excursions to naturalist programs, beach walks,  birding hikes, 30-miles of bike paths and plenty more.  Kiawah is an outdoor and nature lovers paradise.
Beyond the activities provided by Kiawah Island Recreation, I would be remiss if I did not spend some time talking about the resort's outstanding beach.  Just steps away from the Sanctuary, 10-miles long and wide enough to allow for bike riding on its hard-packed sand throughout the day, Kiawah's beach is the perfect spot to spend hours relaxing and playing.  The resort also has every piece of beach equipment you might need–beach towels are complimentary while beach chairs and lounges, games, boogie boards, kayaks, and paddle boards are available for day or week-long rental.
When (or if!) you tire of the beach, the Sanctuary's saltwater family pool is right down path.  Right behind the family pool is an adults-only, saltwater infinity pool with a view of the ocean.  Surrounded by shady umbrellas and comfortable lounges that are expertly tended by resort staff, a flowing fountain in the center, the family pool is a great place to while away the hours.  We hopped between the pool and the beach before staying poolside for a delicious, healthy lunch from the Loggerhead Grill.  Ice water with lemon kept us hydrated as we relaxed, read, chatted and swam for the rest of the afternoon.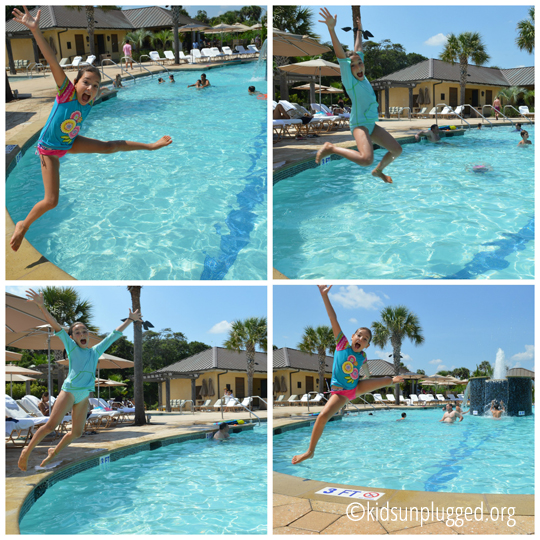 The time we spent on Kiawah and at the Sanctuary Hotel was absolutely magical and I was loath to leave when the time came.  I found myself wishing that we'd had more time to partake in more of the resort's activities.  You could easily spend an entire summer enjoying the island and I would have to rank Kiwah Island as one of the most idyllic spots anywhere for a family getaway.  A week spent here offers the opportunity to completely unplug and escape from the pull of technology and day-to-day busyness.  I know we'll be back.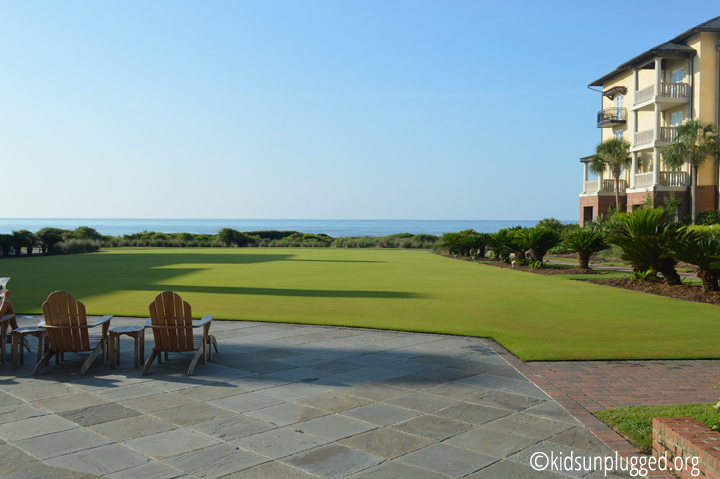 Disclosure: We were hosted by the Kiawah Resort and our accommodations, dinners and activities were complimentary.  As always, all of the opinions in this post are my own.