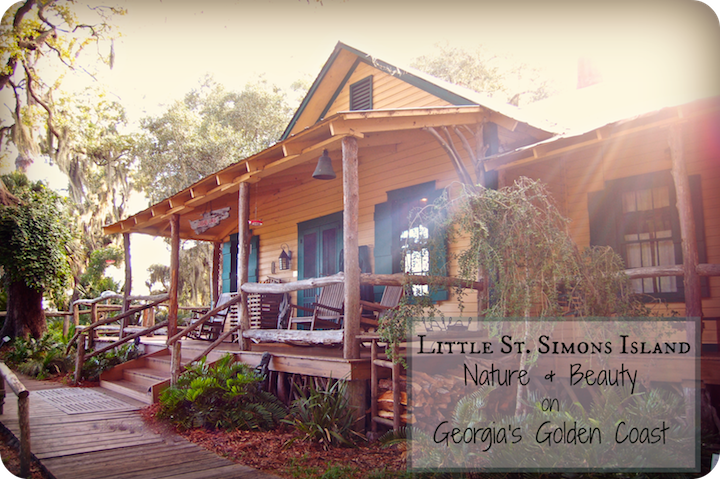 "Are there going to be snakes? I don't want to see any snakes."
Such was the refrain from my 13-year old daughter in the weeks and days leading up to our visit to the Lodge at Little St. Simons Island, a private island retreat off Georgia's coast. This is a child who has an Indiana Jones-like fear of serpents of all kinds. A child who once emitted a blood curdling shriek at sight of the tiniest of garter snakes in her grandpa's yard.
She had been perusing the island's Facebook page where in-house naturalists share daily wildlife sightings. Scrolling through the images, my daughter chose to look past shots of playful river otters frolicking along the shore and wee mud turtles peeking out from their shells. She opted instead to focus on the one mention of a rare cottonmouth that was spotted in the creek. Snakes didn't faze me. I preferred to get excited about the possibility of seeing gators while kayaking through the saltmarsh and enjoying a few days respite from the rest of the world, just my daughter and me.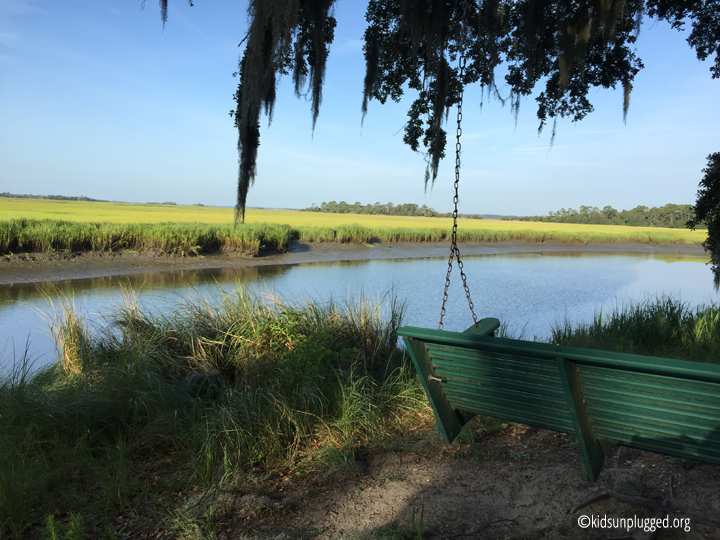 That respite began the moment our boat pulled away from the dock at the Hampton River Club Marina on St. Simons Island. Two boats per day deliver guests to the island by prior arrangement and we were the only ones scheduled for the four o'clock trip that afternoon. With the wind in our hair, the marina disappeared from view as we sped along the river toward Mosquito Creek
Little St. Simons is a privately owned, 11,000-acre barrier island that is home to a century old hunting lodge and five guest cottages accommodating just 32-visitors a night. Guests at the all-inclusive eco-resort have the opportunity to delve deeply into the island's abundant natural beauty—paddling tours, bird watching expeditions, fishing excursions, and bike riding along 7-miles of private beach are just a few of the activities available each day—and the talented naturalists on staff are intimately familiar with every acre. And with no televisions or phones in the rooms, guests are able to immerse themselves in the lush outdoors without distractions.

A Rich History of Conservation
Little St. Simons' owners, Hank and Wendy Paulson, have long held a passionate interest in preserving the island's ecological integrity. Recently, the Paulson's donated a conservation easement to the Nature Conservancy as a means to ensure that the island's myriad coastal ecosystems and their inhabitants will be forever protected. Because of this, island guests will have the good fortune to experience the island in its pure state for generations to come.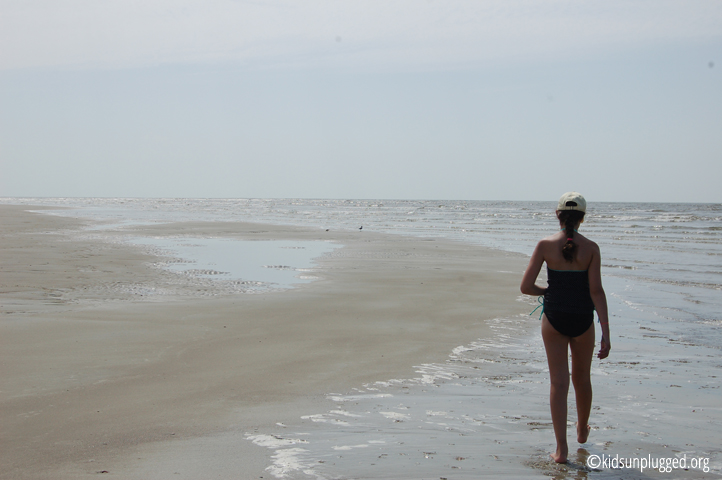 After about 15-minutes the boat motored up to a dock lined with small skiffs and we caught our first glimpse of the island's minimal development—two rustic cabins peeking out from the dense foliage along the creek bank. We were greeted by Taylor, who led us along a short boardwalk to the main lodge where we learned a bit about the island and its offerings. Little St. Simons has an intriguing history. Purchased in 1908 by the Eagle Pencil Company for its proliferation of red cedar trees, Eagle's owner, Philip Berolzheimer, later bought the island himself when it became apparent that the salty sea air bent the trees too much to turn them into respectable pencils. It was Berolzheimer's own interest in conservation that became the foundation on which the island's present day environmental stewardship is based.
The Perfect Blend of Comfort and Nature
Taylor toured us through the main lodge, which was built in 1917 as a hunting retreat for Berolzheimer and his friends. Guests meet each evening at six for pre-dinner cocktails and hors d'oeuvres in the inviting living room. A small bar housed a refrigerator containing chilled pint glasses and a tap where guests could help themselves to a fresh, local SweetWater 420 Double IPA. Red and white wines were also available.
Two spacious dining rooms held tables and chairs for family style dining, jelly jars in their centers filled with colorful wildflowers. On a wooden hutch against the far wall were large carafes filled with iced tea, lemonade, and water. A plate of freshly baked ginger cookies and a basket filled with homemade granola bars were laid out on the buffet.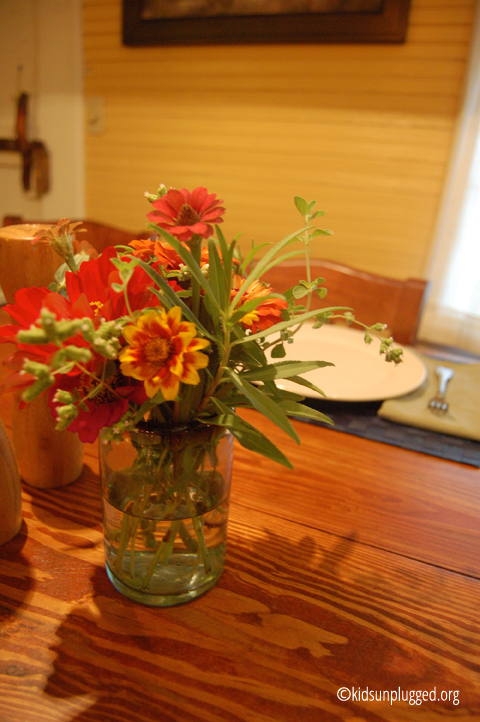 Beyond the dining room Taylor showed us the Lodge store with a large selection of books, nature guides, and LSSI emblazoned attire. On the wall hung the laminated skin of what appeared to be a very large, beautifully patterned snake. "This is the skin of an eastern rattlesnake," Taylor told us, "it's here to remind folks to stay on the trails."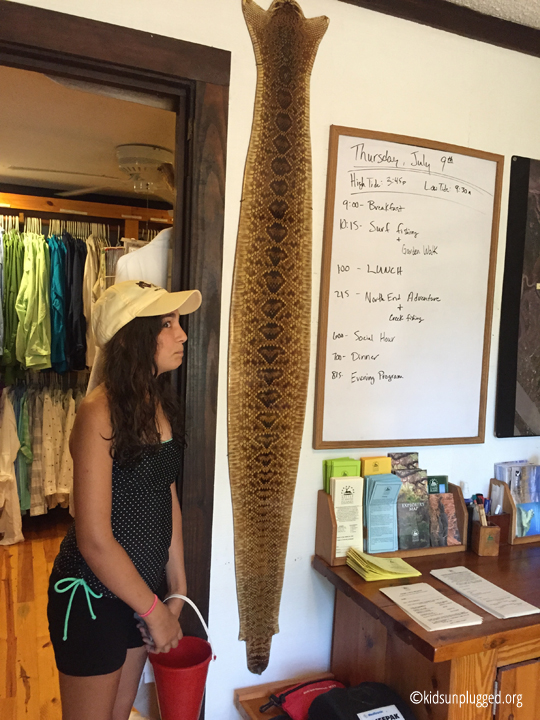 "But we probably won't see one of those," I said with a pointed look at my daughter.
"I'm not going to tell you that," Taylor said, "it's quite possible that you will. But they won't bother you as long as you don't bother them."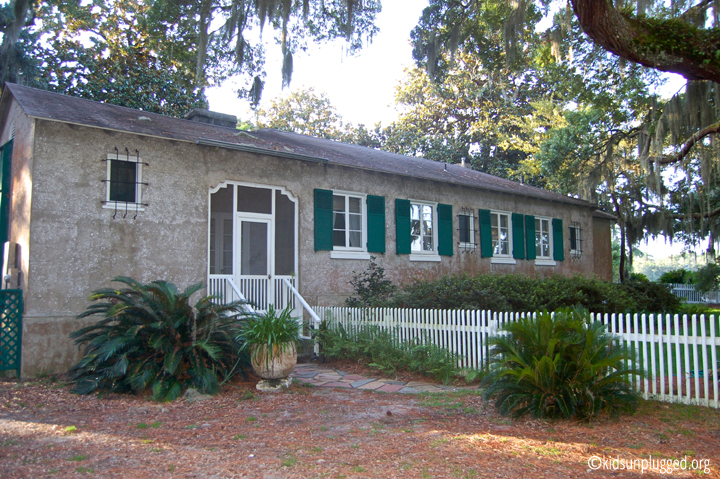 Our room for the next two nights was in the Helen House, a 1928 structure that was built for Berolzheimer's daughter. Helen House is constructed from tabby—an extremely strong material made by burning oyster shells to make lime and then mixing it with water, sand, ash, and broken oyster shells. Tabby was a common building material in the southeast during the colonial period, something we'd learned during our visit to Savannah a few days earlier. Thanks to the thick walls and air conditioning, the house was cool and comfortable and our twin bedded room lovely and inviting.

Our Adventures Begin
After getting settled, there was still enough time before dinner for a ride out to the beach. I was dying to explore, so we chose a couple of bikes and made our way past the island's extensive organic garden along the beach road. The two-mile path begins as packed dirt and travels briefly through a bit of forest before turning to crushed shell through the sunny marsh.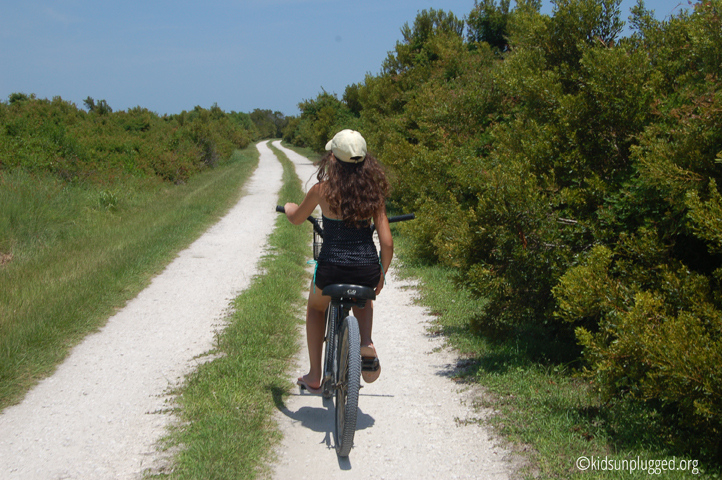 Pedaling along under a bright blue sky, my daughter skidded to a halt and began to cry. I was dumbfounded until I followed her eyes to the road ahead where a large snake with a distinctive diamond pattern was sliding across the path, its head held aloft. We watched it disappear into the brush on the other side of the path and didn't move even after it was gone.
"Well, that was something, wasn't it?" I said to my daughter, who, still weeping, said nothing. "Alright, so now the worst has happened—and look, we survived!" She wasn't amused by my Pollyanna attitude, but grudgingly accepted a hug, picked up a large stick with which to defend herself against snake attacks, and got back onto her bike to continue our ride to the beach. I tried to hide my smirk.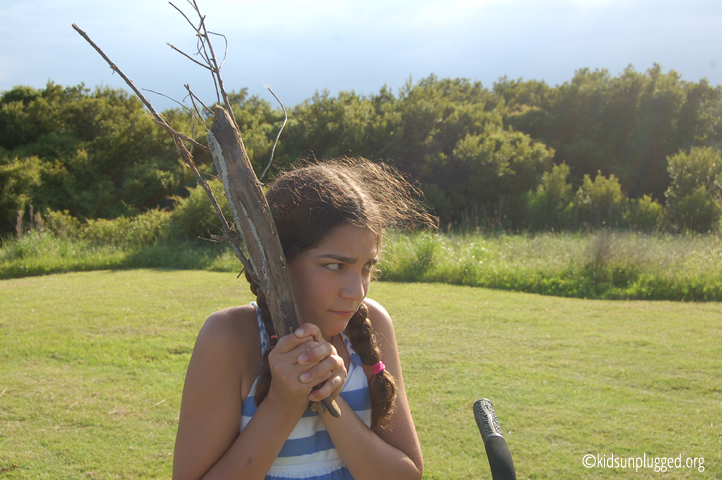 Little St. Simons Island boasts a long stretch of private Atlantic coastline lined by rolling dunes. A boardwalk leads to the beach from a covered pavilion stocked with towels, beach toys, cold water, chairs, and sunscreen. In the coming days we would spend quite a bit of time here, collecting shells and sand dollars in the small, burlap bags we'd found in our room, riding our bikes on the hard packed sand, and seining along the shore with naturalists Cassandra and James. But for now it was time to bike back to the Lodge for dinner.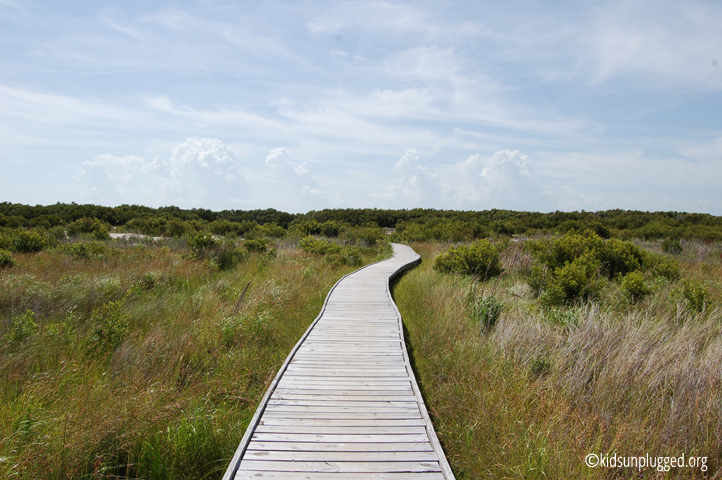 Three delicious meals a day are part of your stay on the island and feature regional specialties comprised of fresh, often local ingredients. We shared a table with eight other people, all adults, in the smaller of the two dining rooms. The other dining room held a large group of 17 who were traveling together, including a few folks who had been visiting the island for decades. Our table companions welcomed my daughter warmly and she regaled them with her rattlesnake tale over dinner. It was a pleasure getting to know all of the other guests over the next few days as we shared beach trips and naturalist excursions—kind of like summer camp for families—though there was still plenty of down time to relax by the pool, stroll along the shore, or rock on the deck with a cool drink.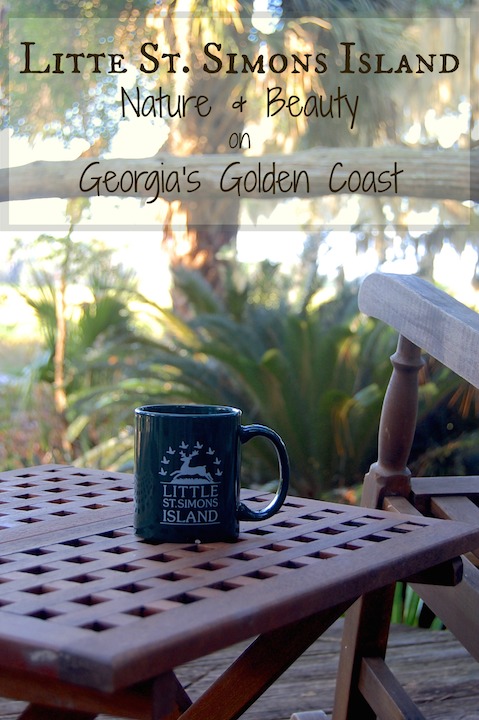 When it was time to board the boat back to the marina, I hated to leave. We'd come to love the peace and solitude of this barrier island gem and I appreciated having the opportunity to unplug and relax with my daughter. As the boat motored through the creek, a white heron swooped low overhead, disappearing into the marsh grass along the bank. We cannot wait to return.