Last week my girls and I had the honor and pleasure of traveling to the Disneyland Resort in Anaheim, California to take part in the fabulous events of the annual Disney Social Media Moms Celebration. Aptly named, the Social Media Moms Celebration is just that–a weekend-long celebration of learning, service, community, family, friends and most of all, of Disney Magic.
As the Unplugged Girl, people are often surprised to learn that I have such a fierce love for Disney.  I have been asked numerous times how I reconcile these two seemingly conflicting interests–how do I balance my devotion to the Disney brand, which critics may view as a profit-driven mega corporation, with my passion for living a healthy, low-tech, unplugged lifestyle?  How can I justify loyalty to a brand so deeply rooted in the media industry when I encourage free-range play over screen time whenever possible.  In response to these inquiries, I maintain that the two need not be mutually exclusive and that there are myriad parallels between my personal values and those of the Walt Disney Company. With these thoughts in mind, I was delighted to see many of those values being reinforced during the time I spent at Disneyland during last weekend's conference and I am happy to share these insights with all of you.
So what are these core values I'm speaking about and how does Disney support each one?  The following are some of the ideals I feel strongly about adhering to and instilling in myself, my parenting and my family life–ideals I saw being emphasized and demonstrated throughout the weekend's conference sessions and festivities.  These are the values that I hope to model and nurture for my own children every day and I was excited to see that the Walt Disney Company is taking care to practice each one in countless ways.
Trust & Excellence
Whatever you do, do it well. Do it so well that when people see you do it they will want to come back and see you do it again and they will want to bring others and show them how well you do what you do.  -Walt Disney
Wise words are these for building upon the dream that could become one's legacy.  I am forever brainstorming ways to improve–as a parent, as a spouse, as a writer, as a business owner–ways to build trust within my family and my community while pushing beyond mediocrity and challenging myself to do the absolute best job I can.
As a travel company, Disney truly identifies with the needs of families and continually strives to facilitate their guests' enjoyment by providing visitors with safe, clean, beautifully run resorts and destinations.  One thing that I noticed repeatedly during the conference sessions was the way that many of the Disney presenters spoke from their roles as parents ahead of their roles as corporate execs.  According to Tom Staggs, Chairman of Walt Disney Parks and Resorts, Disney's goal is to become the most trusted provider of family travel experiences in the world.  A lofty ambition, yes, but I think that parents feel a sense of security when traveling to a Disney destination that they don't feel other places. Whether it's providing allergy-safe meals, reminding us to hydrate or smiling cast members ready to lend a helping hand, Disney makes traveling easy for parents and does so with aplomb.
At the same time, the "Disney Difference" continues beyond safety and comfort as no company entertains like Disney.  Jay Ward, Creative Director and CARS Legacy Guardian at Pixar Animation Studios spoke at length about Disney's passion for getting things right and their attention to detail.  Ward revealed the recipe for the company's "secret sauce," scripted by Steve Jobs of Apple fame, encouraging Disney to "only make the good stuff and make less of it." This passion for perfection is visible in the way visitors are transported seamlessly from the on-screen world of Disney's animated films to the immersive themes of their parks, resort hotels, and restaurants.
I have traveled extensively through the years – on my own, with my husband and with our children in tow, yet I am continually struck by the outstanding quality of services and entertainment we experience in the Disney parks.  Making the good stuff  is what Disney does best and definitely contributes to their commitment to creating remarkable experiences for visitors.
Creativity & Authenticity
We keep moving forward opening new doors, and doing new things, because we're curious and curiosity keeps leading us down new paths. -Walt Disney
Each day that I sit down at my desk I have it in my mind to create something unique–a challenging task in an age where time is at a premium and ideas are shared at the speed of light.  It is also very important to me that I remain true to myself and my ideals in everything I do both personally and professionally.  Both of these ideas were in the spotlight last weekend.
Being creative doesn't mean begin the first at something. It means making something better. @Gary_Jerry #disneysmmoms

— Gina Vercesi (@KidsUnplugged) April 11, 2014
The concept of storytelling and the importance of having a compelling story to share was one that wove it's way throughout the presentations of almost every conference speaker.  The spirit of innovation and creativity prevails in Disney's history and was truly the heart of Walt Disney himself.  This spirit continues to fuel everyone at Disney, from the imagineers working to create visionary new lands and attractions in the parks to the inventive animators and filmmakers at Walt Disney Studios to the talented writers of the Disney Parks blog–the rich tradition of storytelling remains strong.
Something pretty cool can be born out of a typo. Never overlook what can become something awesome. #Cre8tive #disneysmmoms @Gary_Jerry

— Gina Vercesi (@KidsUnplugged) April 11, 2014
At the same time, each and every presenter emphasized the value of being authentic in everything you do.  One of my favorite stories from the weekend was shared by Kathy Mangum, Executive Producer and Vice President of Walt Disney Imagineering when she told us about the research trip her team took along the famed Route 66 when they were building Cars Land at Disney's California Adventure Park.  Ms. Magnum explained how important it was for her team to truly absorb the authentic vibe of the historic route and it's cast of characters and to replicate that energy in Cars Land itself.  As a travel fiend myself, I love the richness of experience conveyed in this short film–the roots-y nostalgia of the people and places the Disney folks encountered in their travels was chock-full of stories begging to be told–and I love the way both of these were incorporated into what has become the centerpiece of the California Adventure theme park.
Healthy Living & Environmental Stewardship
Landscapes of great wonder and beauty lie under our feet and all around us. They are discovered in tunnels in the ground, the heart of flowers, the hollows of trees, fresh-water ponds, seaweed jungles between tides, and even drops of water.  Life in these hidden worlds is more startling in reality than anything we can imagine. How could this earth of ours, which is only a speck in the heavens, have so much variety of life, so many curious and exciting creatures?  -Walt Disney
If you know me and this blog then you know that I consider the above topics to be of the utmost importance.  I am a passionate advocate for getting kids outdoors and immersed in the natural world around them.  I feel strongly that kids who grow up loving the outdoors in this way, by having fun and being given the opportunity to play freely grow into adults who care about preserving that world.  I also care deeply about promoting healthy lifestyles through delicious, healthy food and fun exercise.
We are a family who loves to eat from our garden, shops at our local farmers' markets and spends more time out of doors than in.  I love seeing all of the initiatives Disney has created in this vein.  From their fabulous runDisney events and the great opportunities offered at the Wide World of Sports complex to the Magic of Healthy Living campaign and the commitment to providing tempting, wholesome meals for vacationing families, Disney has become a leader in the push toward healthier lifestyles.
Additionally, with the creation of the Disneynature segment of Disney Studios and Disney's Worldwide Conservation Fund, Disney is now a key player in both environmental sustainability and the movement to connect children with nature–issues which I support wholeheartedly.
One of the highlights of the weekend for our family was a special prescreening of the newest Disneynature film, "Bears," which was released this past weekend in honor of Earth Day.  "Bears" is an amazing tale of a mother bear and her two cubs as they navigate their way through the dangers of the Alaskan wilderness throughout the cubs' first year of life.  The story is both heartwarming and heart wrenching and the footage is truly spectacular and the girls and I were on the edges of our seats the entire time.  In celebration of the parks of the Alaskan peninsula, Disneynature is donating a portion of the first week's ticket sales to the National Park Foundation.
Service & Community Building
You can design and create, and build the most wonderful place in the world. But it takes people to make the dream a reality. -Walt Disney
The importance of using social media and one's public platforms as a springboard for creating social good was perhaps the most prevalent theme of the weekend.  Tom Staggs shared with us Disney's deep commitment to social responsibility saying, "nurturing, inspiring and empowering kids and all of the families we serve is one of our core values," and we learned about many of the initiatives the company has launched to support this effort.
Through Disney Citizenship, a wide variety of campaigns have been created that focus on making the world a better place.  In the VoluntEARS program, Disney cast members have the opportunity to participate in community service initiatives worldwide.  Friends for Change encourages kids, along with their friends and families, to take steps to reduce their impact on the environment or  to join in youth organizations committed to improving their communities.
In his presentation, Tom Smith, the Social Media Director for Disney Parks, talked a lot about the importance of connecting with actual people and building a community.  He encouraged us to learn what resonates with our readers, to engage them in the content we are creating and to find ways to make meaningful connections people thought our writing and our social media.
People connect with people, not logos. Tom Smith of @DisneyParks Blog most retweeted quote. #disneysmmoms

— Gina Vercesi (@KidsUnplugged) April 11, 2014
Other great insights were shared by Doug Bowman, Creative Director at Twitter, who emphasized the way that my favorite 140-character social media tool levels the playing field, giving voice to people all over the world.  Bowman shared a very powerful story of a Vivienne Harr, a young girl who used Twitter to appeal to the world to help her "Make a Stand" to end childhood slavery via an old-fashioned lemonade stand.  Here's the tweet I put out with my takeaway from Bownman's talk:
While #unplugging is crucial, the power of using social media for good is undeniable. @stop is sharing some incredible stuff! #disneysmmoms — Gina Vercesi (@KidsUnplugged) April 11, 2014
Joyfulness & Enthusiasm
Alright. I'm corny. But I think there's just about a hundred and forty million people in this country that are just as corny as I am.  -Walt Disney
I love this quote, mostly because I am a total corn dog.  I skip and hop my way through the Disney parks, welling up with tears at the Magic Kingdom's opening ceremony and singing along as Casey Junior comes down the track in the Florida sunshine.  As anyone who has ever spent time in a Disney theme park can tell you, Disney is all about the fun.  From the moment you step through the gates of Disneyland, you find yourself steeped in the tradition and history of storytelling and the silver screen.  You are not a casual observer here, but part of the show, strolling down Main Street, U.S.A., soaring above Wendy Darling's London in Fantasyland or careening on a runaway train in an abandoned mine deep within a mountain in the old west.
Aside from all of the learning and inspiration that took place during the conference sessions, the best part of the Disney Social Media Moms Celebration was the time that was built into the schedule for families to enjoy the magic of the parks.  I had only been to Disneyland once before and it was wonderful, having now been to the Florida parks several times, to experience Walt's original vision.  I absolutely loved the old-school vibe of the west coast Magic Kingdom and really enjoyed noting all the ways it differed from the east coast version.  I had expected the parks to be carbon copies of one another and was surprised and delighted by the uniqueness of Disneyland.  The hours my girls and I spent together in the parks was a gift and we loved every minute.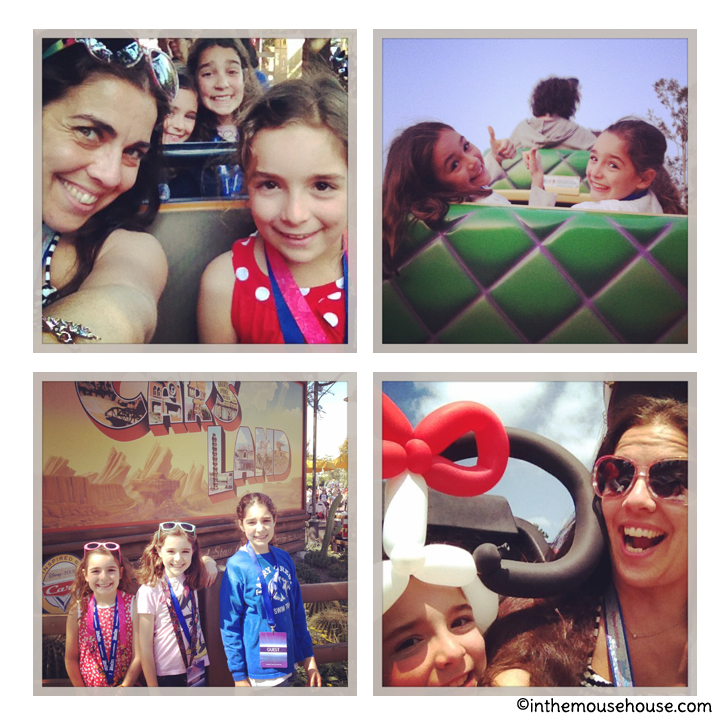 I also loved the time I spent getting to know so many other talented bloggers throughout the weekend as well as visiting (and running!) with some very dear friends.  Being surrounded by such a dynamic group of inspirational people–the fabulous conference organizers, wonderful participants and incredible speakers served only to reinvigorate my enthusiasm for my work and motivate me to take some risks I may not have previously taken. The magic of Disney seeped into every moment of the weekend.  Delicious dinners, visits with favorite characters,  generous gifts and prizes and a stay in the beautiful Disneyland Hotel made for one of the most memorable weekends my girls and I have ever had.
And finally, I would be remiss if I didn't mention the incredible cast of characters who makes all of this possible.  Headed up by the incredible Leanne Jakubowski, Director of Social Media for Disney Parks, the Disney Social Media Moms Celebration Team (Gary Buchanan, Michele Himmelberg, Erin Glover, Aubrey Hang, Maria Bailey, Jennifer Wilkes and Josh Hallett) did an absolutely incredible job crafting a spectacular event packed full of amazing speakers, inspirational content, and fabulous special events within a whirlwind of pixie dust.  I am both honored and grateful to have had the opportunity to participate in this wonderful celebration.
Yesterday, when working on this piece, I said to my middle daughter, "If you had to name something from the conference that had to do with the word 'joy,' what would it be?"  Without hesitation she said, "Gary and Leanne.  They are so nice."
Disclosure – I was invited to attend the DSMM Celebration. I paid my own conference fees which included discounted rates on both the Disneyland Hotel and theme park tickets.  I also received gifts during the conference. All opinions, experiences and thoughts are, as always, my very own.