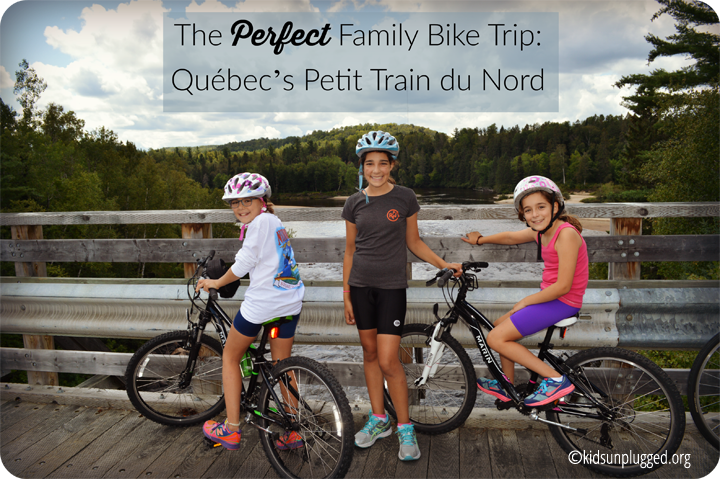 My husband has always loved a good bike trip. As a boy of 15, his dad drove him uptown to the George Washington Bridge from their Greenwich Village apartment to pedal from New York City to Prince Edward Island, Nova Scotia lead only by a 20-something American Youth Hostels counselor. Several more trips followed, including a month-long cycling and camping tour through Italy.
When we'd been dating about a year, my own two-wheeled initiation took place along the Pacific Coast Highway, as we rode from Astoria, Oregon to Crescent City, California. Our relationship survived 10-days of broken spokes, ponderous panniers, and an all-night Greyhound trip to San Francisco. Yet despite the challenges I discovered that I, too, loved viewing the world from the seat of a bike.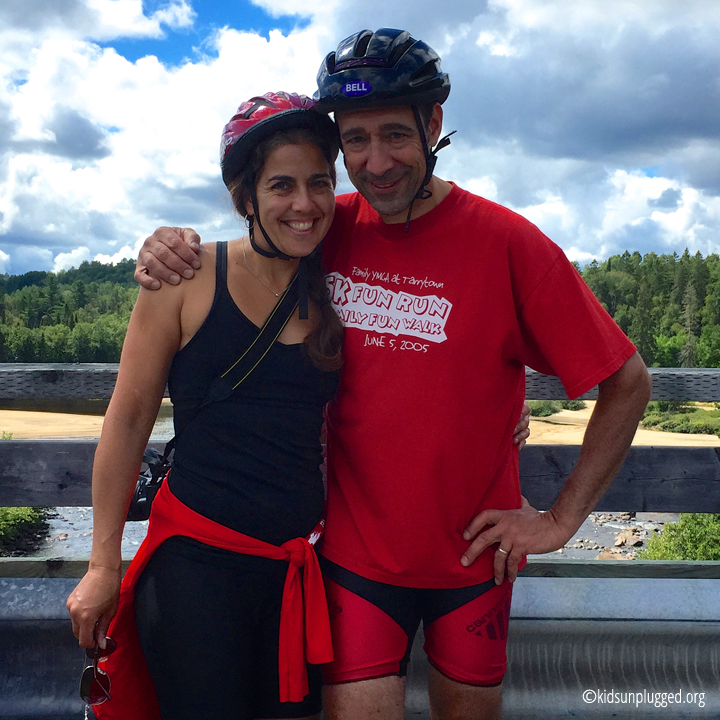 Our cycling adventures were soon curtailed by the arrival of three daughters. We found that although we enjoyed reading about other parents' brave accounts of taking extended bike trips with kiddos in tow, a few miles on the paved path near our house was all we were willing to attempt. But that changed when we learned of Le P'tit Train du Nord.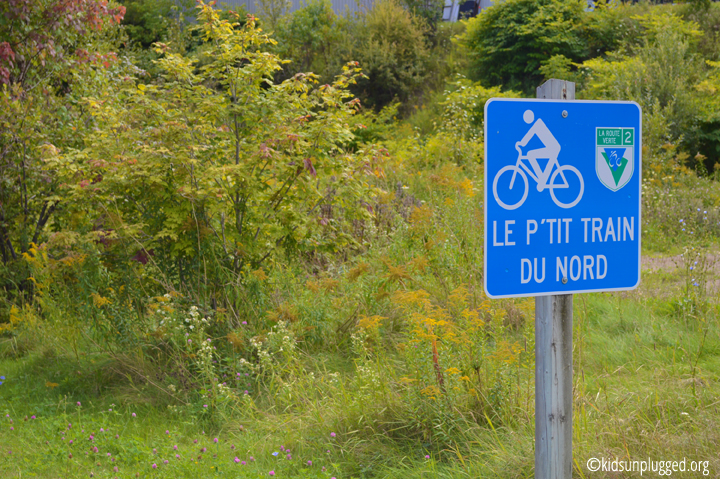 Le P'tit Train du Nord is a 200-kilometer linear park that winds through Québec's Laurentian Mountains. Used by more than a half-million cyclists, hikers, and cross-country skiers each year, the Little Northern Train, as it translates, was once an active railway delivering tourists from Montreal to the mountains. These "snow trains" stopped running in the late 1980s and in 1996 the line was transformed into a recreational trail in an effort to boost tourism in the Laurentians.
The world is full of cycling routes yet Le P'tit Train du Nord is ideal for families seeking their first foray into bike touring. It's designation as a linear park means that the trail is free from vehicular traffic, making it safe for even the youngest cyclists. The rail line is mostly flat, yet riders pedal through beautiful mountain scenery, passing pristine lakes and wildflower filled meadows. Quaint villages and restored train stations pop up every few kilometers allowing cyclists to stop for a lunch of hearty French-Canadian fare, a stroll through shops and galleries, and stop for the night at a family-owned country inn or gîte, as they're called.
A Few Logistics
When planning your ride along the Petit Train you have several options to consider. Most people, ourselves included, opt to travel north to south, taking a shuttle to Mont Laurier to begin the trip and ending 200-kilometers later back in St. Jerome. It's simple to shorten that distance by starting somewhere further south. How many days you'd like to spend biking is up to you—for beginners and families, four—or even five—days is a good bet. We met one family that was spreading out the length of the trail over six days while a young, childfree couple was planning to bang out the whole ride in two.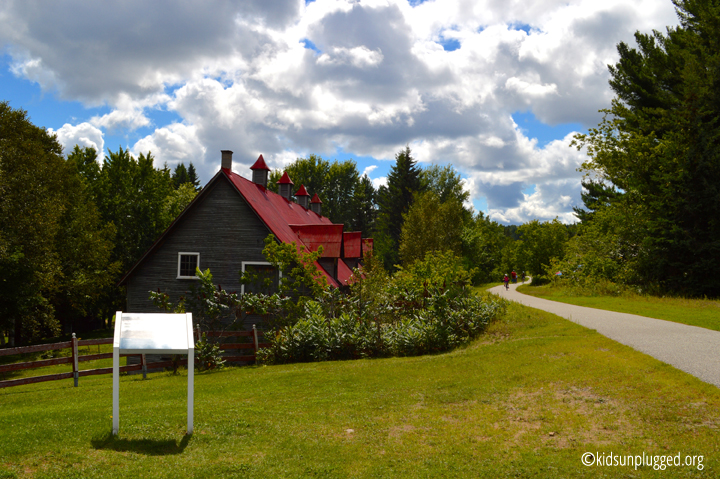 Once you've decided upon the duration of your trip, you can make arrangements for accommodations and luggage transport. With the help of the Laurentian tourism office, we booked The Classical, a four-day cyclo-gîtes package, which included three night's accommodations with dinner and breakfast. Additionally, our bags were collected each morning and were waiting for us at our inn every afternoon. Several of the inns along the way can make arrangements for you as well.
The night before we were due to start our ride we spent the night at a Comfort Inn in St. Jerome along with several other cyclists. My husband made a quick, pre-dinner reconnaissance mission to Place de la Gare, a five-minute drive from the hotel, where we'd be meeting the Autobus Petit Train du Nord early the next morning. Later, after the kids were finally asleep, we packed our panniers, consolidated our luggage, and went to bed hoping for the best. We were mostly concerned about our nine-year old. 39-miles would be a long way for a not-so-big kid to pedal in a day.
All Aboard the Little Train
We pulled into the station on a sunny Tuesday morning, where two minibuses equipped with double-decker bike trailers stood waiting for passengers. As we'd visited Québec City for a few days prior, we decided to rent bicycles rather than bring our own. I was apprehensive about the fit and quality of the bikes and upon inspection was pleased with both. They were comfortable hybrids with smooth gears and we were all happy with them. The only shortcoming was that my husband's bike was fitted with a hard, narrow seat that proved to resemble a medieval torture device—poor dude. Our rentals included spare tubes, pumps, a small tool kit, and cages for our water bottles.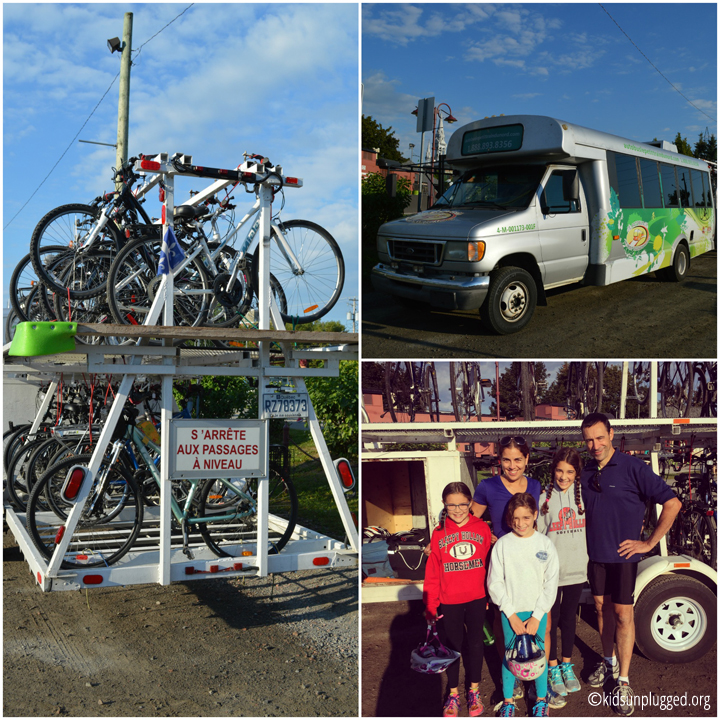 The drive to Mount Laurier was spent chatting with fellow cyclists. We were the only Americans on board and along the way the driver provided a detailed narration, mostly in French, of the various sights and services we'd encounter as we rode south. The trip north was expected to take about two hours getting us to the start of the trail around eleven that morning. We didn't bank on our van making two extra stops along the way—picking up a few cyclists in Mont Tremblant and delivering them to Lac Saguay several kilometers to the north. As a result, it was after noon when we pulled into Mount Laurier.
I watched the ticking clock nervously as our bikes and gear were unloaded. We were planning on it taking us about five hours to reach our first night's stay in Nominingue and it was getting late. Additionally, as the first day's ride didn't offer much in the way of trailside services, we needed to make a stop at the IGA supermarket by the trailhead to pack lunch. It was just shy of one o'clock when we climbed onto the bikes with our gear and provisions and hit the trail for our first leg—about 55-kilometers to Nominingue.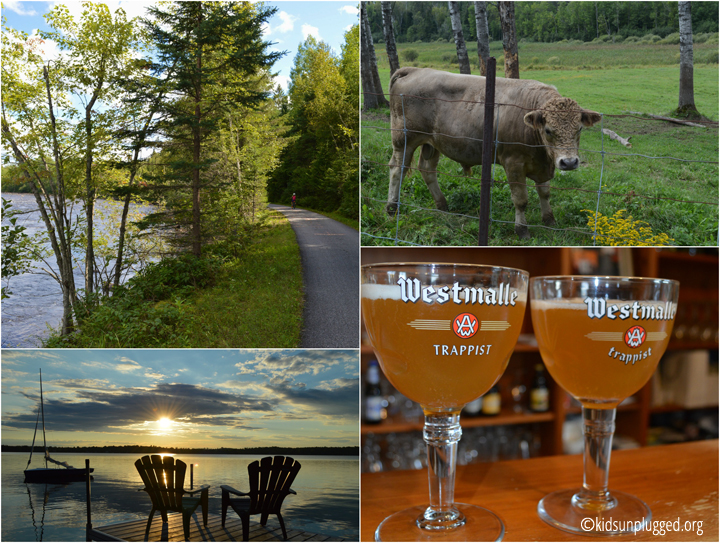 Smooth Sailing and Easy Pedaling, Mostly
There's a part of me that is inclined to describe every kilometer we covered over the next four days on Le P'tit Train. Suffice it to say that each day was an adventure in which we encountered warm hospitality, pristine countryside, authentic French Canadian fare, and a friendly boarder collie named Patou.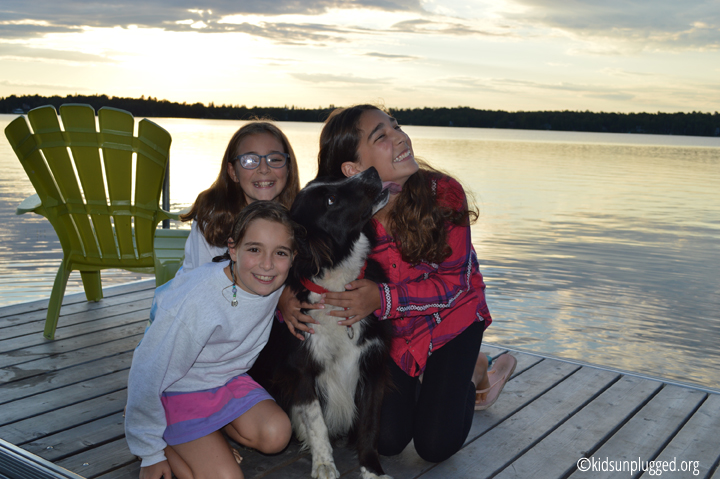 We tried to cover the bulk of the day's distance before lunch, often making a quick stop after an hour or so of riding for a mid-morning snack. Day two offered the opportunity for a leisurely lunch at La Gare in Labelle, complete with a visit to the small museum spotlighting the Petit Train's history and telling the tale of local legend Jack Rabbit. A particularly long climb on day three, one of the only inclines on the trail, resulted in a minor blood-sugar meltdown for the middle kid, which was remedied by a big bowl of pasta at Restaurant Jack Rabbit in artsy Val-David. Later, with everyone happily fed, we enjoyed some of the prettiest scenery yet as we pedaled to Saint-Adele for our last night.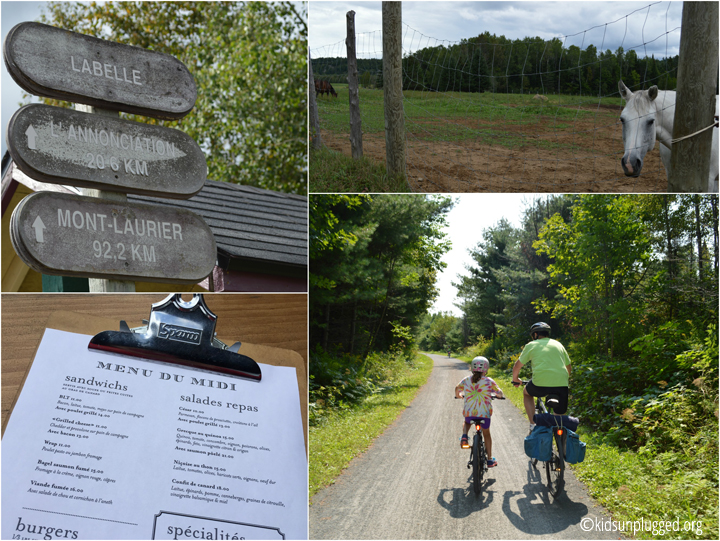 Aside from the anxiety that surrounded our late start that first day, our ride was pretty relaxed. That quintessential bike trip rhythm established itself quickly—sometimes the girls pedaled in pairs or with one of us, other times one of them pedaled alone for a while, lost in the groove of her rotating feet. We often encountered the folks with whom we'd shared the shuttle from Saint Jerome and they always greeted the girls with enthusiasm and encouragement. A community of sorts blossomed along the trail—each of us a small part of a larger whole chugging southward along the Little Train.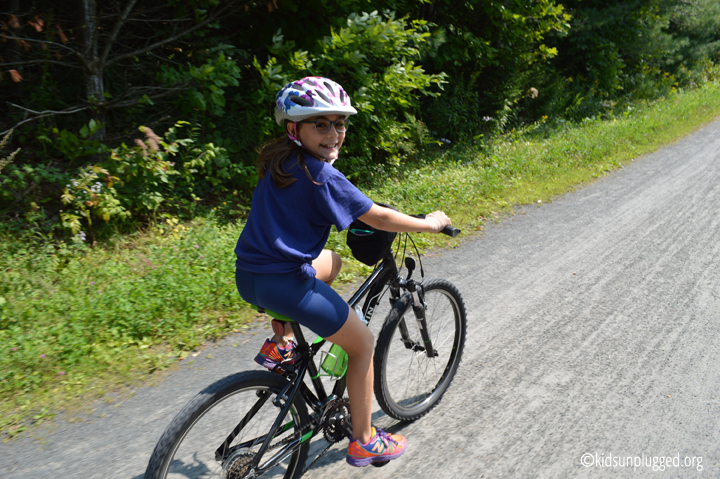 The morning of our final day of riding dawned warm and sunny and climbing onto my bike felt bittersweet. We had only 25-kilometers to cover, most of it downhill, and it would be a short ride. I was excited for my girls for their accomplishment but sad to see our adventure come to an end. This had been slow travel at its best and I'd loved our (mostly) mellow days on the trail—loved not really knowing where we'd stop for lunch, what hidden streams we'd encounter, or the people we'd meet along the way. I'd loved singing with my 9-year old as the kilometers passed, watching my older girls laugh and chat with their dad as they pedaled ahead. I'd loved spending practically every hour of every day in the bounty of the outdoors.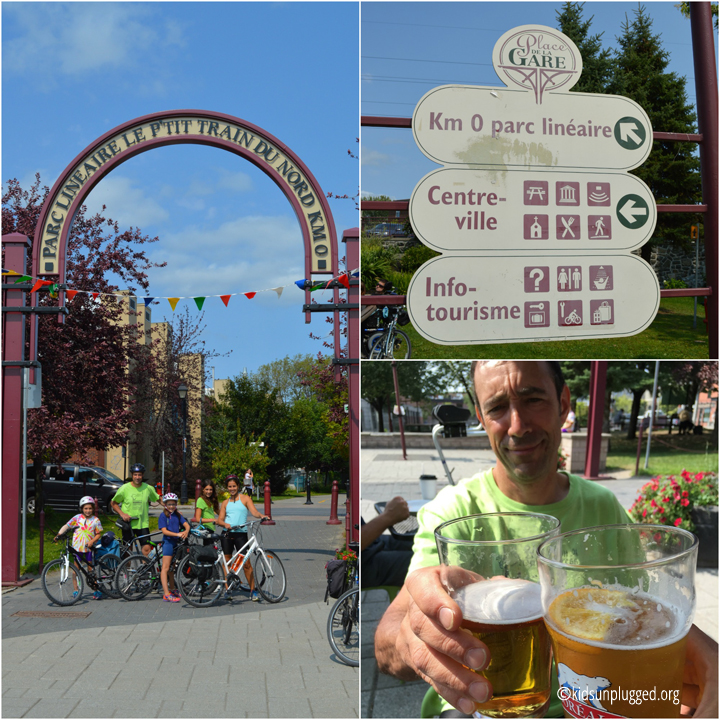 The final several kilometers heading into Saint-Jerome were far more urban looking and congested with other cyclists than we'd become used to in the previous days. The Little Train was headed back to civilization and the scenery was helping us acclimate ourselves to reality. The trail ends in Place de la Gare at kilometer zero and cyclists ride through a large archway festooned with flags to mark the occasion. We'd completed our first family bike trip. It wouldn't be our last.