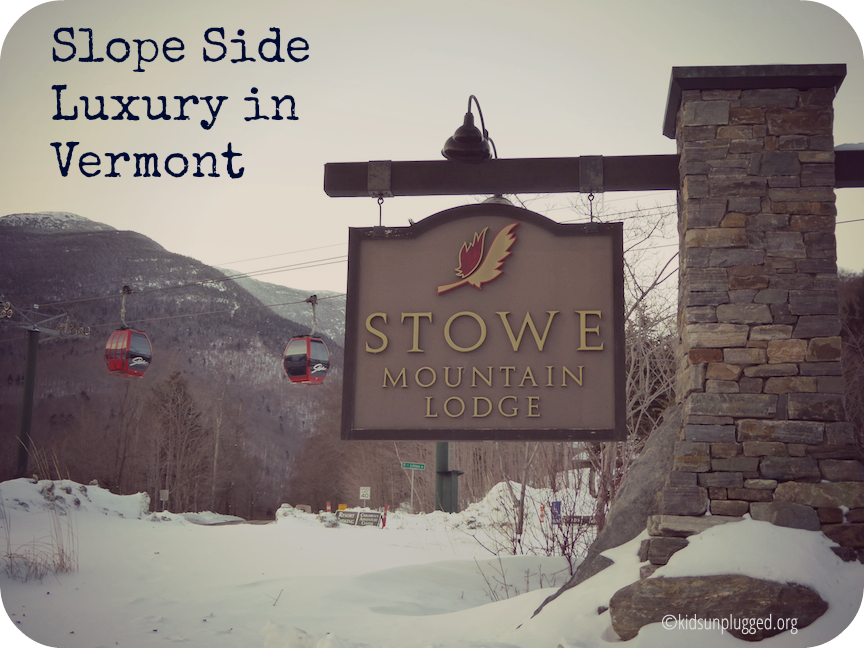 Arriving in the tiny village of Stowe, Vermont feels like stepping into a Norman Rockwell painting—especially in the winter. Smoke curls from chimneys, icicles hang from eaves and the white steeple of the community church stands tall among the quaint shops on Main Street. This area also serves as the entry point to the Mountain Road, which leads visitors to the legendary Stowe Mountain Resort and Mount Mansfield, Vermont's highest peak.
Like most ski towns, Stowe is home to a wide variety of accommodations from cozy village inns and B&Bs to alpine-style lodges and slope side condos. The jewel of these quarters is Stowe Mountain Lodge. Built in 2008, Stowe Mountain Lodge resides at the foot of Spruce Peak, Mansfield's smaller neighbor, and combines rustic elegance with New England charm to create an atmosphere of laid-back luxury and relaxation for skiers and non-skiers alike.
A Warm Welcome
We pulled into the circular driveway of Stowe Mountain Lodge at around nine-thirty in the evening and were greeted by one of the many valets waiting outside. I wasn't expecting to see so many cars at that time of night, but soon realized that most families probably did the same thing we had done—hit the road right after school for a long weekend visit. Our girls were pretty tired at this point and schlepping luggage and ski gear to our room would have been cumbersome, so the valet service was a welcome perk.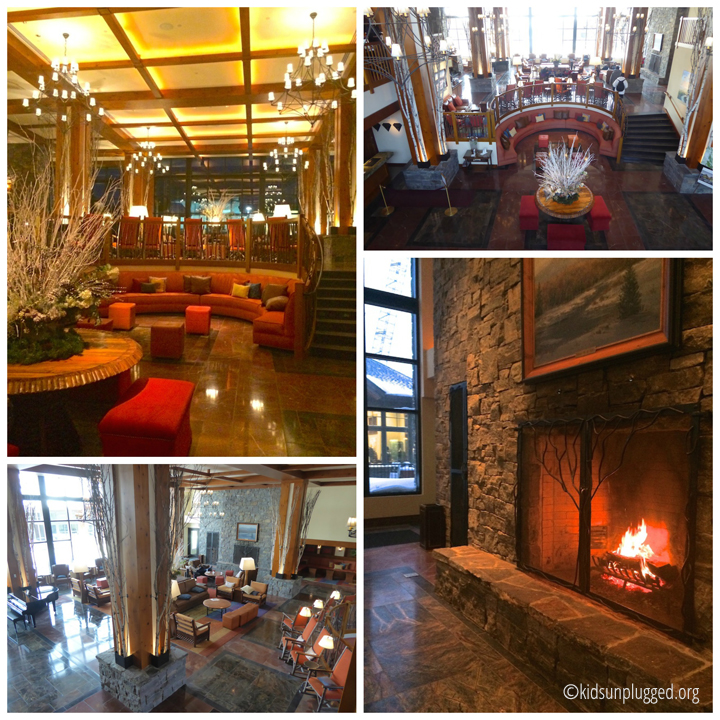 As soon as we stepped into the gorgeous lobby, I knew I'd be spending as much time in there as possible. Enormous windows line the walls from the marble floor to the lofty, coffered ceiling. Two huge, stone fireplaces flank either end of the lounge area, surrounded by plenty of soft, leather sofas and deep armchairs in warm woods and earthen hues. The entire space exudes a comfortable, low-key vibe that is the mark of the ultimate ski lodge. I couldn't wait to curl up by the fire the next afternoon.
Location, Location, Location
Anyone who has skied with kids knows that gearing up and getting onto the mountain can be a hassle. Families spend considerable time and energy parking the car, hauling equipment to the base lodge, dealing with rentals, and getting suited up before even setting foot on the snow. At Stowe Mountain Lodge, check any thoughts hassle at the door when you arrive, because getting ready for a day of skiing from here is an absolute pleasure.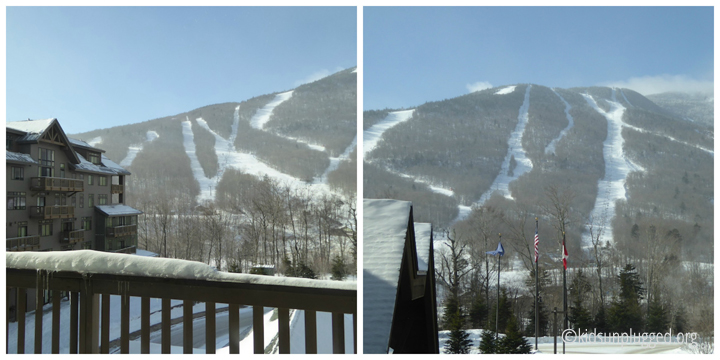 First off, when you stay here you are literally steps away from the mountain. Walk right outside and you're in bustling Spruce Plaza, just a short walk from Spruce Base Camp and the Over Easy gondola that takes you to Mount Mansfield. A few feet more and you find yourself directly in front of the Sunny Spruce quad, and a short walk to the Meadows quad and easy learning area.
The best part of staying at Stowe Mountain Lodge, however, might be the ski valet. "This is just so civilized!" my husband exclaimed one morning. And that it is—the lovely folks at the ski valet completely remove all traces of bother. They take your boots and skis from you when you return from the mountain in the afternoon and return them to you when you'd like them in the morning. There is a cozy room where you can get geared up and when you're ready you just walk right out to the lifts. It is, simply put, ski bliss.
Rooms to Suit Every Family
Our family of five was booked in a one-bedroom suite for the weekend, which features a full, gourmet kitchen, a marble bath with large shower enclosure and deep soaking tub, a private, king-bedded bedroom and a living area with sleeper sofa and gas fireplace. We added a rollaway bed for our third daughter, although it was a bit tight when the sofa bed was open and the rollaway was down. Housekeeping closed the sofa and stowed the rollaway against the wall for us during the day.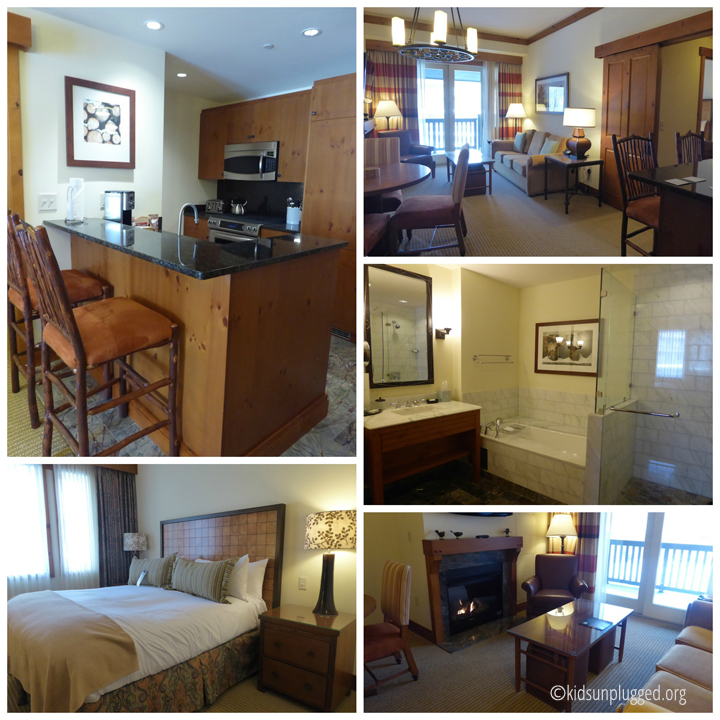 The suite was beautiful, with plush bedding, warm upholstery, and deep woods throughout. We found the kitchen fully stocked with pots, pans and locally made dish and flatware, which made preparing breakfast (and coffee!) from the groceries we brought a breeze.
For a family with more than two kids, or if you're bringing grandparents along, the two-bedroom suite is much more spacious. Two-bedroom suites are essentially the same as the one-bedrooms, but a small vestibule off the living area leads to a second bedroom with two queen beds. The Lodge also offers standard guestrooms, studios that feature a king bed, a sleeper sofa and a kitchenette, as well as three and four bedroom suites and fabulous four bedroom slope side Mountain Cabins.
Adventure Beckons
While the proximity to Stowe Mountain Resort draws tons of skiers to the Lodge each winter, I learned that 50-percent of guests don't hit the slopes. The Lodge's winter vacation guide is chock-full of fantastic unplugged activities for explorers of every level. Snowshoe hikes, cross-country skiing, snowman building contests, and dog sledding excursions are just a few of the outdoor adventures that set out from Stowe Mountain Lodge. If you're ready to take a break from the elements, art and furniture making classes, yoga and Pilates, wine tastings or a show at the Spruce Peak Performing Arts Center are all right on site.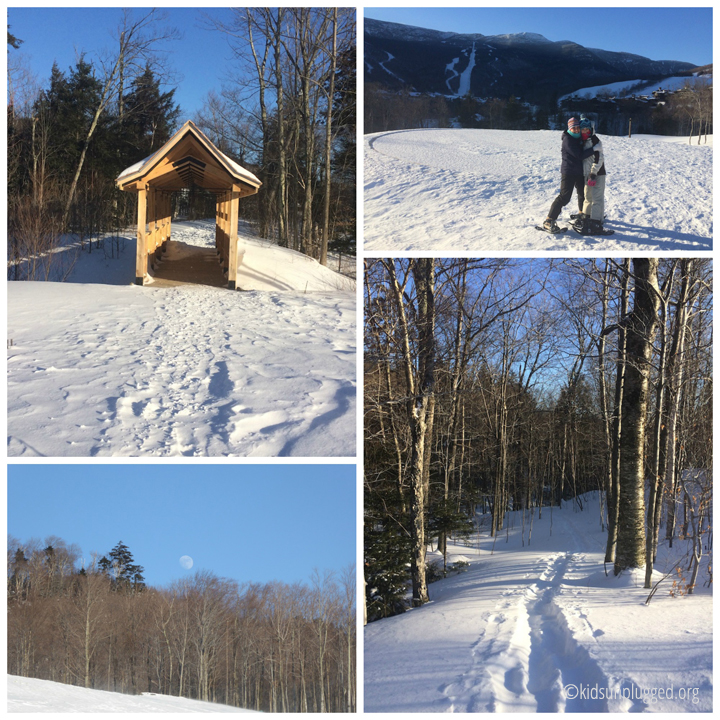 My oldest daughter and I spent an afternoon snowshoeing through the woods that surround the Lodge. Joining a guided outing along the Spruce Peak Pathway, we met the group in the activity center, donned our snowshoes and set off along the 3 Bridges Loop, cutting fresh tracks in the deep powder that had fallen only the day before. It was cold and blustery, but we spent about an hour exploring the trails before heading back to the Lodge for the most divine après-ski hot cocoa I've ever seen.
Après-ski Indulgence
Speaking of divine experiences, Stowe Mountain Lodge sets the bar high. After returning from a day on the mountain, my girls loved swimming in the outdoor, heated pool and lounging in the hot tub as their hair grew icy and snow fell all around them. The Spa is another treat for the senses and a booking a treatment from their full menu is a pretty lush way to end the day. My daughters enjoyed the KidSpa's signature Chillax session while my tired feet were treated to the Soothe Your Sole.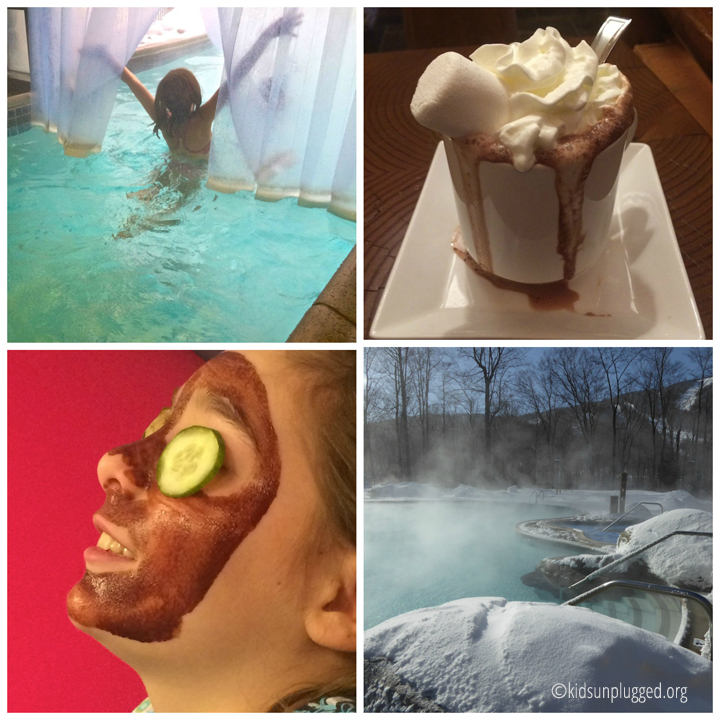 But I think my favorite thing to do was to simply kick back in that lavish lounge area, a locally brewed draught beer and a book by my side, a roaring fire crackling across the room. Live piano music and convivial conversation filled the space as the kids reconnected with friends they'd made in ski school and little ones in their long johns pushed race cars across the floor. Friendly dogs curled up at their owners' feet while folks laughed and snacked on appetizers from the Hourglass restaurant.
Stowe Mountain Lodge might just be the ultimate ski lodge and we were all quickly spoiled by the comforts that followed us wherever we went. We can't wait to return.
Disclosure:  Stowe Mountain Lodge hosted my family  for the weekend and our accommodations, spa treatments and activities were complimentary.  As always, all of the opinions in this piece are entirely my own.