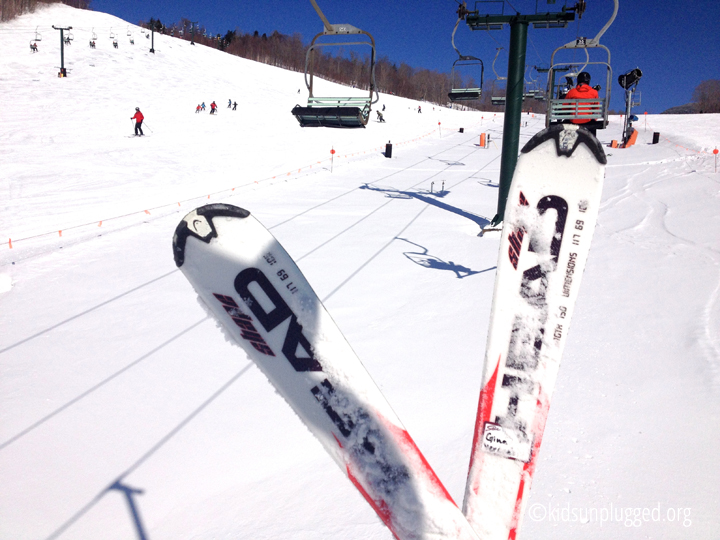 When I first learned to ski at the age of 40, I expected to fall—a lot. I expected the learning curve to be far steeper than a bunny hill. I expected it would be a long time before I would climb aboard a real lift and ski down a real slope. I was wrong.
My initiation to the sport happened in Stowe, Vermont with two beginner group lessons. In the morning, our Stowe for Starters instructor started us off with the most basic of basics and we spent the morning riding the magic carpet (where I did fall, like a dork) and learning to form the requisite wedge with our skis. The afternoon found me in one of Stowe's Mountain Clinics designed to target specific techniques—in my case, basic turns—during which I rode up my first real lift and skied down my first real slope. To my surprise, after just a couple of days I was skiing easy green runs with a feeling bordering on confidence and had acquired a foundation of skills that I would build upon the following winter.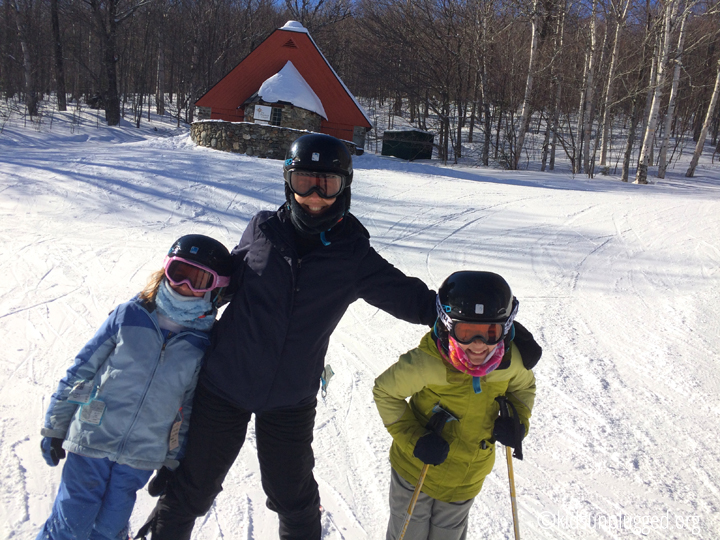 When my second season arrived, I was nervous. Would it be like riding a bike? Would those skills come back to me when my skis hit the snow? It was and they did and I spent the winter honing my turns and gaining courage, both on my own and with the help of a few private lessons. I still wasn't using my poles—I had no idea what they were for and really, they just got in my way—and my turns, while becoming more parallel, continued to develop from a conservative wedge, especially on steeper terrain. The few times I let my daughters convince me to ski a steeper blue, my mind filled with the same mantra as I traversed the hill with wide, slow turns. Pizza, french fries. Pizza, french fries.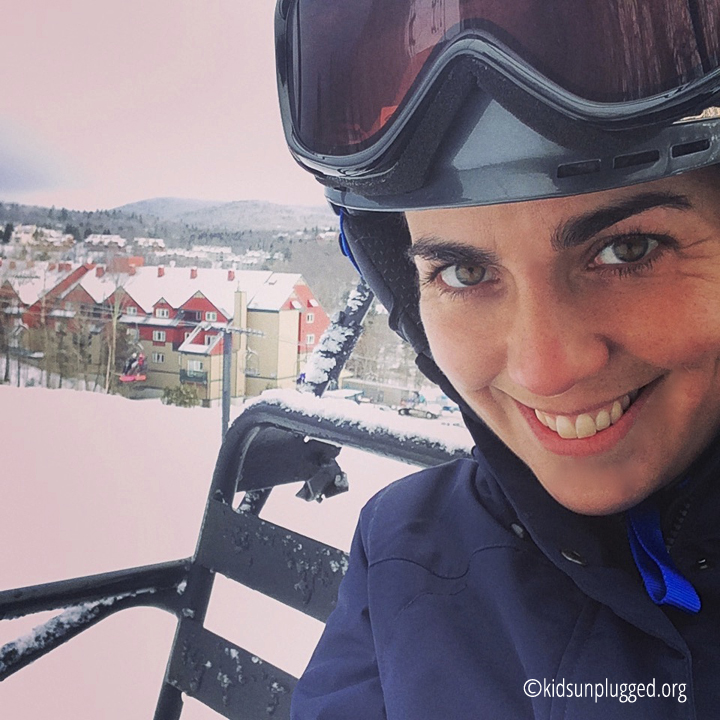 By the third run of my third season, I thought that I'd become a fairly decent skier. I thought that I'd incorporated what I'd learned during the previous two winters into my form. I skied my first diamond and thought I looked pretty good out there. I was wrong. Well, I was partly wrong.
Women on SnoW Camp at Stratton
Enter Stratton's Women On Snow Camp, also, and appropriately, known as WOW. Four times each season, Stratton offers a two-day clinic designed for women and taught by women. I recently had the opportunity to take part in WOW Camp with my fellow Ski Vermont All Mountain Mamas. My eleven-year-old daughter proclaimed the camp to be sexist. "It's not fair that men aren't allowed!" But I was delighted head off for a couple of days of sisterhood on the slopes—she'd understand someday. Driving up to Stratton, I compiled a mental list of goals: sharpening my turns, skiing more challenging terrain with confidence, and figuring out what the heck to do with those darn poles.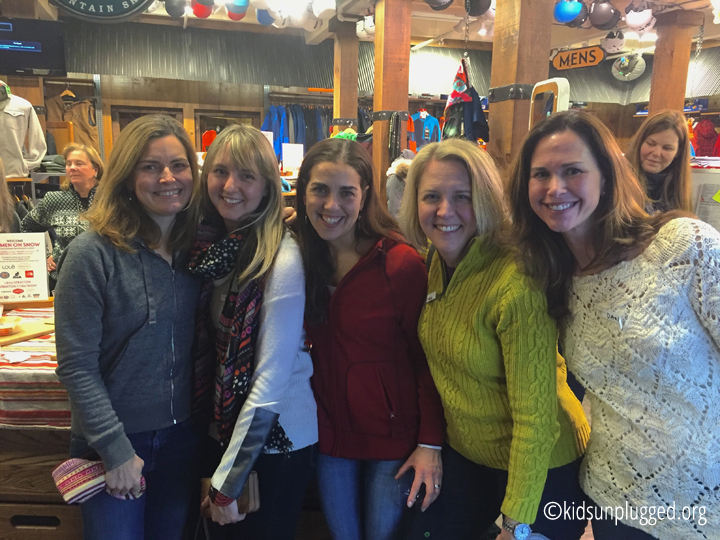 WOW kicked off on a frosty Sunday evening at First Run Ski Shop in Stratton Village with wine, cheese, and plenty of ski chatter. A large whiteboard stood to the side and listed the various levels of instruction that would happen over the next two days—everything from 'Never Evers' all the way up to 'Any Trail Anytime' was listed. My All Mountain Mama friends had written my name down under, "Solid Blues Working on Form," which was perfect considering the list I'd come up with during my drive north.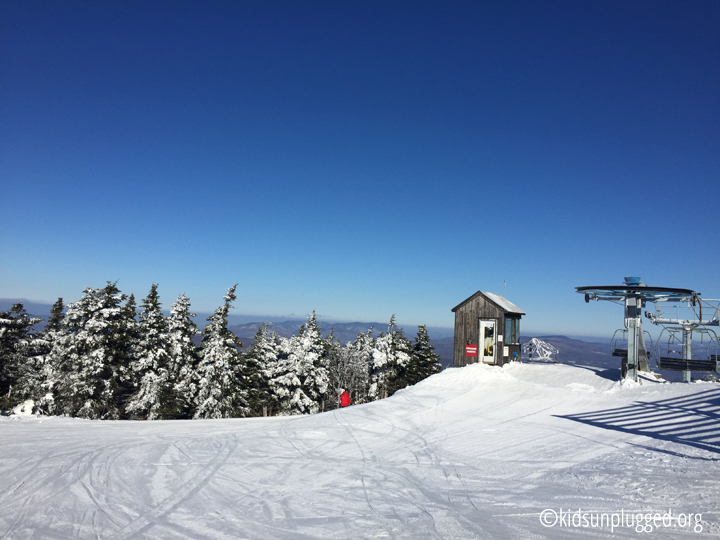 Monday greeted us with bluebird skies and superb conditions and I was eager to get onto the snow. There were eight of us in our blue crew and we'd be working with Amy Macy, who has been coaching groups at WOW for three years. Amy might be the most graceful skier I've ever seen—she literally floats down the mountain like a dancer—a rather powerful dancer. Coming down the hill, Amy is a dynamic skier in the truest sense, moving in an enviably efficient yet free-flowing way.
Back to Basics
We climbed onto the American Express six-pack for our first run down a series of comfortable blue trails like Beeline and Lower Standard. Our only instruction was to ski. Amy went first so that she could get a good look at each one of us from her perch about halfway down the run. I felt uneasy as I skied past, acutely aware of my desire to please the teacher, to do it right. When we went back up, Amy brought us way back down to the basics. Our first goal? To feel the snow under our feet.
In a regular two-hour lesson, an instructor needs to quickly ascertain what to focus on given the limited time. But in WOW camp, having two full days of instruction means the coaches can work from a student's feet all the way up to her head, which is exactly what Amy did, beginning with the crunch of the snow beneath our boots.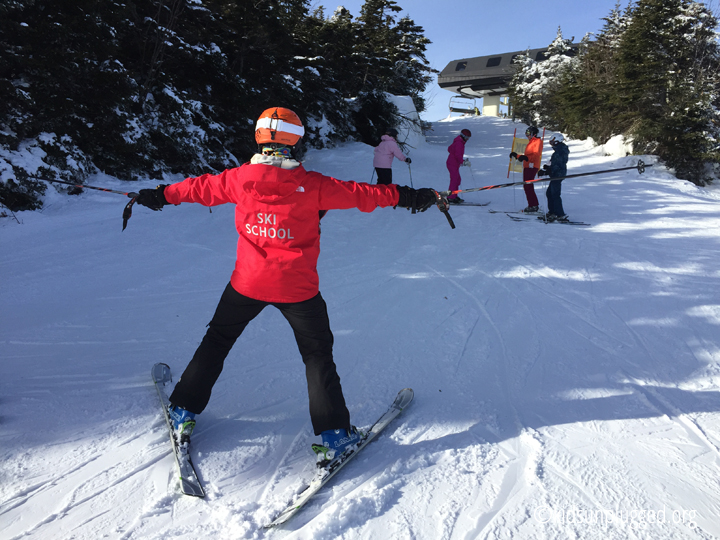 Run after run Amy introduced us to new techniques, explaining each one in her unique and artful way, often using some sort of pneumonic device or a visual cue she'd draw into the snow with the tip of her pole. She emphasized the importance of balance, of keeping our center of mass over our base of support by flexing our ankles, knees, and hips evenly. She taught us about rotation, showing us how to keep our belly buttons pointing down the mountain while using our lower bodies to power our turns, a skill I would work hard to begin to master.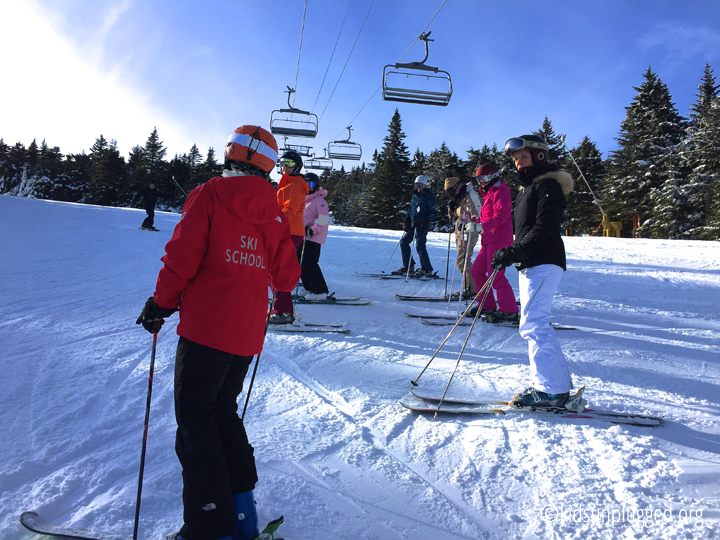 We practiced pointing our skis the slightest bit up the hill as we finished our turns, shaping them so they resembled old-fashioned ribbon candy. We learned how to moderate the weight we placed on our skis during our turns, making sure that although the majority of pressure was on the outside ski, the inside ski should also be engaged with its edge pressed into the snow.
And we learned to waltz our way down the hill—one, two, three, tap, one, two, three, tap—aiming our poles at the centers of imaginary slices of grapefruit in the snow as we committed to a turn.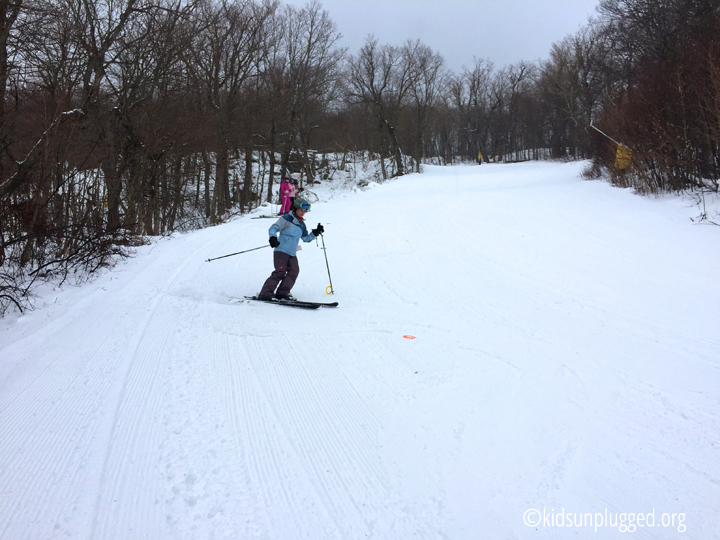 At one point, early on in the clinic during one of our group chats before a run, Amy said, "You're going to leave today feeling like you don't know how to ski. But when you leave tomorrow, you're going to feel like you never thought you'd be able to ski so well."
When I asked her about this, she shared her thinking. "We're recreating new muscle memory for you. If someone has a habit that's undesirable, we have to break down that muscle memory and introduce it in a new way to build new muscle memory with proper technique."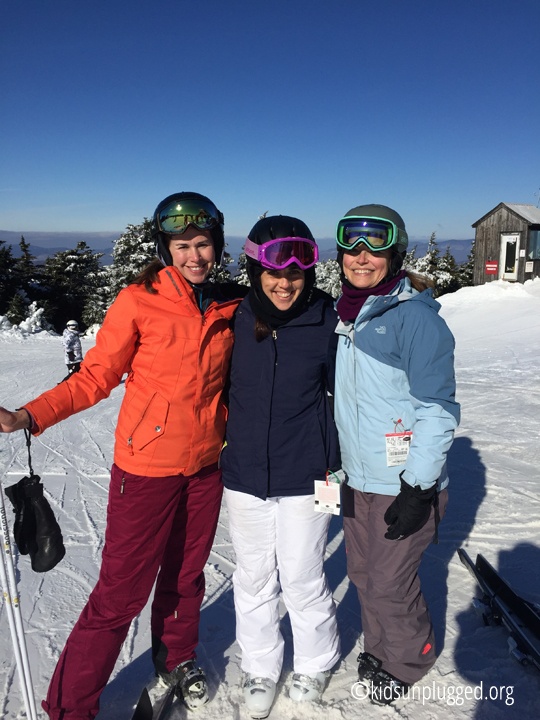 Amy was right. By the end of the first day's lessons all I wanted to do was hop on the lift and ski a run or two in my own comfortable, albeit sloppy, way. And that's exactly what I did. Yet I found it impossible not to hear her voice in my head, to picture her gliding down the mountain with strength and ease. I pointed my core down the hill, doing my best not to swing my upper body in my turns. I kept my hands anchored on my imaginary steering wheel, ten o'clock and two o'clock, and moved my poles with my wrists rather than reaching from my shoulder. I was getting it. Slowly. By the time I went home, I couldn't wait to tell my family that I had learned to ski—really learned to ski.
Putting it All into Action
One of the things Amy told us was that if something she taught resonated for us that we should write it down. Right now, as I'm writing this piece, I'm looking out the window at the slopes of Jay Peak. Slopes I skied yesterday, the first time I donned my skis since Stratton. Heading up the lift I again found myself feeling anxious—would I remember everything Amy taught us? Would I be able to put the skills into practice? Would I be able to piece it all together on the hill?
It took a few runs, but my muscles did begin to remember. After a freak February thaw, conditions at Jay were pretty icy, yet I stayed flexed, worked my edges, and carved my way down the hill while my husband watched me from the middle of the run. "You look great!" he said to me as I slid to a stop beside him, "During that narrow steep bit at the top your turns were excellent!" I beamed. WOW would definitely be on my calendar for next season.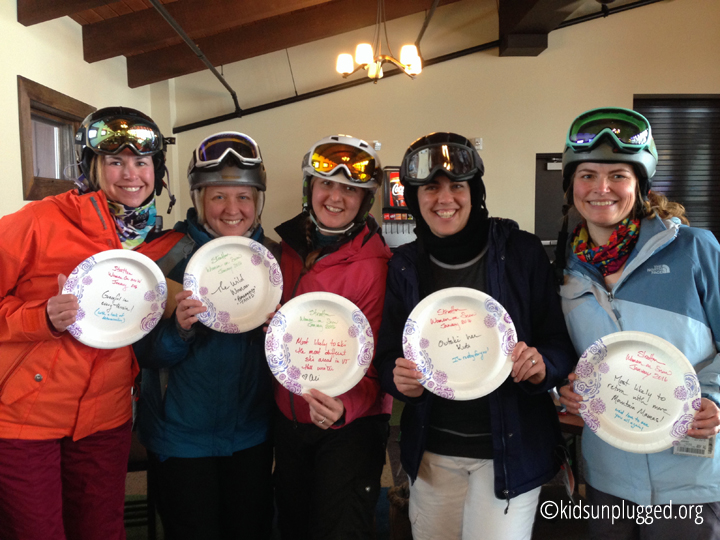 A few logistics:
Stratton's Women on SnoW Camps are offered four times each season in December, January, February, and March. The cost for the two-day clinic is $379 (lodging and lift tickets are additional). Camp participants receive a meal card for their breakfasts and lunches and the two days are packed with other lovely amenities–opening night cocktails, après-ski wine, snacks, and massages, the chance to try out new equipment through Stratton Sports, the use of the on-site fitness center, and other goodies.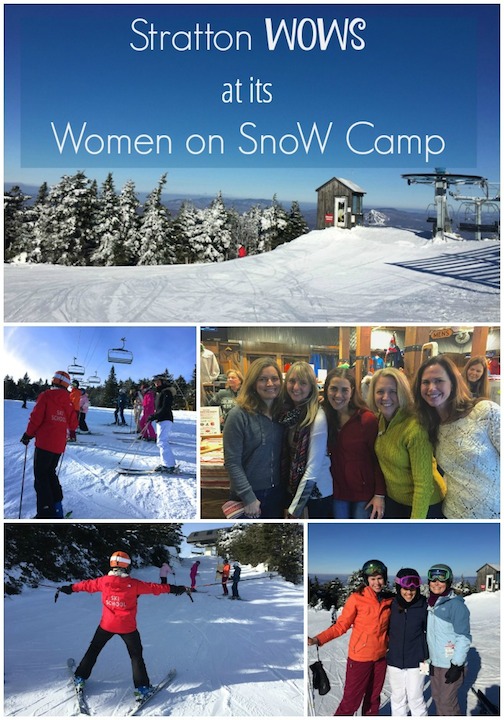 And for more information about Stratton's WOW Camp, check out these posts by the other All Mountain Mamas:
Taming the Wild (Skiing) Woman Within – Women on SnoW Camp at Stratton Mountain Resort
Gaining an Edge at Stratton Mountain's Women on Snow Ski Program
Women on Snow Camp
Disclosure: I was invited to participate in Stratton's Women on SnoW Camp as part of my collaboration with Ski Vermont and the All Mountain Mamas. As always, all of the opinions in this post are entirely my own.