As a newer skier, I like to know what I'm getting myself into.  I'm always afraid to go up a lift and not be able to get back down.  I also tore a ligament in my thumb a few weeks ago, so I've been wearing a hand brace and skiing without poles (note to self–newbies shouldn't ski too fast).  Consequently, I haven't wanted to find myself at the tops of any runs that are out of my league.  So before a recent ski trip to Killington, I called a girlfriend of mine who knew the resort well and loved it.  My husband had skied there years earlier, but couldn't remember any of the trails.  I'd never been at all.
"Great Northern and Great Eastern are beautiful," my friend said. "They're both nice, long runs.  Stay away from Bear Mountain, though.  It's mostly black diamonds over there." When I shared my fear of having to scoot all the way down a too-steep slope on my bottom, she reassured me.  "There are plenty of greens and easy blues.  You'll be able to get down from everywhere.  Killington's fantastic.  You're going to love it."
Known as the Beast of the East, Killington is the largest ski resort in Vermont.  Featuring six distinct mountain peaks, each with its own personality, Killington definitely lives up to its moniker.  And with 140 trails serviced by 22 lifts that traverse 70-miles of terrain, that Beast can be tough for first timers to navigate.  Still, after just a couple of days up there I felt like I got the lay of the land, traveling from peak to peak with relative ease.
So in the interest of helping others conquer the Beast, here's a Killington primer that contains everything you need to know to make your first trip to Vermont's biggest resort an overwhelming success.  Just take it slowly–it's always best to head home with both of your thumbs fully intact.
Peaks, Trails & Lifts
First off, let's take a look at Killington's six mountains and five base areas.  To make it easier to navigate Killington Resort, each base area is color coded so you can stay oriented–your lift ticket even comes with a matching tie to help you end your day back where you started.

Ramshead Mountain (elevation 3,610 feet)
As Killington's family zone, Ramshead is the heart of the resort's kids' learning area.  Children's lessons are based here as is the resort's Friendly Penguin childcare for kids ages 12 weeks to 12 years.  Ramshead offers two magic carpets in their learning area, some longer greens for beginners–including a fun glades trail called Treezy that gets newbies into the woods, and some intermediate runs for skiers ready to take it up a notch.
Ramshead is also home to three terrain parks making it a great mountain for young riders and their families, especially at the Progression Park.  With easier features and a mellow vibe, the Progression Park is THE place for new boarders to get their shred on.  Finally, Ramshead Base has a food court that offers plenty of kid-friendly fare and a ski shop where everyone in the family can gear up for the day.
Snowshed Base Area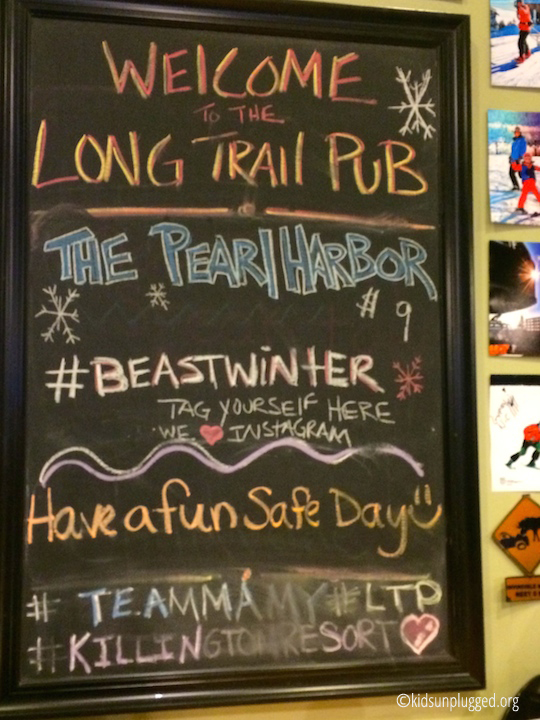 Like Ramshead, Snowshed is a learning area and Snowshed Lodge is where all adult lessons meet. There is a nice variety of easy greens here and the wide swaths of groomed power makes this area ideal for folks honing their skills.   One thing to keep in mind is that the lifts here don't deliver skiers to any of the peaks.  If you opt to start your day at Snowshed, as we did, you can get in a few warm-up runs before making your way over to the K-1 base via Higlander or to the Skyeship gondola via Highroad.
As with most of Killington's lodges, Snowshed Base also houses a large rental area with tons of helpful, friendly staff on hand who anticipate your questions before you even open your mouth.  Plenty of food options are located here including a large food court, the bright and airy Vermont Fresh Café and one of the resort's après-ski mainstays, the Longtrail Pub with a fun atmosphere, live music, and fresh, delicious–what else?– Longtrail Ale on draft.
Snowdon Mountain (elevation 3,592 feet)
Snowdon's trails are serviced by two lifts–the Snowdon Triple and the Snowdon Quad.  Midway up the mountain, Snowdon also has an old-school poma lift that brings skiers back up to the peak.   The triple is a little slow, but Mouse Run to Great Northern was one of my favorite runs of the weekend and allowed my husband to hop over to black trails like Conclusion and Mousetrap on the way down.  Frolic is another very pretty trail but be prepared to get your speed going to cover a short, flat stretch along the way.
Snowdon shares the K-1 base lodge and getting to the lifts is a bit of a walk, so keep this in mind if you've got kids along with you–you'll find yourself carrying their skis for them if you ski down Caper or Great Northern and want to go up the K-1 gondola next.
Killington Peak (elevation 4,241 feet)
K-1, as it's known, is Killington's highest mountain, boasting the greatest vertical drop in Vermont (the second in the east) and offers the largest variety of trails on the way down.  For newer skiers, Great Northern or Bear Trax are the way to go.  Like at Snowdon, however, my husband had plenty of options to peel off onto more challenging terrain as I meandered my way down the mountain on the easier blues.  K-1's peak is reached by riding the K-1 Express Gondola, a fast ride to the top that seats 8 people.  Also worth noting is that the peak was absolutely a winter wonderland while we were there.  Fat, snow-laden evergreens are everywhere and the whole area looks like one of the storybook forests in the Elsa Beskow book, Ollie's Ski Trip.  It snowed the entire time were were on-site, but the views from the peak are reportedly spectacular on bluebird day.  I guess we'll just have to go back.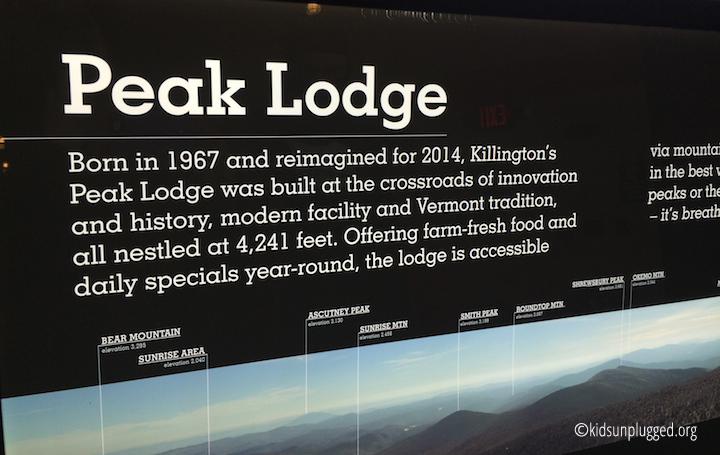 As far as services go, there is no shortage of options at the K-1 Base Lodge.  Either lunch or après ski can be enjoyed at Mahogany Ridge, a cozy, slope side bar and grill with live music on the weekends.  If you get a hankering for something when you're at the top of K-1, the chic, new Peak Lodge is a great place to relax.  With a happening bar area, great food and inviting seating areas all surrounded by enormous floor-to-celing windows, an hour here is a a great way to warm up and take in the incredible view.
Skye Peak (elevation 3,800 feet) &  Bear Mountain (elevation 3,295 feet)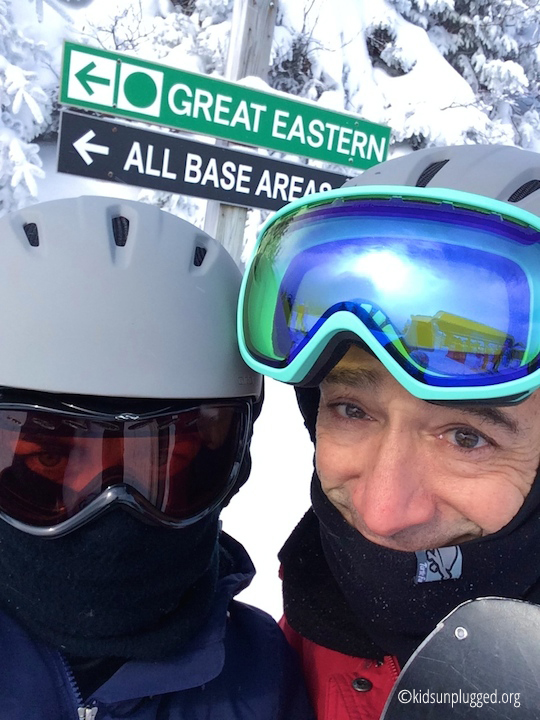 Sharing Bear Mountain's base lodge, the Skye Peak Express Quad delivers skiers to a series of blue and black diamond trails as well as to two terrain parks, Dream Maker and The Stash.  Killington's 18-foot Super Pipe resides at the bottom of Dream Maker.
If you're looking to ski one of Vermont's quintessential mountain roads, Skye Peak is the spot.  Pick up the long, green Great Eastern trail right off the quad and enjoy the ride–but stay alert–if you want to head back to Bear Mountain base lodge, don't miss the turn onto Bearly or you'll find yourself all the way down at the Skyeship base area and gondola.  It's a great run, but it may take you somewhere you didn't mean to end up (I speak from experience).  If this does happen, you can get back up on the Skyeship Express gondola.
For experts, Bear Mountain is where you'll find black and double black diamond trails including Centerpiece, Growler and Spacewalk–three gnarly, narrow glade runs.  If you're a chicken like me and you find yourself at the top of Bear, Ridgeline will bring you to more manageable terrain and you can make your way to the base along Bear Claw, which is a lot of fun.
Bear Mountain Base Lodge has a party vibe.  Classic rock floats through the air from the outdoor speakers (this was true for K-1's base, too) and the lodge has a friendly, convivial atmosphere.  A seating area with large, wooden tables arranged beneath a beamed ceiling was available for folks grabbing food at the Bear Mountain Burger Bar.  Through a doorway you'll find a large, lively bar and the Bear Mountain Italian Deli and Pizza.  The flatbreads looked delicious.
Sunrise Mountain (elevation 2,456 feet)
While we didn't make it over to Sunrise during our Killington weekend, it's part of Killington's trail system and deserves a mention.  The ski-in, ski-out village of Sunrise Mountain is home to one lift, The Sunrise Village Triple, and features beginner terrain.  Folks staying here can reach Bear Mountain Lodge by skiing Bear View to Bear Cub and from there the rest of the resort is theirs for the taking.
What We Loved About Killington
What's not to love about the Beast?  Once you figure out how to navigate Killington Mountain Resort, you'll find that there's no end to the terrain you can explore–not to mention the endless glades and powder stashes that are everywhere.  Here's what we loved: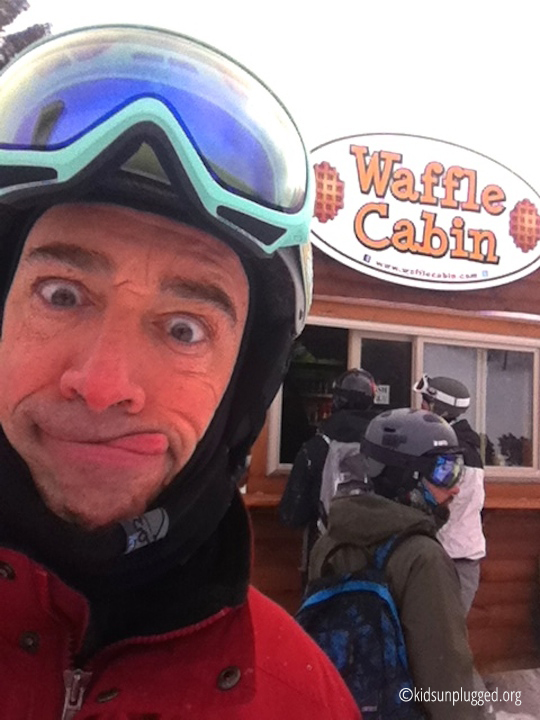 It's Green – Killington prides itself on being an eco-friendly mountain and it definitely walks the walk.  Just one of Killington's environmental initiatives, both the K-1 Peak Lodge and the K-1 gondola are "cow powered,' channeling the energy of methane gas derived from cow manure into a green energy source.

Killington's Mountain Ambassadors

– We loved that the resort had their mountain ambassadors stationed next to the large maps at the top of every lift.  These folks were both helpful and knowledgeable, providing skiers with information about which trails link together to deliver them back to the base lodge or lift of their choice.  A great way to get acclimated at Killington is to take part in one of the 90-minute Meet the Mountain tours that are offered twice daily at 10 am and 11 am from Snowshed Base.  Also available is a Mountain Orientation chat held each day from 9 am to 1 pm by the map at K-1's peak.

Easy Access to the Mountain

– No matter where you start your day at Killington, you can ski the whole thing.  Unlike many other ski resorts, Killington lacks a mountain crossover trail, likely due to it's enormous size.  That said, all over the mountain trails link together clearly and you can easily move from one peak to another using a combination of trail and lifts.  And if you get confused, the Mountain Ambassadors are there to guide you.

Awesome Conditions

– So this might have been because the weekend we were up there it snowed most of the time treating us to two days of gorgeous powder.  Still, Killington boasts the east's longest season, in part due to their tremendous snowmaking operation–Killington can cover 80-acres with 12-inches of snow in an hour.  And most of their snow guns are low-energy, which is even better.
Plenty of Varied Terrain – As I said at the beginning–I went into our Killington weekend a little nervous about finding runs I could ski.  I left having skied the entire mountain.  My husband, sweet guy, spent a good amount of time skiing with me and still got in plenty of solid black and double black diamond runs where he felt like he could bust out a bit.  Add Snowshed and Ramshead into the mix, and there are trails for everyone.
Disclosure:  We were guests of Killington for the weekend.  As always, all of the opinions in this piece are entirely my own.