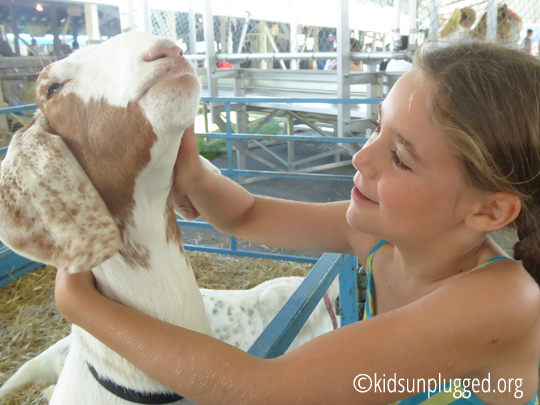 Yesterday was our 10th visit to the annual Dutchess County Fair in Rhinebeck, New York. Since 1842 the fair has been the largest in New York State and has been held on at its current location in Rhinebeck since the 1950s.  The fairgrounds are home to not only the 6-day fair but to other events throughout the year including a popular antiques fair, car shows and the Sheep and Wool festival that takes place every October.
Rhinebeck's 170-acre fairgrounds are divided into several different areas for fair week, with buildings and tents featuring local and regional craftspeople, children's educational activities, animal exhibitions, a cornucopia of award winning local produce, and a variety of edible goodies.
An entire section of the fair is dedicated to the county's admirable 4-H program where kids of all ages have the opportunity to showcase their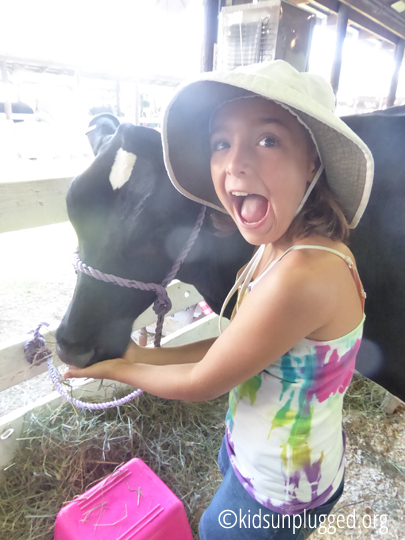 animals and present their vast knowledge about those they care for and raise.  The 4-H barns are the first place we head every year, after grabbing a couple paper sacks full of roasted peanuts from the peanut stand.
No county fair would be complete without the wide avenue of food stands selling everything from ears of corn hot off the grill, barbecued ribs, and greasy delights and the Dutchess County Fair doesn't disappoint in this area.  Finally, a visit to the fair's midway section is a must, with it's stomach lurching carnival rides, neon lights, dart games and tiny bowls of goldfish waiting for a successful kid to toss in a ping pong ball.
4-H at it's Best
Toward the back of the fairgrounds are the fair's 4-H barns where every type domestic livestock, clipped, brushed, and primped in true county fair style, are waiting to take a stroll around the show ring or get rubbed behind their ears by friendly fair-goers.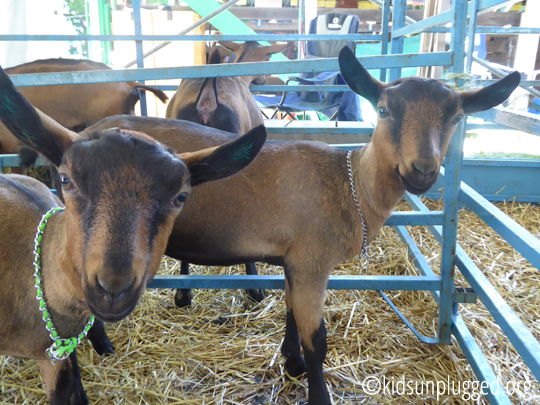 Because of our oldest daughter's love for goats from a very young age (practically all of my fair pictures from the last ten years feature mostly goats) we head first to the goat barns to admire 4-H's Kids for Kids program.  This usually involves lots of petting and even more begging to buy a goat, and this year we actually took the names of two farms that offer babies for sale in the spring.
Beyond the goat barns there are dairy cows and calves, lots of sleepy pigs, beautiful horses and an entire building dedicated to all manner of farm fowl as well as rabbits and guinea pigs.
 A Celebration of Agriculture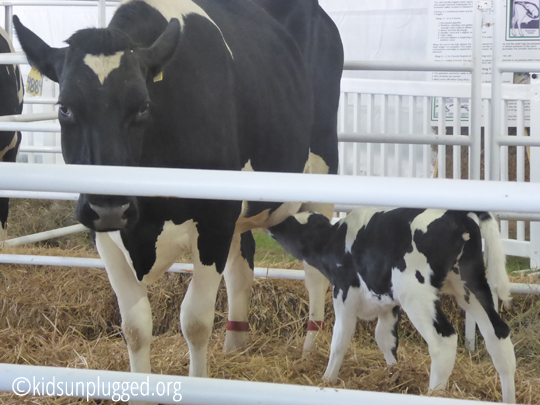 Whether it's antique farm equipment, a building full of examples of local landscape design, tents bursting with blue ribbon-festooned herbs and veggies, or an entire dairy birthing center, there is no end to the agricultural practices one can learn about and enjoy at the Dutchess County Fair.  Just yesterday we admired giant orange pumpkins, sampled some delicious locally harvested honeycomb, and watched a 12-hour old calf nurse from her tired mama.  Folks can watch milking demonstrations, cheer for trotting sows at the pig races or delight in watching agility presentations by rescued boarder collies leaping and bounding for flying frisbees.
 Midway Mania
Our favorite way to end a day filled with animal encounters, marionette shows and maple sugar cotton candy is to spend some time riding rides and shooting hoops at the fair's colorful, wallet-draining midway.  The swings are the girls' favorite and our smallest daughter was delighted this year to learn that she was finally tall enough to graduate from the little-kid swings.
A book of 22 tickets will run you 20-bucks at this year's fair and most of the big kid rides require 4-tickets each.  Traditional fair favorites like the Sling Shot, the Matterhorn, the ferris wheel and the fun house are all here interspersed with kiddy pools full of bobbing rubber duckies with hawkers calling out to kids that "Every duck gets you a prize!"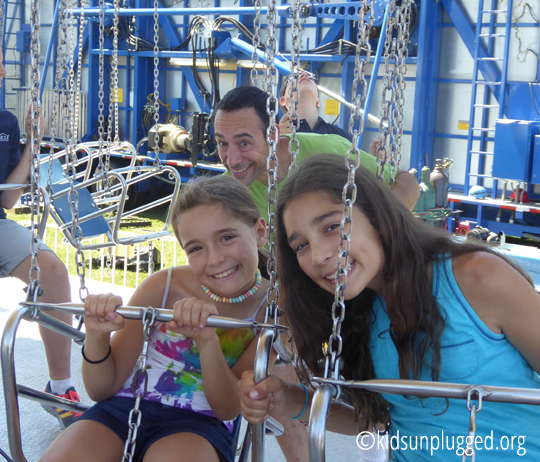 It's impossible to avoid the persuasive carnival guys along the main alleyway of games and each year the girls get five dollars each to toss darts at balloons and win a little stuffed mouse or doggy or bear.
All the Details
The Dutchess County Fair opens annually on the third Tuesday of the month and is open daily from 10 am until 10 pm.  This year's fair opened on Tuesday, August 19th and runs through Sunday, August 24th.  Tickets are $15 for adults and kids 12 and under are free.  Pairing the fair with a couple of days in the town of Rhinebeck would be a fantastic summer outing chock full of old-fashioned flair.  Regardless of how much time you have to spend in the area, a day spent at the Dutchess County Fair is a must-do!