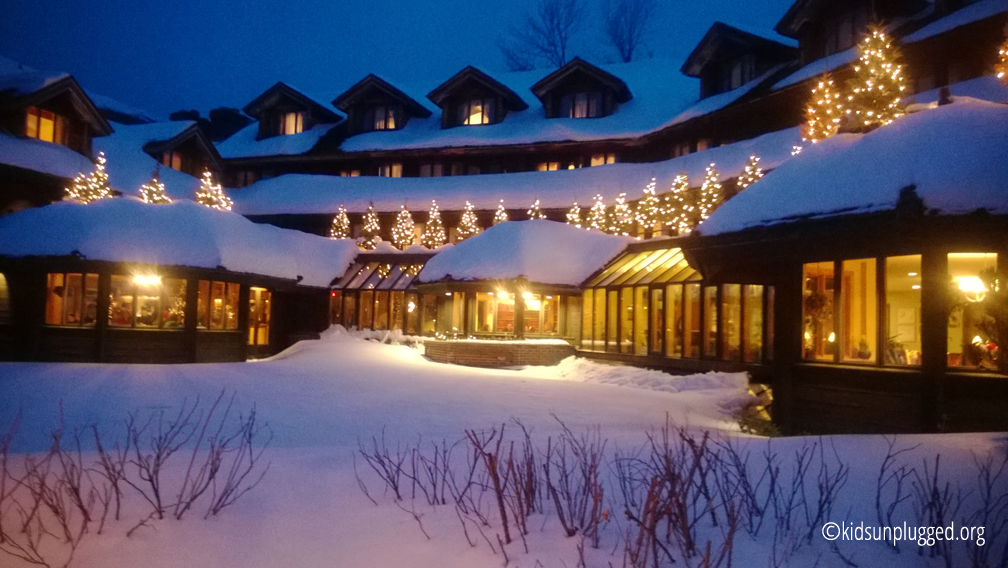 Steeped in rich family history, one which is inexorably linked to the 1965 classic The Sound of Music, the Trapp Family Lodge is surrounded by 2,500 acres of stunning woodlands, farmland, and mountains in the charming village of Stowe, Vermont.  The Trapp family, whose matriarch was the Baroness Maria Von Trapp, once portrayed by Julie Andrews in the famous film, has been a mainstay of Stowe hospitality since 1950 when they first opened the doors of their family home to guests.  The stunning alpine resort that exists today replaced the original Lodge when it was lost to a fire in 1980.
Staying at the Lodge during a snowy week in February was like a magical wintertime visit to Grandma's.  Fires glowed in the many fireplaces while enormous icicles hung from the eves and sparkled in the sunlight.  In the evenings, our girls played UNO in the game room in their pjs while my husband and I finished our beers in the lounge downstairs, tiny lights twinkling on the snow covered evergreens outside.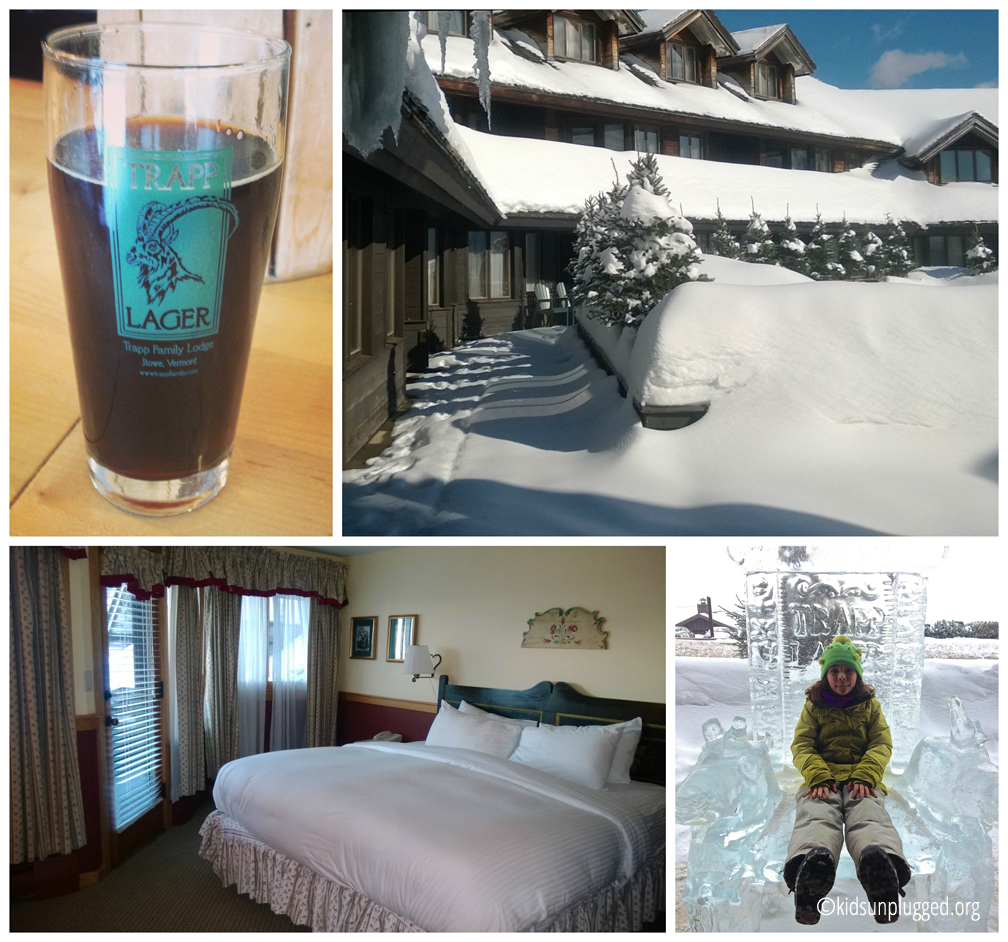 Pulling up to the Lodge we were greeted by the sight of an enormous throne of carved ice bearing the Trapp Family name.  Inside the lobby, comfy chairs and a friendly welcoming staff greeted us after our long drive.  Off to the left, we could see a spacious sunroom with plenty of seating for lounging, reading and game playing.  After getting settled we explored a bit, discovering small family rooms and cozy nooks nestled throughout the Lodge's three floors all with comfortable sofas and armchairs and most with crackling fireplaces.  On the second floor is a game room with chairs and tables and shelves full of board games and playing cards.  Trapp family photographs and memorabilia like album covers and performance programs line the walls.
Austrian Chalet-Style Accommodations
The Trapp property features a variety of accommodation styles ranging from the 96 traditional, European inspired rooms and suites in the main lodge to two and three-bedroom guest houses and villas that can be reserved for a week-long visit.  For our three-night stay we reserved a Lodge room with a king-sized bed and a double sleeper sofa–a twin rollaway was added for our third daughter which was a pleasure as oftentimes our family of five has to book an additional room to accommodate all of us.  The beds had warm blankets and fluffy duvets, perfect for snuggling down with a good book after a day on the slopes.
The room was bright and spacious and the big closet in the entryway was perfect for all our jackets, ski pants and snow boots as well as our ski boots which we brought in each night so they wouldn't freeze in the car.  Although the rollaway at the foot of our bed made it a bit snug, our housekeeper closed the pullout sofa each day and opened it again in the evening when she returned for the nightly turndown service (complete with decadent chocolates), giving us more space when we were getting ready for dinner.  Like most of the rooms in the Lodge, ours had a balcony overlooking the mountains which we didn't use except to take some pictures of the beautiful view.  I imagine a summertime stay would find us enjoying coffee out there in the mornings.
Outdoor Adventures Await
There is no end to the possibilities for families to enjoy winter at Trapp and all of them involve the peaceful, snow-covered woodland trails that wend their way throughout the Lodge's property. During our stay, there were opportunities to set out on snowshoes, learn to cross country ski, or enjoy a horse-drawn sleigh ride.  Several guided snowshoe tours were offered daily including one which leads participants through the Trapp Family's sugar woods and included an explanation of the maple sugaring process.  A more ambitious expedition is the 10k (out and back) snowshoe hike to the Slayton Pasture Cabin, nestled deep in the woods.  Upon arrival you'll be greeted by a roaring fire and hearty soups and sandwiches to help you replenish your energy for your return to the Lodge.  My husband and I did this hike several years ago on a picture perfect day after a big snow.  Under a bluebird sky, the trees laden with fresh powder, we made a memorable trip to the cabin with me being seven-months pregnant.  It was a day we'll never forget.
If you'd like to explore on your own, grab one of the detailed maps of the Trapp trails and chat with the friendly folks in the Nordic Center.  They will be happy to give you some suggestions for snowshoe or cross country loops that will be perfect for your ability level.  Be sure to bring along a few bottles of water and some snacks–it's amazing how warm and sweaty you get out there.  Not to mention, a granola bar and some trail mix works wonders for taking the edge off of the pre-lunch appetite you are sure to build up on the trails.
If you're looking to do some alpine skiing and riding, Stowe Mountain Resort, home to Spruce Peak and Mount Mansfield, is barely 10 minutes up the Mountain Road.  We loved making Trapp our home base during our Stowe visit while still spending some time downhill skiing at the mountain.
Indoor Fun and Relaxation
After a day spent playing in the snow, Lodge guests can make their way across the parking area from the main lodge to the Fitness Center where a steamy 20-person outdoor hot tub surrounded by a heated slate patio awaits.  A cedar sauna, heated indoor pool, and two massage rooms with a full menu of treatment options completes the picture of après-ski relaxation.  One thing to keep in mind is that the spa and sauna area is open to adults and children ages 16 and older only from 6 to 9 each evening, so if your kids are on the younger side aim to visit the hot tub before 6pm.  Also, because the center is across the way, don't plan, as we foolishly did, to walk over in flip flops and a robe.  Bring those things along with you when you go–the entryway has a place to store snowy boots and jackets–then grab big towels from the welcome desk before heading into the sanctuary that lies beyond.  The Fitness Center is also home to the Mountain Kids Club offering morning and afternoon programs, an exercise room, a climbing wall, aqua aerobics and yoga classes.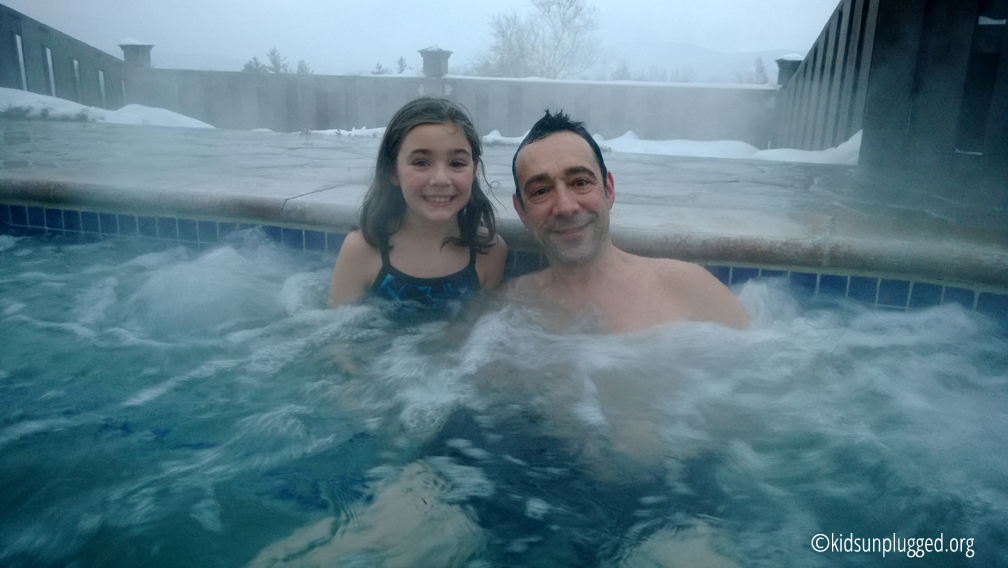 There is no end to the indoor activities offered at the Lodge each day.  From baking, painting and woodworking classes to harp lessons, sing-a-longs, wine tastings and evening family films, Trapp creates an environment of fun and learning for everyone.  We visited during a holiday week and were treated to a whimsical performance by the No Strings Marionette Company.  A popular family history tour is offered a few times each week and is often lead by Sam Von Trapp himself.  The tour brings to light the differences between the family's actual history and that which was portrayed in the movie, as well as the fascinating story behind the Lodge.  Finally, the atmosphere of warmth and hospitality that radiates from every area of the Lodge begs you to settle into an inviting, fireside armchair with a good book and one of Trapp brewery's delicious Austrian lagers.
Dining
We hadn't planned on eating many meals at the Lodge during our stay as we like to check out the local atmosphere of a place when we travel.  That said, we ended up dining at Trapp each of the three evenings we were there and once for lunch as well, mainly because venturing out in our front-wheel drive minivan guaranteed we'd end up stranded at the bottom of the snowy, mountain road that lead back up from Stowe village.  This was fortuitous because it was lovely to put on comfortable clothes and just walk down to the lounge every night, sample some lagers and listen to the live piano.  By our last night our two younger girls were feeling so at home that they dined in their long johns.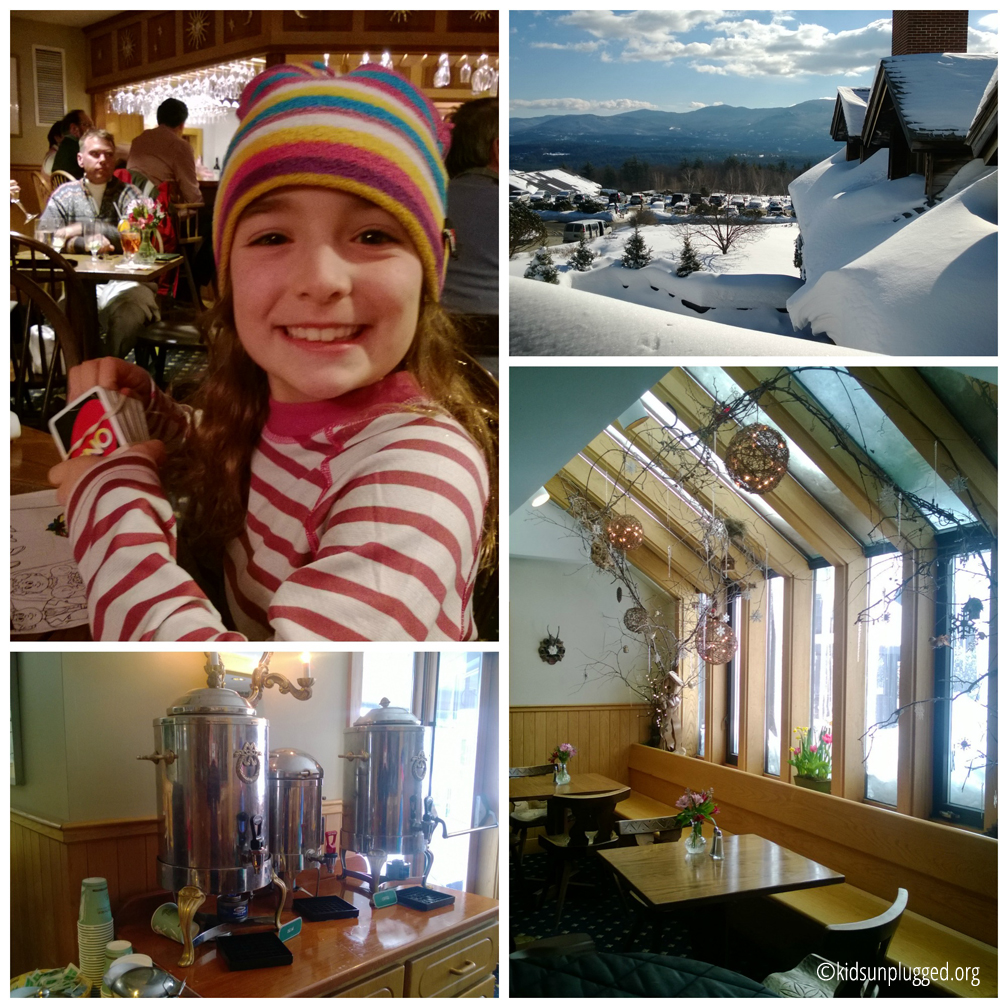 Traditional Austrian specialties like sauerbraten and wiener schnitzel are served alongside local Vermont fare.  While the main dining room features a more upscale menu than the casual pub-style choices in the Lounge, items from both menus can be ordered in either location.  A short drive down the road is Trapp's Deli-Bakery serving soups, sandwiches and other light noshes.  We had a delicious lunch there of grilled cheese sandwiches and root beer for the girls and bratwurst and lagers for my husband and myself after a morning spent cross country skiing.
The time we spent at the Trapp Family Lodge was wonderful and we all wished we could have stayed a few more days–to master the cross country skills we learned, to snowshoe along the trails, to sit by the window with a steaming cup of cocoa gazing out at the hills which truly are alive in this idyllic mountaintop retreat.