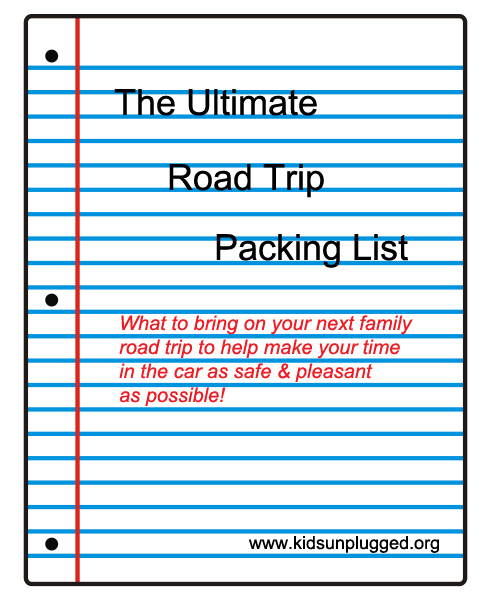 So, you've decided to hit the road with the family?  A road trip can be a fantastic adventure and packing the car with the right gear will help avoid blood sugar meltdowns, stave off boredom, and allow you to reach your destination as smoothly and safely as possible.
Food
One thing I always do before a road trip is head to the market and stock up on a couple of bags full of non-perishable snack items.  When I've driven to Florida on my own with my girls, I wanted to limit stops as much as possible so as not to further lengthen and already lengthy drive.  I also throw a few small containers into the bag so that I can dole out individual portions of bulk snacks.  I also pack a small cooler bag with a couple of cooler packs for refrigerated snacks and we never hit the road without our Kleen Kanteen water bottles.
Granola and cereal bars
Pirate and Veggie Booty
raw cashews, almonds and other nuts
squeezy applesauce
tube yogurts
stick cheese
bag of kid-sized apples
crate of clementines
refillable water bottles
Unplugged Activities
Part of the fun of the road trip is to go old-school and play some of the car games we played as kids.  Remember playing, "I went to the grocery store and I bought apples.  I went to the grocery store and I bought blueberries and apples…?"  We like to do our own versions of this alphabet game depending on where we're headed and choose activity appropriate items–I went camping and I brought…I went to the beach and I brought, I went to Disney World and I brought, etc.  There are all sorts of games like that you can play and a quick Google search will give you a bunch.  In the meanwhile, we also pack other games and activities for the car.
Melissa and Doug License Plate Game
Rubberneckers: Everyone's Favorite Travel Game
Eeboo Travel Bingo
Books (as long as your kids can read in the car without feeling queasy)
Activity & Coloring Books
Paper, Pens & Crayons for Coloring & Hangman
Plugged Activities
Yes this site is called Kids Unplugged, but everything in moderation is my motto and a few doses of tech can certainly help the hours spent in the car pass more pleasantly.  Here's a list of the gadgets and gear I pack for our trips.
Portable DVD player (our car is not equipped with one)
A bunch of DVDs – I let the girls each pick a couple/few before we leave
Iphone with the Pandora app
Iphone and DVD player chargers
Audio Books – our local library has a great selection of books on CD
FM transmitter – this little device allows you to play music from your IPhone or the sound from your DVD player through the car speakers
A mini to mini stereo cable to go between the FM transmitter and your output source (DVD player, Iphone, Ipod, etc.)
DC to AC converter – great gadget that plugs into your car's 12v DC cigarette lighter and allows you to plug in a traditional 110v AC plug.  Mine also has USB ports to charge other devices
Apps such as googlemaps and Pandora are great to have as well
Camera and video camera
Safety & Miscellaneous
Cell Phone
Real maps of your travel route
Road Side Emergency Kit
Flashlight
Spare Tire or Donut
Travel First Aid Kit
Wet Wipes
Hand Sanitizer
Paper towels and tissues
A few plastic grocery bags for trash
Pillows and blankets
I'd love to hear about some of the items you pack for family road trips.  Leave me a comment below!