Growing up, we did not travel very much as a family.  Money was tight, our parents were divorced, and both of them were more concerned with keeping us in new shoes and getting our dinner on the table than with saving for vacations.  We took plenty of day trips to the beach in the summertime and once or twice we rented a little cottage on the Connecticut shore in East Lyme or in Cape Cod, but anything beyond that was out of reach.
My grandfather, whom everyone called Beeps, loved to travel.  He had an incredible work ethic and he and my grandmother, both from large, Italian immigrant families, were frugal but never stingy.  Beeps worked to live and saw a great deal of value in using his earnings for travel.  He loved the experience of immersing himself in different cultures, wandering through new cities and towns, sampling local fares, visiting outdoor markets and observing the people, the art and the architecture.  I caught the bug from him.
My husband is a teacher and a musician, teaching middle school band during the day and performing most weekend nights.  His teaching schedule gives him time off during breaks throughout the school year and in the summertime, but his playing keeps him busy with gigs year round.  We have been fortunate to travel quite a bit as a family, but there have been plenty of times when his work schedule has made going away together an impossibility.  Because he is such a gem, my husband has no problem with me hitting the road on my own with our girls if his schedule won't permit him to join us.  We miss him and miss sharing our adventures with him while we are on our girls-only trips, yet I am infinitely grateful that he is so encouraging.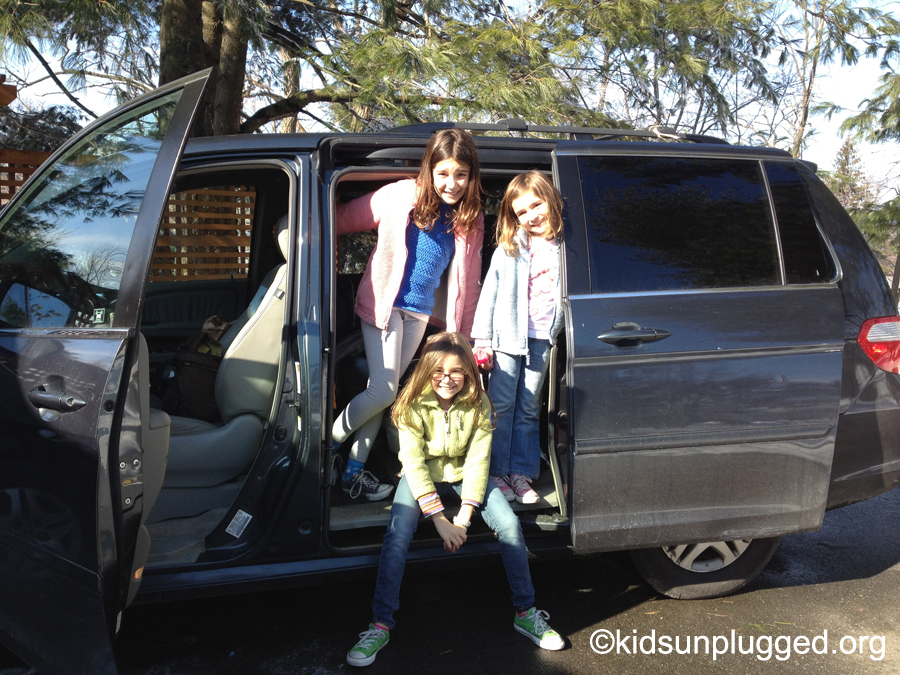 I will never forget the details of the first solo trip I took with my oldest daughter, when she was about 16-months old.  My mother's husband had a family home in Southwest Harbor, Maine with a huge back porch overlooking the sea, a short drive from Acadia National Park.  It is almost a 12-hour drive to that part of Maine from where we live near New York City, but thoughts of rocking on that porch watching the sailboats or hiking some of Acadia's beautiful trails lured me in.  I booked a hotel room in Portsmouth, New Hampshire, packed up a basket of books and toys for the back seat, stuck the baby backpack in the trunk and set out with my toddler after dinner one evening at the end of June.  She fell asleep about an hour into the trip and we arrived in Portsmouth around 10 pm.  Carrying a sleeping toddler into a hotel on my own was probably the most daunting part of the trip, but the hotel had a pack 'n' play in the room for me and fortunately she snuggled right back down to sleep.  After sharing an order of pancakes the next morning we were back on the road, stopping for lunch and a visit to a sweet children's museum in Bangor, Maine before driving the last, long stretch of the journey to Mount Desert Island.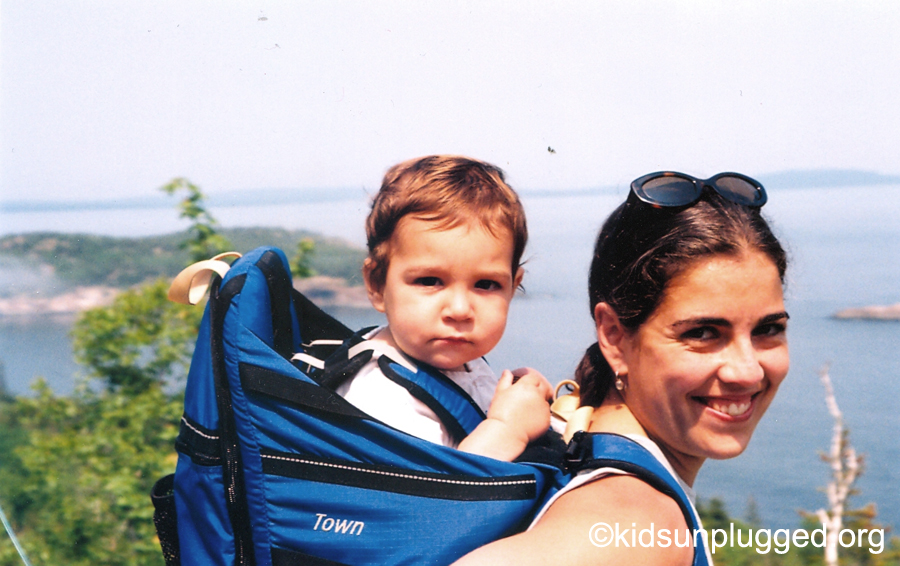 Our days in Maine were magical.  I rented a bike with a bike seat and we rode around Southwest Harbor, although my daughter hated her first encounter with a bike helmet.  With my daughter on my back, we hiked miles of trails in Acadia, me singing Old MacDonald had a Farm while she chimed in with animal noises over my shoulder.  We went to Sand Beach where she flung herself into the cold surf with abandon and I had to wipe the sand from her sticky chubbiness in the back of my Subaru in the parking lot.  Even if she does not remember these moments, I will forever cherish these memories.
We had a second daughter, and then a third, and while I took a hiatus from solo travel while we had three kids under four, we had many family adventures–Puerto Rico, the Dominican Republic, Florida, California, Maine again–and there were lots and lots of local, one-day outings for the girls and I as well.  But as the girls got older my sense of wanderlust was reinvigorated and I began to feel more ambitious.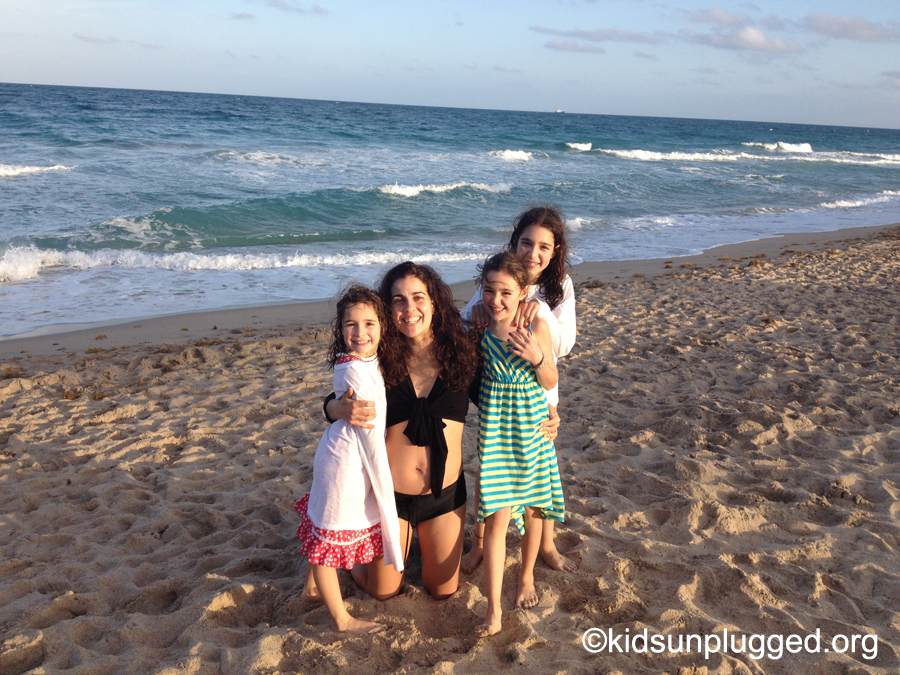 One of the most memorable girls-only trips we took was the summer after I started Kids Unplugged. I learned of an organic farm in Vermont where there were a couple of camping cabins on the property and guests were supposed to be able to help with farm chores, hike on the property and explore the region.  It looked idyllic.  I contacted the farm and booked one of the electricity-free cabins for a night.  My husband packed all the camping gear for me while I gathered the other essentials–watercolors and watercolor paper, bug spray, hiking shoes, wool socks, warm pajamas and peanut butter.  It was a beautiful June Saturday as we drove north, the girls first time seeing the Green Mountains of Vermont.  We stopped at the famous Vermont Country Store to admire their collection of funky ephemera and scoop old-fashioned candy out of barrels into paper sacks for the road.
We arrived at the farm in the mid-afternoon.  The farm's website showed pictures of families hiking and picnicking and groups of children gathering eggs and picking wildflowers.  It appeared to be a bustling family destination.  A long, rutted dirt road brought us the last couple of miles and upon arrival it was pretty obvious that the site's images were a bit misleading.  The farm was beautiful, Queen Anne's Lace and buttercups dotted the meadow with sweeping views of the mountains and valleys beyond.  But there were no people.  No other cars.  No one around.
I drove down the hill, past a couple of rustic, cedar cabins, to what looked to be the main house.  A woman clad in jeans tucked into mud-caked Wellies came around the corner and I introduced myself and the girls.  She was Jinny, the owner, and had been expecting us.  She took payment for the night in the cabin, pointed to a small cedar building that housed a toilet and a couple of cold showers and showed us her herb garden.  She then bid us farewell saying that she had a barbecue to go to at her daughter's house that evening and that the girls could help her collect the eggs in the morning.  We were on our own.
We drove back up to our cabin and I began bringing things inside, a sinking feeling growing in my stomach.  Where were we?  Two miles down a dirt road on a farm with no people and no cell service in a cabin that would soon be really, really dark.  Lest I scare the girls, I kept up a steady stream of cheerful chatter, unpacking sleeping bags and snacks and getting out the watercolors.  We explored the meadows for a bit, picking buttercups and doing some painting before hopping into the car to drive into town to get some dinner.  We found a small cafe where the relief of being back in civilization washed over me.  I got a weak cell signal and was able to send my husband, who was down in Maryland playing at a music festival, a short text–I Feel Like I'm in Deliverance.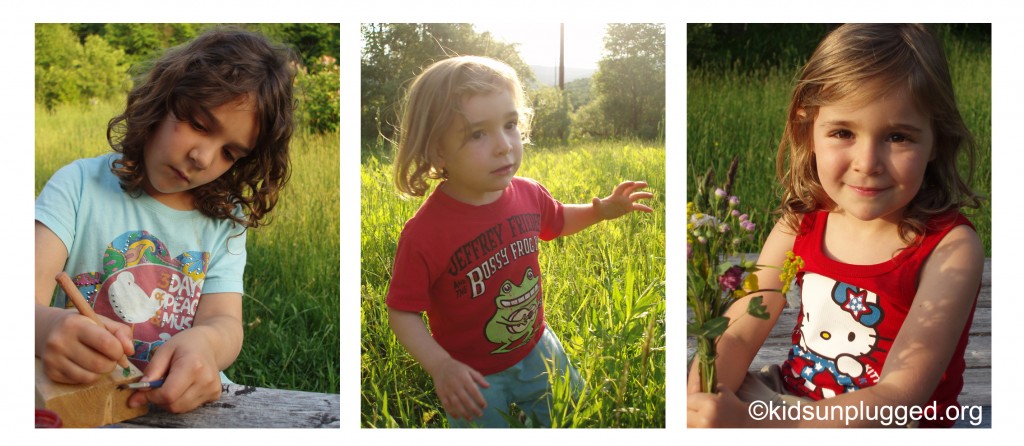 I prolonged dinner as much as possible and finally, reluctantly, drove back along the dirt roads to Jinny's farm.  Dusk was falling and I wanted to get back, get washed up and get into the cabin while it was still light.  Although there was a bunk bed, the top bunk was so high off the ground I didn't feel comfortable putting any of the girls up there, so we all snuggled into the double cot with the lantern and some books.  I heard a car on the gravel driveway outside and saw that Jinny had returned from her daughter's.  "Let's go talk to her," I said to the girls and we all skittered down from the bed and out the door.  We walked along the path in the dark with our lantern, zillions of stars overhead, toward Jinny's house.  I just wanted her to know that I felt spooked being up there in that little cabin with no lock on the door, on my own with the girls and no means of communication to the outside world.  As we approached her house, all of the lights inside suddenly went out.  We stopped walking and I was surprised because I was sure she'd seen the light of our lantern.  We stood still, none of us knowing what to do next.  "Well," I said, " I guess she went to bed."
When we got back to the cabin we climbed back on to the bed, three little girls huddled around their mama, lantern lighting their wide-eyed faces.  "I'm scared," one of them finally said.  The other two were quiet.  I took a breath.  "You guys want to go home?" I asked.  Three heads nodded quickly.  "Okay, let's go home." I said, and swung into action.
I popped the Small One into the backpack to have two free hands and rolled up the sleeping bags.  By lantern light I packed up all our gear, leaving the two older girls in the cabin as I made a few trips out to the car with our stuff.  Trunk packed, I went to get the girls and buckled everyone into their carseats.  As I got into the driver's seat and closed my door I had the momentary feeling of being in a horror movie and glanced out the window half expecting to see a hockey masked face pressed against the glass as I started the car with a semi-shaky hand.
We made it home around three o'clock in the morning after a harrowing drive on the dark, deserted Vermont highway during which my empty light shone brightly for far too long before I found an open gas station–note to self: fill the tank before the end of business hours when traveling in the country.  I carried my sleeping girls into the house one at a time, tucking them into their beds and kissing their sweet, trusting faces.  Exhausted, I climbed into my own spider-web-free bed and called my husband to tell him we'd gotten home safely.  I'd sent him a cryptic text from the gas station letting him know we'd bailed out on our farm adventure but hadn't been in touch with him since.  Then I turned off the happy, electric bedside lamp and went to sleep.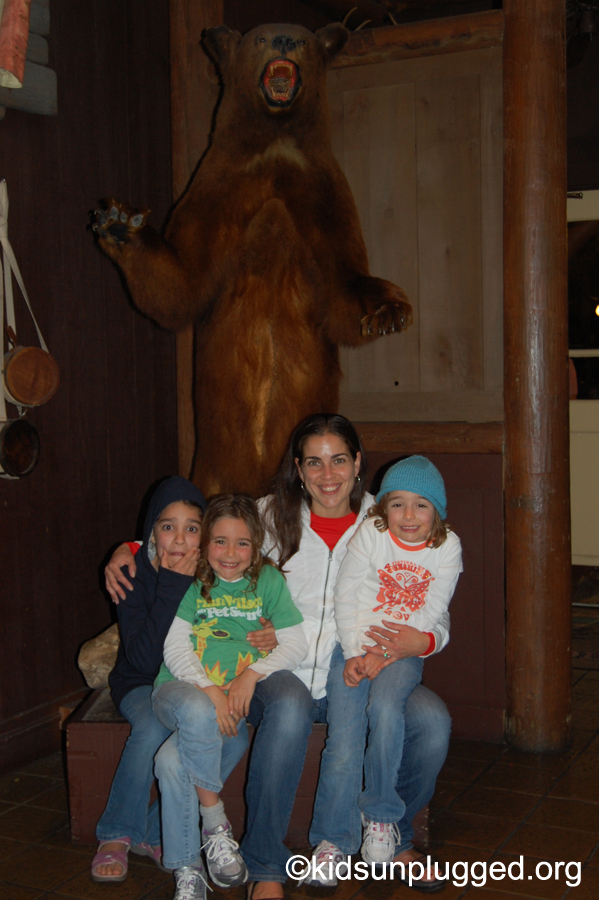 My girls love hearing and telling this story and since our epic foray to Jinny's farm we've had lots of Mama and Girls adventures.  We've driven to North Carolina's Outer Banks and to Miami from New York and back.  We've visited both Disney World and Disney Land and taken countless day trips to beaches, farms, fairs, hiking trails and into New York City.  I love that they see me as capable, enthusiastic and adventurous and I love modeling being strong and independent.  I love the experiences we have on these trips–the places we visit, the food we share, even the battles we sometimes fight.
I love walking through the airport with my three girls trailing behind me, pulling their rolling suitcases all in a row like Make Way for Ducklings.  I love the hours we've spent trying to spot 50-states' worth of license plates and searching the streets of Georgia for Willie's Wee-Nee Wagon.  These are memories that I will forever keep in my heart and that I hope are helping to define who they will become.  And I hope that they will carry the memories of our trips in their hearts as well.  They will always be my favorite traveling companions.