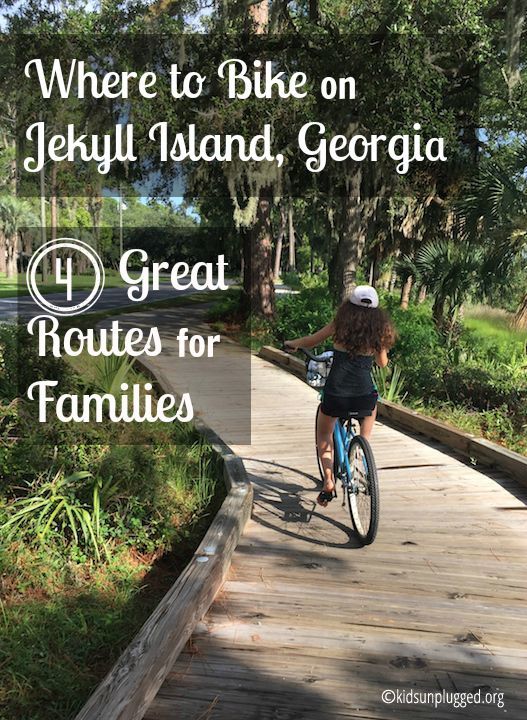 There's just something special about seeing a place from the seat of a bicycle—and it isn't very often that you discover a place that can be explored almost entirely on two wheels. Yet Jekyll Island, the smallest of Georgia's Golden Isles, is made for biking. At just 7-miles long and not even 2-miles wide, with a flat grade and a series of smooth, traffic-free paths, Jekyll is home to a perfect trifecta of cycling conditions allowing even the youngest members of the family to ride with ease.
Five distinct loops link together to create a network of 20-miles of bike trails that wend their way around the island. Riders pedal beneath massive, live oaks draped with lacy Spanish moss throughout a variety of ecosystems—tidal marshland, maritime forest, coastal creek, and Atlantic shoreline—as well as around the island's stunning historic district, the focal point of which is the famed Jekyll Island Club. Circle the island's perimeter or shorten your tour by taking one of the avenues that bisect the island—the interwoven paths make it a breeze either way.
I had cycling on my mind on a recent visit to Jekyll Island with my eldest daughter as later in the summer our family would embark on a four-day bike trip in Quebec. I figured that spending any time on a bicycle before then was a good idea. A couple of days riding around Jekyll would be a nice warm up and I was looking forward to exploring this Golden Isle gem.
Gear up for Your Ride
We were staying at the historic Jekyll Island Club, which has a substantial inventory of beach cruisers available to rent for half or full days to guests and non-guests alike. A driver's license is required if you're not staying at the Club.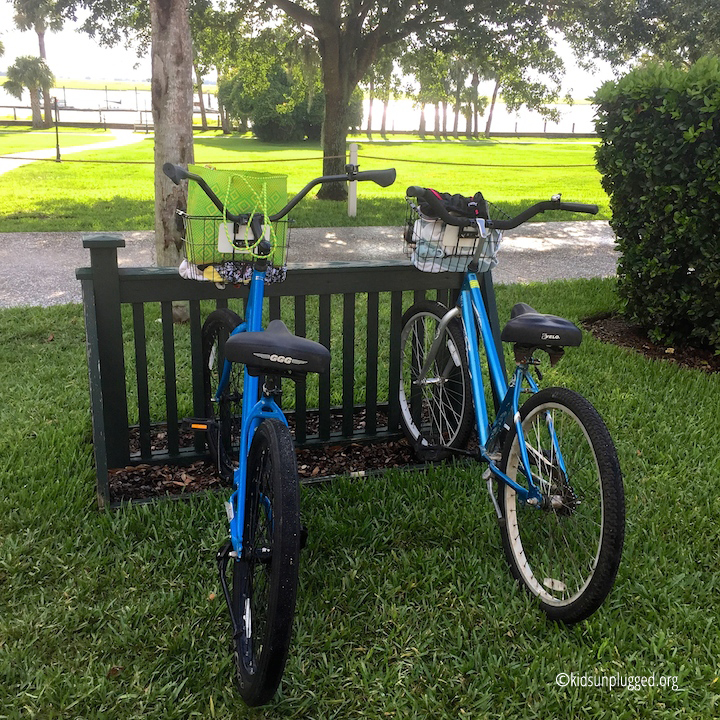 We found two bikes that were a good fit and waited a couple of minutes while the gentleman at the rental shop attached baskets to our handlebars. We quickly loaded these with beach towels, sunscreen, and water bottles and got on our way.
Besides the Jekyll Club, visitors to the island can also rent bikes mid-island at the Jekyll Island Bike Barn on the corner of Shell Road and South Beachview Drive, at Beachside Bike Rentals at the Days Inn and Suites, or at the Jekyll Island Campground Store on the island's north end near Clam Creek.
Choose Your Route
If you can, plan to spend two or three days tooling around the island on your bikes. For a small place, Jekyll has a lot to offer in the way of both history and natural beauty.  Taking a look at the map, you'll see that several suggested are routes highlighted. Here are four excellent options for families looking to cycle around Jekyll Island:
1.  Explore the North—Driftwood Beach, Clam Creek Fishing Pier, Horton House, Riverview Drive
Our first day took us on a jaunt on the north loop, the longest on the island at about 8-miles total. My daughter and I made our way through Jekyll's historic district via Pier Road toward Beachview Drive and as it was our first outing, it took us a minute to get our bearings. We learned that crossing Stable Road from the historic district leads to the Jekyll Island Museum where you ride through the small parking area to find where the path continues east to the beach. We didn't realize that at first and ended up riding along Shell Road—this was fine as there was very little traffic, however if you have little ones or inexperienced bikers in your family, it's good to know that you can avoid vehicular traffic everywhere on the island.
The first part of this ride along North Beachview is really pretty, with great views of, yes, the beach. After a couple of miles, the path veers away from the shoreline and you'll ride along an uninteresting section of roadway until you reach Villas by the Sea Resort. Just past here you'll see cars parked along the road and several small paths lead you to the southernmost section of Driftwood Beach, a cemetery of huge specimens of gnarled, twisted Driftwood. Here kids can search for critters among the rocks and climb on the hulking, skeletal forms of uprooted trees work smooth by the salty air and seawater.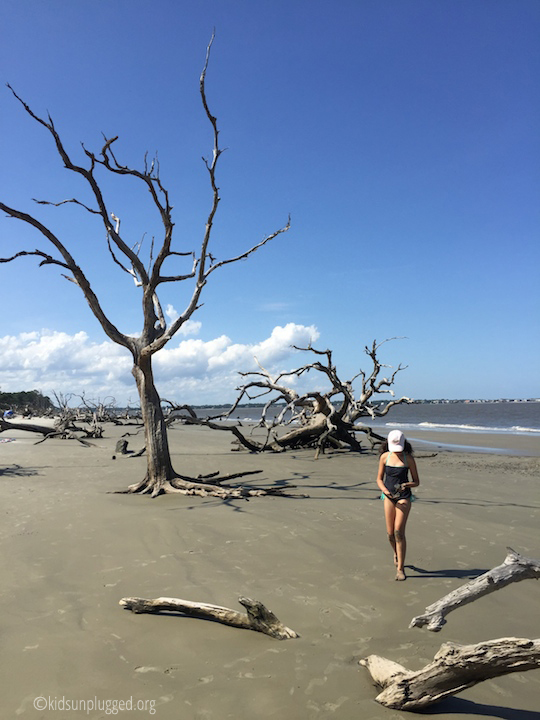 From here you can cycle along the beach depending on the tide or make your way back to Beachview Drive and continue north toward the Clam Creek picnic area and fishing pier. A wooden bridge connects Driftwood Beach to the marshy creek, a good place to look for wildlife.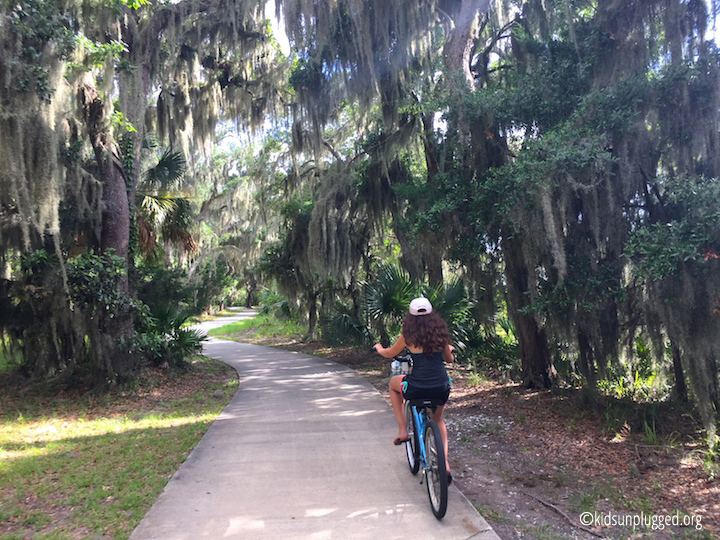 A long access road lined on both sides with enormous, moss-laden live oaks takes you to the beginning of Riverview Road. This was my favorite section of Jekyll's paths and I couldn't stop taking pictures of my daughter riding beneath the towering trees. Stop by the Horton House, the remains of a 16th century structure constructed of tabby, a very strong mix of limestone and oyster shells that was common in the area in the colonial era.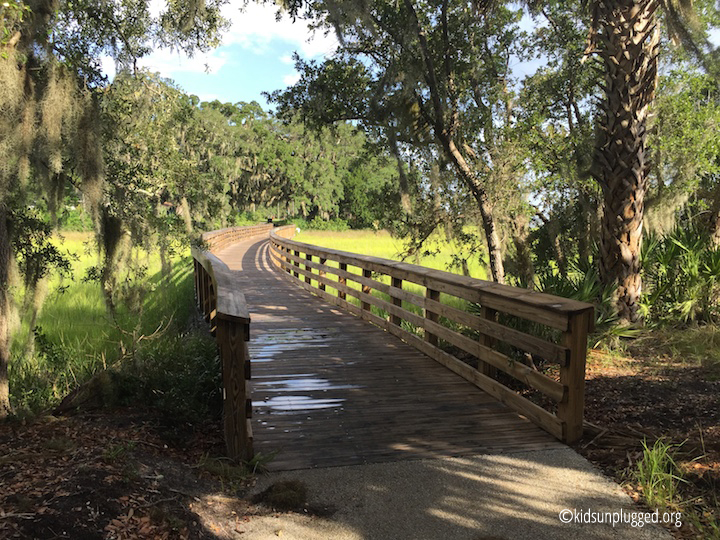 The last stretch of this route takes along the intercoastal waterway of Jekyll Creek, and is an absolute delight, especially in the late afternoon. A canopy of live oaks draped with Spanish moss shades your ride as fiddler crabs skitter across the boardwalk and between its slats to escape your wheels. Graceful heron glide over marsh grasses and interpretive signs line the path to teach about the local flora and fauna you might encounter along the way.

2.  Head South—Glory Beach, St. Andrews, and Tidelands Nature Center
This is the one route we didn't actually have time to cycle, and I'm disappointed that we missed it as it offers a bit of everything—tidal exploration, beautiful beaches, wildlife viewing, and history.
Start your ride by heading south along Beachview Drive and make your way to the Jekyll Island Soccer Complex. Here you can access the Glory Boardwalk, named such after scenes from the Civil War drama were filmed on this section of South Dunes beach. The film's producers built the boardwalk as a means protect the dunes and lessen their impact on the ecology of the area.
Continue on to Jekyll Point where you'll come to St. Andrews Picnic Area. This is a good place to access St. Andrews Beach, a secluded stretch of shoreline that is an important area for shorebirds. The Wanderer exhibit, a memorial that commemorates the landing of the slave ship Wanderer on Jekyll Island in 1858, is absolutely worth exploring.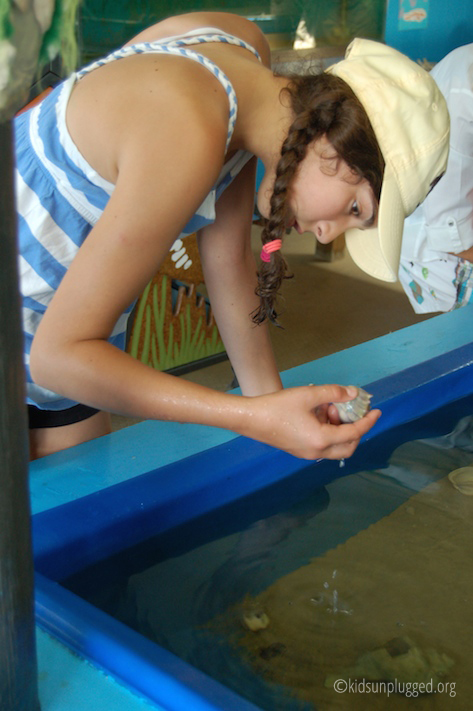 At this point you'll come to the only area on Jekyll where you'll have to ride along a stretch of road shared with cars, albeit not very many. Travel along Riverview Road to Tidelands Nature Center, an extension of the University of Georgia's 4-H program. Though we didn't bike to Tidelands we did visit, and the naturalists on staff are fantastic. Explore the touch tanks and other marine life exhibits or rent kayaks and paddle the surrounding waterways. Tidelands also offers guided walks and paddling outings several times each week.
3.  A Bit of History—Jekyll Island Club, Georgia Sea Turtle Center, Jekyll Island Museum, Jekyll Wharf
Starting with the Jekyll Island Museum, spend part of the day checking out the historic district. After exploring the museum itself, hop aboard a tram for a narrated history tour. Carriage rides are also available as are walking tours of some of the district's restored buildings like the Faith Chapel and the Jekyll Island Club's famed "cottages."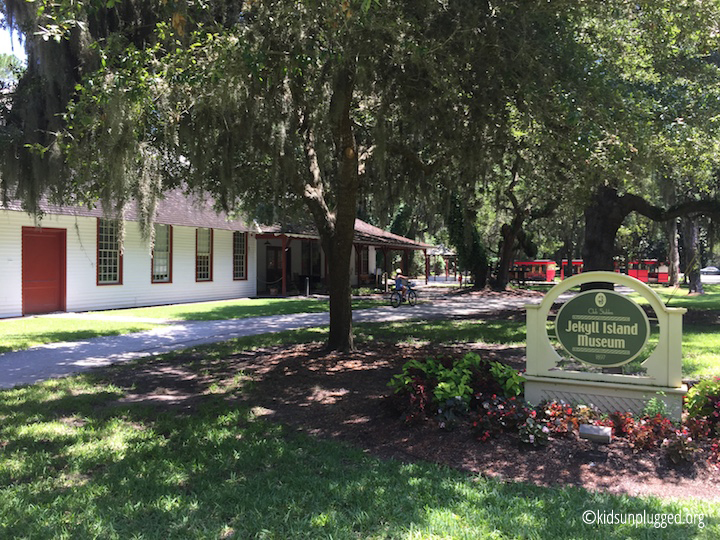 Pier Road is home to the fabulous Georgia Sea Turtle Center. Created by the Jekyll Island Authority in 2007, the center has extensive turtle rehabilitation and education programs. Plan to spend a couple of hours exploring the center's excellent gallery, sea turtle hospital, and live animal exhibits. A visit here is not to be missed.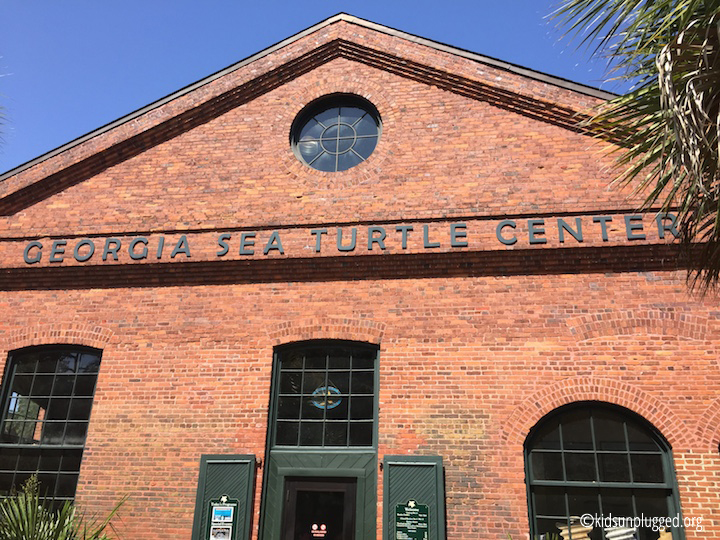 Afterwards, take a spin around the historic district, stopping in some of the little shops along Pier Road, strolling around the grounds of the Jekyll Island Club and grabbing a quick lunch at Doc's Snack Shack or at one of the Club's restaurants—we really liked the food at the Poolside Grill where there is a nice view of the marina from the outdoor tables.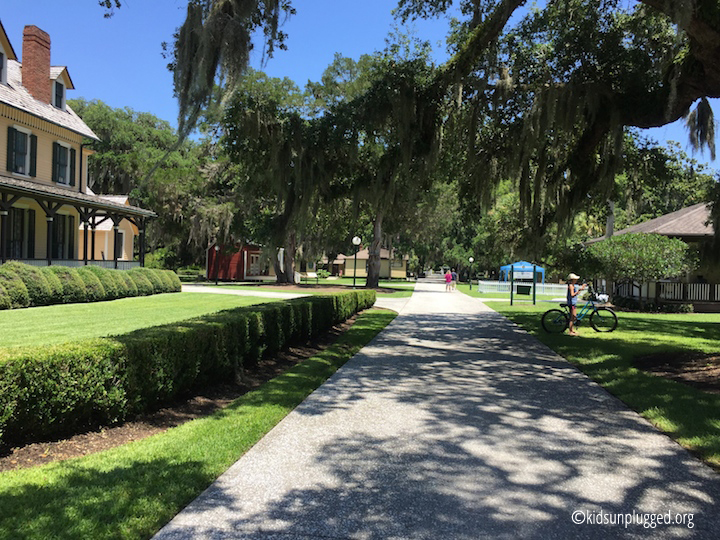 Later, ride down to the Jekyll Wharf where you'll find the same Jekyll Creek marina where the millionaires of the Gilded Age docked their yachts upon arrival at the Jekyll Island Club. Several outfits operate guided boat tours out of the wharf, and a sunset dolphin cruise is a memorable option.

4.  Hit the Beach—Great Dunes Beach, Jekyll Island Beach Pavilion
What's the point of a beach vacation if you don't take a day to just chill on the shore?  A great spot to set up shop for the day is at Great Dunes Beach just off Shell Road from the Bike Barn.  The Great Dunes Park offers a covered pavilion with restrooms, shaded picnic areas and grills, and plenty of beach access.  Great Dunes Beach is also a popular spot for nesting sea turtles as well as for the release of those who have been rehabilitated.  There are placards along the path here with information about turtle populations and nesting habits.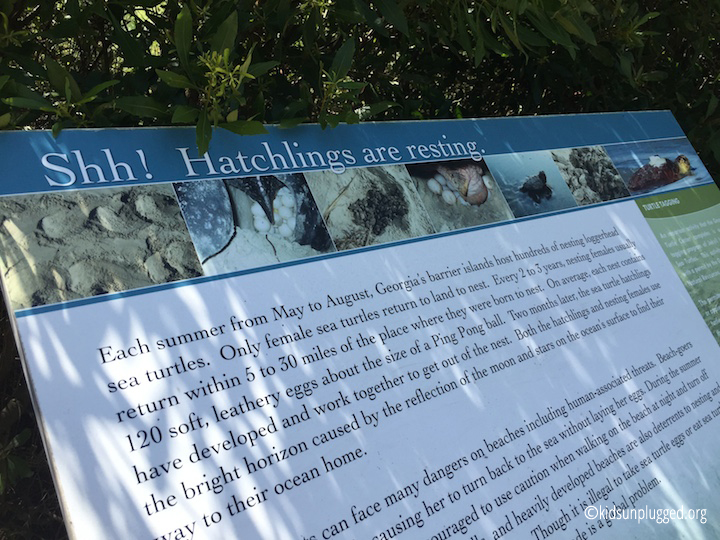 Just a short ride north is the Jekyll Island Beach Pavilion.  While towels and beach chairs are exclusively for guests of the Club, anyone is welcome to grab a cold drink or enjoy a casual lunch on the deck.

Tips for a Great Experience
Give your bike a test ride before you get going.  If it doesn't feel comfortable, get it switched.  My my daughter's bike ended up being a challenge to pedal and she struggled with it through most of the ride.  You don't want to be five miles into your ride on a bicycle that's a dud.
There is a ton to see and do on Jekyll Island.  Choose a route and don't overwhelm yourself. Break your ride into smaller bits, slow down, and enjoy the sights and sounds of island life.
Grab a map before you set out and don't be wedded to a particular route.  All of the island's loops are interconnecting so you shorten your ride pretty much any time–except on the north loop–that one is more of a commitment.
Use plenty of sunscreen and bring lots of water—that southern sunshine is hot.
Wear your bathing suit and bring a towel–there are lots of places to take a dip in the ocean.