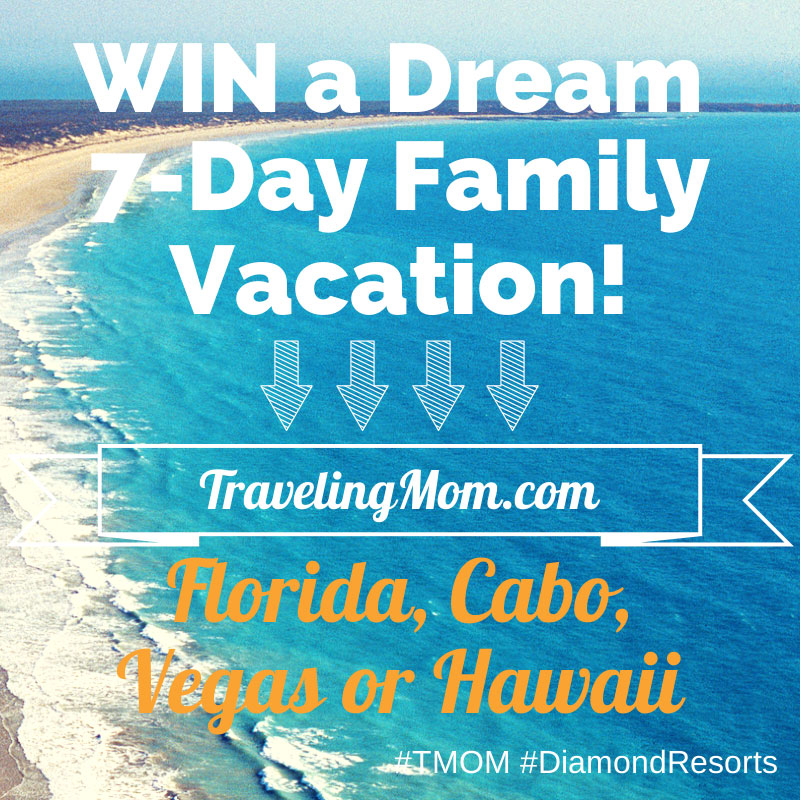 If money were no object I think I would never stay home.  I absolutely love to travel and take every opportunity I can to show my girls the world.  Unfortunately, I do not have a mountain of disposable income at my fingertips and most of our trips involve a bit of scrimping and saving, as vacations do for most families.
But if we were to win a vacation? Oh, the fun of that!  Think of what I could do with the energy I usually expend strong-arming my (gratefully) frugal husband into our next family adventure.  Think of how lovely it would be to know that we just had to GET THERE and our accommodations would be covered.  Enter this fantastic giveaway from Traveling Moms!

The Traveling Moms (I am the Unplugged Traveling Mom) have teamed up with Diamond Resorts to offer our readers the opportunity to win a fabulous, one-week stay at one of four Diamond Resorts destinations.  The winner will have the option to choose from the following resort locations:
• Orlando Grand Beach
• Vegas Polo Towers
• Hawaii Ka'anapali Beach Club
• Los Cabos Cabo Azul
So which would I choose if given the chance?  With my work as a Disney Travel Planner I have had lots of opportunities to spend time at the Walt Disney World Resort in Orlando and when I am at Disney, I prefer to stay on Disney property, so Orlando would be out.  While I've never been to Las Vegas, the glitz of the city doesn't really appeal to me and if I were going to head out west it would be to visit the national parks in the Grand Circle (Bryce, Zion, Moab, Mesa Verde and The Grand Canyon).
That leaves Hawaii and Cabos–a tough choice.  Because our family likes to spend as much time as possible exploring the outdoors while on vacation, both of these destinations would be fantastic, though I think that Maui is going to be the winner.  The options for nature adventures are endless in the area near Ka'anaplai–snorkeling incredible reefs, hiking in the rainforest, visiting volcanoes–each of these would be amazing.  Plus, I've always wanted to learn to surf!
There are 5 more days to enter and who knows, your family could be the one's to take the prize!  Check it out here:
a Rafflecopter giveaway