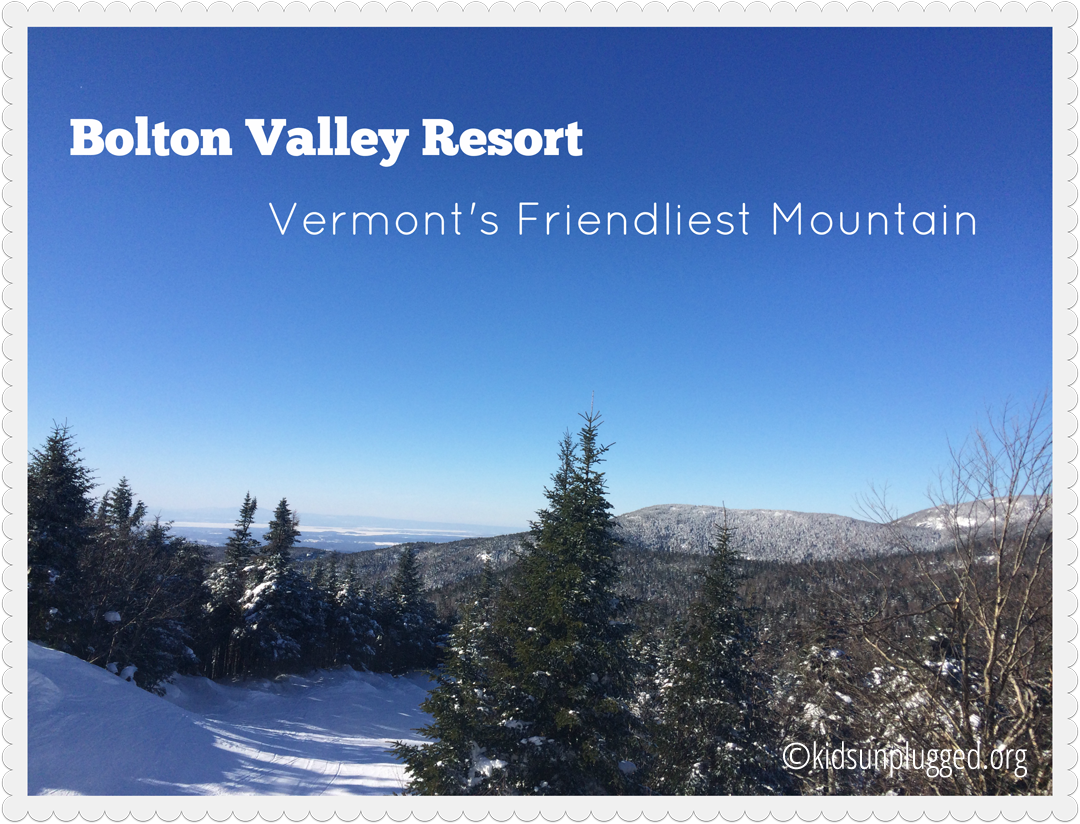 It started the moment we pulled up in front of the Inn. The wind whipped the blowing snow into a funnel, wrapping us in its arctic vortex and sending our smallest daughter sailing across the parking lot. We threw our arms in front of our faces to keep the tiny flakes from stinging our eyes and muscled our way to the back of the car to unload our gear.
Two red-cheeked ladies swooped out of the icy blitz, swinging into action and calling out friendly orders over the gale. "You grab those bags, Sweetie, while I take these groceries inside!" Our guardian angles proceeded to usher our three daughters through the Inn's entrance, clucking around them like two mother hens, all the while lugging boots and bags onto the waiting luggage trolley. The entire car was unloaded, and the five of us ensconced in the cozy lobby, in 3 minutes flat.
"That was so, so kind of you guys," I said. "You really didn't have to do all that."
"Welcome to Bolton Valley," one of the women said, a grin spreading across her face. "We're all nice here."
Thus was our entry into northern Vermont's Bolton Valley Resort and the warm enthusiasm of those two women followed us throughout our entire stay.
Located 25-miles south of Burlington, Bolton prides itself on being one of Vermont's undiscovered gems. Family friendly and affordable, this locally focused resort offers everything you'll need for a few days of skiing all right there at the mountain—comfortable slope side accommodations, fun, family activities, plenty of varied terrain, and an assortment of eateries. After a long climb up Bolton Valley's access road, you can park your car and forget about it making for a truly relaxing family ski trip. If the spirit moves you, however, the town of Waterbury is only 20-minutes away.
Room to Spare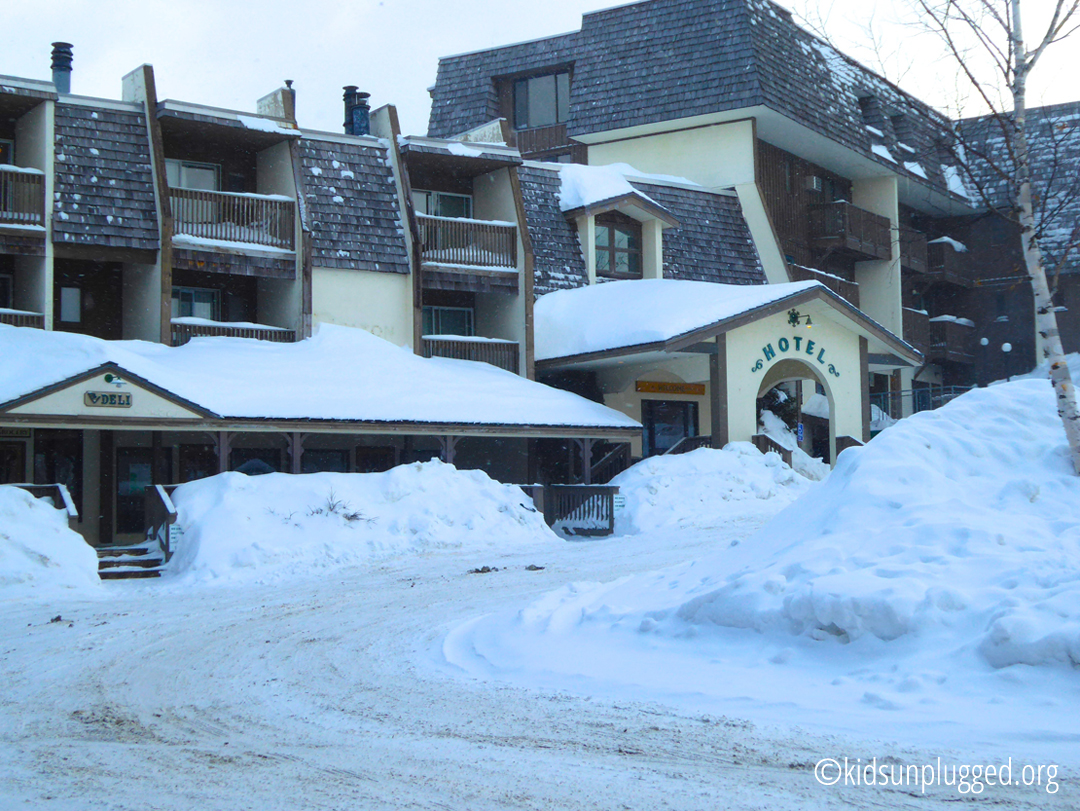 The alpine-style Inn at Bolton Valley is the hub of the resort and features a variety of room configurations, a cozy Tavern, a new Flatbread pizza restaurant, and a small deli. The public areas are a little shabby, but our one-bedroom suite was bright, clean and roomy, with two full bathrooms and a large, open-plan living area and kitchen. A wood-burning fireplace completed the picture and we easily made ourselves right at home.
The girls commandeered the bedroom with its two queen sized beds, leaving my husband and I the pull-down murphy bed in the living room, which we found to be surprisingly comfortable. The Inn's two bedroom suites offer an additional private bedroom, but our family of five had more than enough space.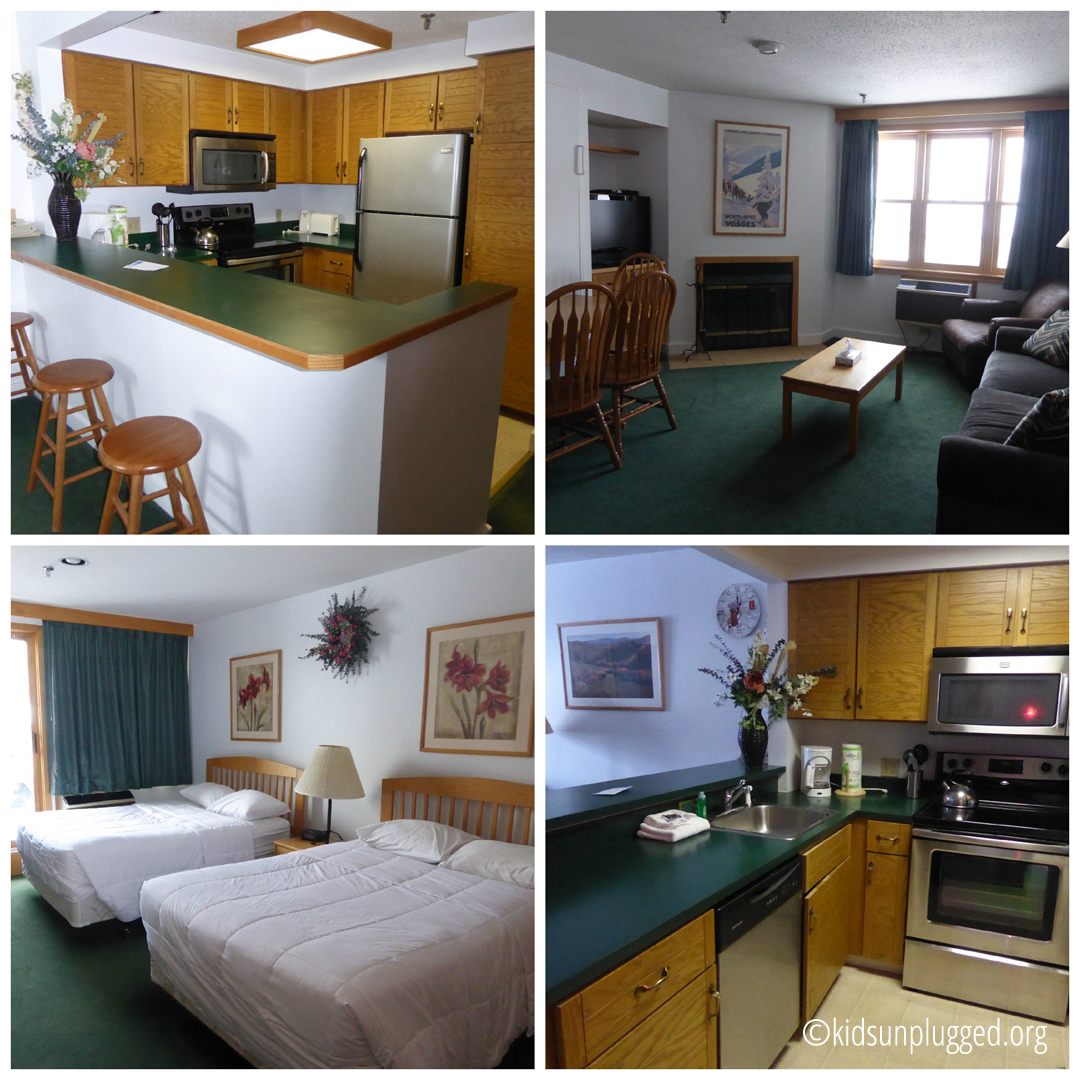 One of my pet peeves about ski resort hotels is lack of storage–the last thing I want to deal with is a mishmash of boots, hats, and mittens piled around the room.  So I was very pleased with the ample closets, drawers, and shelves I discovered during a quick tour of our suite. For my husband, a few well-placed hooks are paramount, and Bolton passed that test with aplomb. Additionally, the kitchen was generously stocked and spacious, with empty cabinets to stash the groceries we'd brought, a full refrigerator, and plenty of counter space. For families on a budget, or those not wanting to eat all their meals out, preparing breakfasts, lunches or dinners in the suite's full kitchen is no problem.
Our girls enjoyed sitting on the stools at the kitchen counter each morning while fueling up for our days on the slopes. The price of the room included a continental breakfast in the inn's deli, consisting of coffee or hot chocolate and a muffin or the like. I'm a firm believer, however, in filling my kids with protein before a day of skiing, so bringing our morning meal fixings from home was a plus. The deli does have a good selection of grocery items as well as some great local beers, soups, sandwiches, and other breakfast offerings.
Pub Grub at its Best
After settling in that first evening, we wound through the labyrinth of corridors for dinner in the James Moore Tavern, located in the Inn's west wing. Given the blustery -25 degrees outside, we were happy that we didn't have to go outdoors to get there and the girls and I all opted to wear our slippers—the laid back vibe at Bolton just invites you to relax.
Waiting at the podium to be seated, a woman came over to our girls. "Hold out your hands," she said.
They looked at me in question and I nodded my encouragement as they stretched out their open palms. The woman, another tavern patron, placed a red, foil-wrapped, heart-shaped chocolate in each girl's hand. "Happy Valentine's Day," she said with a smile.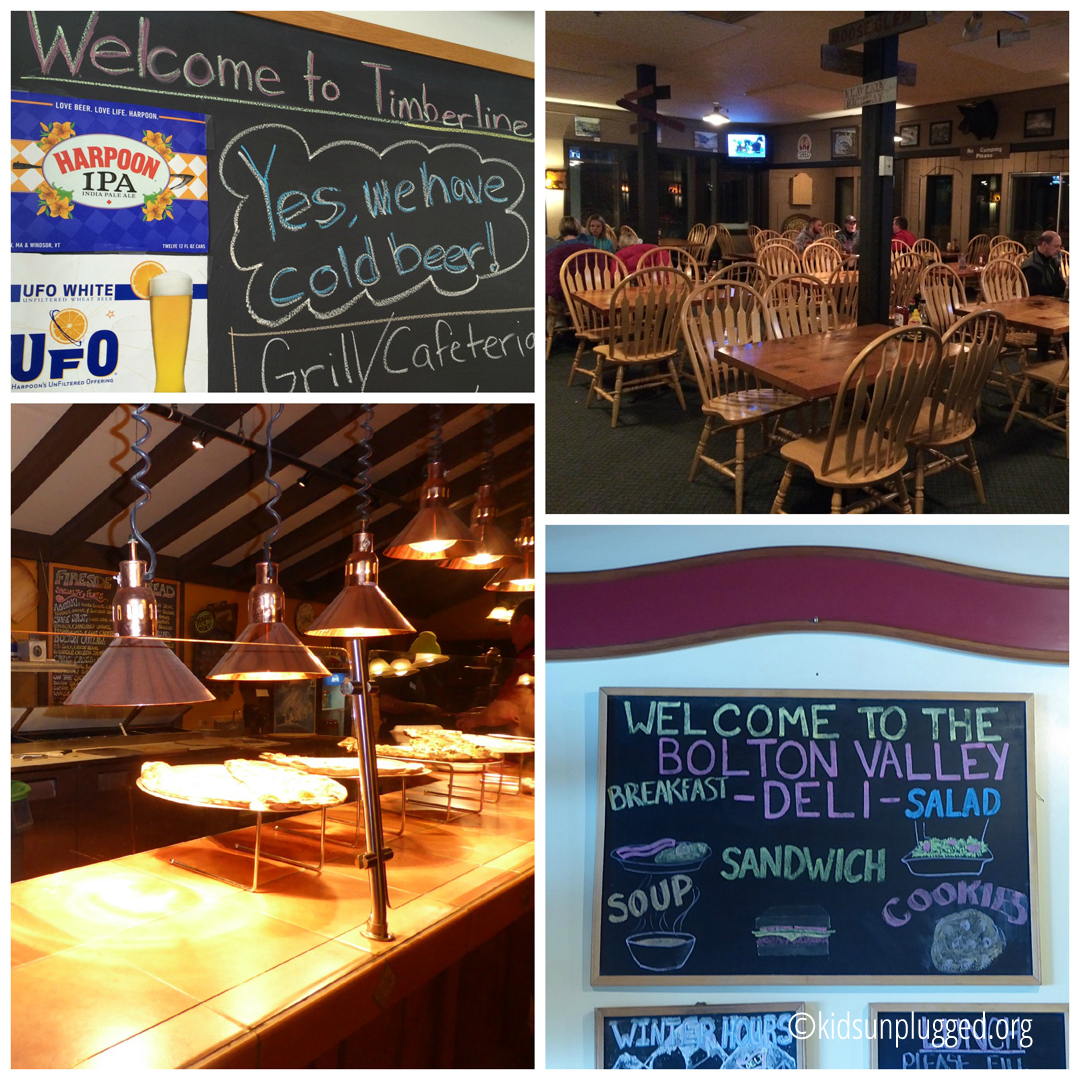 The James Moore Tavern is the only full-service restaurant on site at Bolton and we ate there each of the four nights we were at the resort. Having skied quite a bit this winter, we've had the chance to sample plenty of mountain pub fare, and the victuals served here were some of the best—and at a happily reasonable price point. Open 7-days a week in season, the Tavern serves hearty meals (the duck fries are ridiculously good) and over 18 beers on tap, most of them local. Live music every Thursday-Saturday rounds out the fun, family-friendly atmosphere. By the end of our stay our server Paige knew not only our names but our favorite beers, too, and our girls were getting to be pretty darned good at darts.
Mellow Mountain Ambience
The close-knit atmosphere that prevails at Bolton Valley makes a family ski vacation here super easy. Bolton Valley Sports, which houses the rental shop, is just a few steps from the Inn making it a breeze to gear up that first day and it's no problem to run back to your room if you need to grab an extra pair of mittens or a snack. The Base Lodge is a few more steps beyond that, where you'll find a small cafeteria, plenty of seating around two wood stoves, and the resort's ski school. Fireside Flatbread and the James Moore Tavern are upstairs and the Tavern is open daily for lunch.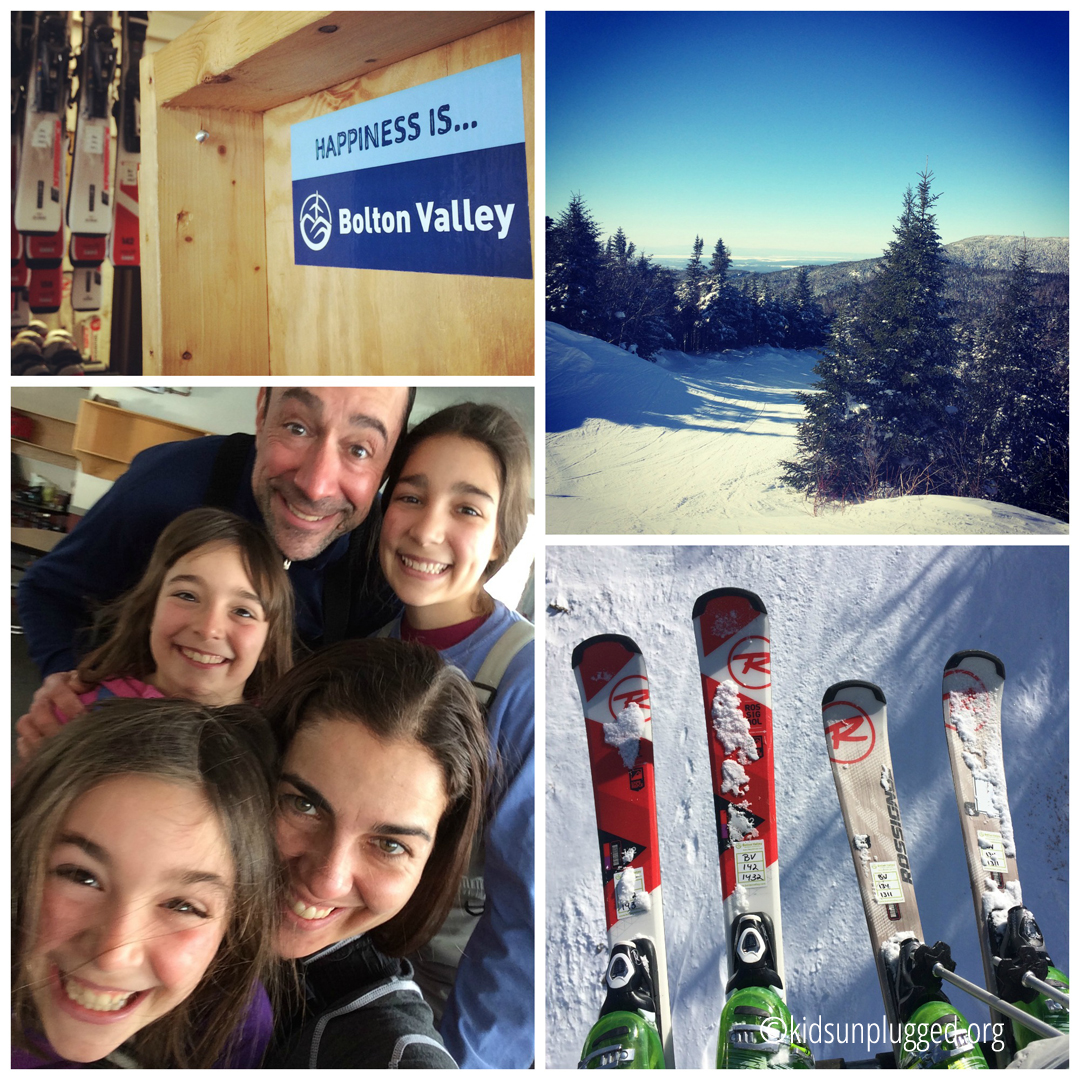 Once you're booted up, the lifts are right outside the Base Lodge door and you've got four from which to choose, plus the Mighty Mite surface lift. Climbing aboard the Mid-Mountain chair that first morning, the attendant sent us off with a cheerful, "Have a great run!" and we were greeted at the top with a smile and a wave. This spirit of good-naturedness permeated the energy of the mountain and everyone we encountered seemed genuinely happy to be there, staff and skiers alike.
The mountain itself features a variety of beautifully groomed terrain with plenty of mellow greens and intermediate blues interspersed with some real doozies like Lost Boyz and Adam's Solitude over at Timberline Peak and Preacher off Vista. We loved our runs down Cobrass, Peggy Dow's and Coyote and long, easy cruises along Sherman's Pass and Timberline Run. Especially fun is the section of beginner glades off Wilderness Peak, where the mild pitch allowed our girls (and myself!) to bounce and zip through the woods with ease.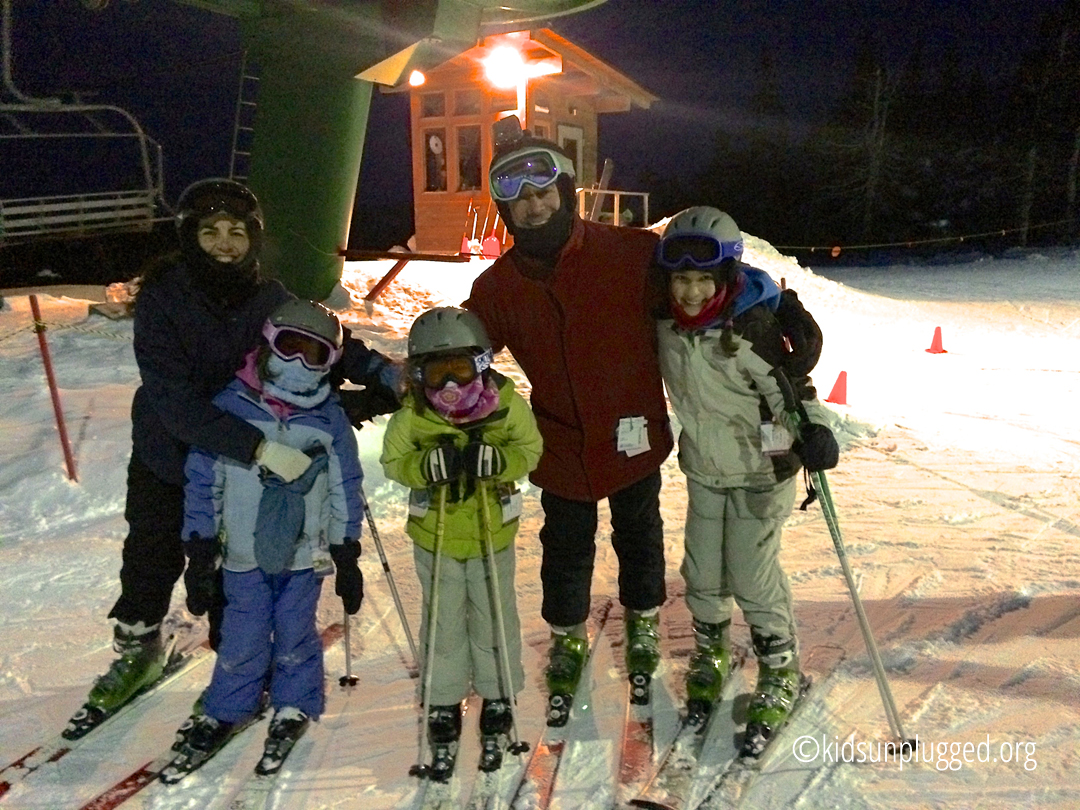 When evening falls, there's no need to sing the Last Chair Blues. Wednesdays through Saturdays at Bolton means it's time for night skiing, and the lifts spin until 8 p.m. on Wednesdays, Thursdays and Saturdays and until 10 p.m. on Fridays. There's a festive atmosphere on the mountain during these sessions and skiing under the lights is a truly unique experience.
Bolton Valley exudes the old-school charm and warmth that is characteristic of an iconic Vermont mountain.  Sitting in the Tavern, a pint of Burlington's Switchback Ale in hand and a plate of cheesy, duck-fat laden poutine on the table is my idea of the perfect end to a day on the slopes. My husband and I watched as our long-john-clad daughters tried to out bulls-eye one another at the dartboard while they waited for their crocks of bubbling macaroni and cheese.  We'd had a fantastic few days and can't wait to return again next season.
Disclosure:  We were guests of Bolton Valley during our visit.  As always, all of the opinions in this piece are entirely my own