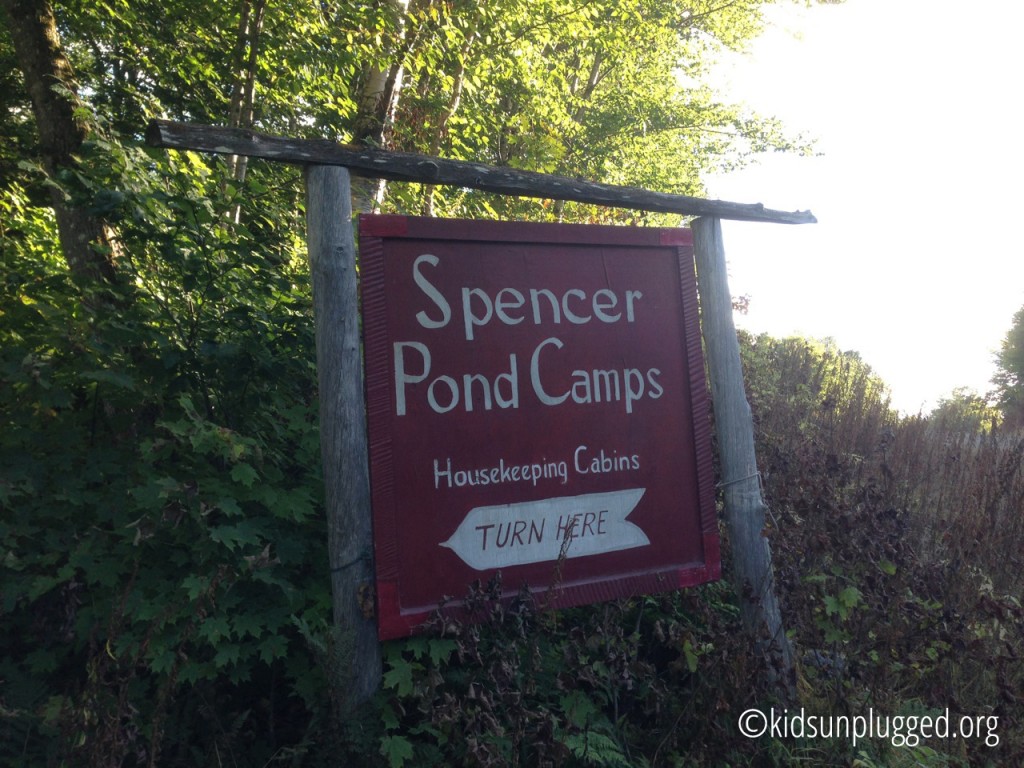 I hate power outages. Following Superstorm Sandy in 2012, my family and I spent seven days in the cold and the dark. While we were grateful that we had no major damage to our home or ourselves, temperatures dropped and dark felt very dark indeed. Feeding ourselves became a major operation, involving a large cooler on the kitchen floor, cooking everything on a gas stovetop I lit with a lighter and surrounded with candles. I cooked dinner shortly after lunch to take advantage of the daylight. In the afternoon, with the lowering sun we felt a creeping anxiety at the approaching long, dark, cold night. My son sought solace in his closet, which only offered more darkness. We tried several configurations for sleeping at night, always staying together for warmth and reassurance. One night late in the week, we huddled around our fireplace unable to get warm with the chimney whisking away more heat than the fire provided. My husband piled on logs, and I spent the night watching the fire blaze, imagining a single log rolling forward, knocking open the door of the fireplace and lighting my child's blankets ablaze. Then the fire died down, and I ached with the cold. My nose ran and my teeth chattered. My husband stoked up the fire, and I returned to my fretful imagining. When the power finally came back on, we reminded ourselves of our relative good fortune, but maybe we were mildly traumatized anyway.
So what would prompt me to willingly spend precious vacation time and money to visit a place with neither heat nor lights nor even a proper shower? Perhaps it was when I stumbled onto a website for Spencer Pond Camps while looking for more traditional housing in the Moosehead Lake region of Maine. Maybe I was wooed by the stunning photographs of cabins on the shore of a tranquil pond, Little Spencer Mountain on the opposite shore, the sun casting a glow across the water, the promise of a moose around any corner. It could be that I was reassured by the 360 degree panoramas of the charming cabins with sturdy beams, handmade quilts and porch swings. More likely I was looking for a way to connect with my husband and children without the constant competition from all manner of electronics. I was looking to give my children a rare and special gift in this day and age: my undivided attention.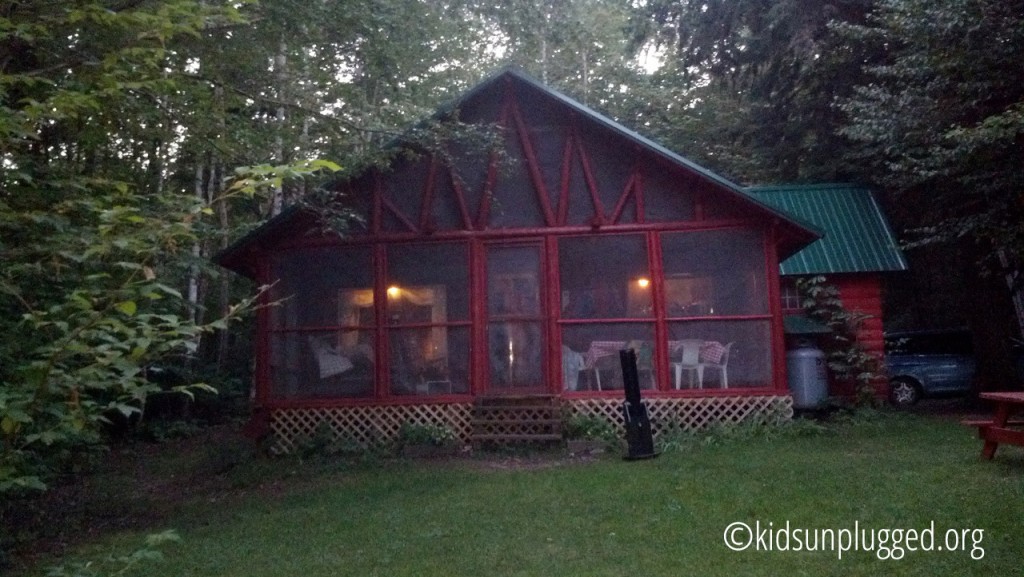 The six "unplugged and off the grid" cabins or "camps" are situated 34 miles north of Greenville, Maine, with the last 14 miles being a rough dirt road. Our Honda minivan made it there, but the going was slow and bumpy, and we were glad we had visited the Greenville grocery store first, because we weren't eager to bounce down that road and back again.
Spencer Pond Camps, recognized by the state of Maine as an Environmental Leader, are operated by Christine Howe and Dana Black, both Registered Maine Guides and lifelong Mainers. Dana is a working lobsterman who periodically travels to the coast to check his traps. Christine telecommutes to her job with a bank from their cabin on the property, which has some alternative source of energy since there are no electrical, gas or telephone lines to the property. She is a modern superwoman, balancing her day job with her duties as the hostess and housekeeper at Spencer Pond, as well as home schooling their two daughters. During the winter, when life must be rustic indeed at remote Spencer Pond, the family returns to a more conventional home near the coast. They keep some two dozen chickens, three friendly dogs and a couple of pet rabbits on the property, all of which get crated up and transported to their off-season home. Christine and Dana are extremely knowledgeable and welcoming hosts, but it's clear that they cater to a clientele looking for a real get-away, and privacy is always honored.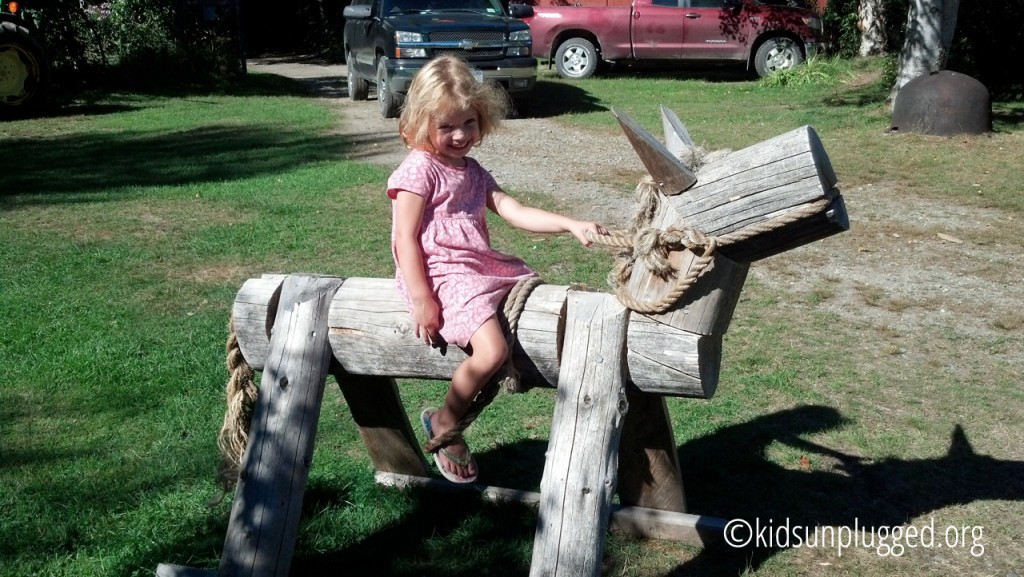 Our cabin, the Moosepaykeechick or "The Moose" is settled into the woods on one end of the property. Because of its wooded setting, it is both wonderfully private and a bit darker than the other five cabins. The cabins are kept immaculately clean, as are the private outhouses near each cabin. I've been in much dirtier modern toilets, and we all enjoyed declaring when we were going to pop out to the privy. A bucket of clean sawdust in each outhouse keeps them odor-free, and the kids loved that little ritual. The warm wooden walls and floors of the cabin, the dining table under glowing propane lights, kerosene lanterns, and shelves of games and books made us feel right at home.
Like camping, this off-the-grid living involves a good bit of planning, and simply feeding and cleaning ourselves was part of the entertainment. We attempted to use the solar shower bag in the cabin's shower stall, but we found it easier and warmer to heat water on the propane stove or the wood stove and take sponge baths.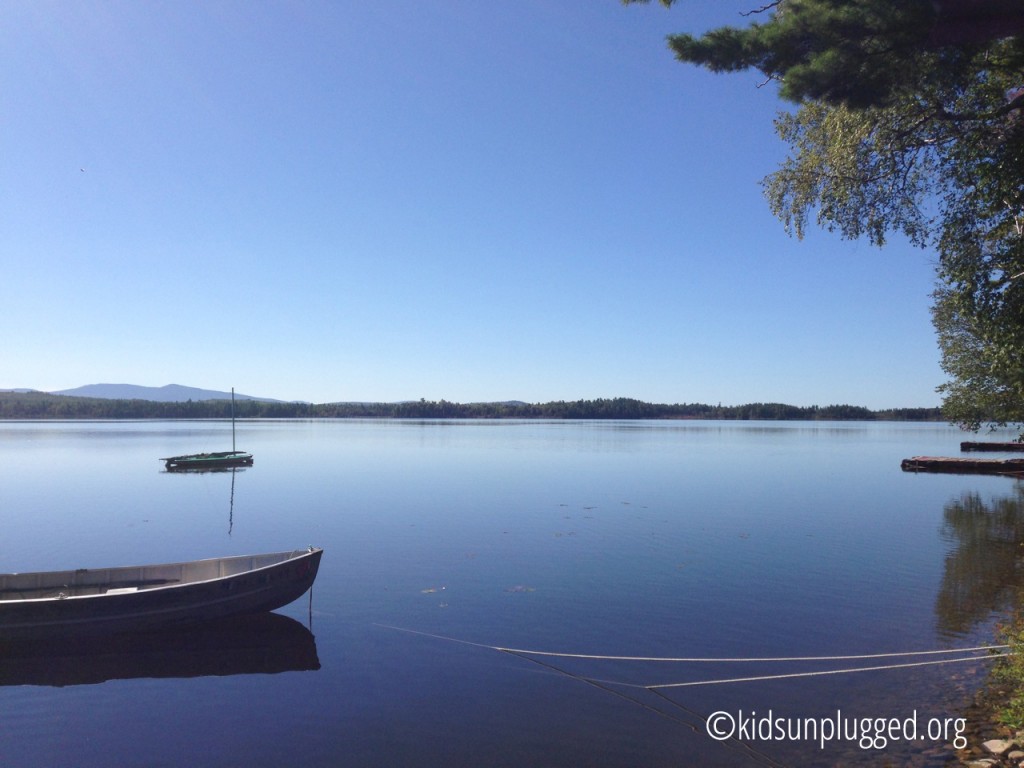 We also used the wood stove at night for heat. Even in August, when we visited, the nights were crisp and cool. We brought along a telescope and marveled at the eye-popping display of stars in the darkness. When you are miles away from electricity, the stars blanket the night sky.
A working kitchen with a propane stove and refrigerator and a grill allowed us to enjoy anything we might want to prepare for ourselves. On occasion, it is possible to buy fresh lobster directly from Dana, if he has recently been to the coast. At most of the cabins, potable water comes from large iron pumps at the sinks. At The Moose, the pump delivers water straight from the pond you see through the kitchen window above the sink. Drinking water is stored in a large dispenser that we refilled at a pump in the main yard. My daughter claimed the pumping duty for her own, and it seemed to give her tremendous satisfaction to prime the pump and watch the cold water come pouring out.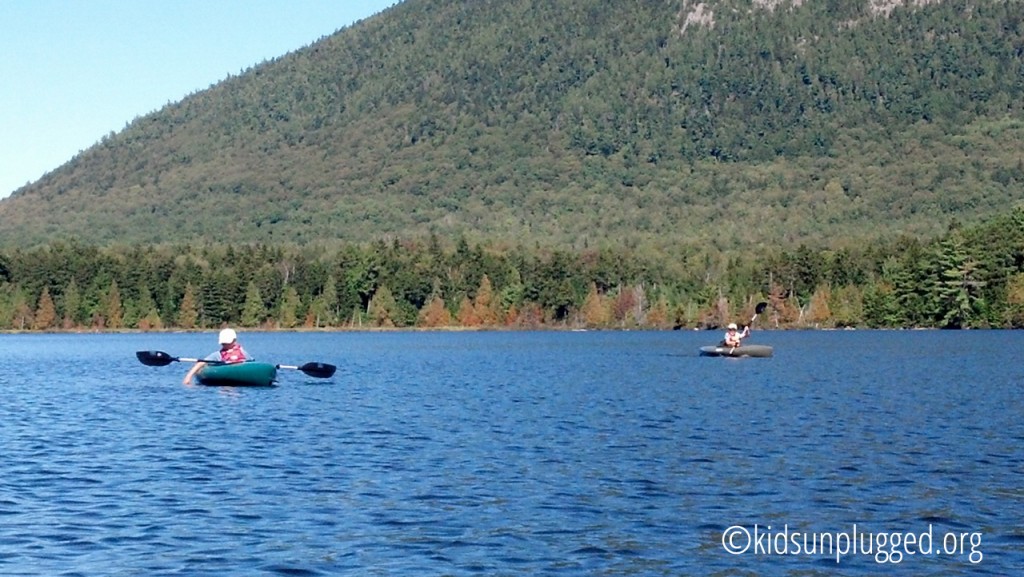 Kayaks and canoes are available for guests to use at no extra cost. We enjoyed frequent trips out on the pond, which is calm and not too deep. Long grasses populate the pond, but there is a clear area for swimming off the main dock. We made daily excursions in the kayaks or canoes around a bend in the pond where moose are frequently spotted, but in the late summer, the moose sometimes stay deep in the woods, and we had no luck. Other visitors spotted several moose the day before, right on the property.
To increase your chances of spotting one of those Maine Woods wonders, you might try a moose safari. There are several excellent guides in the area. We hired Chris Young, of Young's Guide Service, to take us out one morning. Moose are most likely to be out early in the morning, so expect a 5 am start. Chris took us to another small pond in the area where we attempted to silently canoe to a secluded area where moose are often spotted. These enormous creatures are easily spooked and don't like wind, and again we had no luck. But Chris was an informative and friendly guide, and gliding those canoes at sunrise on a silent pond was well worthwhile, moose or no moose. Chris did locate a wild blueberry bush for us, which I was attacking voraciously when I realized my party had moved on.
We had our own dock at our cabin, where my son stationed himself and fished for perch and whitefish until his bucket was full. My husband joked that the same child who hid in his closet during the power outage was "going native," filled with clean air and confidence, master of the pond.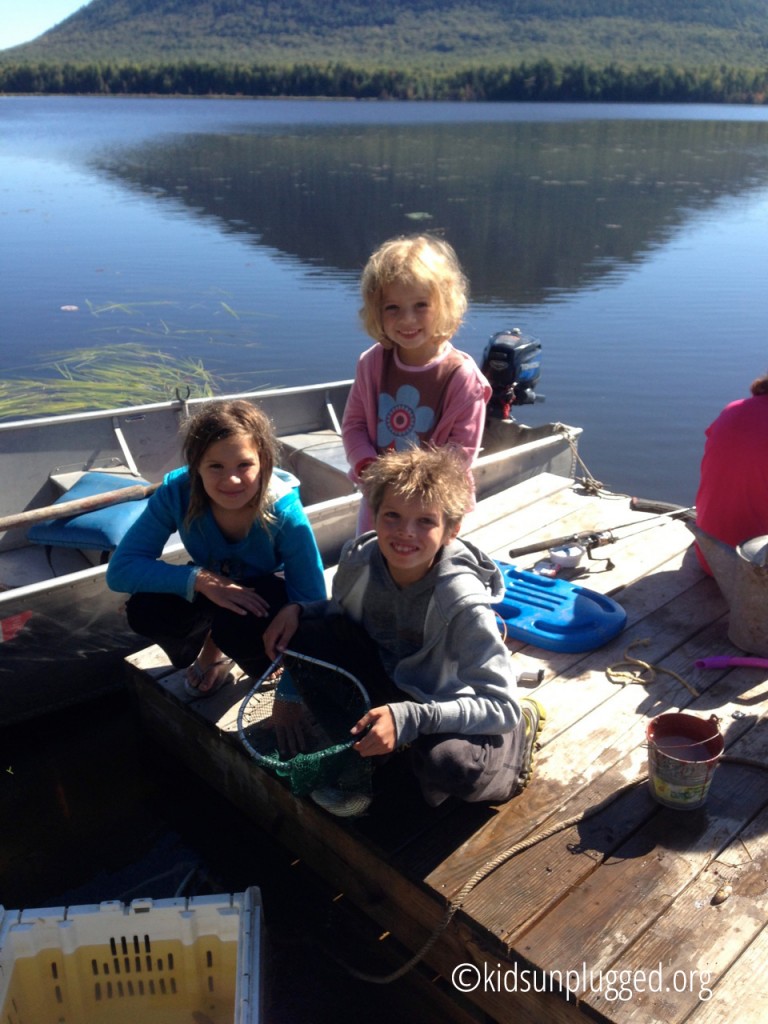 One day I called the boy up to the large screened porch for lunch, and he attempted to the bring the bucket of fish onto the porch, saying the chicken that clucked about freely in the yard would eat them if he left them outside. I told him that was crazy and insisted that he leave them outside. He hadn't even sunk his teeth into his sandwich before one of those thieving poultry extended her neck into the bucket and stole a fish in her beak. Wasn't my son mad at me! And didn't we laugh, and won't we always remember that moment together there in that magical place, far away from the demands and expectations of our daily lives, just us, the fish and the chickens, and maybe a moose hidden deep in those Maine woods.
For more information about Spencer Pond Camps or to make a reservation for one of their lovely cabins, visit them at Spencer Pond Camps.
Dancy Balestrieri is Mom and Chief Cook and Bottle Washer for Balestrieri & Co. In a former life, back when books were printed on paper and stored in warehouses, and dinosaurs roamed the Earth, Dancy was an editor. She lives with her husband and three children in Westchester, NY.  She is already planning her next trip.