As avid hikers we know that trails covered in deep snow can put a damper on winter treks and for folks all across the U.S. this winter has been an absolute doozy.  We've missed our woods walks these past couple of cold, snowy months as trudging through a minimum of 8-inches of snow for any length of time wouldn't be fun for anyone.  Because the conditions have been so limiting this year, we were all really looking forward to sliding along the trails at Trapp Family Lodge on our recent winter-break adventure in Stowe, Vermont.
A Bit of Austria in Vermont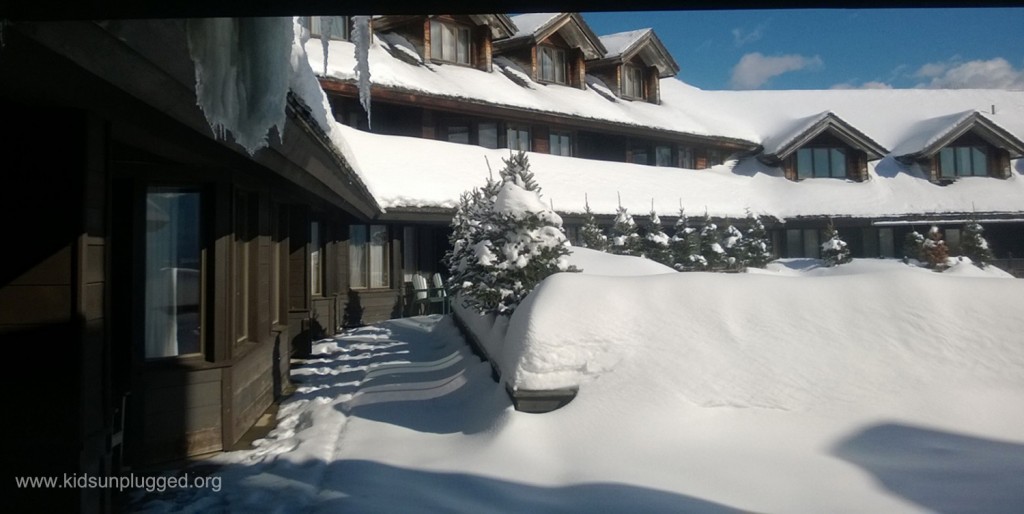 The Trapp Family Lodge is a beautiful, European chalet-style resort perched high on a hill in Stowe, Vermont and features luxuriously cozy accommodations ranging from traditional hotel rooms to family suites as well as beautifully appointed guest chalets and villas.  The Lodge is also home to an assortment of delicious dining options including an elegant dining room, a warm, inviting lounge and a fun deli bakery all of which serve the outstanding Trapp lagers brewed on-site.  Finally, the Lodge hosts a mecca of wellness options, including a beautiful fitness center with an enormous outdoor hot tub, sauna, spa services and indoor pool.  The fitness center is one of the resort's highlights as is the treasure trove of outdoor activities that are available for the whole family.
Gearing up for the Trails

We planned to spend the second day of our trip cross-country skiing at Trapp.  That morning, we met Sam Messer, Trapp's Sales and Marketing Assistant, in the lobby and from there he lead us on a short walk over to the Outdoor Center which is located  just beside the main lodge.  The Outdoor Center is the hub for the myriad outdoor activities offered at Trapp from cross county and backcountry skiing to snowshoeing, hiking, mountain biking and birdwatching depending upon the season.  The gorgeous, 2,500-acre Stowe property offers mile upon mile of trails through the woods where all of these activities take place and the Outdoor Center is fully-stocked with high-quality equipment to enable you to participate in every one.
As helpful staff set us up with our gear, Sam chatted with the girls about their experience alpine skiing the previous day and answered their questions about all the ways that cross country skiing is similar to and different from the downhill variety.  They were very happy to see that the boots were more "normal" and were especially thrilled that this time they would get poles since, as downhill beginners they were pole-less at the mountain the day before.  Sam then introduced us to Kody who would be our instructor for our ski lesson, invited us to head upstairs when we returned for hot chocolate and bid us lots of fun!
Kody brought us outside where he gave us some quick tips for easily getting into and out of our skis and then lead the way to the beginning of the  Sugar Road trail just beyond the Outdoor Center, a nice, flat stretch perfect for beginners.  A quick word about the trails at Trapp Family Lodge.  Early each morning during the ski season Trapp's trails are fully groomed by special vehicles that create miles of ski tracks throughout the property.  Skiers have the option to use these tracks, which are very helpful for novices as they keep your skis parallel and allow you to move smoothly along the trails without having to work quite so hard, or to ski along the trails in the beautifully packed powder we were fortunate enough to be treated to during our visit.  The tracks are also a great perk when skiing with kids who are already sore from a full day of ski-school!  According to Kody, however, the tracks aren't just for beginners and many skiers opt to hop into the tracks periodically during their time on the trails.
Slow, Steady…Skiing!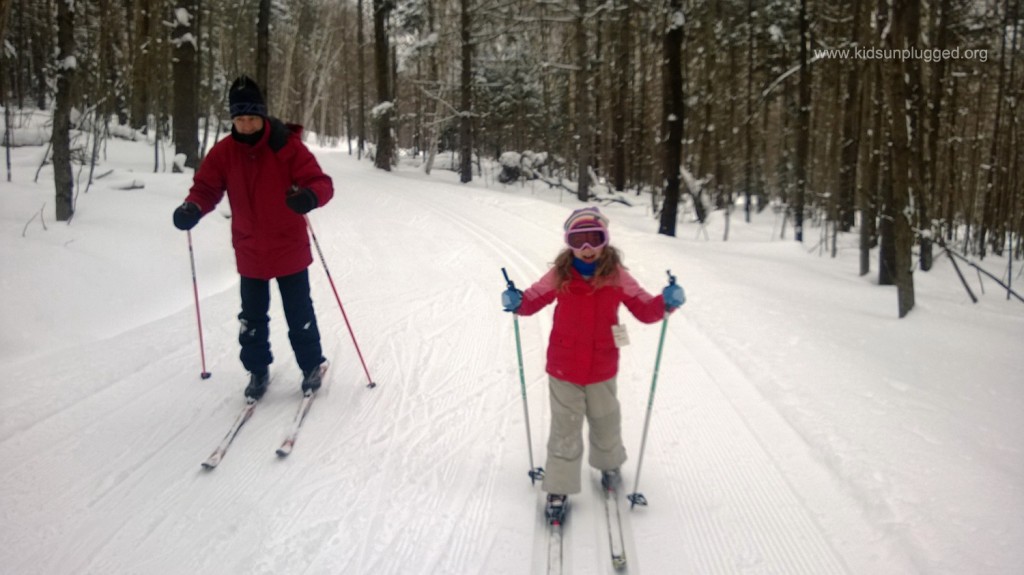 Under Kody's tutelage, all five of us were soon striding comfortably along Sugar Road.  He instructed us to swing our arms and lean forward to help us propel ourselves and showed us how to kick and glide as we got up a bit more speed.  The greatest challenge for all of us was navigating the uphill sections of the trail and that was probably when the girls spent the most time down instead of up.  Kody showed us two different strategies for negotiating steeper bits of trail, both side-stepping our way up and heading up while facing forward, digging the inside edges of our skis into the snow to keep ourselves from slipping back down.  The girls had much more success with the first method and watching them try the forward-facing method was like watching a trio of penguins sliding down a hill on their bellies.
The last part of our lesson was spent in the practice meadow back near the beginning of Sugar Road where Kody demonstrated how to ski downhill encouraging the girls to use the pizza-wedge snowplow they had learned at ski school the previous day to help them control their speed.  Much to my daughters' delight my snowplow wasn't as refined as theirs and I ended up in a bit of a heap at the bottom of the hill.  We also tried our luck on a steeper section near the beginning of the Telemark Trail and the girls loved zooming down effortlessly after a side-stepping their way up to the top.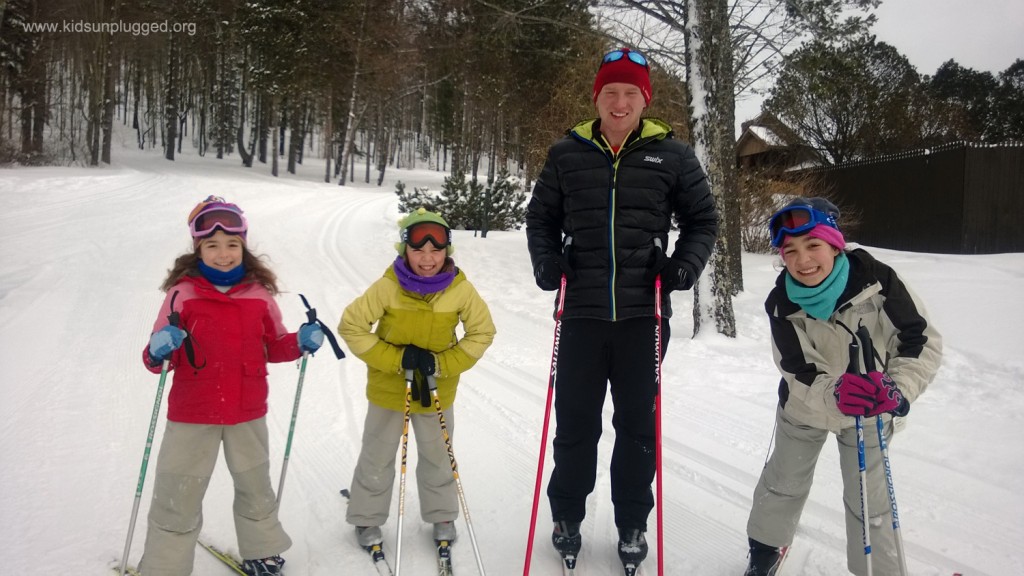 Confident with our skills, Kody showed us a loop he felt we were ready to tackle on our own and headed off for his 11:00 group lesson.  The five of us took off back down Sugar Road, looping around on the Telemark Trail which had a pretty decent climb before a very fun hill at the end.  Unfortunately, our Small One had to pee for the majority of the loop which made for quite a bit of moaning along the way.  Gratefully my husband was the vision of patience and did a great job distracting her from her bursting bladder with visions of hot cocoa until we made it back.  When we did arrive, the cozy lounge and steaming drinks were the perfect reward for everyone's solid efforts that morning!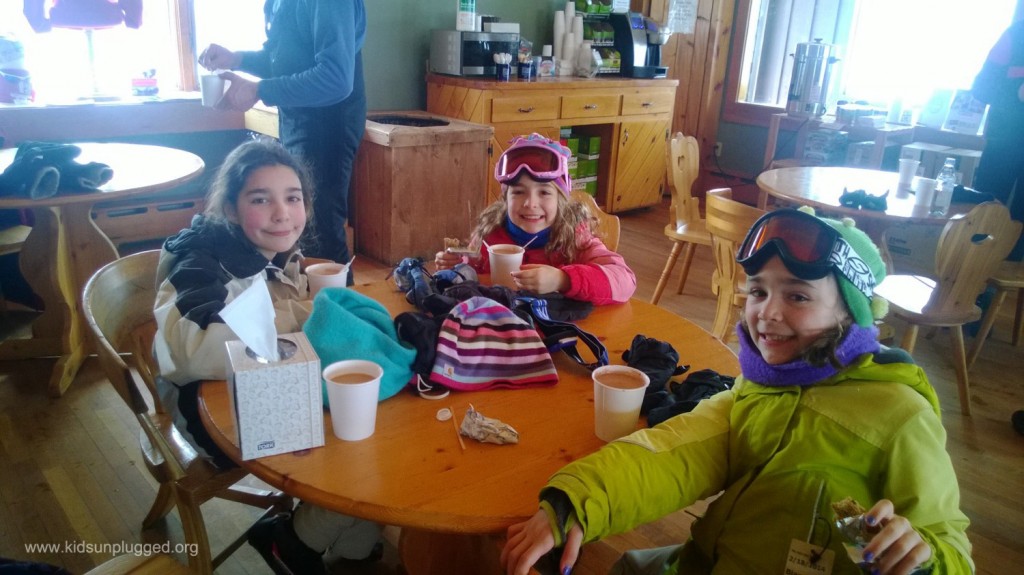 Trapp Family Lodge is a fabulous place for cross-country skiing whether you are a beginner or an expert.  For more information about trail passes, gear rental, lessons and more, visit cross country skiing at Trapp Family Lodge.
Disclosure: Our family was treated to a day of cross country skiing at the Trapp Family Lodge along with a private, one-hour lesson and our equipment.  We paid for our own lodgings, meals and transportation.  All of the opinions in this post are my very own.