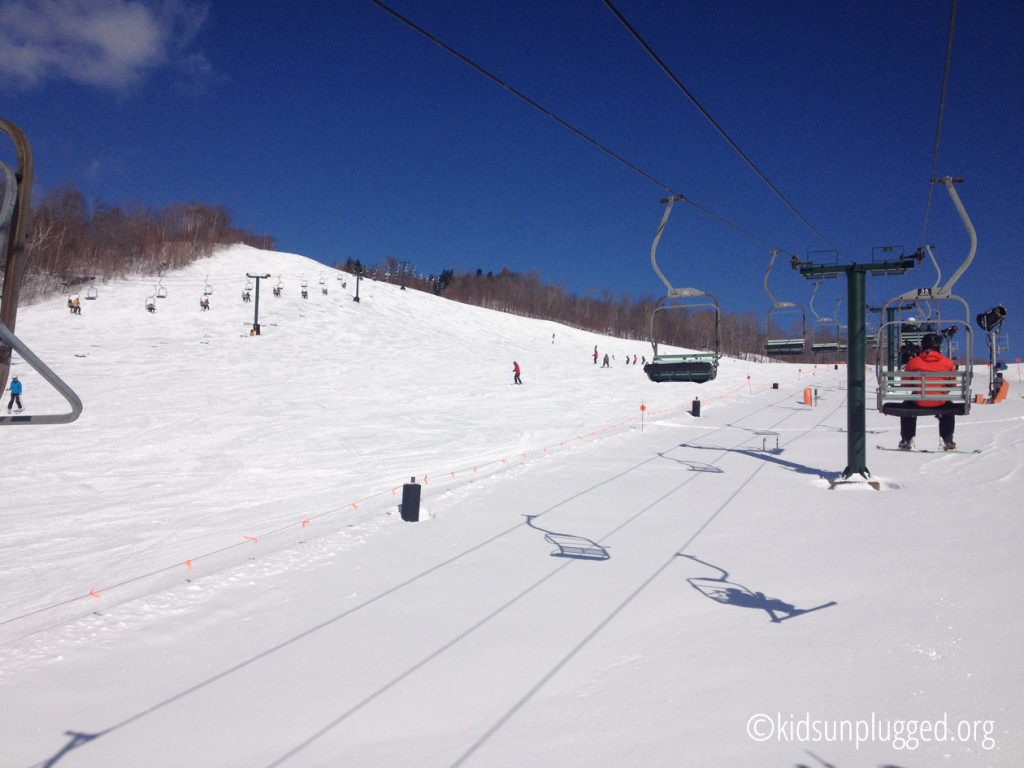 The Green Mountains of Vermont have long been known for the best skiing on the east coast and and the archetypal ski villages throughout the state attract thousands of visitors each season.  Lots of families have their favorites, returning to the same spots year after year as my husband grew up doing with Stowe.  Though much can be said for having a particular destination feel like home, with close to 50 alpine and nordic ski resorts in Vermont it stands to reason that exploring some fresh terrain can be lots of fun.  With Halloween behind us and winter on the horizon, here are my top picks for great Vermont resorts to hit during the 2015 ski season and each one has something for everyone!
Mount Snow — The First Mountain You Reach
I got my first taste of Mount Snow this past summer when my oldest daughter and I spent a week at the resort's brand new Family Camp.  Each morning when we walked down the hill to Sundance Base Lodge for breakfast, past a lovely little pond bedecked with wildflowers and croaking bullfrogs, my daughter would sigh and say, "I wish it was snowing."  We vowed then and there to return in the winter for some skiing, a pact that was further sealed by the promise of a reunion with the awesome Family Camp staff, many of whom worked in the resort's ski school during the winter months.
Mount Snow is Vemont's southernmost ski resort, making it the first one you'll reach from points south and is a perfect destination for a weekend getaway for families in the tri-state region.  At just about 4-hours from New York City you can easily leave after school on Friday and get in some good skiing on Saturday and Sunday before heading home–even better if it's a three-day weekend!  Mount Snow features countless trails for every level, one of the area's only all park mountain face at it's Carinthia Terrain Parks for riders, snow tubing, dog sled adventures, snow shoeing, sleigh rides and nearby nordic trails. Visitors stay in a variety of accommodations from the majestic Grand Summit Lodge to one of the many well-appointed, slope side condos around the mountain and cozy, village inns.  There are plenty of dining options on-site, including a fabulous farm-to-table experience, a ski school staffed with the awesome folks I mentioned above, child care, fitness centers, indoor & outdoor pools and a rejuvenating spa for a relaxing après-ski massage.  Mount Snow is simply an ideal family ski resort.
Bolton Valley — Perfect for Families on a Budget
Bolton prides itself on being one of Vermont's most affordable, family-friendly resorts, encouraging folks to park their cars and settle in for a great stay at it's 5,000 acre Green Mountain playground.  Boasting both alpine and nordic trails, cozy, comfortable slope side accommodations in its Inn and condos–all of which are an easy walk to the lifts– a number of casual dining options, ski lessons, childcare, an indoor amusement center and a sports center featuring an indoor pool, sauna and fitness room, Bolton promises a great time for the whole family.
Bolton Valley is also the only Vermont ski resort to offer night skiing, with 12 trails open and all lit up from 4-8pm Wednesdays through Saturdays.  Two of my favorite features are Late Night at Bolton, which keeps the lifts open until 10pm on Friday nights, and Bolton After Dark, a fun-filled Saturday evening party night skiing, food and drink specials and weekly film screenings.  Families looking for plenty of action will find themselves right at home at Bolton Valley, all for a great value.
Stowe Mountain Resort — The Quintessential Vermont Experience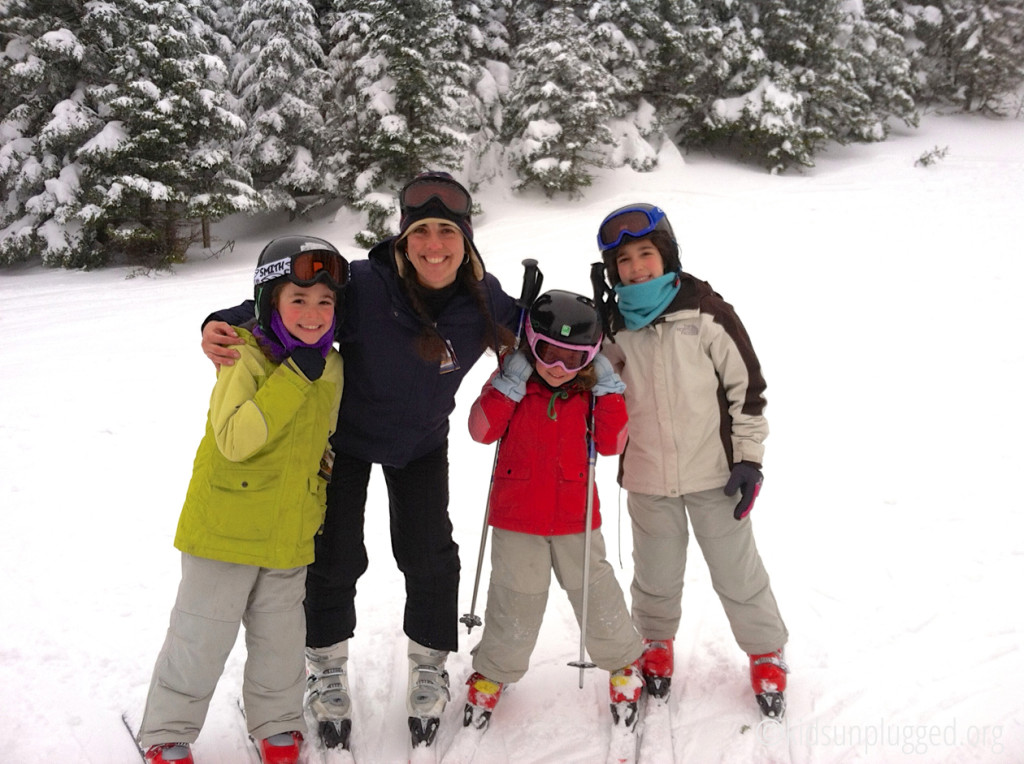 Ahh, Stowe, beautiful Stowe.  Stowe Village holds a special place in our family's heart for several reasons.  First, it is the resort where my husband skied all throughout his youth, first with his dad as a young boy and later with his brother and buddies throughout his teens and 20s.  When we were expecting our first daughter, the two of us spent a pre-baby getaway in Stowe, snowshoeing on the gorgeous trails at Trapp Family Lodge and we have some great photos of my 7-months pregnant self, sporting snowshoes and taking a breather under a bluebird sky in the Trapp woods.  And finally, last February we spent a few days in Stowe, where our three daughters and I skied for the first time ever, trying out the trails at both Mount Mansfield and Spruce Peak at Stowe Mountain Resort.  The Stowe Ski School was absolutely fantastic and the girls and I were up and skiing before we knew it.  It's a trip we will always remember.
Stowe really is the quintessential Vermont ski resort–a charming, New England village with quaint churches, cozy inns and restaurants, and snow-covered evergreens.  At the top of Mountain Road, visitors arrive at Stowe Mountain Resort, home to Stowe Mountain Lodge, Mount Mansfield–Vermont's highest peak–and Stowe's famed trails including the "front four" — four double-black diamonds runs known to be among the most challenging in the East.  The luxurious Stowe Mountain Lodge is ski-in, ski-out at its best featuring sumptuously appointed guest rooms and suites in the gorgeous main building as well as a number of private mountain cabins.  The dining, recreation, and amenities here are endless and families looking for a real treat need look no further.
Killington — Parents' Getaway Anyone?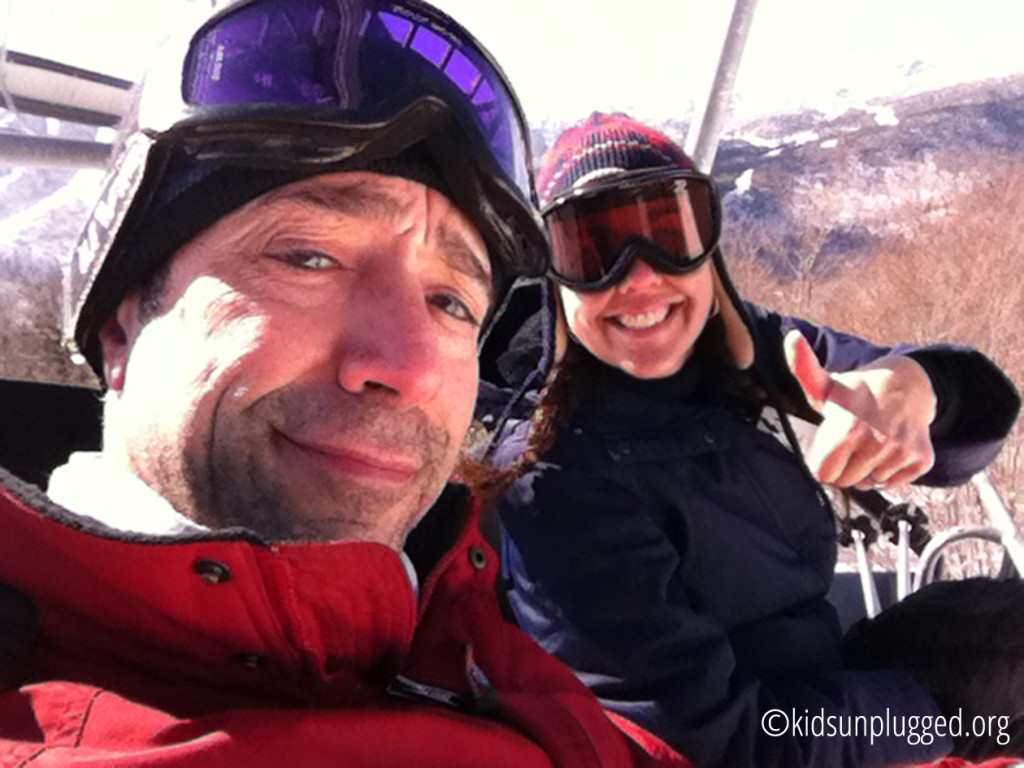 I recently joked with a friend that growing up in the Connecticut suburbs, winter Mondays always featured tons of kids arriving to school with Killington lift tickets clipped to their zippers.  At long last I think this is the year I'll get my own.
As much as my husband and I love adventuring with our girls–this entire blog is a testament to that–after three kids and almost 17-years of marriage I'm starting to see why time together alone is so important.  It's nice to escape from the daily minutia of laundry and carpool and dog walking for a little bit of grown-up time to remember why we decided we liked each other in the first place (something we sometimes forget). A weekend at Killington is a fantastic way to do exactly that.
Known as "the beast of the east," Killington Resort was the first Vermont resort to open for the season and is home to 140 trails on six interconnected mountains as well as six terrain parks.  Our family vacations tend to focus, understandably, on activities the five of us can do together.  A parents getaway at Killington offers all sorts of treats we would not normally enjoy when traveling with the kids in tow.  A beautiful room in the Killington Grand Hotel, a spa treatment or two, some time relaxing in the sauna, lingering over morning coffee by the fire, chatting over beers and burgers at the Longtrail Pub–sounds completely divine, right?  Two events that I find especially intriguing are après ski cocktails in the Motor Room Lodge and a gourmet dining excursion to Killington's Ledgewood Yurt, neither of which we could enjoy with the girls.  And although I'm a novice skier to my husband's black diamond skills, a few runs together are something I am looking forward to the most.
This post offers just a peek into the skiing awesomeness that happens in Vermont.  Check out Ski Vermont's great video, 24-Hours of Ski Vermont to get a taste of all this beautiful state has to offer on the slopes. Then make your winter plans!  I'd love to hear about your family's favorite Vermont destinations and plans for the upcoming ski season as well.  See you on the trails!