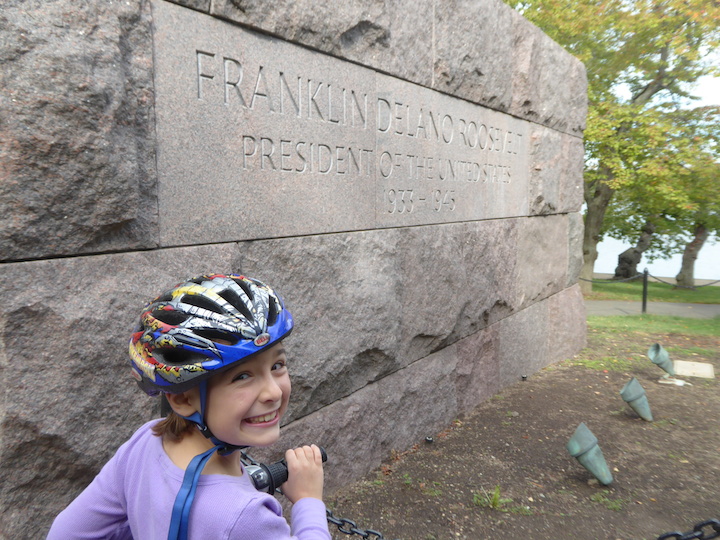 Over Columbus Day weekend the girls and I took a mother-daughters road trip down to Washington, DC.  Depending on the traffic, the DC metro area is about a 5 hour drive from our house in Westchester County, New York, just outside of New York City.  Because the girls had a half-day that Friday, we were able to get on the road by noon which helped us avoid the bulk of the rush hour volume and we pulled into our weekend home at the Embassy Suites in downtown DC by around six o'clock that evening.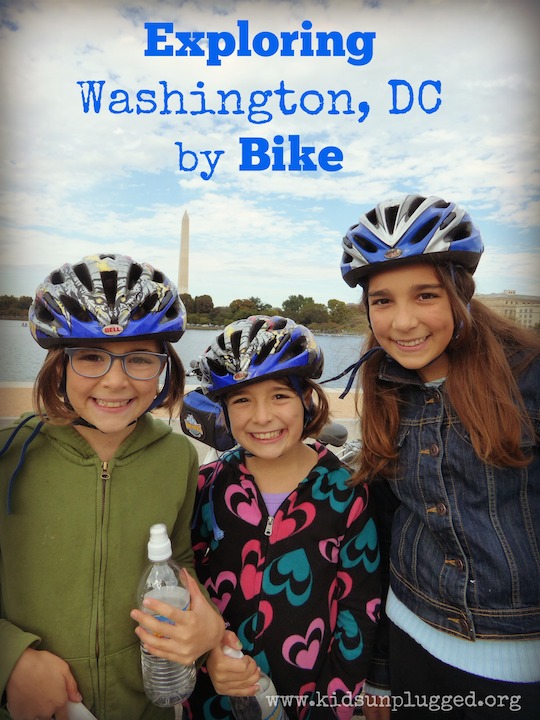 We had a two-day itinerary that was chock-full of plans and the activity I was most looking forward to was a tour of the city's famous monuments by bicycle with Bike and Roll DC.  This was something I'd read about before our last DC visit in 2010 when I ran the Marine Corps Marathon, but our girls were still too young for such an adventure.  This time, knowing that all three of them were now fairly strong riders, I made us a reservation for the three-hour afternoon tour.  Bike and Roll also offers a Monuments at Night tour that is likely pretty spectacular, but I decided that we'd opt for a daytime tour for our first go.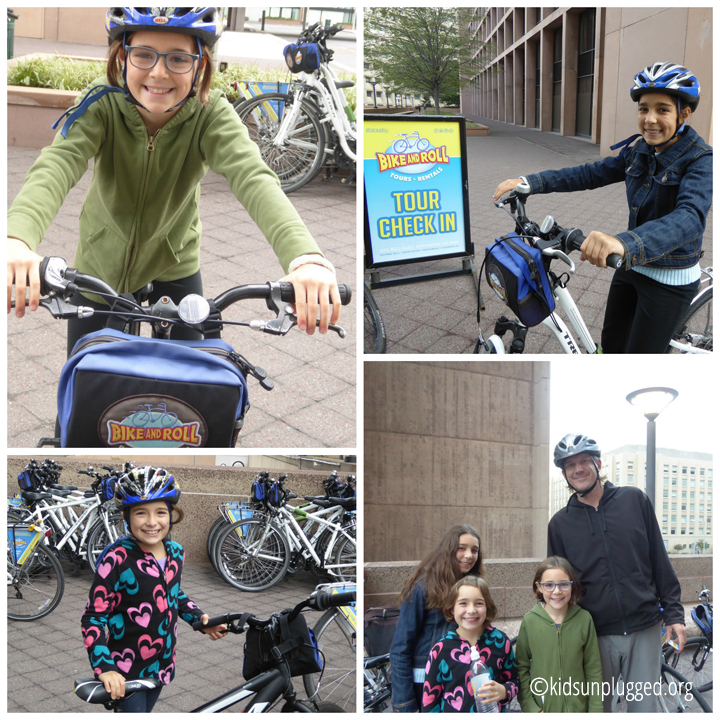 We arrived quite a bit early for our tour because I had the time wrong in my head.  No matter–Matt, who would be our tour guide for the afternoon, greeted us enthusiastically and got us outfitted with bikes and helmets.  My daughters are eight, 10 and 12, and are on the smaller side for their ages.  They all found bikes that fit their heights just fine and Matt helped them get situated, adjusting their seats and helmets for a perfect fit.  Each bike was equipped with a handlebar bag that held a bottle of water and was a good size to hold whatever you might want handy during the tour–namely a camera and a phone.  I also had my small messenger-style bag along with me, but folks were able to leave personal items in the Bike and Roll office if need be.  Bike and Roll also offers trailers and tandem bikes for parents with kids too young to bike on their own.

Our early arrival ended up being fortuitous as it gave the girls some time to get a feel for their bikes before the tour officially started.  Bike and Roll DC is located just a short way from the National Mall at L'Enfant Plaza and the spacious, flat, traffic-free plaza is a perfect place to loop around on a bike.  I was a bit worried about my 8-year old's ability to use the bike's handbrake and watching her try it out on the plaza left me satisfied that she'd be just fine on the tour.
Once everyone had arrived and were set up with their gear, Matt gave us a brief introduction to the route we'd be taking and some tips for navigating the pedestrian traffic we would encounter.  There were 16 of us in total, which felt very manageable, and we were soon on our way.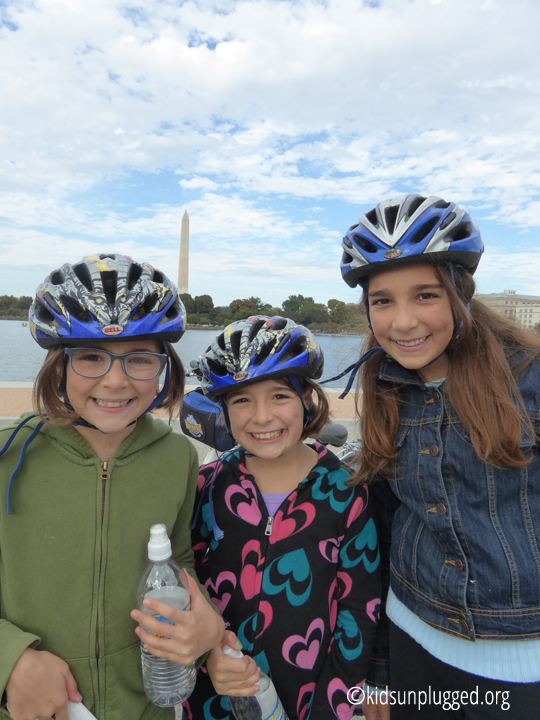 We began our tour with a short ride over a bridge across the Washington Channel, making our way toward the beautiful Potomac Tidal Basin and the Jefferson Memorial.  We then rode around the Tidal Basin with stops at the FDR Memorial and the new Martin Luther King Memorial before crossing over to the National Mall to visit the Korean War Memorial, the Lincoln Memorial, the Vietnam Veterans Memorial, The World War II Memorial, the White House and the Washington Monument.
At each stop Matt regaled us with interesting anecdotes and fascinating details about the history behind the site and the people whom it honored, bringing to our attention particulars about the architecture and artistic interpretations that might have gone overlooked.  Matt had a wonderfully respectful way about him and clearly had a passion for all of the information he was sharing.  He had us captivated the entire time and never rushed us as we visited the monuments and memorials after his talks.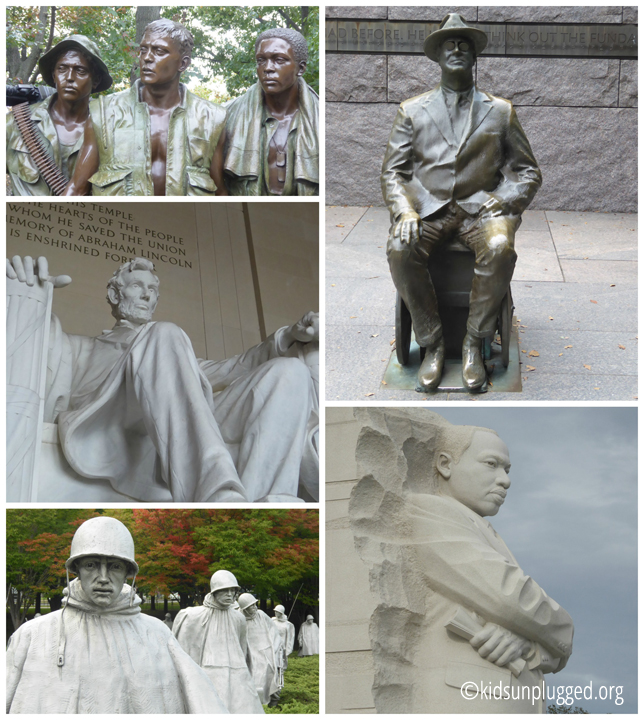 I think what I enjoyed the most about the tour was being outdoors and being able to cover so much ground.  We joined a trolley tour when we visited the city in 2010 but it was so much more fun being outdoors in the crisp, autumn air.  The tour covered a distance of approximately four miles, which would be too much to do by foot, but was fantastic by bike.  The girls did great for the most part, though my small one had a couple of harrowing moments in the more crowded areas almost taking down a pedestrian or two in her path.  Although negotiating the foot traffic during the crowded holiday weekend had its challenges, I really appreciated that the tour was almost entirely along sidewalks as I think I would have been less comfortable with the kids pedaling along busy city streets.
Our tour stretched a bit beyond the three scheduled hours yet Matt was very mellow and never made us feel hurried along the way.  We returned to Bike and Roll's headquarters brimming with history and the momentous sites we saw.  Bike and Roll has several DC locations and  tour options as well as tours around New York City, San Francisco, Miami and Chicago.  I can't think of a better way to check out one of these great cities!
Disclosure: Our family was treated to this tour by Bike and Roll, DC.  As always, my opinions are entirely my own.