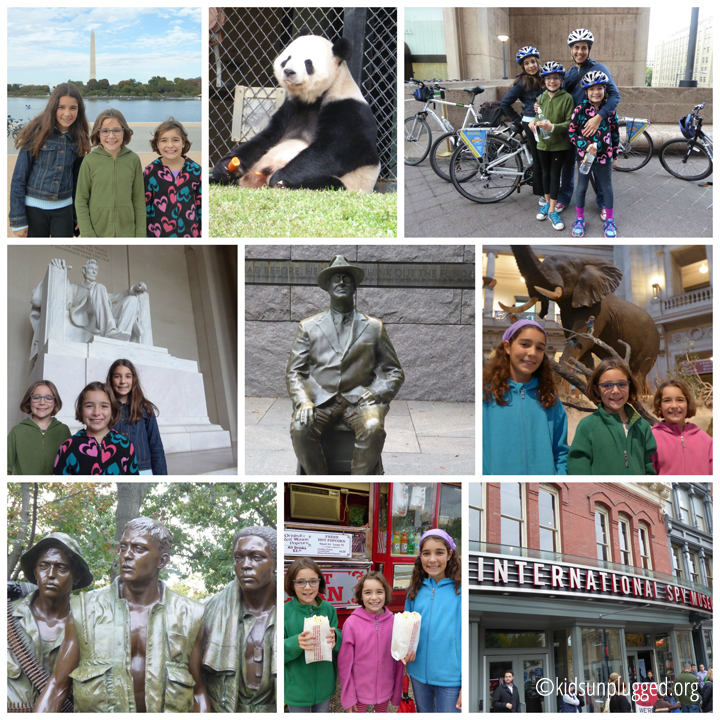 Washington, DC is a quintessential family destination.  With so much to do and see it can be tough to narrow down the choices to decide what to fit in to a weekend visit.  I think that the important thing to remember with any trip is that you're not going to be able to do it all.  The key is to narrow your focus to a few great places and activities–this strategy makes for a more relaxed visit and happier kids and parents and is a lesson that I learned the hard way.  Just know that you'll see more the next time!
After spending two days in the city with my girls over Columbus Day weekend recently, I've created a short and sweet unplugged itinerary for a family visit to our nation's capital.
Where to Stay
As a family of five, we don't always fit into a standard hotel room.  While some places will accommodate us by putting a rollaway bed in our room, which is always helpful, we love when we have extra space to spread out and a separate bedroom where we can put the girls to bed while we relax, read, or get a little work done.  With their all-suites configuration, featuring a spacious family room, cozy bedroom, well appointed bathroom and en-suite kitchenette, Embassy Suites is a wonderful place for any family to make as their home base.  The Washington, DC Convention Center location, just a short walk from the National Mall and myriad DC attractions is an absolutely ideal jumping off point for any family's DC adventures.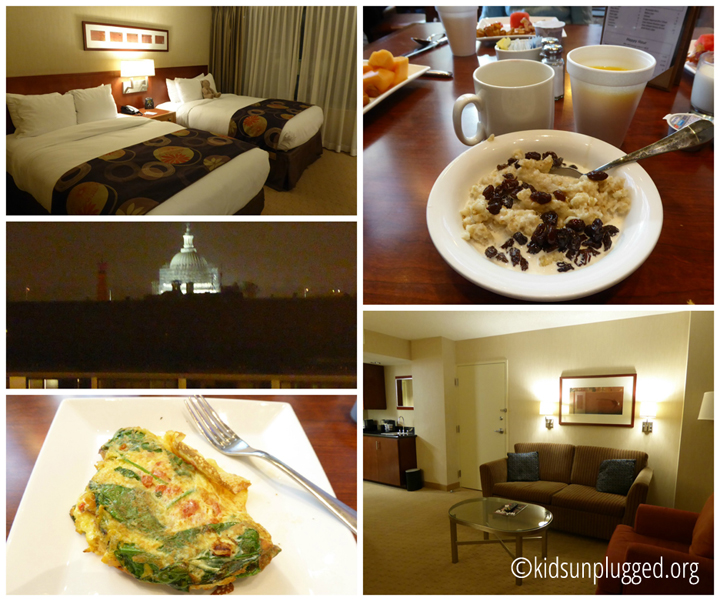 Embassy Suites offers some added bonuses with your stay as well like an evening cocktail hour every night from 5pm to 7pm featuring plenty of knoshes and complimentary beer and wine, and their abundant breakfast buffet each morning from 7am to 11am.  We took advantage of both of these during our stay.  For kids on the verge of a blood-sugar meltdown after a long drive from New York or a full day touring the sights, a plate of hummus and veggies, assorted cheeses and chips and dips helped stave off pre-dinner grumpiness and a lovely glass of red wine for Mommy didn't hurt either. As for breakfast, it's always a big pain to have to go out and eat in the morning when traveling, for our family anyway.  We like to get going in the morning and prefer not to have the added step of finding a breakfast joint nearby.  Embassy Suites solves that problem by providing a full breakfast buffet in the hotel restaurant with everything you could ask for, including fresh, made to order omelets, delicious oatmeal with brown sugar and raisins and plenty of hot coffee.  We fueled up each morning and were quickly ready to hit the sites.
What to See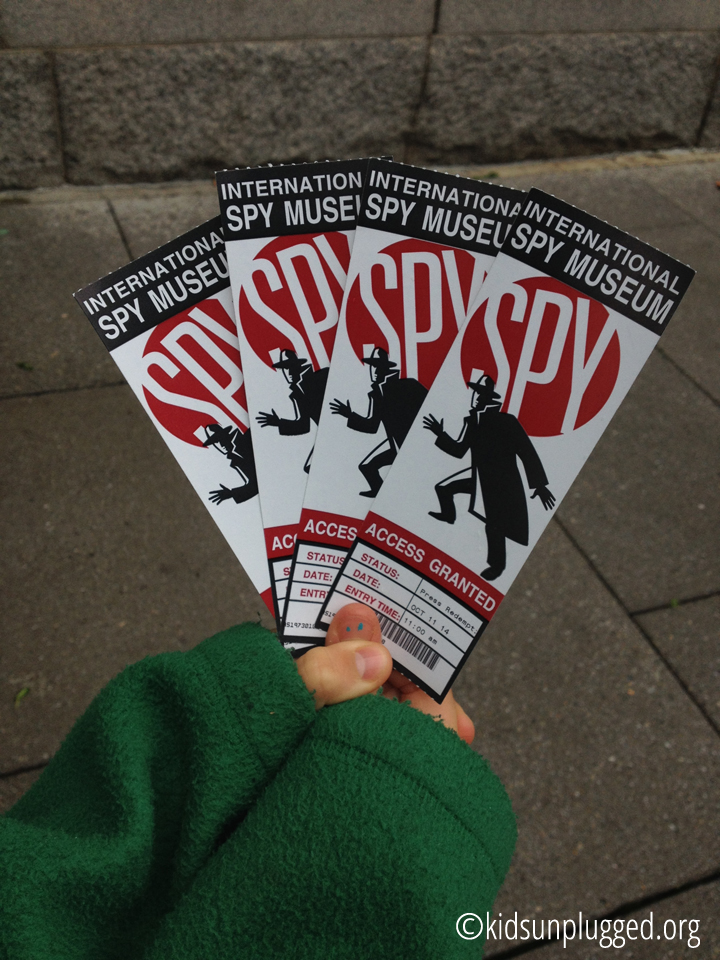 It's impossible to see everything in DC in the course of one weekend.  You could easily spend a full day in each of the Smithsonian museums alone.  That said, there are some attractions that are better for kids than others.  Contrary to my normal type-a trip planning routine, I did not do a ton of advance research for our DC weekend.  Thankfully, the front desk at Embassy Suites gave us a really great city map with all of the major highlights on one side and a DC Metro map on the other.  That night at dinner, a delicious Italian meal at the nearby Bibiana Oseteria (a little pricey, but so delicious and the manager was super nice to my kids, giving us a cozy booth away from all the grown ups), the four of us poured over the map and circled everything we wanted to try to see.
Because we were planning to do a tour of all of the monuments on the National Mall with Bike and Roll, DC the next day, we knew we didn't have to try to see those on foot, which was a huge help.  We focused on a few attractions and really enjoyed each one.
The International Spy Museum – Super fun.  I think my 8-year old was a bit young but my 10-year old absolutely loved it (as did I). My 12-year old enjoyed it but found the whole spy concept a bit creepy.
The National Musuem of Natural History – Just an incredible museum.  We easily could have spent an entire day here.  The highlight was the Wilderness Forever photography exhibit.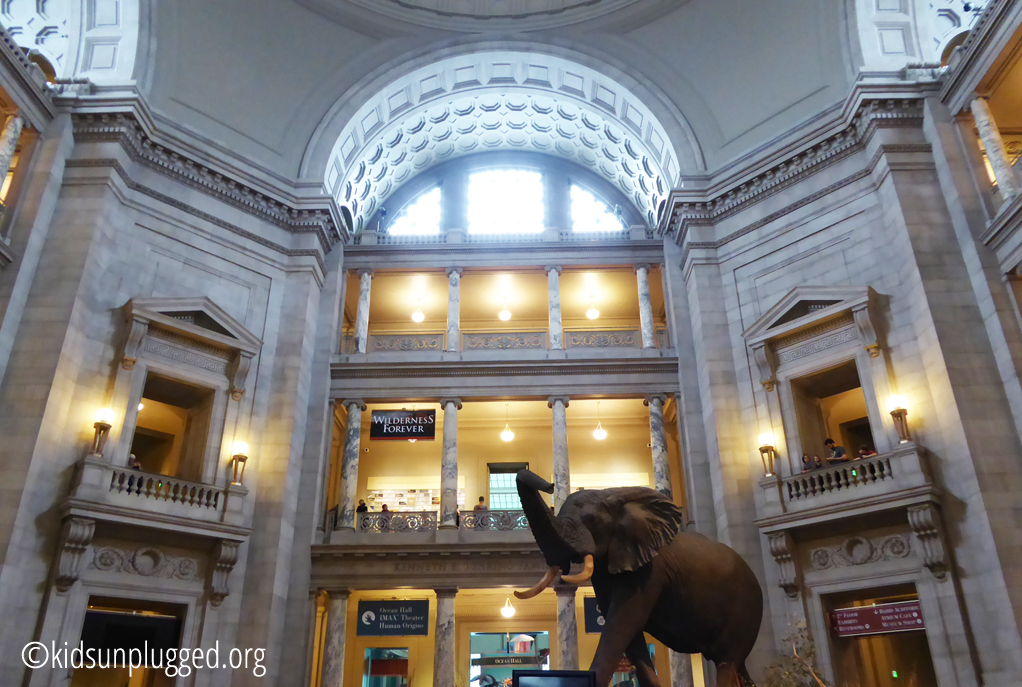 The Air and Space Museum – Absolutely enormous but not to be missed.  We'd visited here during a previous trip in 2010 and went to the planetarium show that time. This time we focused on the Amelia Earhart exhibit and called it a day.  We were pretty tired at this point.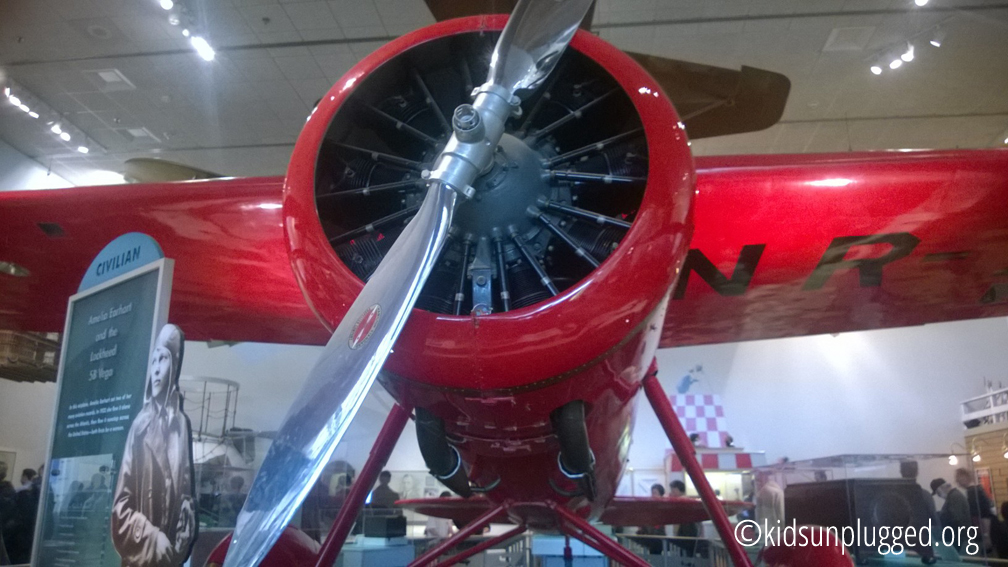 The Hirshorn Sculpture Garden and the National Galley of Art Sculpture Garden– Two great outdoor spaces to get some fresh air and move around a little.  We strolled through the National Gallery's garden (where there is an ice rink in the winter months–so cool!) after the Natural History Museum and then spent some time in the Hirshorn's after Air and Space.
The National Carousel – A short walk from the Hirshorn, right in front of the Smithsonian Castle, is the National Carousel.  I'm a big carousel fan and must ride them wherever I go.  The Smithsonian's, built in 1947, is pretty great and we loved the different state-themed horses, especially New York's!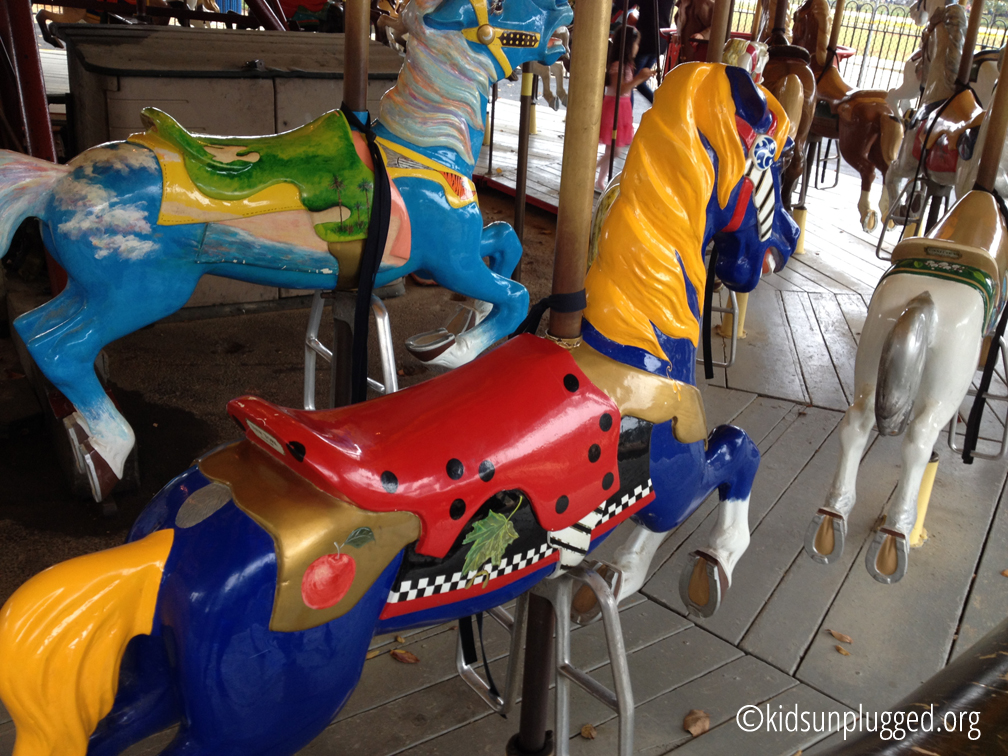 The National Zoo – This was our first visit to the National Zoo and we loved it.  Of course, the giant pandas are the highlight, but there are so many other amazing animal exhibits here.  We saw the cheetahs, the reptile discovery center, the tiger, and the elephants as well as grabbing a gourmet hot dog before heading off for our Bike and Roll tour.  Much to my chagrin, my 12-year old boycotted the carousel.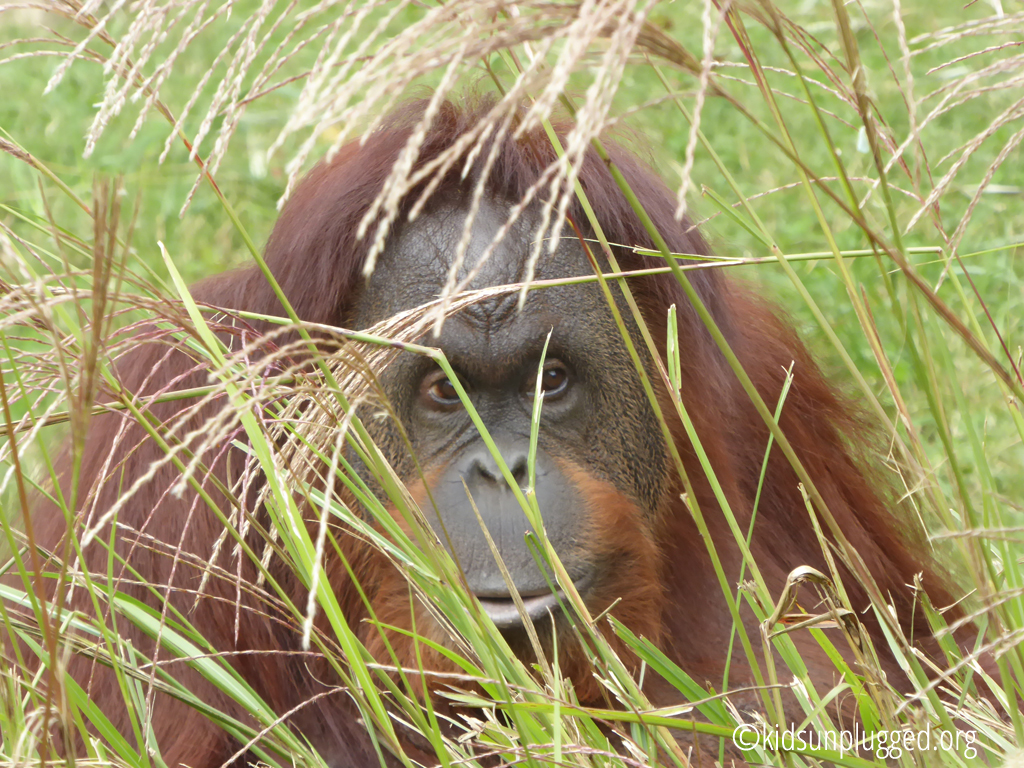 An Evening in Georgetown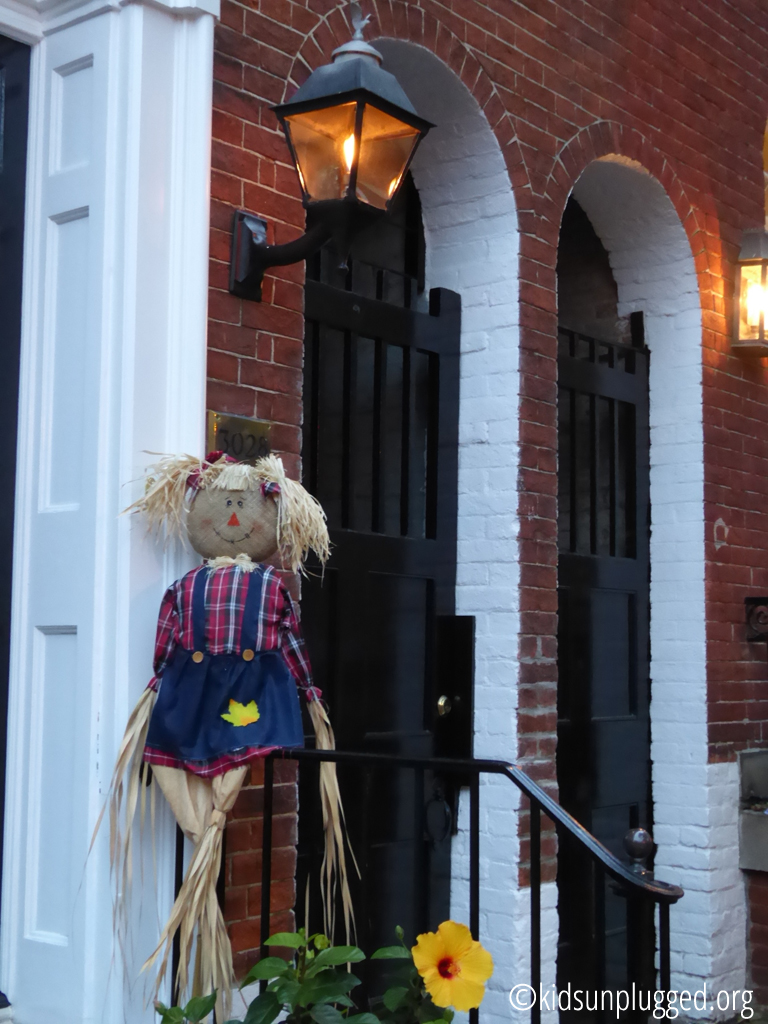 On Saturday evening, after a very full day in the museums and on the Mall, I decided to take the girls to Georgetown.  They balked a little at first because our feet were pretty tired by then, but I wanted to hit a fun neighborhood for dinner.  We hopped on the Metro from the Mall (the Smithsonian station) and traveled to Dupont Circle.  From there it was about a 15-minute walk to Georgetown.  Some students told us that we could take the bus, but we opted for the walk and were so glad we did–we loved all of the quaint homes lining P Street along the way with their autumn decorations and glowing glass lanterns.  We made our way along P Street to Wisconsin Avenue and then over to M Street where there is plenty of action.  We did a bit of window shopping along the way (we absolutely loved all the handmade goodies at Appalachian Spring!) and found a cozy pub for dinner on M Street called Clyde's with great food and vibe.
Too tired to do public transportation, we grabbed a cab right outside of the restaurant and made our way home to our cozy room at the Embassy Suites.  I will say that the girls were pretty bummed that we had to table a visit to Baked and Wired, a cupcake shop the college girls on the Metro suggested we try.  Next time!
How to Get Around
We found it super easy to get around the city though there is a bit of a learning curve on using DC's underground transportation, the Metrorail, especially coming from New York.  There is not one price per ride–the cost of each ride is based on the distance you travel from point A to point B.  Because we were only going to be using the Metro for a couple of trips, I didn't get the SmarTrip card, purchasing individual cards with five-dollars on each one.  The lines are color coded and you need to refer to the final stop on each line to determine which direction the train is traveling and, subsequently, which train to take to reach your destination.  Once you figure out how to navigate the system, the Metro is a great way to travel.  There are Metro stops all throughout the city and you can be almost certain that there will be one within easy walking distance from where you want to go.
I did find myself grabbing a cab a couple of times, something I rarely do in New York, but twice we were pressed for time and once we were just tired.  All cabs in DC are required to take credit cards.  If the driver tells you otherwise, grab a different cab.
This is just the tip of the DC iceberg here, folks!  There are a ton of other fantastic places to go and things to see and I just love that so much of the city lends itself to unplugging and really exploring together as a family.  Want some more great ideas for your DC weekend? Check out my Washington, DC with Kids Pinterest board!
Disclosure: We were hosted by Embassy Suites during Was our visit to Washington, DC.  All opinions are, as always, entirely my own.