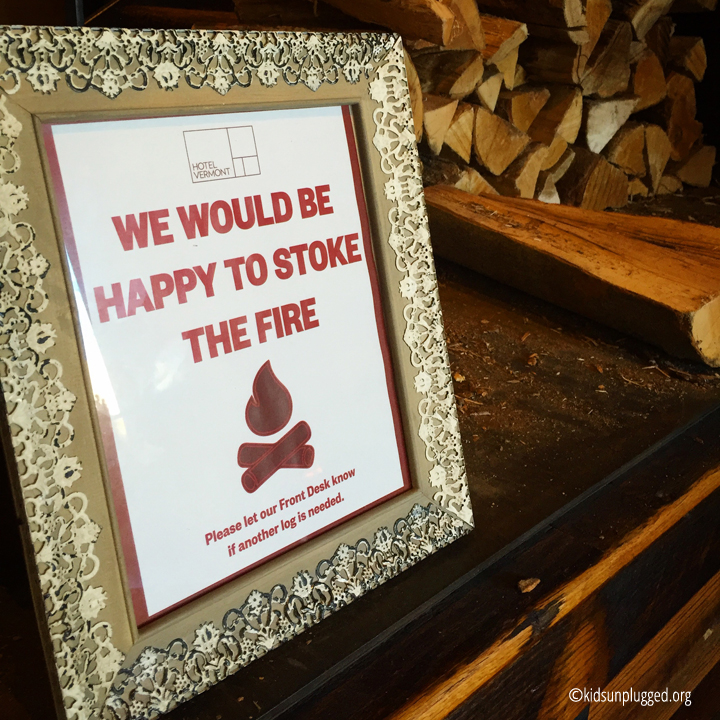 If you follow this blog you know that our family spends quite a bit of time in Vermont. Whether we're skiing the slopes or hiking the trails, the Green Mountain state is one of our favorite destinations. Despite frequent visits, we hadn't managed to make it to one of Vermont's coolest cities. Subsequently, Burlington has been at the top of my travel list for quite some time.
Because of the abundance of outdoor activities in and around the area, I'd hoped to get up there during the summertime—I've long wanted to check out Shelburn Farms and biking the Island Line rail trail would definitely be on my travel bucket list if I had one—but a February trip to Québec presented the perfect opportunity for a quick Burlington pit stop. We needed a place to stay for a night to help break up the long drive and Burlington was a great choice given that it was essentially the halfway point between our home in New York and Québec City. We'd be there for less than 24-hours but it would certainly be long enough to whet our appetites for a return visit.
Rustic Sophistication Makes You Feel Right at Home
We rolled into town on an icy Valentine's Day evening and our destination for the night was the Hotel Vermont, a boutique property in the center of town that opened in the spring of 2013. The first thing one notices upon stepping into the spacious, airy lobby, besides the vibrant social scene and roaring fireplace of Juniper's lounge, is the absence of any lacey-edged chintz or dowdy décor reminiscent of the classic B&B. Instead, guests are greeted by the finest manifestation of Vermont country chic—a contemporary, yet rustic, vibe that the hotel has created out of local resources using the skills of neighboring companies and artisans.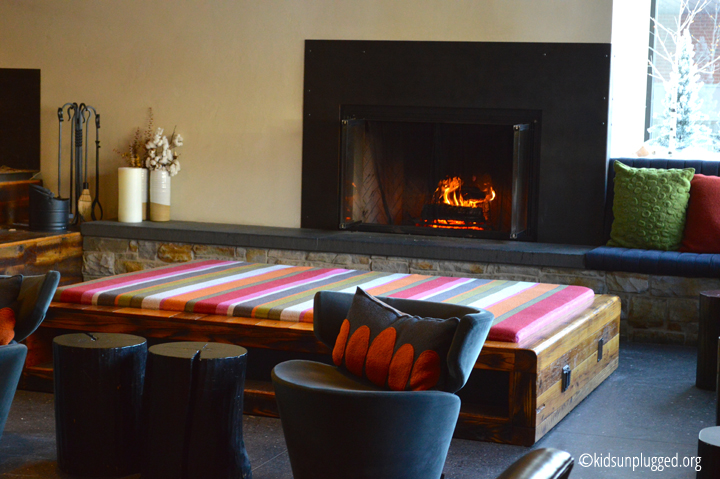 Hotel Vermont truly walks the talk when it comes to the trend of drawing from regional sources and talent. Poured cement floors are sprinkled with shells and stones from nearby Lake Champlain, the unique chairs that grace the lobby seating area are handmade by Beeken Parsons down the street, which promotes a sustainable forest-to-furniture mission, and the eclectic on-site restaurant, Juniper, lists the names of small, local producers offering everything from cheeses to eggs to the ingredients in your pre-dinner cocktail on its tantalizing menu.
The Rooms – Local Touches Bring Vermont to Life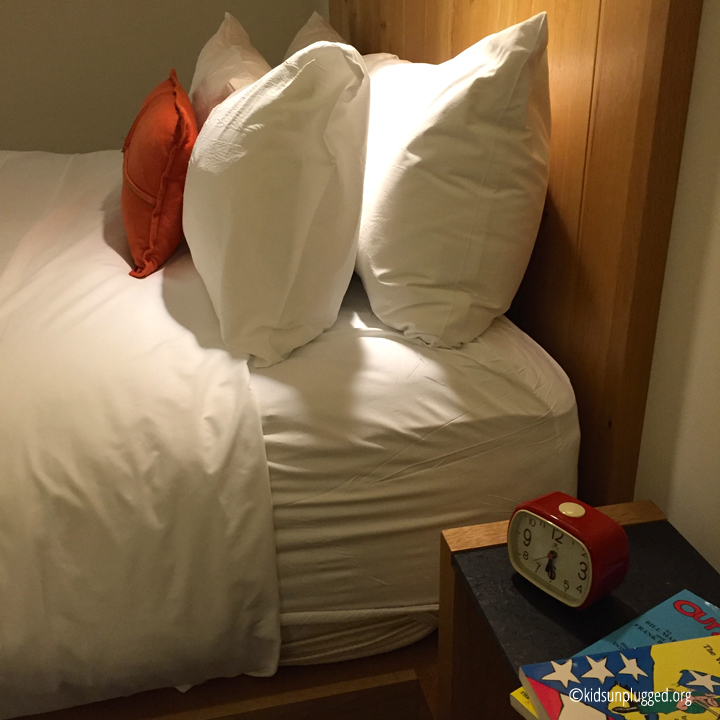 As we were meeting friends for drinks in Juniper's bar shortly after we arrived, we headed right upstairs to drop our bags and make ourselves a bit more presentable. The hotel offers 125-rooms spread throughout six floors, some of which feature lovely views of Lake Champlain. The rooms are done in the same earthy color scheme of the lobby, with plenty of warm woods and lighting, rust colored throw pillows, and hip, retro-style touches throughout—including a cute, red alarm clock and bedside books sporting a bit of Vermont humor.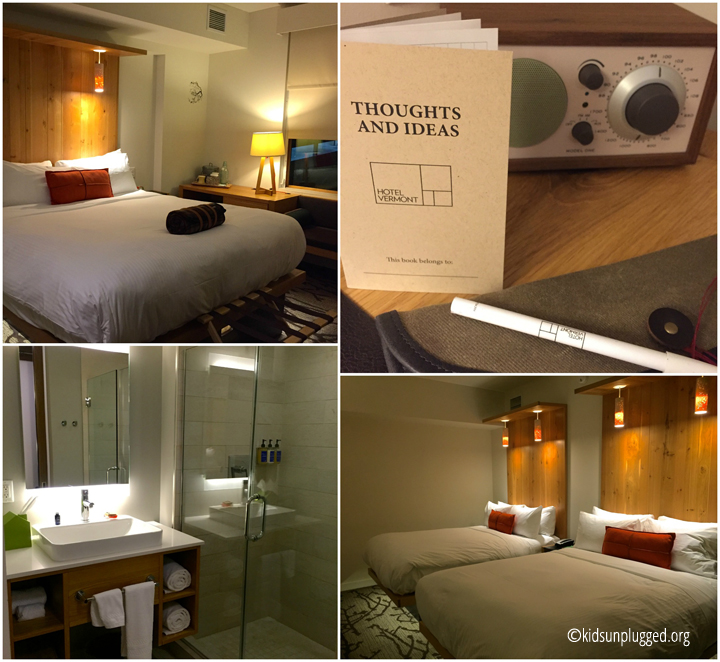 We had two connecting rooms, which gave our family of five plenty of space to spread out. The girls' room had two queen beds and a spacious full bathroom with a tub. Ours was home to a king-sized bed and a divided bath arrangement with a separate shower and vanity area and an additional water closet with a small sink. Closing the attractive, space-saving frosted glass pocket doors created privacy in these areas. Both rooms also featured large windows, a wide settee, and a comfortable desk.
As in the hotel's public areas, our rooms were peppered with items made locally—lushly scented bath products are provided by Burlington aromatherapist Lumaroma, beds hold warm blankets made by Johnson Woolen Mills that are bound by a leather strap crafted by Queen City Dry Goods, handmade soaps nestle within small works of art inspired by the Scandinavian design heritage of AO Glass. All of these are available for purchase if you want to bring a bit of Vermont back home at the end of your visit.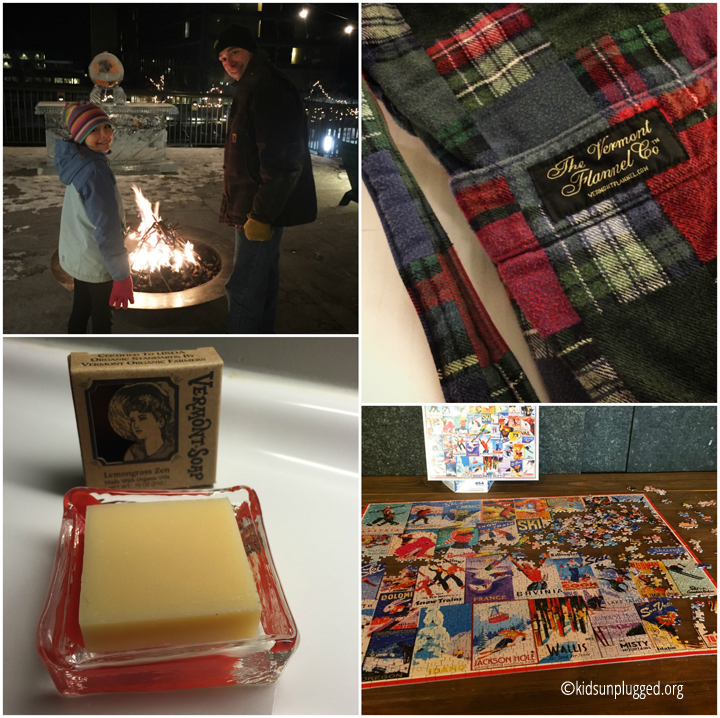 To make your stay even more comfortable, the hotel's "Bedtime Menu" delivers everything from a Lunaroma aromatherapy diffuser to steaming hot toddies spiked with local spirits. Wrap yourself in one of the Vermont Flannel robes hanging in the closet and settle in with a good book. I was looking forward to seeing our friends, but found myself anticipating the cozy digs that would be waiting when we returned.
But before that could happen, we were off for a glass of wine with our friends in the hotel's lounge and a walk through the arctic night to Pizzeria Verità, where pizza makers crank out delectable Neopolitan style, wood-fired pies one after another. Plates of Mediterranean olives, fresh burrata mozzarella, and assorted cured meats primed our palates along with a spicy rocket arugula salad garnished with shaved parmesean and roasted pignoli. For owner John Rao, the restaurant was a dream cooked up in a backyard pizza oven, where he spent years perfecting his recipe for the thin, crisp-chewy crust that is the foundation for Verità's creations. A meal here is a must on any visit to Burlington.
Yoga and Brunch Tops off our Stay
Morning dawned chilly and bright and my alarm sounded early enough to allow me to pop downstairs for a yoga class in the tiny studio adjacent to the hotel's in-house gym—the 60-minute class was a good mix of challenging and relaxing and was an invigorating way to start the day. On my way back to our room, I brewed two cups of Green Mountain coffee at the bar located at the end of the hall—each floor has one—before grabbing a quick shower, all the while looking forward to brunch in Juniper downstairs.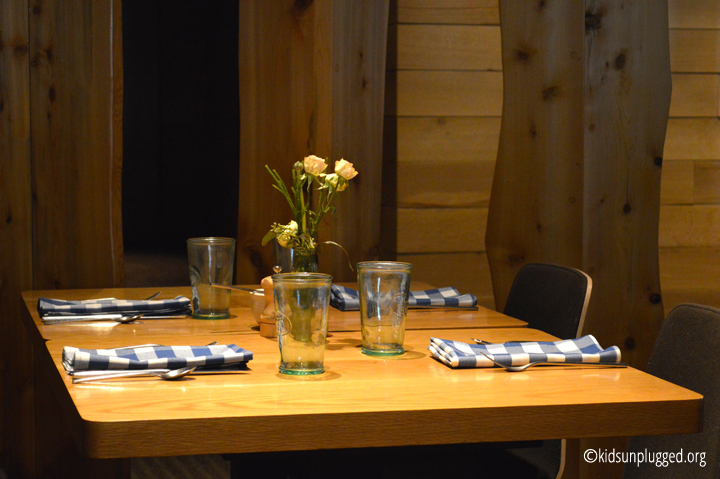 If I had to assign a highlight to our stay, Juniper would be it. Our girls, of course, were immediately inspired to order wild blueberry pancakes, which came with a thick pat of butter, rich Vermont maple syrup, and a dusting of powdered sugar. My husband and I had a harder time choosing from the delicious sounding options, finally deciding upon the Roasted Mushroom Tartine for me and the Red Flannel corned-beef hash for him. Both were divine. Earthy, buttery mushrooms paired beautifully with a thick slice of crusty country bread and perfectly poached eggs on my tartine and I kept snitching bits of his hash, which was sweetened by the addition of roasted beets.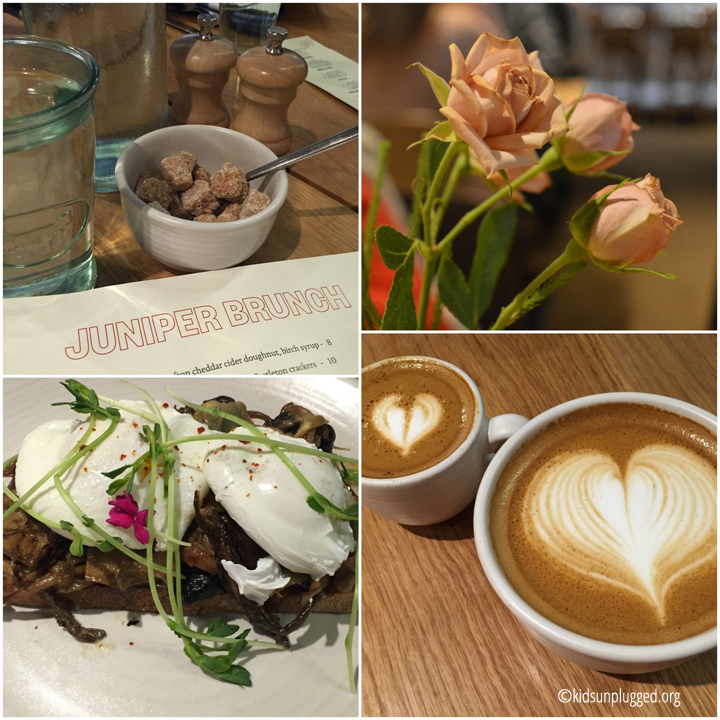 Burlington is imminently walkable and we were sorry that we weren't able to explore more, but that only meant that a return trip was surely on the horizon. Hotel Vermont makes it very easy for their guests to get out for a bit of adventure in and around town. Complimentary bikes are available seasonally if you'd like to take a spin—though while we were there a rack of snowshoes in the lobby was the winter substitute for two-wheelers. If local brews are more your speed, sign up to take part in the hotel's Vermont Craft Brew Tour led by the in-house Beer Concierge (now there's an awesome gig!) Matt Canning.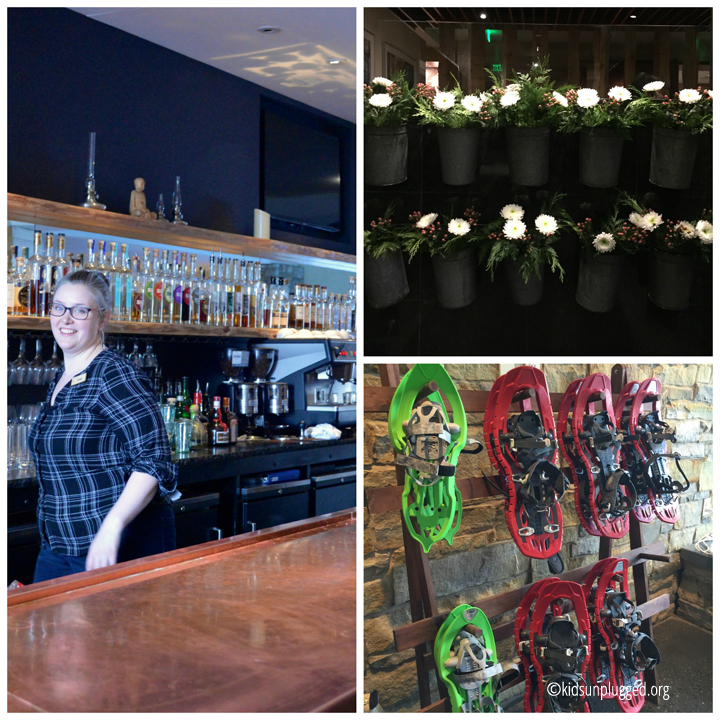 For locals and guests alike, Monday plays host to Trivia Night in the lounge while live jazz is on Juniper's menu every Wednesday evening beginning at eight-thirty. Finally, Burlington and its surrounding area is positively packed with activities for everyone in the family, from outdoor festivals, to shopping, art and history, and plenty of ways to get out into nature. For all of this, Hotel Vermont makes for a welcoming, restful home base for visiting Burlington with kids and we look forward to returning soon.